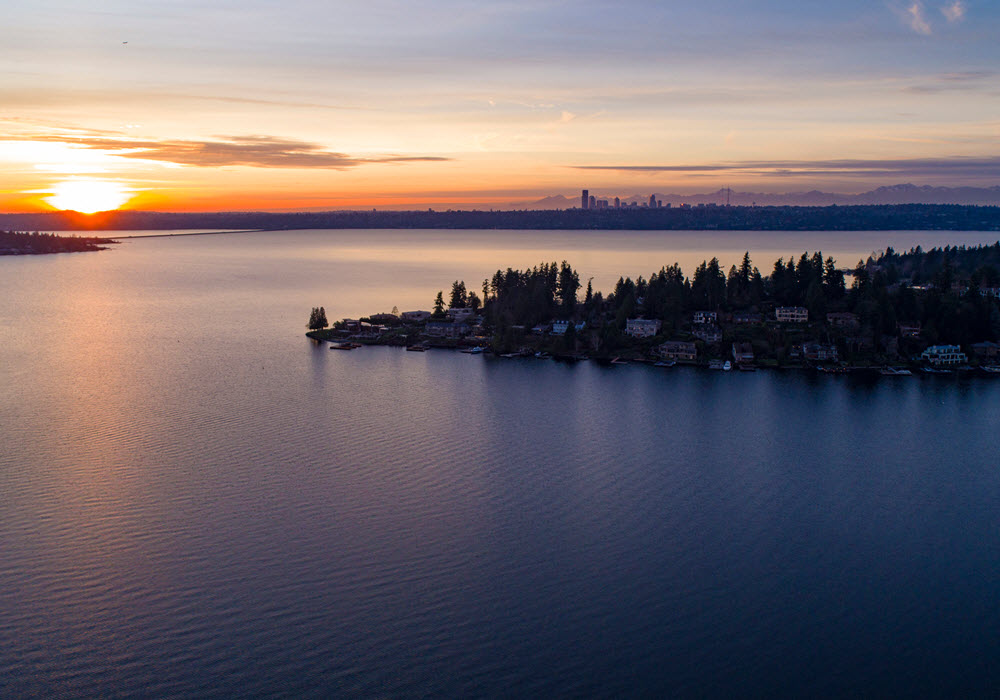 The Pleasures of Daily Life in Bellevue
Bellevue, the third-largest city in Washington, is a wonderful place to live for many reasons. Whether you're just visiting or fortunate enough to call Bellevue home, there are many natural and cultural resources to enjoy as well as lots of great shops and restaurants. In recent years, Bellevue has ranked highly on numerous "Best Place to Live" lists.
Bellevue: A Convenient and Comfortable Location
Bellevue is right across Lake Washington from Seattle, Washington's largest city. It's important to realize that Bellevue is far more than a suburb of its larger neighbor and has many distinct qualities of its own.
Mild climate. The Pacific Northwest has a temperate climate with mild winters and pleasant summers. While the region is famous for its rain, it's not as wet as many people believe. Annual rainfall is only slightly above the national average.
Thriving economy. Bellevue is a major hub for companies in the tech sector, which has brought many jobs to the region.
A beautiful location close to water.
Bellevue offers a high quality of life for people of all ages. It has quality schools, convenient shopping, and lots of recreational resources for people of all ages. In 2017, Niche ranked the Bellevue School District as one of the best school districts in the nation.
Close to Seattle. It's a mere 15-minute drive to all of the cultural attractions of Seattle. There are also frequent buses between the two cities. There are even plans to link Seattle and Bellevue by light rail. Many people live in Bellevue and commute to work in Seattle.
Lots of shopping and fine dining.
Parks and Outdoor Spaces
It's always nice to be near scenic parks, bodies of water, botanical gardens, and other places with natural beauty. The Pacific Northwest has always been attractive to outdoor enthusiasts, and Bellevue offers (or is close to) many places where you can hike, bike, or enjoy water sports. However, even if you're lifestyle isn't quite so active you can still appreciate Bellevue's parks, beaches, and other outdoor recreational areas.
Downtown Park
Downtown Bellevue has a park of more than 20 acres, providing an attractive green space close to the area's businesses and shopping. There are ample paths for walking, bike riding, or having a picnic as well as a scenic 200-foot waterfall. The Downtown Park holds many events throughout the year, such as fireworks on the 4th of July and outdoor movies. If you work nearby, you can enjoy a picnic lunch in the park. It's also a great place to walk your dog or take a leisurely Sunday stroll.
Bellevue Botanical Garden
Along with the Downtown Park, Bellevue Botanical Garden has an abundance of natural beauty right in the city center. This 53-acre garden, which is right on Main Street, has an amazing diversity of plants and flowers, many native to the region. You can admire the rock garden, natural wetlands, and restored woodlands. You might want to schedule your visit during special events such as the seasonal Garden D'Lights, a dazzling display of lights in the shape of plants, animals, waterfalls, and other creative shapes.
Mercer Slough Nature Park
While the Downtown Park is great for short excursions and to take a break from shopping, Mercer Slough Nature Park offers a larger space when you want to spend some hours outdoors. The park has over 300 acres of trails, wetlands, and other places to explore. On the grounds, you'll find the Environmental Education Center, which offers classes and events throughout the year. There's also an on-site farm that sells produce, plus Winter House, a historic building.
Beaches and Water Sports
Being so close to water has quite a few benefits. Many spots provide scenic views of Lake Washington. Indeed, the very name Bellevue means "beautiful view." There are also some great beaches such as Clyde Beach Park, Enatai Beach Park, and Chism Beach Park. The Pacific Ocean isn't far away either. If you enjoy swimming, boating, fishing, or other water sports, you'll feel right at home in this island-like atmosphere.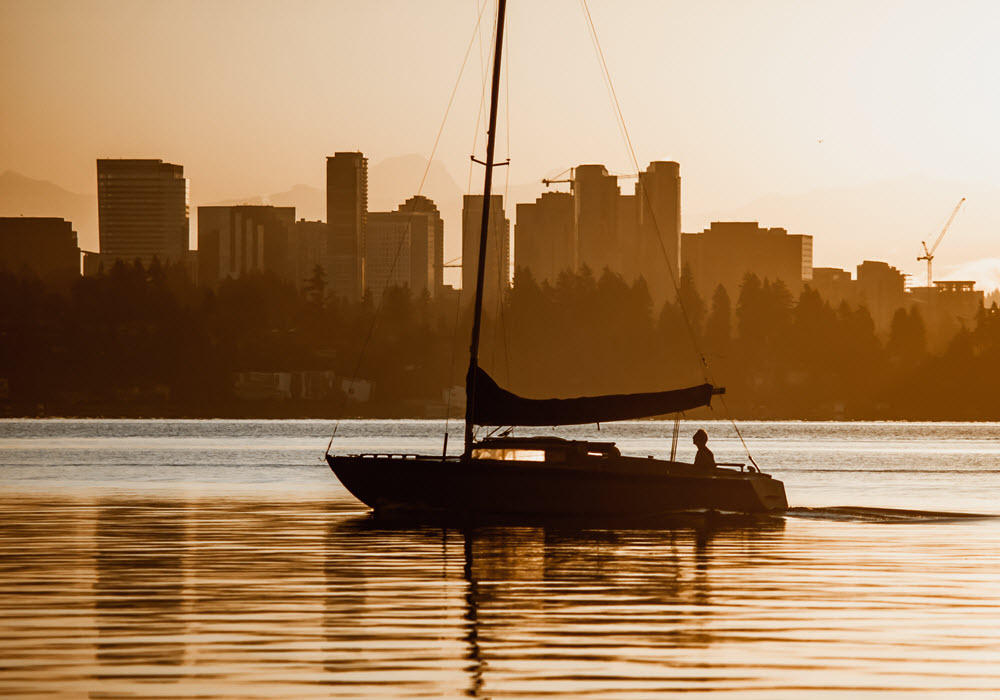 Industries and Careers
Bellevue is an economically vibrant area with many jobs. The tech industry in Bellevue is particularly active, with a large cluster of companies, including Expedia, Smartsheet, Apptio, and many others. Many tech workers for companies such as Microsoft have chosen to make Bellevue their home. In addition to technology, the area has many jobs in tourism, healthcare, and retail. It's also a great place to start your own business.
A recent report by Business Insider ranks the Seattle-Tacoma-Bellevue area as having the nation's fourth strongest economy. Some of this is attributed to the strong presence of Amazon in Seattle, which has an impact on surrounding cities as well.
Culture
Cultural centers and events make life richer and more meaningful. Bellevue has rich cultural resources for people of all ages and interests. Here are some of the leading resources you can enjoy if you live in this area.
Museums
There are several excellent museums in Bellevue.
Bellevue Arts Museum (BAM) - A museum of modern art, crafts, and design in the heart of downtown Bellevue. This innovative museum features many local and regional artists and designers. You can take self-guided tours or arrange for private tours to appreciate the many revolving exhibits.
KidsQuest Children's Museum - A fun and educational museum for children of all ages. There are many interactive exhibits as well as an area for kids to play, such as the two-story Atrium Climber. The exhibits are mainly related to math and the sciences. There are also many classes and a summer camp to help cultivate your kids' interest in how the world works.
Eastside Heritage Center - A extensive collection of photos and artifacts exploring the history of Bellevue and the surrounding areas. There are many events and programs dedicated to preserving the region's heritage.
Of course, when you live in Bellevue you can also easily visit Seattle's great museums such as The Museum of Pop Culture, Pacific Science Center, Seattle Art Museum, Chihuly Garden and Glass, and many others.
Theater and Performance
Bellevue has many notable performance venues.
Meydenbauer Center - A vibrant theater that features performances by national and regional theater companies. The performance space also hosts dance performances, sporting events, holiday celebrations, and business conventions.
Marymoor Park - This outdoor venue presents a variety of concerts and other performances.
Chateau Ste. Michelle Winery - The summer outdoor concert series is one of the best places in the Pacific Northwest to see all types of music, including jazz, blues, and rock.
Shopping and Dining
Having a wide selection of shops, eateries, bars, cafes, salons, and other businesses can make a big difference when it comes to comfort and convenience. Downtown Bellevue has a wide selection of places to shop and dine. Here are just a few highlights.
The Bellevue Collection
The Bellevue Collection is a large collection of shops, restaurants, cafes, and other businesses in downtown Bellevue, divided into three distinct areas. It includes Bellevue Square, a large shopping mall with over 200 stores and eateries. Lincoln Square is known for its many restaurants. Bellevue Place has the elegant Hyatt Regency Bellevue. The Bellevue Collection has special events such as a beautiful holiday celebration with lights, live performances, and even artificial snow.
Crossroads Shopping Center
Crossroads Shopping Center is a shopping mall with a good selection of shops, including ones you don't often find at malls. In addition to familiar chains, you'll discover quirkier and more specialized shops such as Half Price Books, Alter Ego Comics, and small shops where you can buy cards, crafts, and gifts. The mall also features a variety of special events and performances.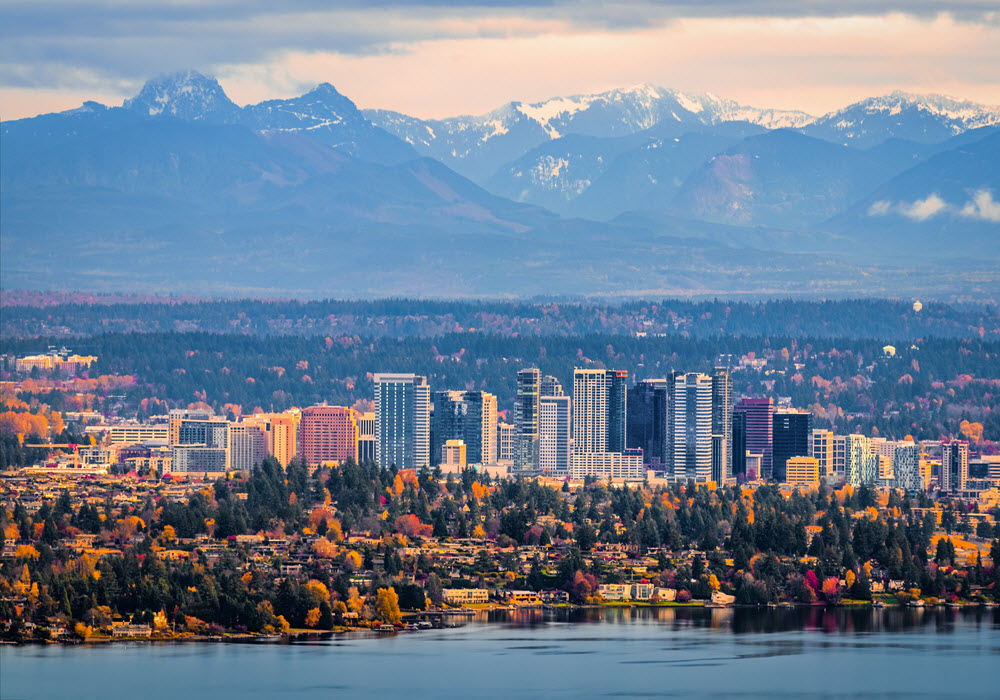 Dining Options
You'll never run out of places to eat in Bellevue. You'll find a wide variety of restaurants, including steakhouses, sushi, Italian, Korean, and many other styles of cuisine. Between old favorites and newer additions, the area is getting a reputation as a foodie destination to rival Seattle's.
Just a few of the popular downtown restaurants include P.F. Chang's, Pearl, Wild Ginger, and Ruth's Chris Steakhouse. The neighborhood known as Bel-Red, on the border between Bellevue and Redmond, is famous for its great selection of Asian restaurants.
Food trucks are making their mark on Bellevue as well. These give you a fun and economical option for casual dining, with a great selection of ethnic cuisines. One of the local favorites is the El Maestro del Taco truck. If you're fond of wine and craft beer, you have quite a few choices such as Geaux Brewing, Bellevue Brewing Company, and Total Wine & More. You're also well set for coffee shops, including Third Culture Coffee, Bellden Coffee, and Caffe Ladro.
Bellevue: A Great Place to Call Home
What makes a place feel like home? The answer differs from one person to another. You need to consider your needs and preferences when it comes to your career, the climate, and the local culture. Bellevue, situated in the heart of the scenic Pacific Northwest, is hard to beat when it comes to natural beauty, economic strength, and the overall quality of life. If you want to experience this amazing way of living for yourself, start searching for an apartment such as Sammamish View or Emerald Ridge in Bellevue today!