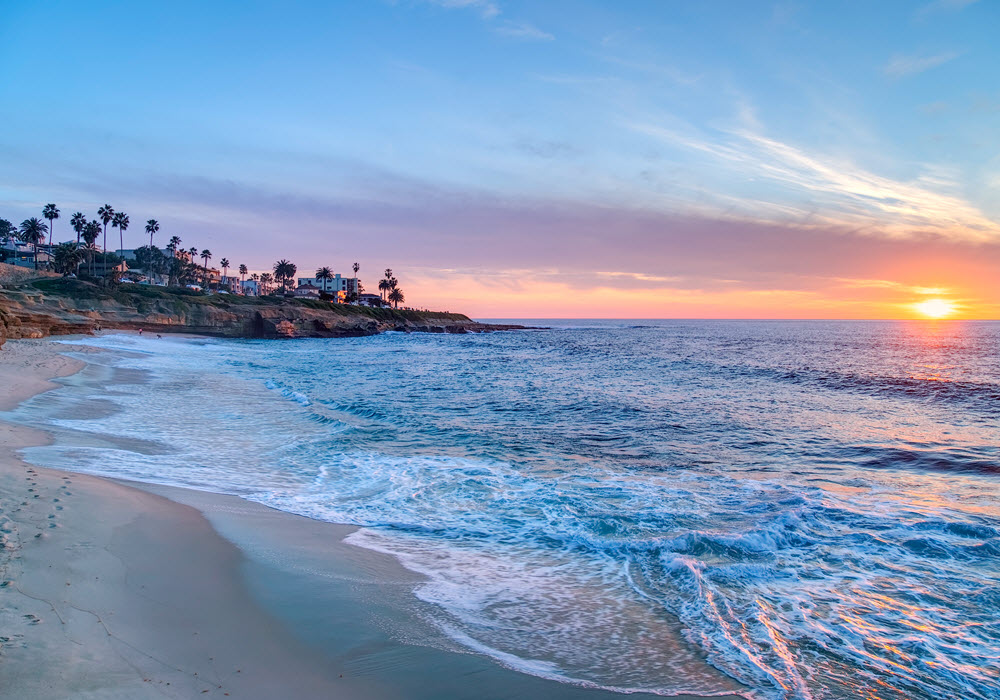 The Best Things About Living in San Diego
With beaches galore, sprawling parks, famous international attractions, and a slew of vibrant neighborhoods scattered throughout, San Diego is a multifaceted gem that represents the very best of Southern California living. Whether you're looking for a coastal neighborhood, an energetic urban environment, a slice of suburbia, or a little bit of everything, the Greater San Diego area is sure to have an option that suits your lifestyle. Here's a breakdown of what makes San Diego one of the best places to call home on the West Coast.
Downtown San Diego
The heart of Downtown San Diego, the Gaslamp Quarter, is where you can find the city's pulse and many of the most popular attractions. While the harborside San Diego Convention Center is famous for hosting major events like Comic-Con: International, the San Diego Marathon Health and Fitness Expo, and the San Diego International Auto Show, the area is also brimming with some of the city's highest-rated restaurants and night clubs, forming a vivacious entertainment district that draws both locals and visitors year-round. Also connected to Gaslamp, right at the cusp of the San Diego Bay, Petco Park is both the home to Major League Baseball's San Diego Padres and some of the biggest outdoor concerts in Southern California.
But while the main downtown area is certainly known for attracting visitors, it's also the perfect backdrop for an active lifestyle that easily connects with the other must-see elements of the city. With miles of bayside walkways and embarcaderos right off of Gaslamp, anyone living in the heart of Downtown San Diego has an easy escape from the city, complete with picturesque backdrops and hundreds of excellent meet-up spots away from the hustle and bustle. For further escape and exploration, beautiful Balboa Park is 1,200 acres of green space, state-of-the-art museums, and Spanish-style architecture and monuments that show off the roots of the city. Only a very short ride from Gaslamp, Balboa is also home to the San Diego Zoo, one of the most famous zoos in the world.
Thanks to a high level of walkability and a very diverse set of activities, Downtown San Diego remains an excellent living option both for those new to the area and for San Diegans looking to get connected with some of the most prominent features of the city.
Neighborhoods that connect with downtown
While Downtown San Diego offers an attractive lifestyle, there is a collection of other great neighborhoods nearby that offer their own unique flavors along with plenty of conveniences. In North Park, you'll find one of the most impressive rows of restaurants, pubs, and hangouts anywhere in San Diego, creating a small-town feel within the larger city. Residents of North Park are a walk, jog, or bike ride from Balboa Park and less than a 15-minute drive to the nearest beach (Ocean Beach). North Park is also a focal point for San Diego's robust and growing craft beer scene, with many excellent breweries spread out around the area. Meanwhile, South Park is a neighborhood on the rise that also boasts acclaimed eateries and hot spots along with direct access to the east side of Balboa and the main downtown area.
Just a little west of North Park, Hillcrest is also known for its array of terrific restaurants, hangouts, and local events that regularly make it one of the best neighborhoods to live in San Diego. Nationally famous for being the hub for the enormous San Diego Pride Parade, Hillcrest is a thriving community filled with unique shops and arthouse movie theaters as well as its central location that connects you to just about anywhere in San Diego in less than 20 minutes. Hillcrest dwellers also have very easy access to the San Diego Harbor and San Diego International Airport, making it an ideal locale for those who travel frequently.
Continuing toward the harbor, Little Italy is another cozy neighborhood that comes with alluring views of the harbor and no shortage of fantastic restaurants and local hot spots. Although Little Italy is also a big draw for visitors, it has its own style thanks to popular events like a weekly farmer's market, a brand new waterfront park, and much more that make it well worth considering for anyone looking to live in urban San Diego.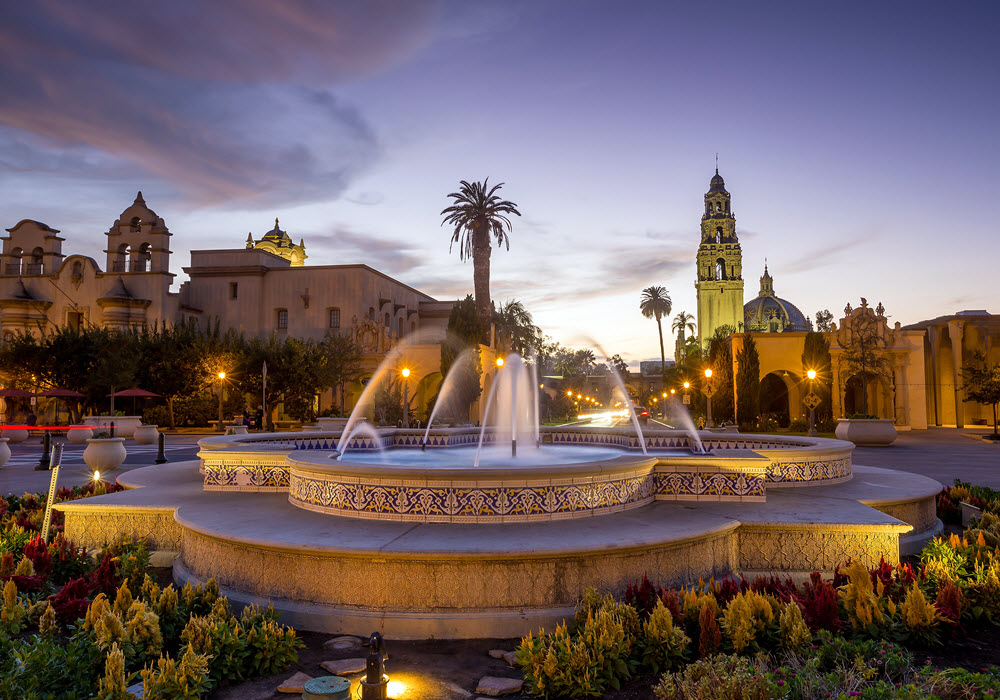 The many beach communities
One of the very best parts about San Diego for beach lovers is the incredible range of neighborhoods to choose from, each with its own personality and highlights. In North County, towns like Encinitas, Del Mar, and Solana Beach offer a classically San Diegan laid-back atmosphere, where you can find spirited small towns right off the shores of some of the best beaches in Southern California. All three towns (which have been incorporated) have excellent spots for surfing and for just making it a low-key beach day complete with dramatic views of the Pacific Ocean and surrounding geography. Despite being separated from the southern beaches in San Diego, Encinitas, Del Mar, and Solana Beach are still only a half-hour drive (or less) from Downtown San Diego, and commuters can also hop on the ocean-hugging Coaster train to ride it all the way into the city.
Just to the east of Del Mar, Carmel Valley is also another option worthy of consideration for anyone homing in on North County. Minutes from the beach with terrific access to the crucial interstate for commuting, I-5, Carmel Valley shows off awe-inspiring views of the coast and connects directly with Torrey Pines State Reserve, where the coastal hikes are as scenic as anywhere on the West Coast. A must-see part of San Diego, Torrey Pines is also home to a nationally famous golf course and hosts the PGA Tour's Farmers Insurance Open every fall.
Heading south, Mission Beach, Pacific Beach, and La Jolla all offer the peak of beachside living in San Diego, though they all offer something a little bit different. Mission Beach is one of the busiest beaches in San Diego and is particularly lively around any holiday, but there are plenty of local gems that easily go overlooked by visitors to the area. While the ocean side is known for its spirited pulse, just across Mission Blvd. is a relaxed bayside community known for its leisurely pace, local parks, and low-key living around Sail Bay. Those who live along Sail Bay are an effortless half-mile (or less) walk/bike ride to the ocean while enjoying full bayside beaches and distant views of Downtown San Diego. Mission Beach is also ideally located for travel to SeaWorld, the famous theme park known for its many superb rides and a world-class marine mammal park. In the summer, residents gather to watch the nightly SeaWorld fireworks light up the skies over Mission Bay.
Connecting to Mission Beach by both Mission Blvd. and a wide pedestrian beach walk (Ocean Blvd.), Pacific Beach offers plenty of beach shops as well as a tremendous range of bars and restaurants, making it one of the go-to areas for beach hangouts for residents from all over San Diego. Like Mission Beach, Pacific Beach is ideal for beginner surfers and possesses wide sandy beaches that are natural meet-up spots. Not to be outdone, La Jolla offers a slightly more upscale lifestyle along with its own majestic beaches and entertainment centers. With its winding roads that boast staggering ocean views, fun downtown area loaded with great restaurants and indie shops, and famous gathering points like La Jolla Shores, La Jolla is another beach community that has earned its place as one of the best places to live in San Diego.
Also consider: With its unique personality and many local hangouts, Ocean Beach is a favorite place to live for many who can't get enough of the low-key San Diego beach atmosphere. Just across the bay from Downtown San Diego, meanwhile, Coronado Island has some of the best beaches in San Diego (like Silver Strand State Beach) as well as local icons like Hotel Del Coronado. Commuters to Downtown San Diego can even take a free ferry back and forth across the bay every day.
Central San Diego
Particularly for newcomers to the area, you'll have a hard time beating the combination of convenience, entertainment possibilities, and wealth of living options in locations like Mission Valley. Surrounded by highly-rated outdoor malls and countless restaurants, Mission Valley has a perfect location for getting around, making for an excellent choice for commuting to just about anywhere in San Diego. While the beaches of Ocean Beach, Mission Beach, and Pacific Beach are an effortless drive from Mission Valley, residents also enjoy less than 10-minute drives to North Park, Hillcrest, Balboa Park, and much more.
Just to the north of Mission Valley, Clairemont is another community that provides easy access as well its own unique character and entertainment options. Neither truly urban nor suburban, Clairemont has seen plenty of development in recent years and consists of an extraordinary spectrum of living possibilities, from older single-family houses to beautiful new condos, apartments, and townhouses. It also easily connects with La Jolla and is an ideal launching point for commuting to either Downtown San Diego or anywhere in North County.
Another neighborhood on the rise is Mira Mesa, where you can find a more suburban feel while still having easy connectivity to the other main tenets of San Diego. Formed in the 1960s, Mira Mesa has eight community parks, an ever-expanding group of entertainment spots, and is a straight shot down I-15 for commuting to the main parts of the city. Mira Mesa has plenty of single-family houses that offer a little more room than other parts of San Diego, but it also has collections of apartment complexes that help make it an enticing option for those new to San Diego or locals simply looking for a change.
Suburban communities
For those who want a bit more space, Greater San Diego has plenty to offer just outside of the central areas. South of the city, Chula Vista, Bonita, and Otay Ranch are expanding dramatically with local features as development continues throughout the area. The towns/neighborhoods south of the city are also short drives from Imperial Beach, Silver Strand Beach, and everything there is to do in Downtown San Diego.
Residents find a similar scenario in places like La Mesa and Spring Valley. Only 15-20 minutes from Downtown San Diego, La Mesa and Spring Valley offer a more suburban lifestyle complete with bustling little neighborhoods of their own. Continuing to the north, neighborhoods such as Rancho Peñasquitos, Carmel Mountain Ranch, and Poway are known for having relaxed suburban atmospheres, excellent schools, and mostly newer constructions. All three are also perfectly situated near the I-15 for heading downtown and CA-56 for zipping straight to the beach towns of North County.
Final thoughts
San Diego is internationally famous as a vacation spot, but it's also an ideal place to fully dive into the California lifestyle. Both a major city and a collaboration of low-key neighborhoods that have their own flavors and personalities, San Diego's eclectic nature gives residents an endless carousel of opportunities to carve out their own niches. Add in the peerless weather and surprisingly high level of mobility for a major city, and it's easy to see why San Diego regularly is considered one of the very best places to live in California, if not the U.S.
Find Your Essex Apartment
Our apartment communities span from Bernardo Crest in San Diego to Ascent Apartments in the Pacific Northwest in some of the most sought-after locations on the West Coast. Choose from bustling city life, quiet comfort in the suburbs, sun and sand at the beach or outdoor adventures and a wide variety of on-site amenities and floor plans that span from studios to townhomes. Whatever your style and budget, we have a community that's right for you.
Explore our nearly 250 apartments, such as Bonita Cedars Apartments in Bonita or Summit Park Village in San Diego, and learn more about current leasing or move-in specials.