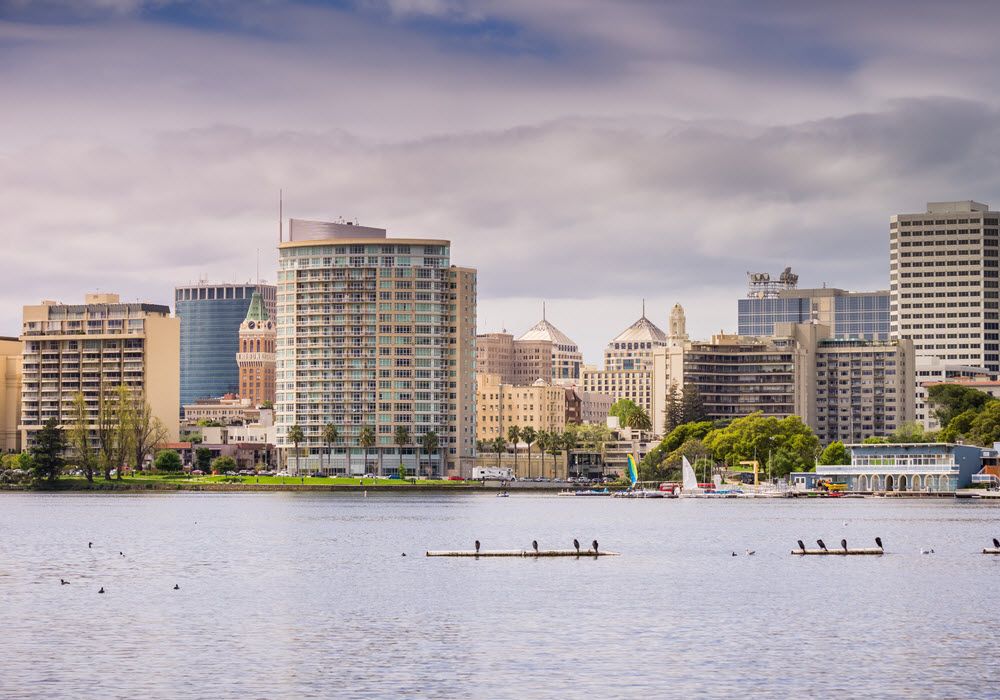 Oakland: Cultural Hub of the East Bay
Oakland is located just across the Bay from San Francisco, and in recent years it has received the recognition that many native to the city know it has always deserved. Its feature on National Geographic's "2019 Best Trips" is a testament to the cultural uniqueness and impressive entertainment the city has to offer. Explore Oakland with this guide and discover why it is an exceptional city to visit or even call home.
Oakland First Fridays
Join the thousands of people around the Bay Area that make their way to Koreatown Northgate (KONO) in Oakland for First Fridays (of every month) to celebrate art, food, and community. Buy local street fare, tour galleries, watch street performers, and enjoy live music. While the event winds down at nine, there's always plenty to do afterward, including stand-up comedy by The (Not So) Late Show at the Spice Monkey Restaurant & Bar and the No Sé: First Friday Dance Party at the Starline Social Club.
Jack London Square
Along the Oakland/Alameda estuary sits Jack London Square, a historic landmark filled with entertainment options and named after American author Jack London, who spent his childhood on the waterfront of this area. The square has a movie theater and numerous stores and restaurants for your enjoyment and is ideal for visitors and residents of The Landing at Jack London Square. Keep an eye out for Jack's bronze statue and relocated cabin on your visit here!
Tips and highlights:
The square hosts several ongoing events including live music on the square and movies on the waterfront
Farmer's market: Every Sunday rain or shine from 10 AM – 3 PM
For the history buff: Former presidential yacht, USS Potomac, is located at an adjacent slip and is open for tours
Hop on a ferry for a day trip to San Francisco on the San Francisco Bay Ferry dock
Fox Theater
Formerly a movie house, the Fox Theater is one of the best entertainment venues in the Bay Area. It is a favorite among touring musicians and fans for its history, detailed interior architecture, and state-of-the-art sound system. Check out upcoming shows and stop by The Den at the Fox Theater an hour before doors open to enjoy a gourmet menu and specialty drinks at a sophisticated bar. Elevate your experience and upgrade your ticket for VIP access to The Telegraph Room before, during, and after the show. You'll enjoy a separate entrance to the Fox Theater, a private bar, complimentary hors d'oeuvres, and more!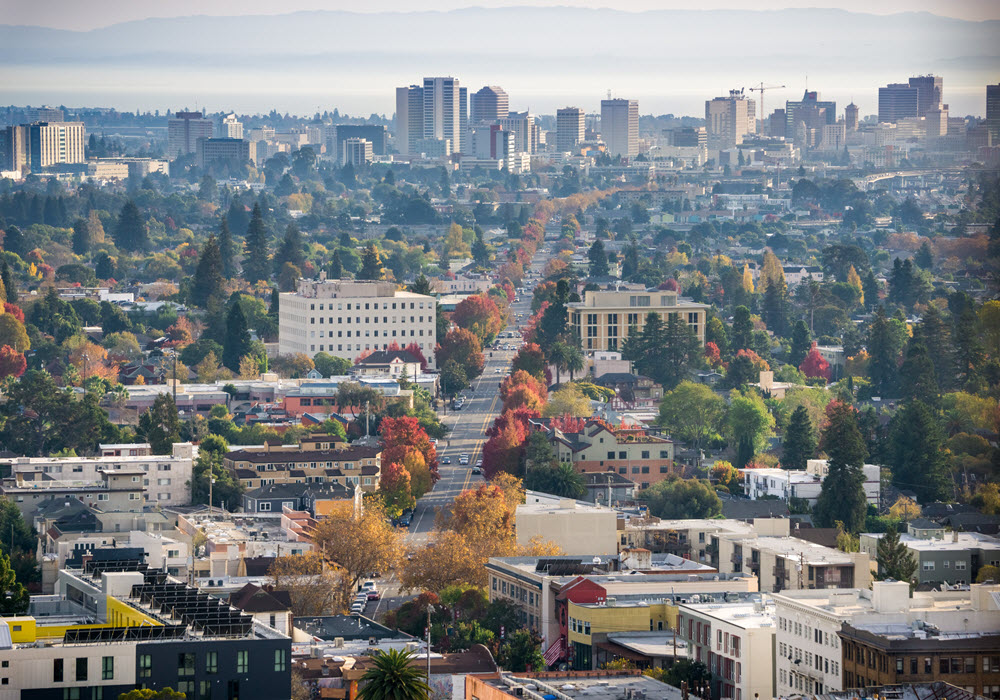 Lake Merritt
Located in the heart of Oakland and near The Grand apartment homes, Lake Merritt is an ideal destination for weekend gatherings and a multitude of activities. The 3.4-mile circumference of the lake offers ample grassy shores perfect for outdoor activities. While many enjoy the lake for running and picnicking, few know that you can go boating with the help of the Lake Merritt Boating Center. Bring some cash and pick a kayak, rowboat, pedal boat, or canoe. If you're looking for a unique boating experience on the lake, consider Gondola Servizio, an authentic Venetian gondola ride with Italian melodies included.
Lake Merritt's shoreline also features several gardens open to the public daily from 8 AM to 5:30 PM. Among those gardens is a Bonsai Garden, Community/Edible Garden, Succulent Garden, and a Japanese Garden. Exercise your green thumb by volunteering or attending a master gardener workshop for tips on how to grow your own plants.
Oakland Zoo
Head to the world-renowned Oakland Zoo for a day trip and enjoy spotting over 760 native and exotic animals, including grizzly bears, jaguars, and American bison. The Conservation Society of California manages the 100-acre zoo, so with every visit, you are contributing to the local and global wildlife conservation.
Tips and Highlights:
Your park admission includes a ride on the zoo's 4-minute gondola where you can enjoy spotting animals from above
Visiting the zoo during feeding times ensures you will see the animals during a time with the most activity
Consider contributing your time to the zoo's conservation efforts by volunteering and be rewarded with free zoo admission
If you want a unique experience at the zoo, consider looking into The Clorox Company Foundation Overnight Experience. You'll stay in a safari-style tent cabin and enjoy after-dark activities around the zoo, including dinner and a guided visit to see grizzly bears and mountain lions.
Children's Fairyland
Make your way to one of the earliest children amusement parks in the US to entertain your inner child and discover the wonder that inspired Walt Disney's creation of his Magic Kingdom in Anaheim, CA. While Children's Fairyland is off-limits to adults unless a child accompanies them, the park is open to adults over 21 years once a year in August for the Fairyland 4 Grownups event. Attendees have the rare opportunity to explore the entire park at night while enjoying a dance party, DJ tunes, local beer and wine, performers, and more! Tickets sell out quickly, so make sure to buy yours in advance.
Oakland's Spirit in Murals
Take a walking tour of Oakland to discover the cultural and community stories that unfold in murals across the city. Among the murals is Beacon: Frequency Reader at 17th and Broadway in downtown, an almost 10-story mural by Joshua May representing a young woman opening a portal to a world of new experiences, perfectly describing life in Oakland. Also located in downtown at Alice and 14th streets, is the Alice Street Mural, a work celebrating cultural diversity. It was created by the Community Rejuvenation Project, whose mission is to "cultivate healthy communities through public art, beautification, education, and celebration." Spot these additional murals across the city:
Vogue's Silver Skull – West Grand Avenue in West Oakland
Laurel Space Bears by Roger Peet and Fernando Santos – MacArthur Boulevard in the Laurel District
Huemanity by Hueman – Oakland Marriot City Center in Downtown
Oakland Dreams – Fourth and Webster street in the Jack London District
Oakland has attracted many with its incredible array of entertainment, captivating culture, and ample opportunities to grow with the city. Oakland visitors and residents are never short on things to do—whether it is a night out at a concert, a relaxing evening boating on the lake, or volunteering at the zoo. Without a doubt, Oakland is the beating heart of the East Bay, and it makes a phenomenal city to call home.
Find Your Essex Apartment
Our apartment communities span from Mesa Village in San Diego to Brighton Ridge in the Pacific Northwest in some of the most sought-after locations on the West Coast. Choose from bustling city life, quiet comfort in the suburbs, sun and sand at the beach or outdoor adventures and a wide variety of on-site amenities and floor plans that span from studios to townhomes. Whatever your style and budget, we have a community that's right for you.
Explore our nearly 250 apartments, such as Bridgeport Apartments in Newark or Mission Peaks Apartments in Fremont, and learn more about current leasing or move-in specials.