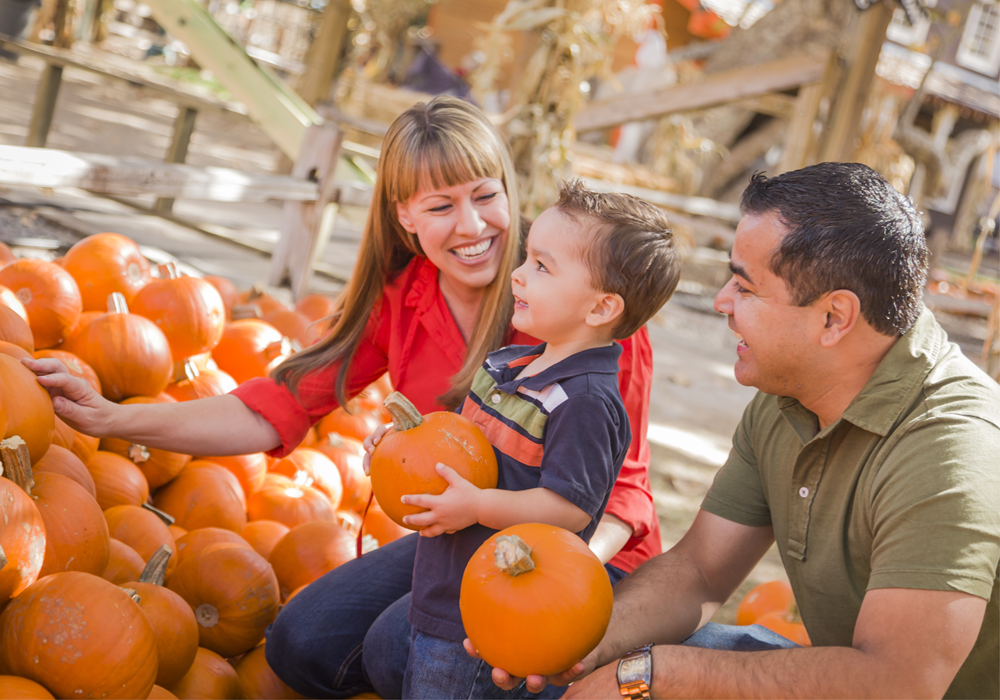 SoCal Family-Friendly Fruit Farms and Farmers Markets
Fall is a beautiful time of year to get outdoors and enjoy the changing seasons. The air has a slight chill to it at dusk and dawn and the leaves are beginning to change colors to an array of vibrant gold and amber hues. One great way to celebrate the season in Southern California is to visit a local farmers market, ranch, or farm. There's nothing quite like a bountiful harvest!
Whether you're looking to find the best fresh produce, pick your own fruits and vegetables, or simply enjoy the outdoors to soak up the fresh air and sunshine, these family-friendly destinations are a fun way to shop local and go on an all-ages adventure.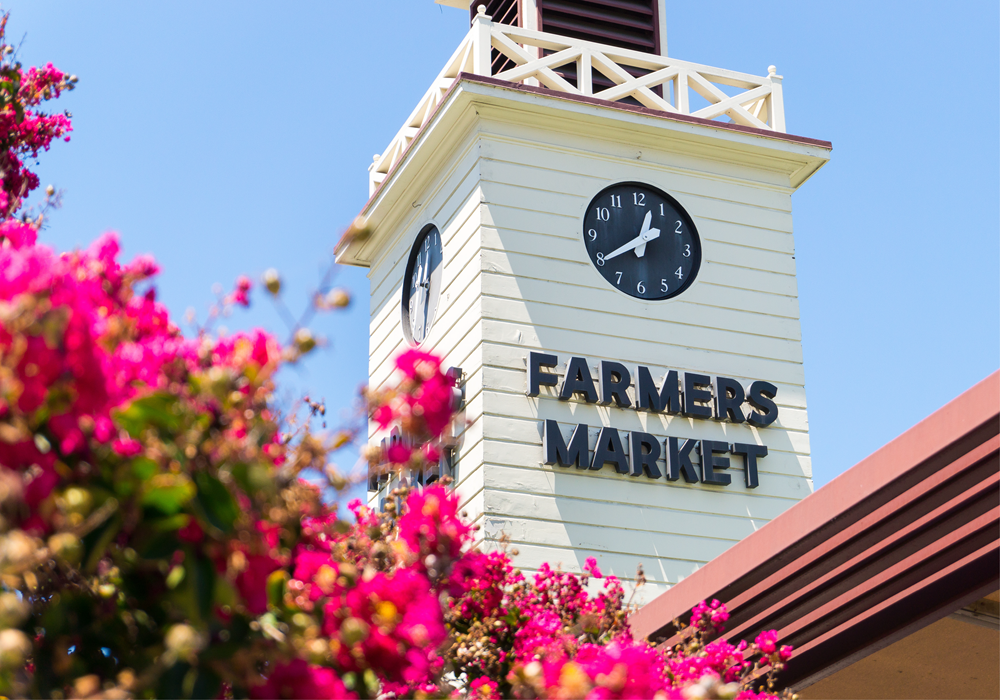 The Original Farmers Market – Los Angeles
It doesn't get more authentic than The Original Farmers Market in the heart of Los Angeles! Located on the corner of 3rd and Fairfax, this former dairy farm has since been transformed into one of the city's most popular shopping and dining destinations, with world-renowned merchants, vendors, restaurants, and stores to explore!
You may not be able to pick your own produce here, but you'll still get the absolute best the city has to offer! Start at Farm Fresh Produce and Farm Boy Produce for an incredible selection of seasonal and year-round fruits and vegetables. Then, explore the meat, poultry, fish, and bakery merchants mouthwatering wares! Dogs are allowed on leash in the Farmers Market, and you'll want to be sure to stop by The Dog Bakery to pick up fresh-baked, healthy and fun bakery goods for your four-legged friend!
The Original Farmers Market is open daily. Social distancing and masks are required inside stores and restaurants.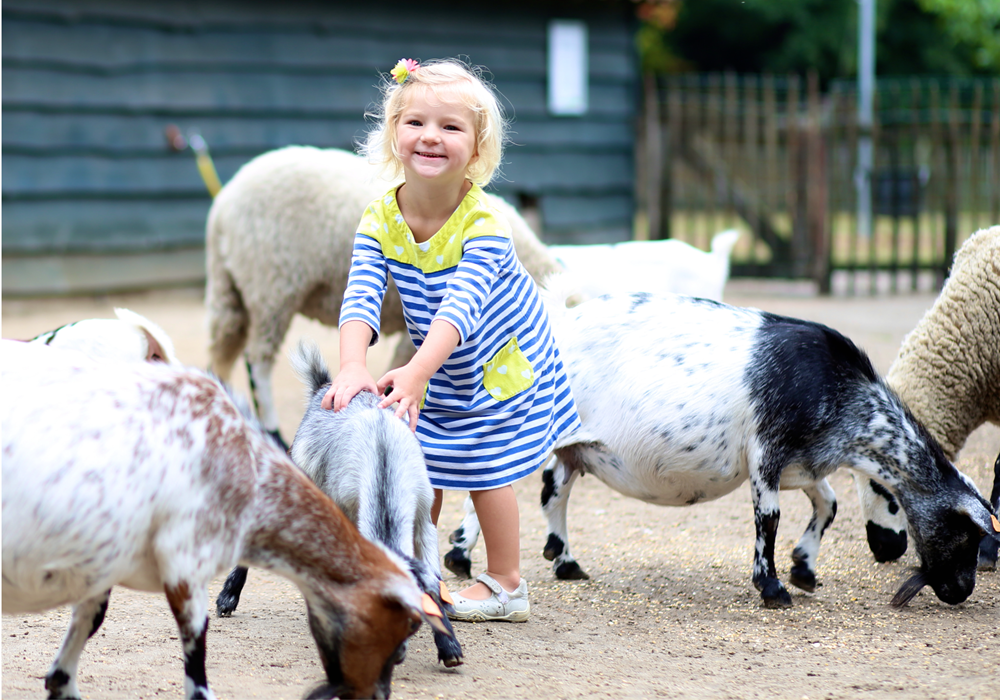 Underwood Family Farms – Moorpark and Somis
If you haven't had a chance to experience Underwood Family Farms during the fall season, you are in for a treat! This popular Ventura County Farm Market is open 9 a.m. - 6 p.m. daily from March to November and on weekends in December. You can view the Pick Your Own Crop calendar to see what they're predicting for this season's harvest.
Their Fall Harvest on the Farm features wagon rides, corn trail ride-throughs, pumpkin patch, giant tractor display, hay pyramid, animal viewing center, distanced roaming performers, and more – all included with admission! They offer various fall crops to pick from, including carrots, flowers, fennel, peppers, and of course, pumpkins. Check out their crop calendar for a full list. Pick Your Own is also available at their Somis location.
Masks are required as you enter and exit the farm, inside stores and on wagon rides. Social distancing is encouraged while picking crops. You can purchase tickets online in advance to ensure entry to this popular family destination!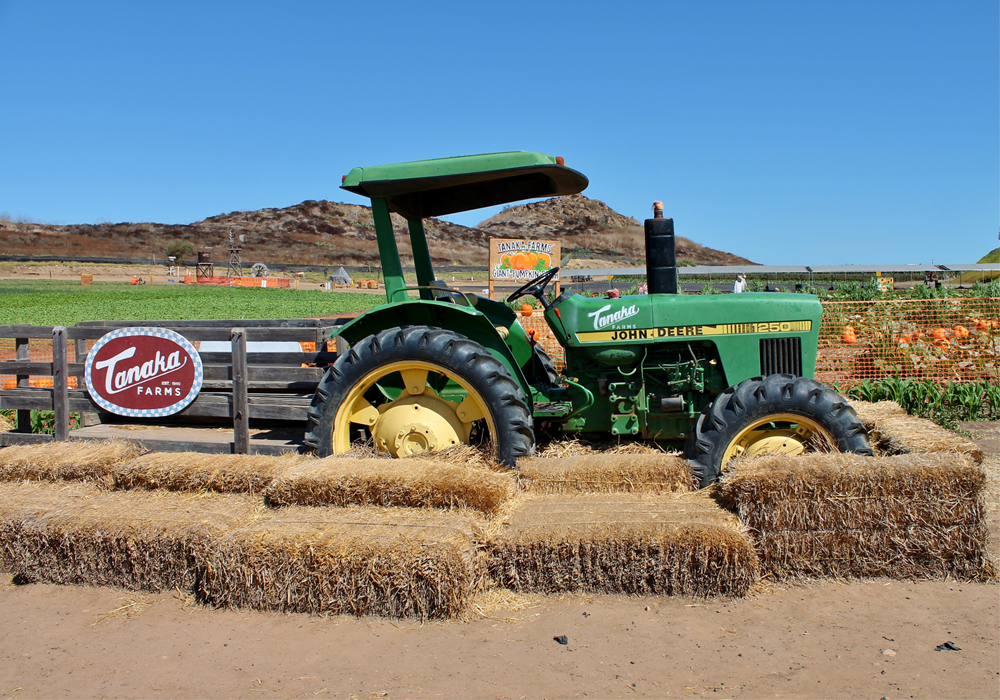 Tanaka Farms – Irvine
Have you ever picked a pumpkin right off the vine? Tanaka Farms is one of the only farms in Orange County with an actual pumpkin patch. You'll have to pre-register for the event to ensure a spot.
The Drive-Thru Pumpkin Farm Experience is open every Saturday and Sunday through October 31, 2020. Guests are treated to pumpkin samples, barnyard farm animals, scarecrows, sunflowers, and more. Entrance is $20 per person over the age of three.
The U-Pick Pumpkin with Wagon Ride is also available through October 30, 2020. The entry cost is $25 per person for everyone over age three. Seating is limited to follow social distancing guidelines, but wagons leave every ten minutes. Tanaka kindly asks that guests stick together and follow safety guidelines. Masks are required for guests over the age of three.
Recently, they converted their store to a Drive-Thru Produce Market Stand, open daily from 9 a.m. to 6 p.m. to allow you to shop from the comfort and safety of your own car. You can also place your order online for contactless curbside pick-up from 9:30 a.m. to 4 p.m. Thursdays through Sundays. Or visit The Tanaka Grill open for Drive-Thru service on Saturdays and Sundays!
Tanaka Farms offers a wonderful selection of fresh-picked vegetables, as well as seasonal fruits and nuts, honey, jam, baked goods, chips, and various sundries. They're so popular in fact, they've even had a visit from YouTube celebrity Blippi!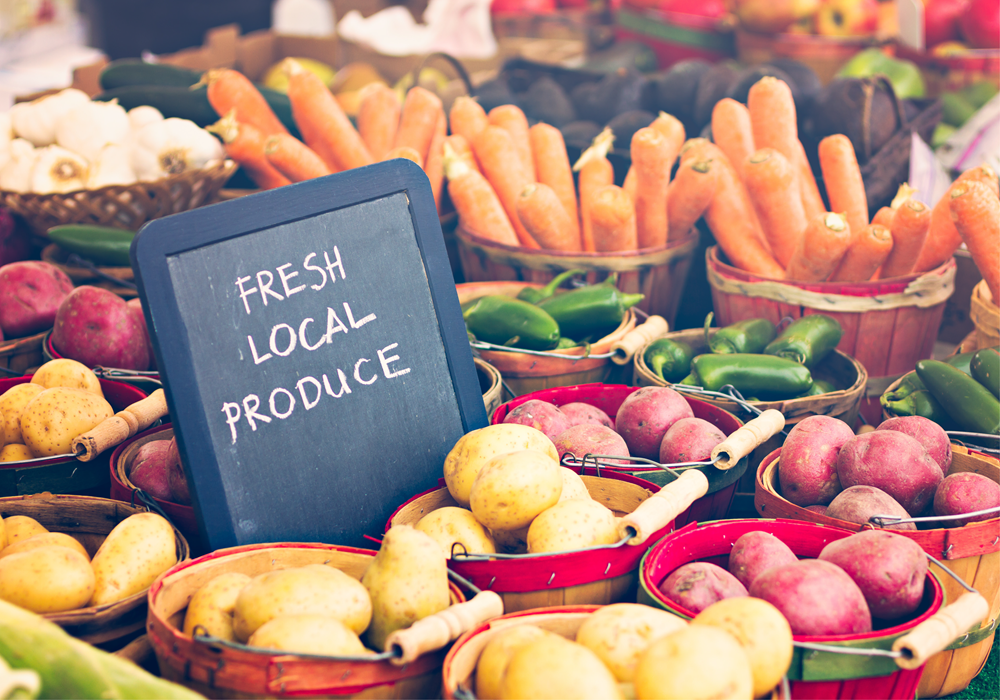 Manassero Farms – Orange County
Manassero Farms is known as Orange County's Berry Finest, but you'll find onions, peppers, squash, watermelon, and much more at the four locations of this generational family farm enterprise. Run by the husband and wife team of Dan and Anne, the industrious couple provides unforgettable produce so popular, local Whole Foods stores in the area carry it as well!
Tustin, Brea, and Irvine offer tasting locations, or you can explore their recently unveiled Irvine Market, a unique blend of a fresh farm market, gift shop, and event venue with an herb garden, private-labeled jams, gourmet foods, décor, gifts, and more.
Find Your Essex Apartment
Our apartment communities span from San Diego to the Pacific Northwest in some of the most sought-after locations on the West Coast. Choose from bustling city life, quiet comfort in the suburbs, sun and sand at the beach or outdoor adventures and a wide variety of on-site amenities and floor plans that span from studios to townhomes. Whatever your style and budget, we have a community that's right for you.
Explore our nearly 250 apartments, such as Essex Skyline at MacArthur Place in Santa Ana or Renaissance at Uptown Orange in Orange, and learn more about current leasing or move-in specials.