Top Pasta Restaurants with Delivery in San Francisco
December 04, 2020
San Francisco may be best known for the Golden Gate Bridge, but the city itself holds an abundance of cultural gems and treasures, including some of the world's top chefs and finest cuisine. With a rich history of Italian immigrants making the city by the Bay home, lovers of exquisite Italian fare (especially pasta!) can find impressive dishes almost anywhere in the city. What's even better … many are available for delivery to your door with a quick call or click of a button.
There's no need to waste time searching online for "pasta near me." We have the top restaurants in the city that are open now for delivery or curbside pickup. Whether you are craving creamy alfredo or classic spaghetti marinara, these spots have the sauces and noodles to satisfy even the hungriest paisano!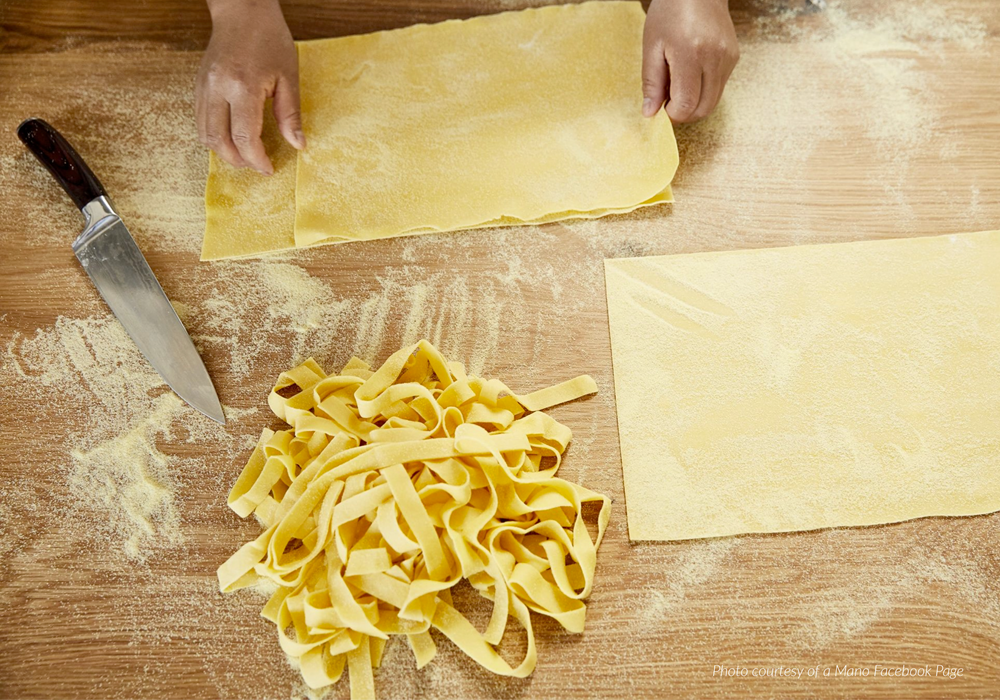 a Mano
In Italian, "a mano" means "by hand." World-renowned Chef Freedom Rains and Back of the House Founder and CEO Adriana Paganini had this in mind in 2017 when they opened a Mano, their first restaurant in the up-and-coming foodie haven of Hayes Valley. During their menu-creation process, the duo created more than 35 different handmade pasta dishes before landing on their staple menu features and rotating specials.
The bustling pasta hotspot has a dizzying assortment of rotating seasonal delights from pizza to pasta to sweets and cocktails, all made daily from scratch. Try popular favorites like the flavorful Chicken Polpettine (mini meatballs) served with a spicy tomato sauce and crostini, a classic Margherita pizza, or perfectly prepared Rigatoni Pork Sugo. You can order online for pickup or delivery through their website, or order via Doordash or Caviar.
A bonus for residents at nearby Fox Plaza – a Mano is a great delivery choice since it's less than a mile away!
A16
Coyly named after the Italian autostrada that connects Naples and Canosa in Southern Italy, this chic modern eatery in the Marina District brings the traditions, hospitality, and Campania's love of food and wine to the Bay Area. Although handmade pasta wasn't in their original plans, A16 has become known for it.
House specialties and perennial favorites include wood-fired pizzas, handmade pasta Maccaronara in a rich ragu Napolitana or with truffles, Cestini, and the crowd-pleasing braised pork meatballs. The popular restaurant is open six days a week for takeout or delivery via Caviar or Doordash.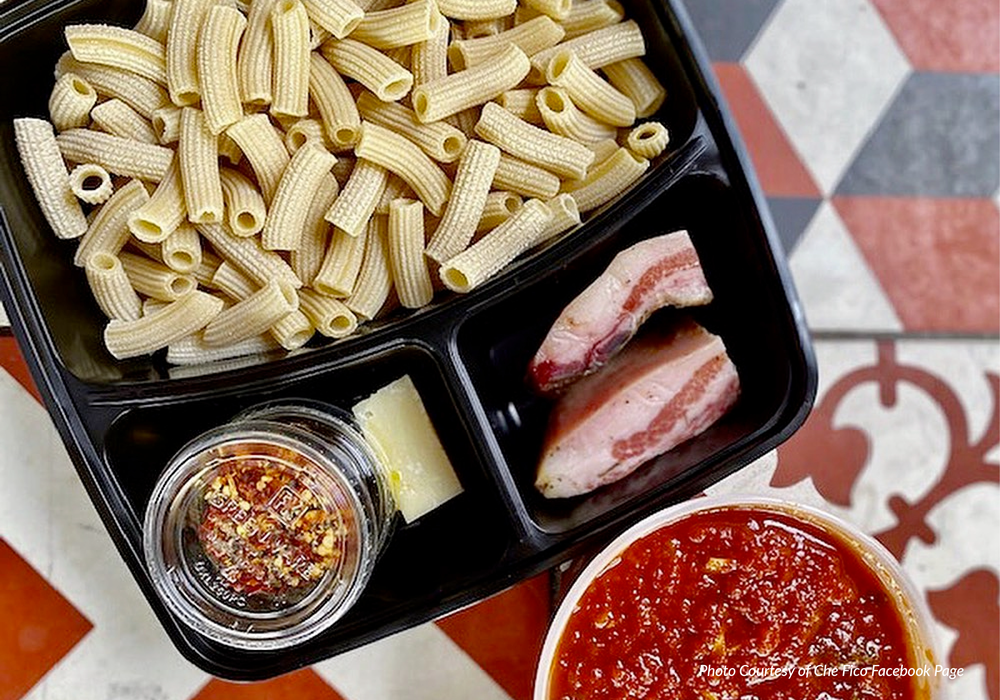 Che Fico Alimentari
That's so cool! That's the slang translation of Che Fico, the ultra-hip Italian taverna in San Francisco's Nopa neighborhood that focuses on Northern California-style Italian cuisine. Bay Area Chef David Nayfeld brings his considerable skills to handmade pasta, creating unparalleled culinary experiences.
The primary restaurant is currently closed to diners, however Che Fico Alimentari – the team's street-level grocery and dinnertime salumeria is open. Try the Bavette Steak with roasted potatoes, corleone tomatoes, and delicata squash, or the Porchetta Sandwich with pizza rossa, llano Seco porchetta, pickled red onion, arugula, and salsa verde. Locals rave the pizzas are just as delicious as the pasta dishes that have made Che Fico well-loved for years.
If you are craving a larger portion of pasta or are looking for leftovers, we recommend trying one of their take and bake kits with options that include Rigatoni Amatriciana, Spinach Lasagna, Lasagna Bolognese, Eggplant Parmigiana and more! You can also shop for meats, sauces, wine and merch through their online store. Takeout and delivery are available via Toast.
With a 97% Walk Score, Essex community Park West has a variety of great restaurants nearby – Che Fico Alimentari is one of them!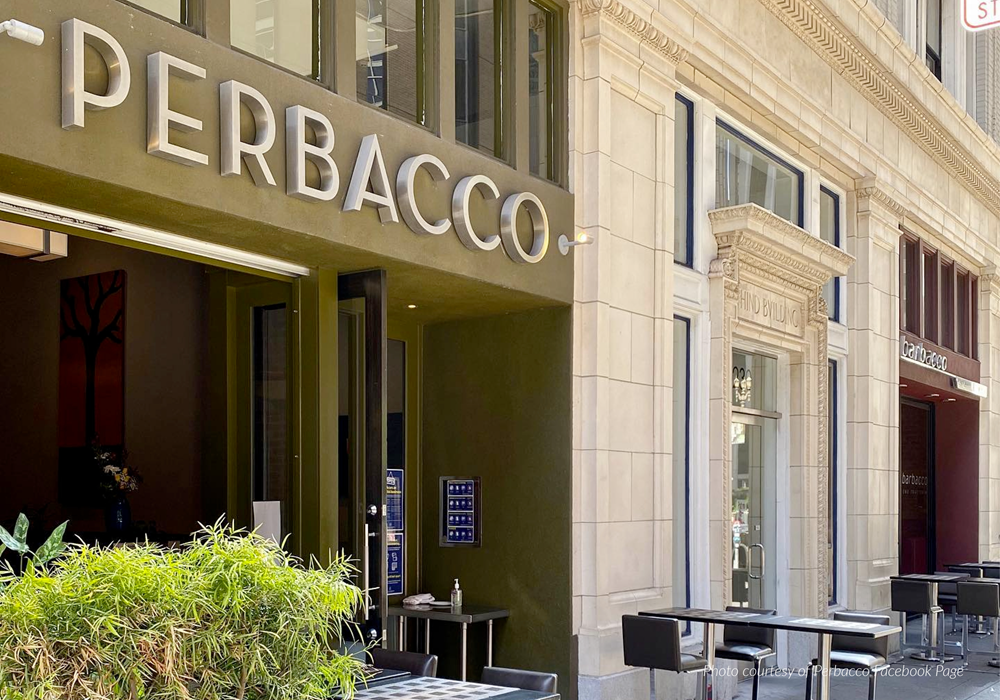 Perbacco
Perbacco is an old Italian expression of pleasure and surprise, often associated with Bacchus, the God of Wine and "good times," which makes it a fitting name for this modern take on centuries-old Italian cuisine from Co-Owner and Chef Staffan Terje and Co-Owner Umberto Gibin, who have shared their passion for Italian food and wine for three decades.
A gem located in the Financial District, the celebrated eatery offers silky pasta styled similarly to the Italian regions of Piemonte and Liguria. Try the crunchy Fritto Misto, the Pappardelle wide-ribbon pasta with slow-cooked short rib ragu, scallions, and horseradish crema, or the melt-in-your-mouth Tajarin, a hand-cut thin Tagliatelle dish in a ragu of veal and pork salsiccia. Get it delivered via ChowNow, DoorDash, GrubHub, Toast, Tock, or UberEats.
Bonus! Delivery times from Perbacco should be short for residents of Essex communities 500 Folsom and Bennett Lofts. The restaurant is within a 1.5 mile radius of both locations!
The Italian Homemade Company
Sometimes the best food is the least complicated. Husband-and-wife co-owners Mattia Cosmi and Alice Romagnoli started The Italian Homemade Company in 2014 in North Beach, offering hearty dishes with unforgettable sauces, flatbreads, salads and more. The simplicity and straightforward style of the menu belies the extraordinary flavors and rich cultural heritage.
One bite and you'll see why critics can't stop raving! With locations currently open all over the Bay Area including North Beach, Cow Hollow, Berkeley, Hayes Valley, and Redwood City, chances are high you'll be able to get your hands on some of their mouthwatering meals in the near future.
We suggest the Salsiccia Cassone stuffed with oozing mozzarella, homemade sausage, and peppers, Tortellini Pasticciata, or handmade Fettuccine with browned butter and sage! Don't skip the Tiramisu! Best of all you can order their amazing food on Caviar, Doordash, UberEats, Postmates, Ritual, and Grubhub!
The Italian Homemade Company's Franklin Street location is convenient for delivery to residents at MB360 with the local restaurant just over two miles away.
Find Your Essex Apartment in San Francisco
Whether you're looking to move with the pulse of the city or find a refreshing escape into nature, San Francisco is a city that's fit for any lifestyle. Not only is it home to historic landmarks like Haight-Ashbury and the Golden Gate Bridge, it's also filled with some of the world's best dining, shopping, and entertainment. Whatever your style and budget, we have an Essex community that is right for you.
Explore our Bay Area apartment homes for more information about our communities in San Francisco and ask about current leasing specials or offers.