Virtual and Contactless Apartment Tours
January 19, 2021
Social distancing guidelines and stay-at-home orders have changed the real estate landscape and apartment hunting for prospective tenants. Future residents are looking for alternative options more than ever before, which means property managers have adapted and gotten creative in how they share properties with renters. Utilizing social media, video tours, and video communications platforms have enabled them to reach prospective tenants in new ways. The days of walking into a leasing office for an impromptu in-person tour to find your new home have become a thing of the past, driving the need for quick evolution into the world of virtual apartment tours and self-guided tours.
Technology advancements are quick to provide the convenience and freedom that comes with offering prospective residents the ability to explore a new apartment from nearly anywhere in the world. At Essex, we developed virtual apartment tour options that allow you to browse from your couch, your bed, or even on-the-go. And, if you're still interested in stopping by one of our communities for an in-person tour, you can make an appointment for a contactless self-guided tour, allowing you to walk through safely on your own time.
Discover the benefits of each apartment tour option to choose the method that best suits your schedule and comfort level.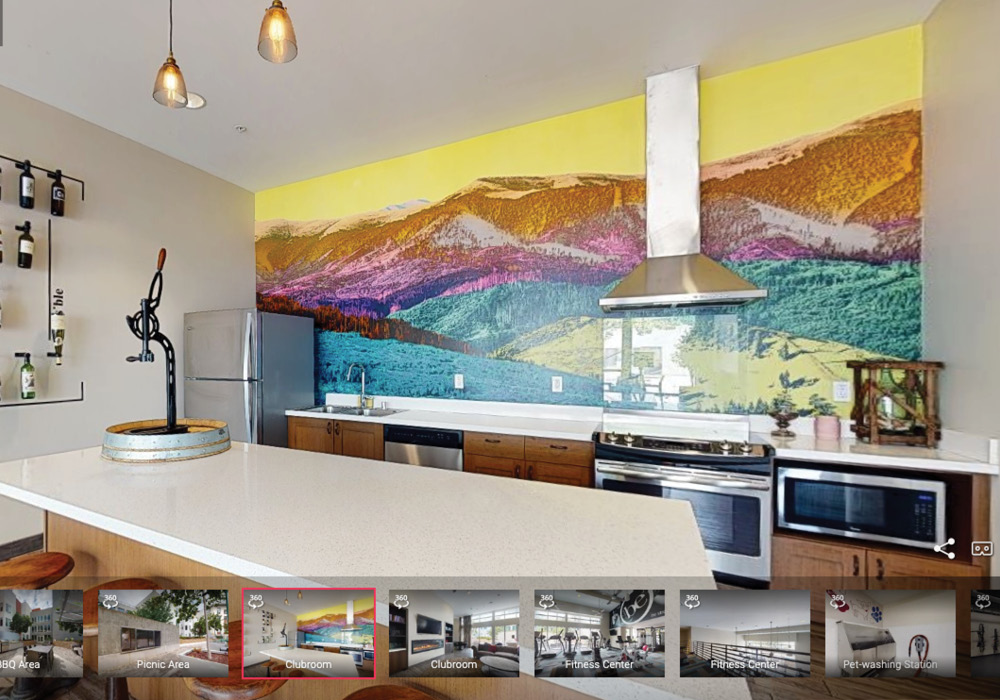 360-Degree Online Tours
Designed to be an interactive tool with a wide range of convenient and easy-to-use features, our 360-degree online tours allow you to explore properties and floorplans for a completely virtual experience. At Essex, every one of our nearly 250 apartment communities along the West Coast from San Diego to Seattle includes a 360-degree tour option easily accessible from the floor plans and pricing page. This feature allows you to select the specific unit you're interested in and provides a 3D-tour experience you can access from your phone, tablet or computer. To take your online tour experience to the next level, sync your Oculus Go or Oculus Quest headset to see your apartment in VR!
If you want to walk through the community virtually, simply return to the community homepage, and click the 360-degree tour icon in the photo gallery. From there, you can browse available on-site amenities such as the swimming pool and fitness center. For renters looking for their new dream home in the Bay Area, Epic apartments in San Jose features online tours of unique amenities like their bocce ball court, outdoor fireplace and bike storage locker. At MB360 in San Francisco, you can virtually tour the community's dog spa, picnic area and playgrounds.
When you're ready to get down to details, our 360-degree online tours offer a "measurement mode" feature to measure everything from living room walls to countertops to windows. Space planning for your furniture has never been easier! Once you've determined the unit that best fits your needs, take advantage of the "share this space" feature to send your new apartment home to your family, partner or roommates. Then, you can apply on the spot using our online application to secure your new home.
If you have questions at any point during the process, you can always use the 24-hour chat function to speak with someone online in real-time.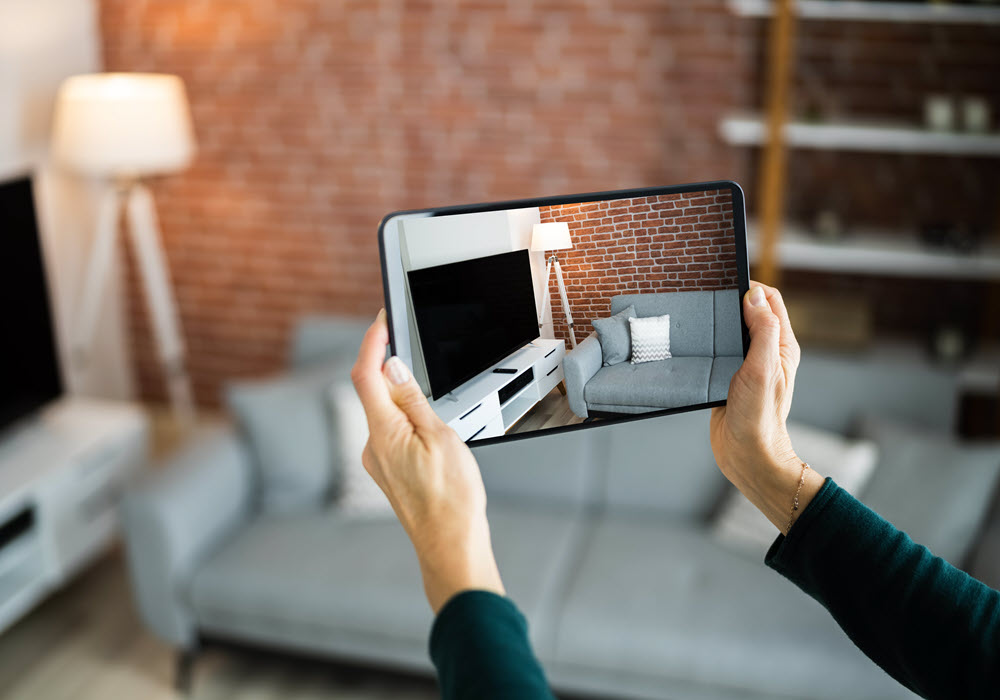 Virtual Tours on Zoom, Google Meet and FaceTime
If a 360-degree online tour is more of a jumping-off point for your apartment search, schedule a virtual tour to enjoy the hybrid experience of a walkthrough remotely while incorporating a touch of personalization by putting you directly in touch with one of our friendly leasing agents. If this is your first-time meeting on a virtual platform, you can choose from Zoom, Google Meet or FaceTime virtual apartment tours when you make your appointment.
During your live tour, your leasing agent will go over everything you need to know about your dream home and customize your experience to your needs and interests. Curious about closet space? They'll open the doors and show you around. Want to check out the view from your balcony? They'll open the doors and take you outside! Amenities can also be included in your virtual tour. Be sure to ask your leasing specialist to show you what's most important to you – like the dog park if you have a furry friend moving in with you.
This is also a great time to ask about leasing specials, security deposits, community features or any other information concerning the leasing process you may want to know as you consider applying for your new home. Be sure to exchange contact information so you can reach out again if you have other questions.
Contactless Self-Guided Tours
Technology is evolving, and consumer needs are changing rapidly, but if an in-person showing is still your top choice, then scheduling a self-guided tour is the right option for you. Although our leasing agent won't be able to join you on your tour, you'll be able to see your new home in person and walk the community at your own pace.
Self-guided tours are available by appointment only, which you can book through our chat feature or online booking tool or by calling our team. When you arrive at the leasing office, our team will have a map with specific units set aside for you to tour, along with any other information you may need about the community. Whether you're interested in viewing a studio, one-bedroom, or two-bedroom apartment, they will tailor your tour to highlight what interests you most. You'll also be encouraged to visit community amenities to give you the full experience of what it would feel like to be a resident.
Touring on your own time relieves some of the pressure of feeling like you have to make a decision on the spot. After your tour, a leasing agent will follow up with you to answer any questions you might have. Keep in mind, many of our communities offer limited-time special offers for new renters, so if you're ready to move-in, be sure to submit your online application sooner than later to secure your home.
Begin Your Apartment Search Today!
Our apartment communities span from Shadow Point in Spring Valley of San Diego County to The Elliot at Mukilteo in the Pacific Northwest in some of the most sought-after locations on the West Coast. Choose from bustling city life, quiet comfort in the suburbs, sun and sand at the beach or outdoor adventures as well as a wide variety of on-site amenities and floor plans that range from studios to luxury apartments to townhomes. Whatever your style and budget, we have a community that's right for you.
Explore our nearly 250 apartments, such as Agora at South Main in Walnut Creek or Bellerive Apartments in Los Angeles, and learn more about current leasing or move-in specials.