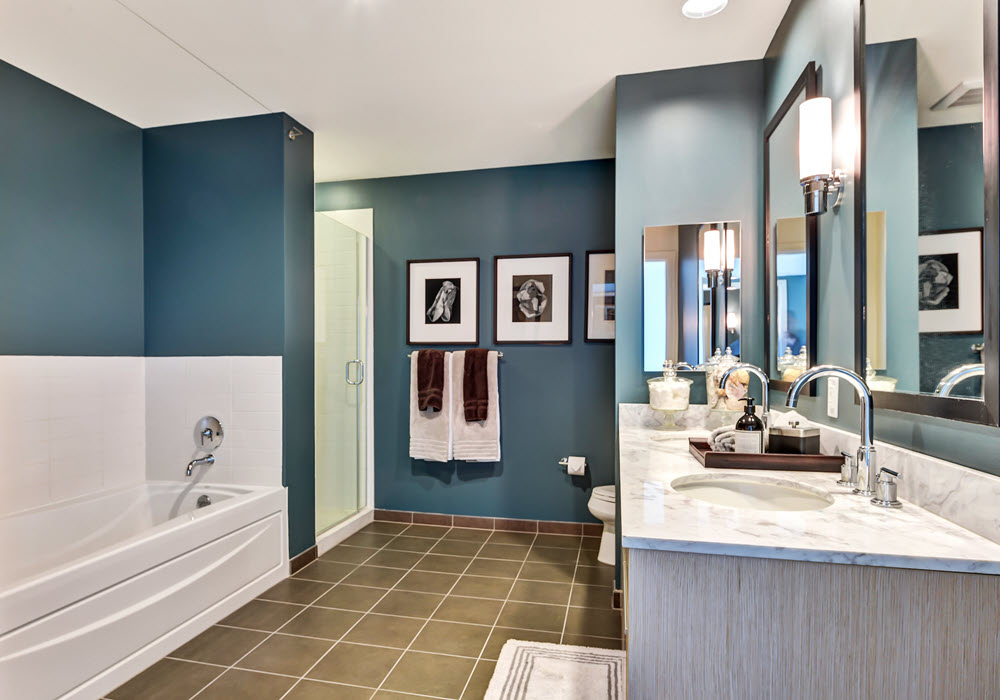 Best Products to Turn Your Bathroom into a Spa
Who doesn't like to be pampered? With the stress of daily life, we can all use more time to relax and detox in our self-care routines, so we have dedicated time to gather ourselves, clear our minds, and restore our inner balance and harmony. Nothing beats a trip to your favorite spa, but we know you don't always have time in your busy day-to-day schedule.
With these simple enhancements, you can transform your apartment bathroom into a home spa! Get ready to feel relaxed and rejuvenated, like you visited a world-class retreat without ever leaving the comfort of home.
To make your bathroom look like a spa, you'll want to create the perfect ambiance. Start with the basics. Clean the space thoroughly, especially the tub. Remove all clutter, throwing out old dispensers or other items that distract from the spa feel, and give yourself a blank canvas to work with.
Let your mind run wild, dreaming up things to include in your newly designed space. Consider adding plants, plush rugs, aromatherapy oils, bath salts and bath bombs, incense, scented candles, and crystals. You may also want to add spa bathroom wall art and spa shelf décor to enhance your tranquil environment.
Now that you've got your basics out of the way, here's a list of affordable spa products that will transform your apartment bathroom and make it feel like a retreat. And with Mother's Day fast approaching, these items make excellent gifts for mom!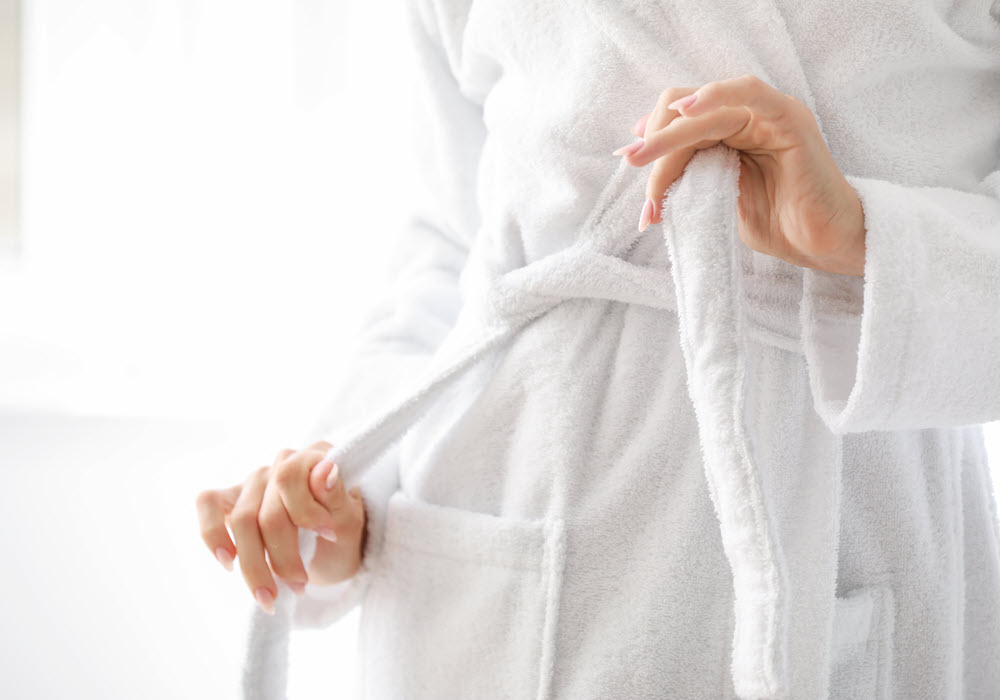 Luxurious Bath Robe
A small but essential luxury, we love a bath robe that feels like a giant hug to help create the perfect spa mood. When it comes to high-quality bathrobes, there are many choices. But one of the most popular ones on the market is the best-selling Unisex Cloud Loom Organic Robe from Coyuchi. Fans rave about the company's commitment to sustainable materials and ethical production practices as well. Their robes are lightweight, absorbent, and super soft, making them perfect for that spa day feel right at home!
Other contenders we'd recommend are the Yves Delorme Oriane Bath Collection, Parachute Waffle Robe, and Lunya The Robe.
Towel Warmer
Nothing says 'spa experience at home' like drying off with a lush, warm towel. You can have this small luxury without installing heated towel racks or running the dryer. Tettonia offers a popular new portable professional spa-grade towel warmer with ultra-large capacity.
The warmer fits two oversized towels at the same time, but works just as well on luxury spa bathrobes, blankets, pajamas, socks, or anything else you'd like to snuggle up in. Sleek, modern, and aesthetically appealing, it heats evenly in as little as six minutes, while its size makes it perfect for apartment residents.
Fruit & Tea Infusion Water Pitcher
It's just not a spa without something refreshing to sip as you revitalize! We highly recommend picking up your own Fruit & Tea Infusion Water Pitcher to add to your at-home spa experience and suggest the Mami Wata Fruit & Tea Infusion Water Pitcher. Made with BPA-free Tritan, the shatterproof jug is more durable than glass but stovetop-safe. You can boil hot tea directly in the pitcher. The stylish appliance features a standard fruit infusing compartment and a second compartment for brewing tea. It even comes with a free recipe book and ice-ball maker kit you can use later to make post-spa cocktails.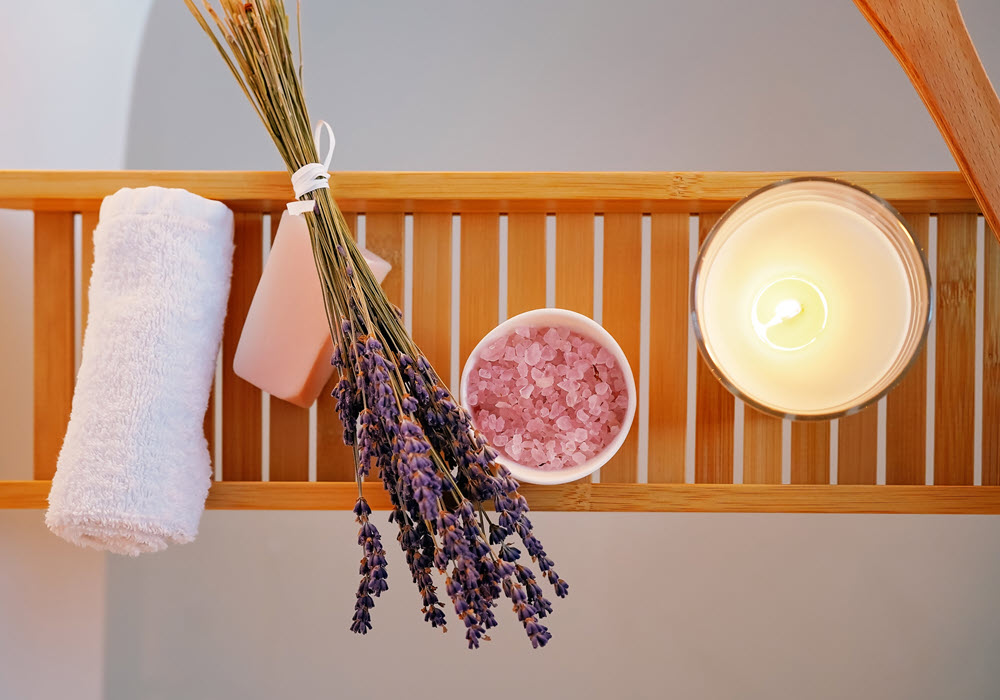 Bathtub Tray
Once you've stepped into the tub, the last thing you want is to have to get out early. A tub tray allows you to store phones, tablets, earbuds, glasses, books, magazines, wine glasses, face masks, and all the things you need to relax. It is absolutely essential to creating the ultimate lavish spa day experience at home!
We recommend the Luxury Bathtub Caddy Tray from Royal Craft Wood, which can be used in your bath or in bed and comes with a bonus soap holder. Modestly priced with impeccable craftsmanship, it's no wonder it's a popular bestseller!
Bathtub Massage Mat
A bathtub pillow, with or without a nonstick full body mat, is nice. But if you want an authentic spa feeling, you'll need to take it to the next level! Try this Electric Bubble Bath Massage Mat from Semme. Waterproof, nonslip, and quick-drying, the comfortable cushioned surface offers full-body support and is suitable for people of all ages. The massage mat features a connected air hose and motorized air pump that delivers massaging bubbles for a stress-free spa-like experience to help you relax and wash away any everyday fatigue.
Indoor Fountain
Adding an indoor fountain can accentuate a Zen environment. There are several wonderful options, but we suggest splurging for a model with extra features, like the Indoor Relaxation Desktop Fountain Waterfall, Zen Meditation Indoor Waterfall Feature with Automatic Pump. The latest version adds an atomizer that illuminates the waterfall and has an air humidifier, lending itself to a tranquil, soothing atmosphere.
It works in other rooms of your apartment as well, enhancing your yoga or meditation session, soothing pets or newborns, or helping you drift off to sleep.
Waterproof Wireless Bluetooth Speaker
Listen to the calming sounds of whales singing underwater, a summer rainstorm, esoteric flutes, or whatever else helps you relax and unwind with a waterproof wireless Bluetooth speaker. A myriad of exellent speakers are currently available at virtually every price point to choose from, and they work just as well outside your new spa as they do within!
Find Your Essex Apartment
Our apartment communities span from San Diego to the Pacific Northwest in some of the most sought-after locations on the West Coast. Whether you're looking for life in Los Angeles, settling down in San Jose, or relaxing in Oakland, we can help. Choose from bustling city life, quiet comfort in the suburbs, sun and sand at the beach or outdoor adventures and a wide variety of on-site amenities and floor plans that span from studios to two-bedroom apartments to townhomes. Whatever your style and budget, we have a community that's right for you.
Explore our nearly 250 apartments, such as The Vistas of West Hills in Valencia or The Pointe at Cupertino, and learn more about current leasing or move-in specials.