Highly Walkable Neighborhoods in the Bay Area
Walking, whether to run errands or for exercise, has many benefits. Not only is exercise good for our hearts, but walking also increases our creativity and reduces greenhouse gas emissions. As concerns about health and climate change continue to grow, more and more people seek to live in places where walking to work and play is easy to do.
The Bay Area and Walk Score
According to Walk Score ratings, the Bay Area has many walkable areas from Palo Alto to San Leandro to North Beach to South Bay. For example, Oakland and Berkeley are rated as Very Walkable, and San Francisco is so walkable it ranks second in terms of most walkable cities in the U.S. What exactly is a Walk Score? Walk Score is a private company that assigns a "numerical walkability score" to any neighborhood or address in the United States. Proximity to necessities like grocery stores, post offices, schools, and entertainment are all taken into account, as is pedestrian safety. The five Walk Score categories of Walkability include:
Walker's Paradise (Walk Score of 90 - 100): Daily errands do not require a car
Very Walkable (Walk Score of 70 - 89): Most errands can be accomplished by walking
Somewhat Walkable (Walk Score of 50 - 69): Some errands require a car, but others can be accomplished on foot
Car-Dependent (Walk Score of 25 - 49): Most errands require a car or some other form of motorized transportation
Car-Dependent (Walk Score of 0 - 24): Almost all errands require a form of motorized transportation
To find the Walk Score of your neighborhood or an apartment you're considering moving to, just go to Walk Score's website and type in the address.
The Bay Area, as a whole, is walkable, but there are specific neighborhoods known for being a Walker's Paradise — the best rating Walk Score assigns. For anyone looking to move to the Bay Area and get around mostly by foot, consider renting an apartment in one of these neighborhoods.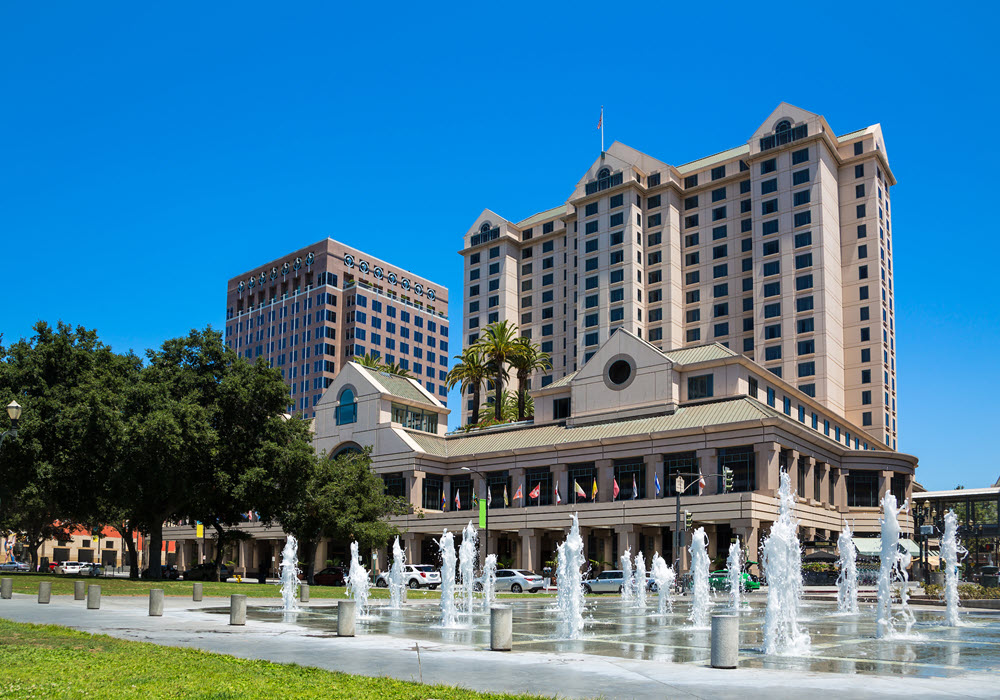 San Jose Neighborhoods
While San Jose is considered a Car-Dependent City according to Walk Score, the area still has much to recommend it. If you're hoping to get around town without a vehicle, the public transportation accessibility is top-notch. There are also several neighborhoods where walking is a breeze. Here are some of them:
St. Leo's
This small neighborhood in the Alameda district of San Jose is the most walkable part of the city. St. Leo's has numerous shops, churches, grocery stores, bars, restaurants, and other conveniences, which are easy to walk to and from no matter where you reside in St. Leo's. The neighborhood has also long been a hot spot for the LGBTQ community. If you are looking to move to the area, consider Essex community 101 San Fernando.
Downtown San Jose
Downtown San Jose is where the hustle and bustle of the city is on full display. Essex community 360 Residences provides easy access to excellent bars for beer lovers and craft cocktail connoisseurs, as well as live music venues and street festivals. Google will be building another campus there soon, and there's even a climbing gym and regular farmer's market. The best? You can walk to all of it.
Sunol-Midtown
The small and cozy Sunol-Midtown neighborhood in San Jose, particularly as it draws near to Buena Vista, is a perfect place to live for anyone looking to forego their vehicle. Meridian at Midtown is perfectly situated near grocery stores, restaurants, parks, and more for those looking to be in the area.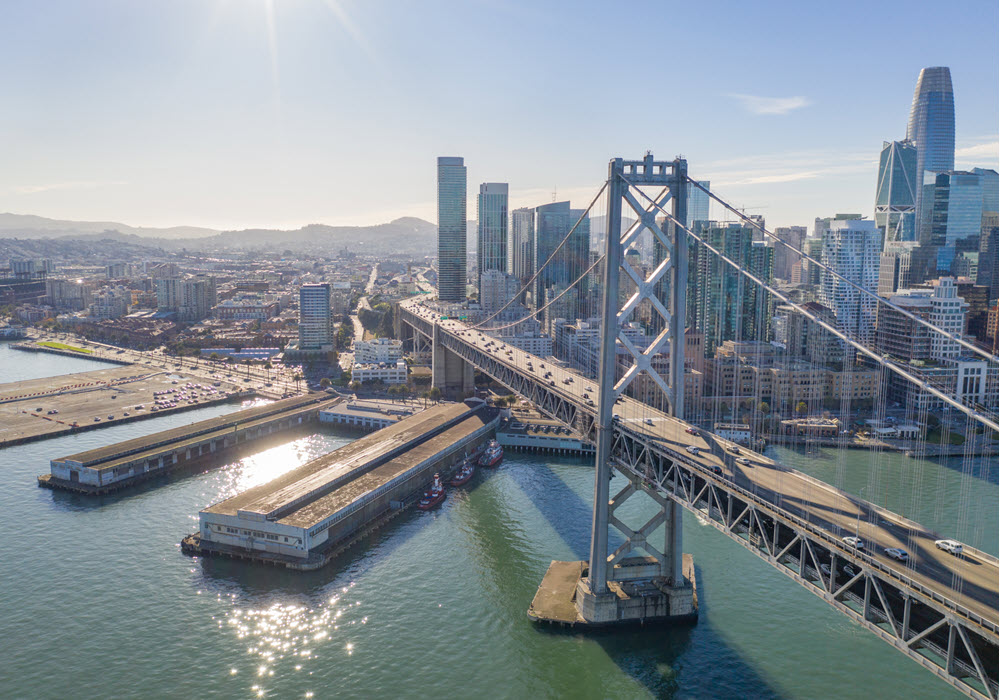 San Francisco Neighborhoods
Known for the Golden Gate Bridge, its iconic hills, Chinatown, and more, San Francisco is also becoming increasingly known as a highly walkable city. Almost anywhere in the City by the Bay will suit you if you want to get out and move your legs, but there are still a few San Francisco neighborhoods taking walkability to new heights.
Yerba Buena
A cultural and entertainment center near the water, Yerba Buena is part of the SoMa neighborhood, and one of the most arresting features is the Yerba Buena Gardens. Bars, hotels, coffee shops, schools, and everything you might need are within walking distance of the destination. The San Francisco Museum of Modern Art and the Children's Creativity Museum are close by too. If you're looking to move to the vibrant area East Cut neighborhood, 500 Folsom offers luxury penthouses and apartments, putting the best of cosmopolitan living at your fingertips.
Potrero Hill
If you're looking for excellent views of the Bay and the skyline, in addition to walkability, look no further than Potrero Hill. This residential neighborhood is home to Essex community Bennett Lofts and offers plenty of amenities, including cozy restaurants, excellent live music venues, hip bars, and parks.
Civic Center
Not too far off the Tenderloin and the Theatre District sits the Civic Center neighborhood. Home to the Asian Art Museum, plenty of bars, restaurants, a weekly farmers market, and green spaces, San Francisco City Hall is also here. Fox Plaza apartments are located just off Market Street, making a walk to Union Square easy as pie. The community also features a 99 Walk Score!
Inner Sunset
If you love green spaces and natural beauty, there is no better neighborhood than Inner Sunset. Home to UCSF's Parnassus Campus, the San Francisco Botanical Garden forms its northern border. Golden Gate Park is also there, as are numerous other parks and hiking trails throughout the area. If you want more of nature in your city living, consider Essex community Park West, which is perfectly positioned in the scenic locale.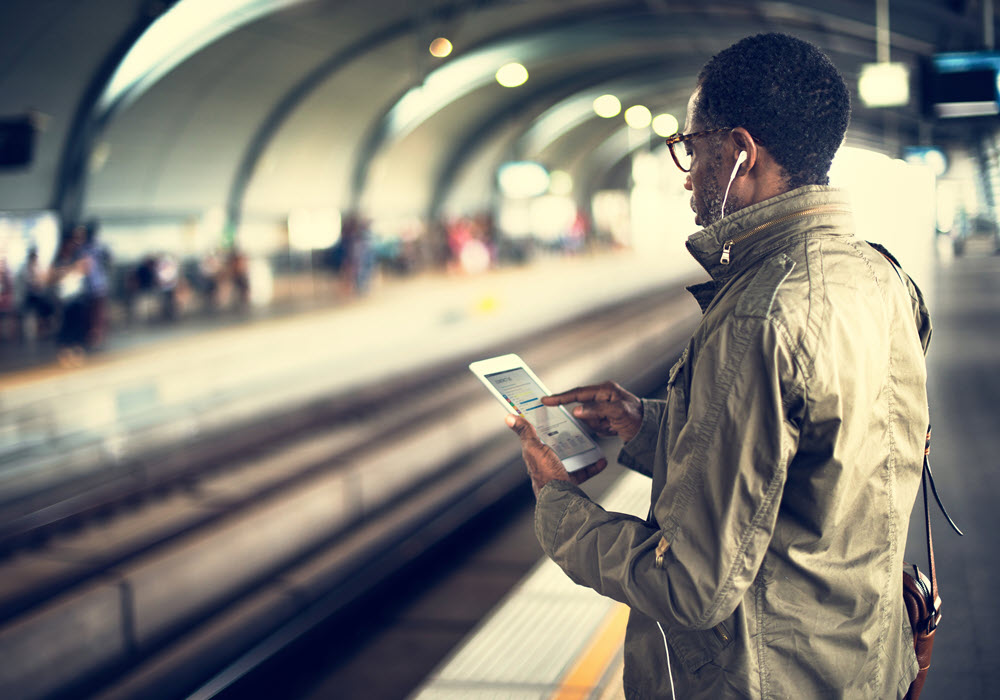 Fremont Neighborhoods
South of San Francisco and on the other side of the Bay, Fremont is too often forgotten by people looking for apartments in the Bay Area. While much of Fremont is car-dependent, two neighborhoods are Walker's Paradises, and the city as a whole is well-connected with public transportation and served by two BART stations.
Irvington
A wealthy enclave in Fremont, Irvington offers plenty of nightlife, shopping, and cafes. It also adjoins Fremont's Central Park, which features over 450 acres of woodlands and open spaces, an 80-acre lake, a skate park, and much more. For apartment living in Irvington, check out Briarwood at Central Park.
Central District
Fremont's Central District is Highly Walkable, with some areas landing in the Paradise range. The neighborhood includes Central Park and dozens of other amenities which are easy to walk to. If you're looking for housing in the locale, Essex community Paragon is located in this area which can easily be explored on foot.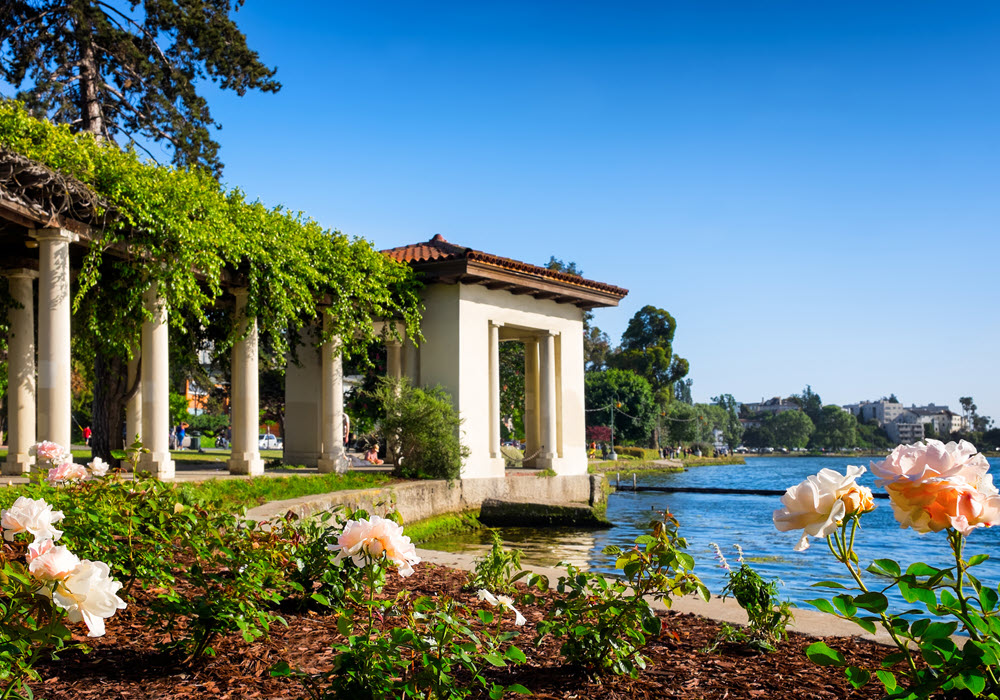 Oakland Neighborhoods
As a whole, Oakland is a very walkable place, and because of its proximity to San Francisco, it is becoming a more desirable place to live. Lake Merritt is in Oakland for water lovers, and the city has also gained a well-deserved reputation as a foodie's paradise.
Waverly
One of the most desirable places to live in Oakland, Waverly is a dense residential neighborhood offering various restaurants, bars, good schools, museums, and more to its residents. For excellent apartment living in Waverly, The Grand offers spacious, pet-friendly living and scenic views of the surrounding area.
Lakeside
Lakeside in downtown Oakland is a historic district also considered a Walker's Paradise. Residents and visitors to Lakeside can enjoy sidewalk cafes, excellent infrastructure for biking, and more, in addition to the stunning architecture, numerous green spaces – including Lakeside Park and Oakland's main library.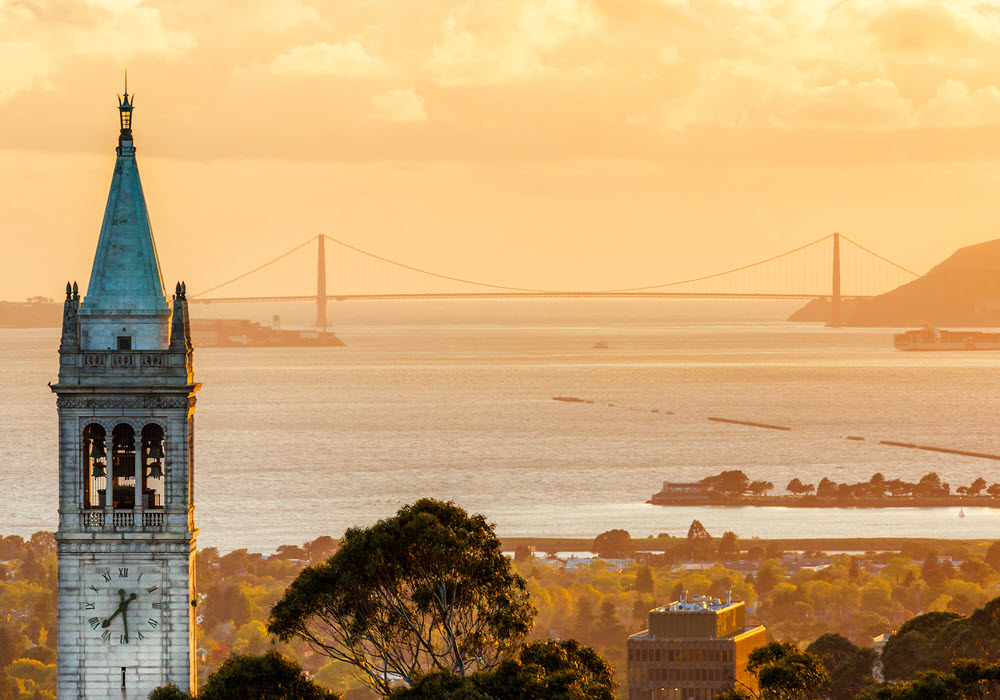 Berkeley Neighborhoods
Much of Berkeley, California, still maintains its laid-back vibe, especially in and around UC Berkeley's campus. Nestled between the San Francisco Bay and a long line of vast regional parks and natural areas, Berkeley is overall a very walkable place, and some neighborhoods, in particular, stand out.
West Berkeley
Exceptional opportunities to play and relax in parks, take in the theatre, drink good coffee, go boating, and more await anyone who calls West Berkeley home. Essex community Fourth & U is located in this Walker's Paradise, which puts almost anything you could need or want within easy reach on foot.
Downtown Berkeley
Berkeley's downtown area is the city's economic hub and another Walker's Paradise. Home to hip coffee shops, world-class performing arts venues, renowned restaurants, and the Berkeley Art Museum, the neighborhood also features a farmer's market and the Martin Luther King Jr. Civic Center Park.
If you're planning on moving to the Bay Area and would like to live in a pedestrian-friendly neighborhood, there are many great options for your consideration. To check the walkability score of an Essex apartment home, click the Neighborhood tab on the community-specific website.
Find Your Essex Apartment
Our apartment communities span from San Diego to the Pacific Northwest in some of the most sought-after locations on the West Coast. Whether you're looking for life in Los Angeles, settling down in San Jose, or relaxing in Oakland, we can help. Choose from bustling city life, quiet comfort in the suburbs, sun and sand at the beach, or outdoor adventures and a wide variety of on-site amenities and floor plans that span from studios to two-bedroom apartments to townhomes. Whatever your style and budget, we have a community that's right for you.
Explore our nearly 250 apartments, and learn more about current leasing or move-in specials and pricing.