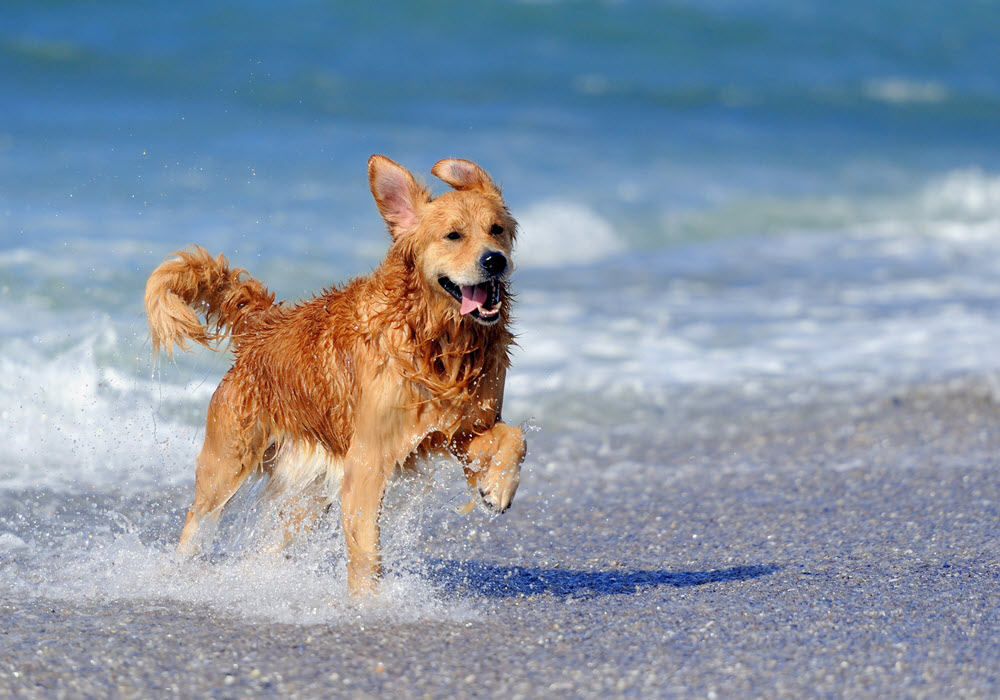 Best Dog Beaches in Southern California
One of the most treasured aspects of Southern California living is the opportunity to easily access miles of breathtaking coastline for a day of fun in the sun. At Essex, we understand you'll likely want the entire family to be in on the action – dogs included. Not all beaches allow furry friends, so you've got to know where and when you can go. We've put together our recommendations to guide you as you venture out and explore the best dog beaches in Southern California!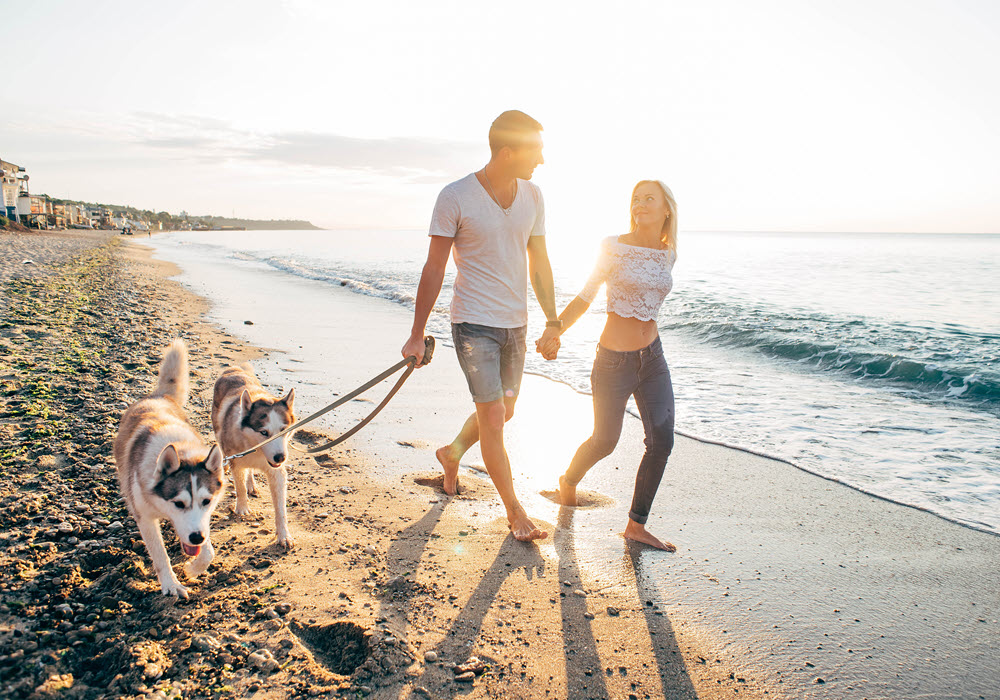 San Diego Area Dog Beaches
Ocean Beach - The Original Dog Beach
5156W Point Loma Blvd, San Diego, CA
Known to locals as the 'Original Dog Beach' in San Diego, this popular pup place is famous for being one of the first official leash-free beaches in the nation. A landmark in Ocean Beach, this dog paradise rests at the end of I-8 at the mouth of the San Diego River and has a parking lot and some limited street parking, as well as bathrooms.
Perennially packed with surfers and sun worshippers, the lot can fill up quickly, but locals insist a little patience is all you need as guests frequently come and go. And best of all, this incredible animal adventure spot is just a short drive away for Essex residents of Carmel Creek Apartments.
Del Mar Dog Beach
3902 29th St, Del Mar, CA 92014
Set between two state parks, Seagrove Park and Powerhouse Park, the Del Mar Dog Beach spans from Torrey Pines to Solana Beach. While off-leash dog hours for the area between 29th Street and Solana Beach are limited from dawn to 8 a.m. June 16 through Labor Day, pups can rule the sand and surf while on-leash from the day after Labor Day through June 15 annually.
Amenities are sparse, so be sure to bring snacks, water, waste bags, towels, and anything else you'd need for a day at the beach. Penalties for leash law violations can also be steep, so be sure to read the posted signs and follow all the rules while visiting.
Metered parking is available along Camino del Mar behind the beach and on 29th Street, and the city-owned beach offers bathrooms.
Orange County Area Dog Beaches
Huntington Dog Beach
100 Goldenwest Street, Huntington Beach, CA 92648
The Huntington Dog Beach may be the most popular dog beach in Southern California and with good reason. Sprawled out along a good stretch of the Pacific Coast Highway, it's open from 5 a.m. to 10 p.m. and offers metered parking for $2 an hour in two separate lots.
Fully off-leash from the marked tower, pups of all breeds can play and frolic in the shallow splash so long as owners can maintain control of their pet and pick up after them using the free doggie waste bags and trash cans provided for this purpose.
For those not lucky enough to live at our own pet-friendly Huntington Breakers, a mere three miles away, here's a list of nearby pet-friendly hotels and dog-friendly restaurants to help plan your trip!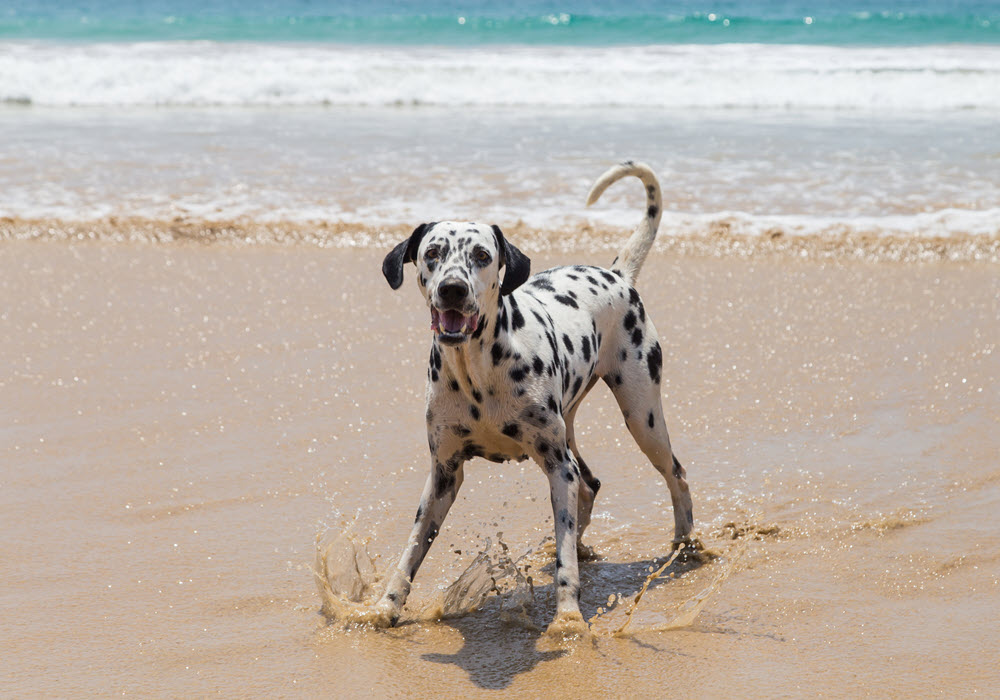 Los Angeles Area Dog Beaches
Rosies Beach in Long Beach
Ocean Blvd between Roycroft and Argonne
Located in the Belmont Shore Beach along Ocean Boulevard between Granada and Roycroft avenues, Rosie's Beach is a popular unfenced spot for dog lovers looking to beat the summer heat. Opened in 2001 in memory of Rosie the Bulldog, this sandy stretch of shore is one hundred percent off-leash for all sizes and breeds from 6 a.m. to 8 p.m. daily.
Free street-side parking and the lot on nearby Bennett Avenue can fill up fast, but metered parking is available at lots along Granada Avenue as well. The Bennett lot has trash cans and a restroom. Amenities are limited, so be sure to bring water and waste bags. As always, remember to keep your dog leashed from the car to the beach.
Meet other dog lovers and enjoy the ocean with your beloved pet at Rosie's. Conveniently, it's only a ten-minute drive away from Essex community Pathways at Bixby Village!
Solimar Beach in Ventura
2808 Pacific Coast Hwy, Ventura, CA 93001
For a scenic drive from the City of Angels, Solimar Beach is about an hour north of Los Angeles. Tucked discretely along the busy freeway on the way to Santa Barbara in picturesque Ventura, this hidden treasure is the ideal spot for dogs to run free and play in the surf. Open from sunrise to sunset, there is ample parking, all of it free, though it can get crowded on sunny summer days. The tide can creep up and steal the beach, but when it's low, you and your pup can enjoy it for miles.
Nestled between a cliff on one side and the water on the other, the breathtaking views at this beach include the passing Amtrack Pacific Surfliner train, a row of oceanfront beach properties, and on clear days, the nearby Anacapa Islands.
You'll need to bring along snacks, treats, waste bags, and water for drinking and cleaning up since there are no amenities at Solimar Beach.
A bonus for Essex residents local to Ventura and Oxnard - this idyllic dog beach is about a 15-minute drive from both The Lofts at Pinehurst and Monterey Villas.
Find Your Essex Apartment
Our apartment communities span from San Diego to San Francisco and the Pacific Northwest in some of the most sought-after locations on the West Coast. Whether you're looking for life in Los Angeles, settling down in San Jose, or relaxing in Oakland, we can help. Choose from bustling city life, quiet comfort in the suburbs, sun and sand at the beach, or outdoor adventures and a wide variety of on-site amenities and floor plans that span from studios to two-bedroom apartments to townhomes. Whatever your style and budget, we have a community that's right for you.
Explore our nearly 250 apartments, such as The Havens in Fountain Valley or The Henley in Glendale, and learn more about current leasing or move-in specials and pricing.