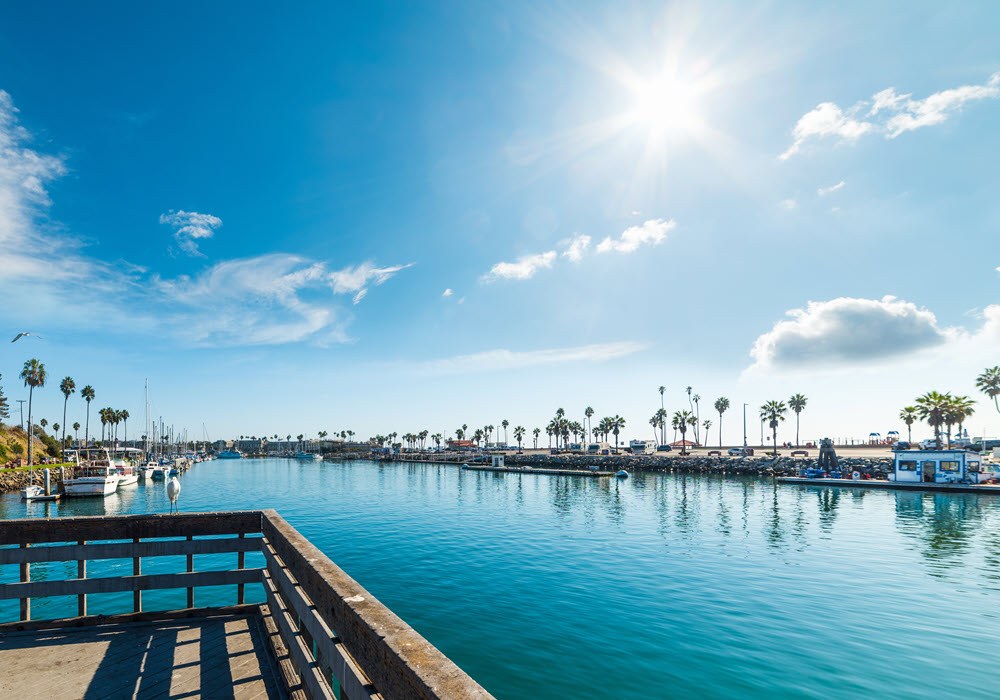 Scenic Outdoor Dining in San Diego
San Diego has near-perfect year-round weather and gorgeous beaches, and the coastline from Oceanside to Imperial Beach boasts more than its fair share of delicious cuisine from some of the world's top chefs. If you're looking for the best restaurants in San Diego with outdoor seating or scouring for popular spots with rooftop seating or waterfront view dining, we've rounded up our favorites! Here are the top places to eat while soaking up the best of the area's SoCal beach vibes.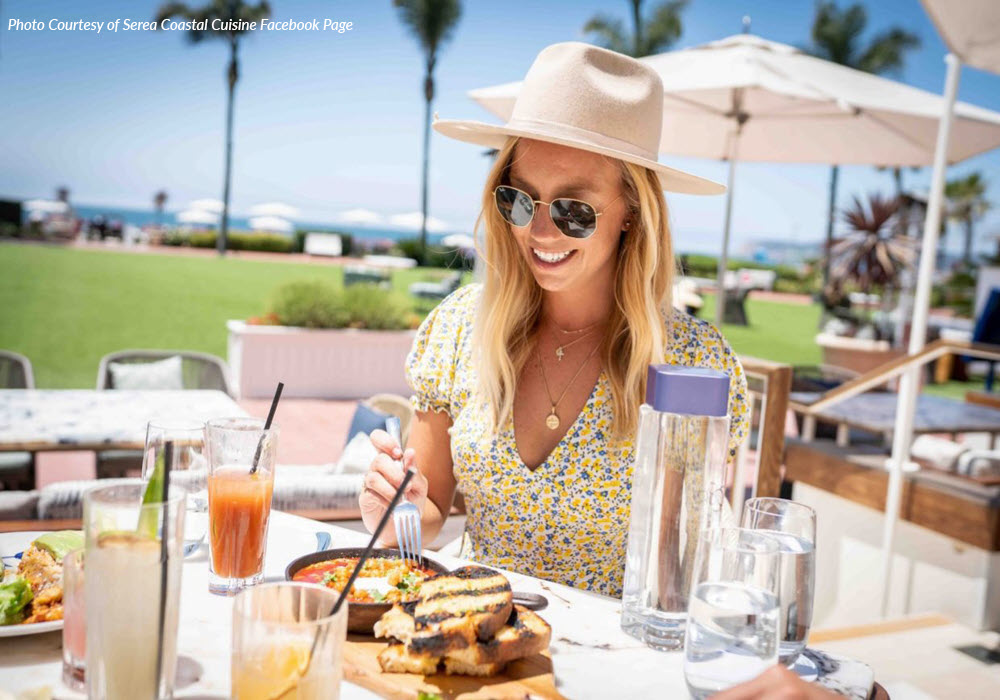 Photo Courtesy of Serẽa Coastal Cuisine Facebook Page
Serẽa at Hotel del Coronado
Serẽa means siren, which perfectly suits this exquisite restaurant located a stone's throw from the Pacific Ocean inside the world-famous Hotel Del Coronado. Serẽa's expansive patio offers breathtaking views while you sample world-class cuisine from San Diego Chef and culinary mastermind Jojo Ruiz, who provides a simple but elegant sea-to-table experience featuring creative cuisine with a hint of Mediterranean flair.
The ocean-friendly and sustainable menu is a succulent feast offering fresh-caught seafood, a raw bar, and seasonal ingredients grown by Southern California farmers. Try the local halibut ceviche for a perfect balance of flavors or the whole wood-grilled Pacifico striped bass, and don't skip out on the patatas bravas with its chili garlic and chive kick.
Less than five miles away, Serẽa at Hotel del Coronado is a short drive away from Essex community Form 15.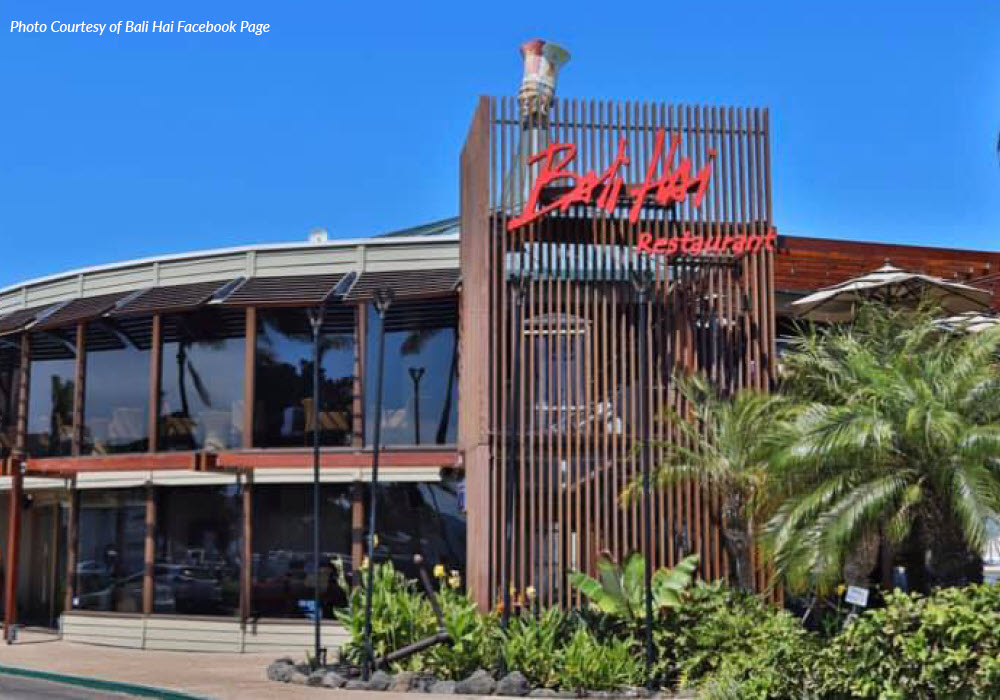 Photo Courtesy of Bali Hai Facebook Page
Bali Hai Restaurant
Located on the northern tip of Shelter Island, Bali Hai is a chic Polynesian paradise. The second and third-generation owned popular restaurant and wedding venue features a second-floor outdoor dining deck, boasting panoramic views of downtown, the harbor, and North Island. It's also a work of art inside, with more than 100 pieces of Polynesian art and artifacts, including two Tiki icons.
Guests rave about the coconut shrimp, Korean fried chicken, and peanut shrimp with Chinese noodles. Don't skip the creme brûlée or their world-famous Mai Tais, which their website's live counter shows they have sold over 2.7 million!
Brockton Villa Restaurant
Brockton Villa is located inside one of the original beach cottages above the La Jolla cove. Offering unparalleled views, this ocean view eatery embodies a century of local history and is family-owned and operated by a husband-and-wife team.
Executive Chef Mareyja Sisbarro brings her sensible approach to food with a satisfying and well-curated San Diego-style surf and turf menu, which features brunch, small bites, and dinner options. Don't miss their epic clam chowder, described by locals as a near-religious experience. Other favorites include crusted Ahi, Korean BBQ salmon, and pan-seared sea bass with mint pesto.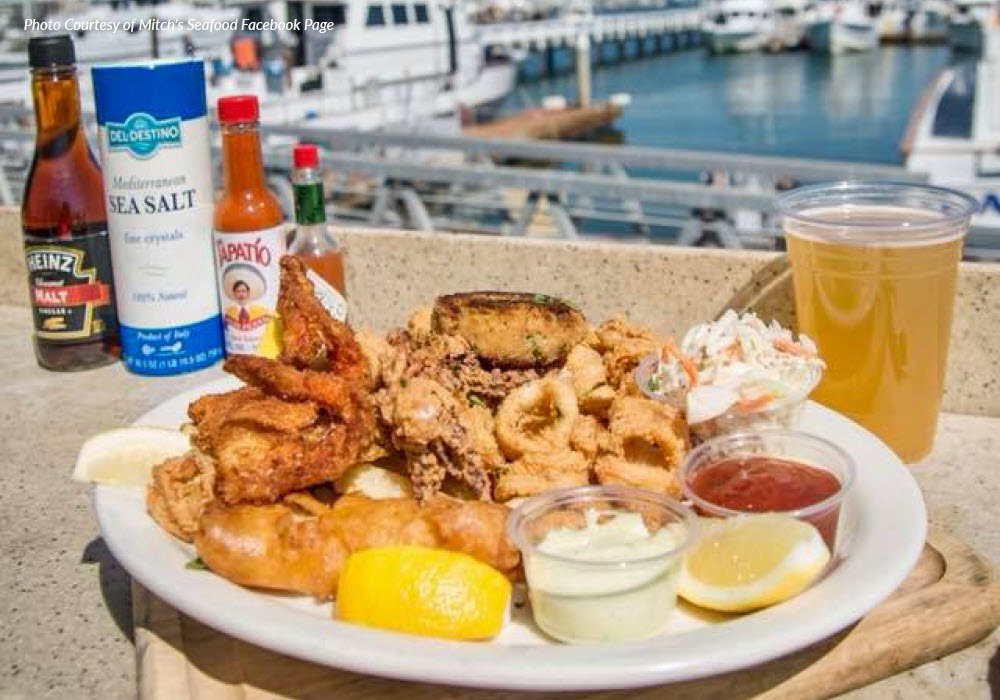 Photo Courtesy of Mitch's Seafood Facebook Page
Mitch's Seafood
If you like fresh seafood, there's no better place to sample some than Mitch's Seafood! Located on San Diego's working waterfront with a view of the fishing fleet, they specialize in fresh, sustainably caught seafood from the waters off San Diego simply prepared and paired with local craft beers and California wines. The product of three fisherman families, most of the fish they serve is either caught by them or their friends.
The raw oyster bar is a local favorite, in addition to the yellowfin tuna poke from the chilled menu. Local fish and wild shrimp tacos offer a uniquely San Diego taste, as do the rock cod and octopus tacos with Mexican corn. You might have to remind the local seagulls and pigeons Mitch's Seafood is too good to be shared!
A bonus for Essex residents — Mitch's Seafood is only five miles away from our community at CentrePointe!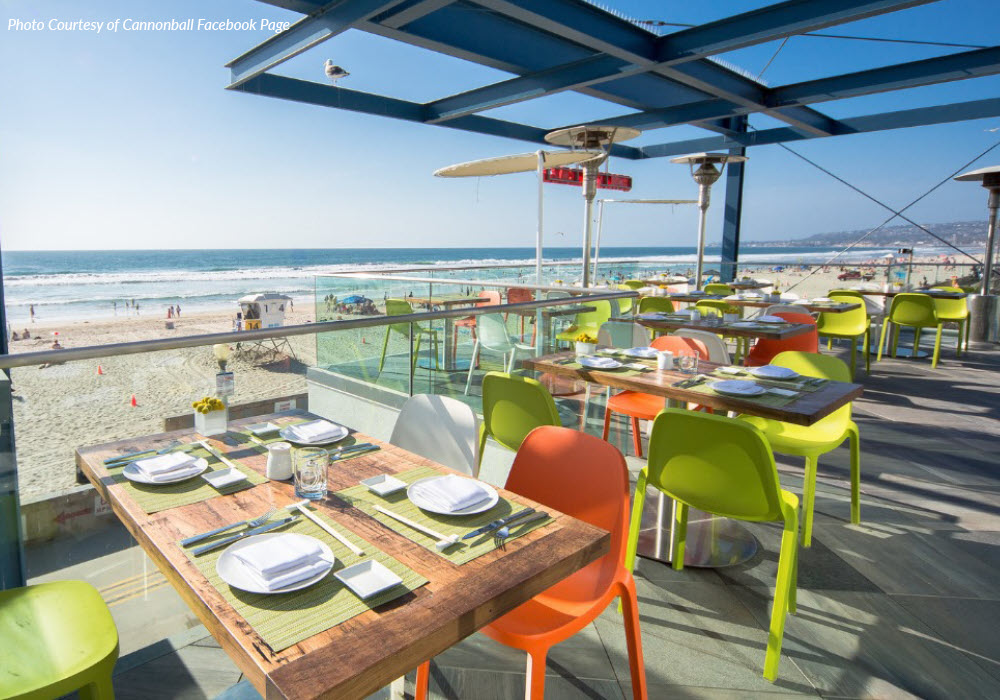 Photo Courtesy of Cannonball Facebook Page
Cannonball
Oceanfront restaurant Cannonball serves up the best views in San Diego, along with delicious, inventive sushi and California cuisine inspired by Pacific Rim influences. Located on Mission Beach, this trendy beach spot soaks guests in California sunshine from their rooftop patio, the biggest in San Diego.
The vibe here is beach casual, with local, live bands playing some nights, adding to the already lively atmosphere. Voted 'Best Sushi in San Diego' in 2018, they also offer refreshing beach-inspired cocktails like their Spicy Watermelon Margarita or Beach House Sangria in addition to local craft beers like The Looker or Cali Creamin'.
Harbor Fish & Chips
Nothing says beach dining like piping hot fish and chips! 30 miles North of Essex community, Mesa Village, Harbor Fish and Chips is family-owned and operated by Oceanside locals. The restaurant has been offering its namesake fish and chips, fish tacos, and other seafood menu items on the waterfront of Oceanside Harbor for over 50 years.
Portions are big, so bring a friend and don't miss the clam chowder in a sourdough bowl! Not into fish? No problem. Try one of their tasty burgers.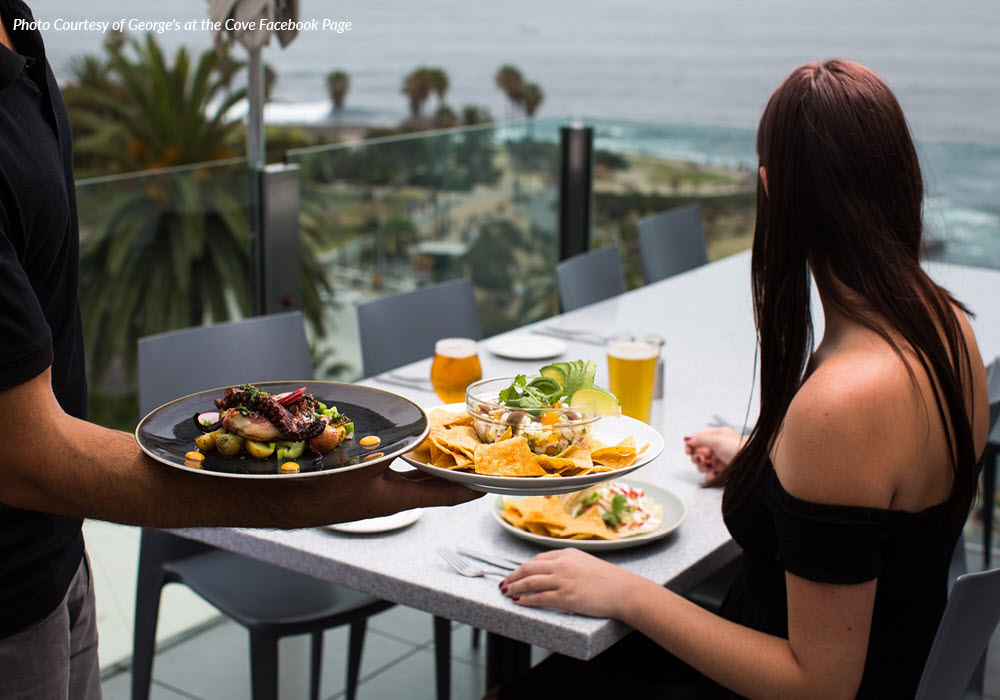 Photo Courtesy of George's at the Cove Facebook Page
George's at the Cove
There's no better place to enjoy California cuisine while taking in the view than the acclaimed George's at the Cove. You can drink in the million-dollar view from the Ocean Terrace and try some cocktails at the elevated bar where beach-themed cocktails, wine, champagne, and beer flow freely like the tides.
Chef de cuisine Michael Kahikina joins award-winning Executive Chef and Partner Trey Foshee to create a culinary experience sure to stay with you for years to come. Local favorites include the grilled salmon, steak frites with half lobster in garlic butter, and spaghetti & clams. Just don't forget to leave room for mouthwatering desserts like warm chocolate cake and sticky toffee pudding!
George's at the Cove is convenient for residents at Essex community Carmel Creek as the expansive restaurant with three different experiences is less than 10 miles away.
Find Your Essex Apartment
Our apartment communities span from San Diego to San Francisco and the Pacific Northwest in some of the most sought-after locations on the West Coast. Whether you're looking for life in Los Angeles, settling down in San Jose, or relaxing in Oakland, we can help. Choose from bustling city life, quiet comfort in the suburbs, sun and sand at the beach, or outdoor adventures and a wide variety of on-site amenities and floor plans that span from studios to two-bedroom apartments to townhomes. Whatever your style and budget, we have a community that's right for you.
Explore our nearly 250 apartments, such as Bernardo Crest or Allure at Scripps Ranch in San Diego, and learn more about current leasing or move-in specials and pricing.