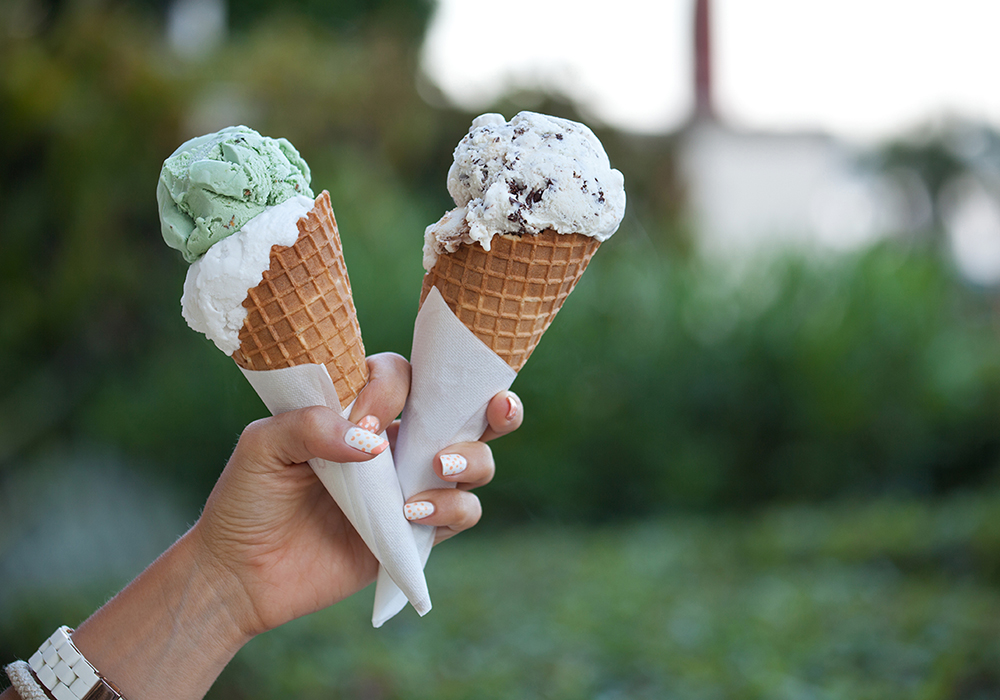 Unique Eats: Local Ice Cream Shops
Whether you're in the mood for an ice cream sandwich, a popsicle, a hot fudge sundae, or a tasty science lesson this upcoming Labor Day weekend, these unique, local ice cream shops have just what you need.
Cool off on the West Coast with a cold, creamy sweet treat at one of these super cool ice cream shops in the Pacific Northwest and California.
Seattle Metropolitan Area
Husky Deli
In 1932 Herman Miller opened Husky Deli, and today his grandson Jack runs the famed West Seattle ice cream shop. Named after the vanilla ice cream cones dipped in chocolate and rolled in nuts, Husky grew to include the deli but never gave up the good stuff – creamy frozen treats!
Stop in for a sample of the store's namesake, an original Husky, or try other homemade ice cream flavors like Chocolate (an original Dutch recipe!), Lemon Custard, Oreo Mint, or Caramel Pecan Fudge. One lick, and you're sure to be smitten!
Molly Moon's
Molly Moon Neitzel opened her ice cream shop in 2008, believing that ice cream simply makes people happy. Molly's favorite flavor is Melted Chocolate, but you can try any of the other amazing flavors, such as Honey Lavender, Salted Caramel, or Cookie Dough. Or give their frozen yogurt a try!
The delicious flavors are made with locally sourced ingredients at creameries in Wallingford, Capitol Hill, Madrona, Queen Anne, U Village, Redmond, Columbia City, and Bellevue. It's a neighborhood favorite for Essex community, Vox Apartments, residents, as Molly Moon's Pine Street location is less than half a mile away.
Subzero Ice Cream
With a chemistry degree to his name, Jerry Hancock set out to inspire the next generation of ice cream lovers with science. At Subzero Ice Cream, he mixes STEM with creamy, delicious flavors to help you create your favorite ice cream combinations and toppings.
Choose your base, original cream, reduced fat, vegan, or sugar-free, then your flavors, selecting from 35 combinations, and your mix-ins, like Reese's cups or marshmallows, and then watch it freeze with a blast of liquid nitrogen. The fog gives way to an artisanal ice cream wonder!
San Francisco Bay Area
Ghirardelli Chocolate Experience at Ghirardelli Square
Nothing on earth compares to the joy of experiencing a World-Famous Hot Fudge Sundae smothered in Ghirardelli Handmade hot fudge with whipped cream. The legendary chocolatier still offers signature sundaes at their scoop shop in San Francisco with Chocolate Mint, Chocolate Strawberry, and Sea Salt Caramel Sundaes, each available in hand-dipped waffle bowls.
Pick yours up at the Ghirardelli Chocolate Experience, then shop wall-to-wall chocolate before enjoying the breathtaking view of the Bay. While you're there, take a self-guided tour to learn how they make Ghirardelli Chocolate.
Bi-Rite Creamery
Whether you want to grab a single scoop, an ice cream sandwich, or a seasonal fruit popsicle in San Francisco, Bi-Rite Creamery is the place to visit in Northern California. They make their small batches of ice cream by hand and everything that goes into it, including graham crackers, brownies, and more. Enhance your selection with toppings like almond toffee or decadent dark chocolate hot fudge.
Get smitten by the Bay Area ice cream parlor with seasonal options like their Greek Yogurt and Cream Cheese ice cream, Knafeh with Pistachio Phyllo Brittle, or enjoy regular delights like Black Sesame and Ritual Coffee Toffee. Dairy-free flavors include Blackberry Rose and Triple Chocolate Coconut.
Best of all, it's just over a mile away from Essex community Fox Plaza , making a pleasant stroll on a sunny day.
Humphry Slocombe
Another of San Francisco's finest spots for a scoop is Humphry Slocombe. Opened in late 2008, the quirkily named creamery doesn't think its ice cream flavors are unusual, so they let visitors sample everything.
The Bay Area ice cream shop features wonderful, sweet treats like Secret Breakfast, Blue Bottle Vietnamese Coffee, and traditional options like Peanut Butter Fudge Ripple in their wide selection. Some vegan flavors include Coconut & Salty Caramel and Toasted Sesame & Chocolate.
Los Angeles Area
Ginger's Divine Ice Cream
Culver City, the former heart of the film industry, plays host to some of the finest eateries in the city of Los Angeles, and one of the best ice cream bars anywhere – Ginger's Divine Ice Cream. Fans of the locally owned ice cream parlor keep lines long and fill up review boards with praise for the products.
Try a scoop of Mexican-spiced Candied Plum & Smokey Chipotle, or Jack Daniels infused Smoked Whiskey De Coco in a homemade waffle cone. Explore vegan flavors like Coconut Almond Joy or Pickled Strawberry Blueberry Pie, or their vegan chocolate popsicle dipped in dark chocolate covered in vegan chocolate sprinkles.
A bonus for Essex residents in the area - it's a short drive from Fountain Park Apartments in Playa del Rey!
Bacio di Latte
Bacio di Latte offers authentic Italian gelato crafted in a traditional fashion daily. Started by brothers from Milan, their passion for gelato continues to inspire palettes of pleased customers with classic flavors like hazelnut, pistachio, chocolate chip, and Nutella, along with a selection of savory fruit sorbets. They also offer vegan gelato, including the crowd-pleasing soymilk banana cinnamon.
Enjoy a freshly baked waffle cone with a single scoop or order a cup and pick as many as three assorted flavors. For chocolate lover's the 70% chocolate and Belgian chocolate are a must!
Somi Somi
Originally founded in 2016 by Matt Kim in the Koreatown area of Los Angeles, Somi Somi Soft Serve & Taiyaki has since expanded all over the West Coast, as well as Hawaii, Las Vegas, and Texas. They offer a unique frozen treat for fans of soft serve.
Somi Somi serves Taiyaki, an ornate fish-shaped pastry with your choice of fillings (options include custard, taro, red beans, and more), and Ah-boong, their signature goldfish-shaped waffle cone stuffed with the soft serve and filling of your choice. Swirls are encouraged, so creativity is encouraged when ordering.
Find Your Essex Apartment
Our apartment communities span from San Diego to San Francisco and the Pacific Northwest in some of the most sought-after locations on the West Coast. Whether you're looking for life in Los Angeles, settling down in San Jose, or relaxing in Oakland, we can help. Choose from bustling city life, quiet comfort in the suburbs, sun and sand at the beach, or outdoor adventures and a wide variety of on-site amenities and floor plans that span from studios to two-bedroom apartments to townhomes. Whatever your style and budget, we have a community that's right for you.
Explore our nearly 250 apartments, such as Solstice or Windsor Ridge in Sunnyvale, CA and learn more about current leasing or move-in specials and pricing.