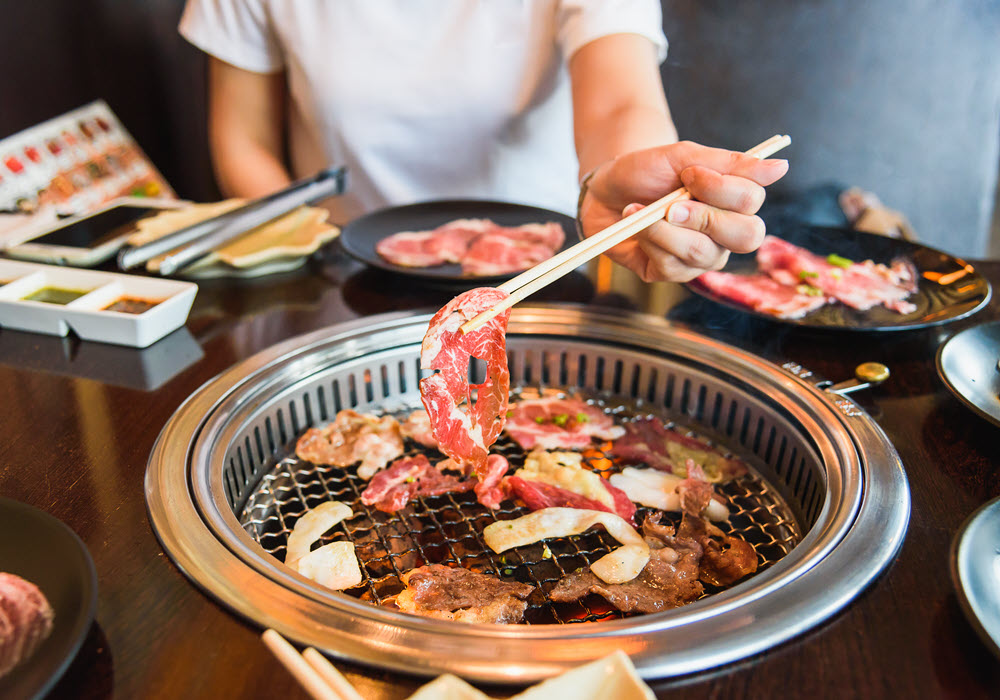 The Best Restaurants in South Bay & Santa Clara
San Francisco's South Bay area has a long and vibrant agricultural and culinary history that has only grown more diverse as time has passed. Whether you're looking to experience the locally grown cuisine of the region or just searching for the best new spot for dinner and drinks, we've got you covered! Below are some of our recommendations for the best restaurants in the South Bay.
Jang Su Jang Korean BBQ
Located within walking distance of Essex communities Villa Granada and Mylo Santa Clara in the heart of Santa Clara, Jang Su Jang offers a casual yet refined Korean steakhouse atmosphere with a focus on great ingredients and top-quality meats. Featured in California's Michelin Guide for over four years, Jang Su Jang excels at offering really good food that isn't stuffy. Aside from the DIY-style BBQ, their menu also offers a variety of soups, noodle dishes, and seafood. It is a great spot for a family meal, a company function, or just a casual dinner for two.
Luna Mexican Kitchen
Approximately one mile from Essex communities Silver and Meridian at Midtown, Luna Mexican Kitchen – The Alameda offers patrons a vibrant taste of authentic Mexican food made with clean ingredients. They pride themselves on recipes with rich history, food for everyone, and menu items that revolve around the trinity of corn, chile, and beans. Open for breakfast, lunch, and dinner; it's a great choice for any meal.
Minato Japanese Restaurant
Nearby Essex communities Mio, Marquis, and The Esplanade is a centerpiece of San Jose's Japantown neighborhood. Minato Japanese Restaurant is a classic Japanese restaurant offering a wide range of sushi, udon, katsu, and more. This gem of a local restaurant is known for its outstanding customer service and is an excellent selection for a date night or dinner with friends.
Mio Vicino
Mio Vicino has been a local favorite for 30 years. Located in Santa Clara's old town, the restaurant serves up traditional Italian fare that's sure to please any palette. Whether you're a pizza lover, a pasta lover, or a connoisseur of fine Italian sandwiches, Mio Vicino is a must-visit on any Santa Clara restaurant tour. Enjoy outdoor seating, delivery, or indoor dining.
The Table
The Table is a New American kitchen offering refined, modern takes on classic dishes like bolognese or steak frittes, plus a selection of small plates, cocktails, and artisan wines. For residents of Essex community, Patina at Midtown in San Jose's Midtown neighborhood, this selection is just a short drive away from home. The Table focuses on sourcing local seasonal ingredients, so its menu changes throughout the year. The restaurant offers an upscale yet personal environment — think fine dining without any pretense — perfect for date night or a special occasion. They currently offer both indoor and outdoor dining.
The Yellow Chilli
Located just blocks from Essex community Riley Square Apartments, The Yellow Chilli is a forward-thinking, chef-driven Indian locale that focuses on updated takes on favorite Indian cuisine. Chef Sanjeev Kapoor owns the restaurant, a world-famous culinary personality who has collaborated with mainstays like Rachel Ray and Rene Redzepi. The Yellow Chilli is his version of a down-home but sophisticated Indian spot. The menu offers a wide range of curries and dishes which will be familiar to American audiences, as well as several regional Indian specialties for the more adventurous diner. Despite its quality, the menu is reasonably priced, and the restaurant offers a kid- and family-friendly environment.
Voyager Craft Coffee
With three locations in Santa Clara and San Jose, Voyager Craft Coffee is a great local spot for freshly roasted coffee from around the globe and a vast selection of lattes and other beverages. Their menu also offers pastries and craft toasts. Voyager is known for its energetic atmosphere and diverse team and offers both dine-in and pick-up service. Stop by if you're ready to find your new favorite bean while you catch up with a friend or work remotely.
Yard House
Yard House is a fun and elevated sports bar with a wide range of draft and bottled beers, plus a menu that includes tacos, pizzas, fish and chips, salads, nachos, and burgers—practically everything but burritos—and more. Yard House specializes in New American cuisine with playful twists on classic bar fare and a social environment focused on community and fun. They advertise the region's largest selection of draft beers, so this is the perfect spot to watch the game with some friends or go out for drinks and fun with your whole family, as there is an extensive kids' menu and a selection of zero-proof beverages. A bonus for residents of Essex community, Le Parc, this restaurant is just down the road!
While we've put together a robust list of our favorite restaurants in the South Bay area, Silicon Valley and the surrounding region has no shortage of excellent places to dine. So, whether you're looking for unforgettable fast food, pho, Mediterranean fare, ice cream, or donuts, it's a great place to live, work, and call home.
Find Your Essex Apartment
Our apartment communities span from San Diego to San Francisco and the Pacific Northwest in some of the most sought-after locations on the West Coast. Whether you're looking for life in Los Angeles, settling down in San Jose, or relaxing in Oakland, we can help. Choose from bustling city life, quiet comfort in the suburbs, sun and sand at the beach, or outdoor adventures and a wide variety of on-site amenities and floor plans that span from studios to two-bedroom apartments to townhomes. Whatever your style and budget, we have a community that's right for you.
Explore our nearly 250 apartments, such as 101 San Fernando or The Esplanade in San Jose, CA and learn more about current leasing or move-in specials and pricing.