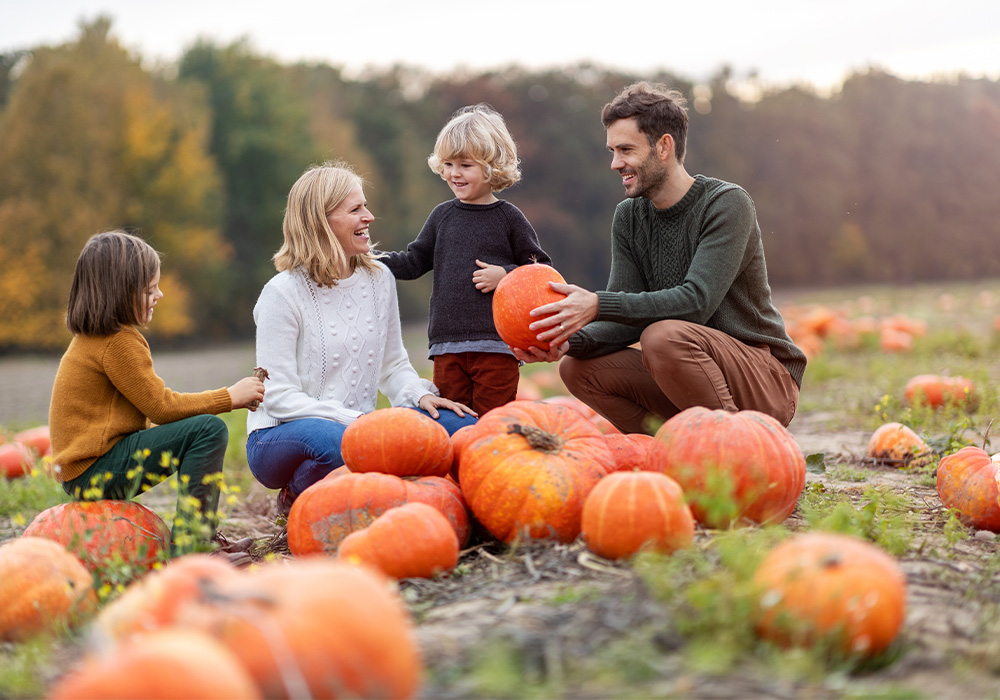 Family-Friendly Fall Adventures
As the air turns crisp and leaves transform into vibrant hues, the fall season beckons families to embark on a range of adventures that celebrate the beauty of autumn. It's a time for cozy sweaters, warm drinks, and creating memories with loved ones. This blog will guide you through various autumn activities perfect for families. From pumpkin picking and hayrides to corn mazes and apple picking, we'll explore the best ways to embrace the beauty of fall from Southern California to the San Francisco Bay area and up to the Pacific Northwest. Let's immerse ourselves in the magic of fall and make this season one to remember for years to come!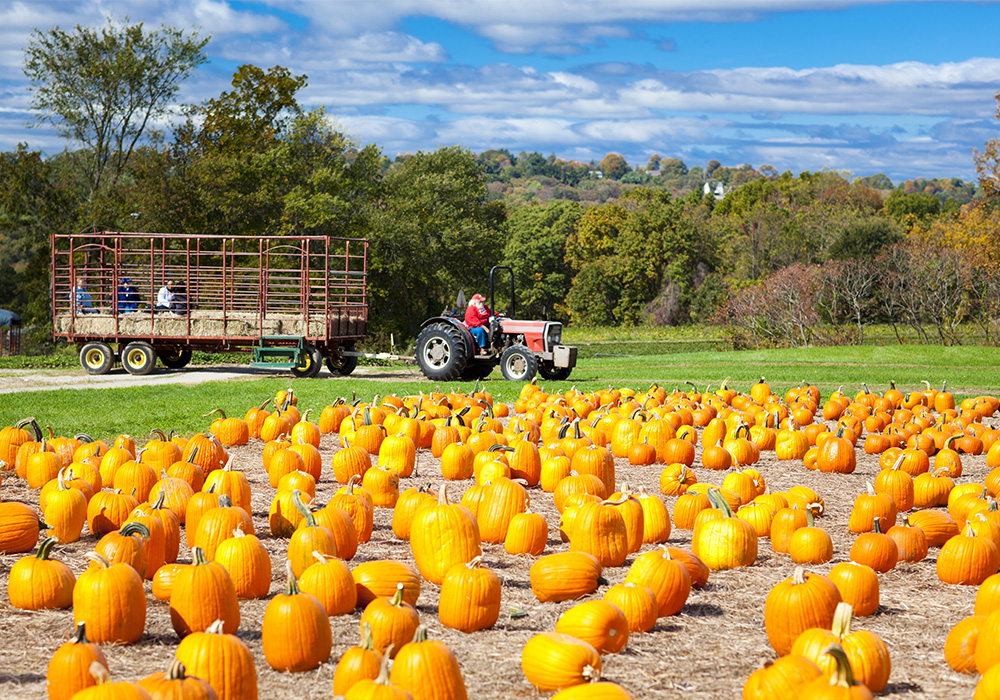 Southern California
Irvine Regional Park
Irvine Reginal Park, nestled in the heart of Orange County, hosts various seasonal events and festivities perfect for families and outdoor enthusiasts. Find your perfect pumpkin in the pumpkin patch, go for a hayride through a picturesque landscape, or challenge the adventurers in your group with a trip through the corn maze. The park is also home to the Irvine Park Railroad, which runs daily, and the Orange County Zoo, tucked among coastal live oak and giant sycamore groves and hiking trails. Go for a ride on rentable bikes, paddle boats, and horseback riding, or enjoy a tranquil picnic amongst the fall foliage. Irvine Regional Park in the fall is a must-visit Southern California experience.
Tanaka Farms
Tanaka Farms, another crowd-pleasing Orange County staple, transforms into a festive wonderland during the fall season. With the arrival of autumn, the farm bursts into vibrant hues of oranges, yellows, and reds as pumpkins ripen and crops flourish. Families and visitors can immerse themselves in the spirit of fall by participating in a range of outdoor activities. The centerpiece is undoubtedly the pumpkin patch, where visitors can select pumpkins of all shapes and sizes to take home. Wagon rides through the fields and U-Pick activities provide a unique experience, allowing guests to tour the farm and pick their own produce. Additionally, the farm often offers corn mazes, petting zoos, and seasonal treats, providing a delightful and authentic fall experience for all ages. Tanaka Farm's fall activities create cherished memories and offer a lovely escape into the joys of the season.
Bates Nut Farm in Valley Center
Bates Nut Farm, located in Valley Center in North County, San Diego, is filled with old-school country charm. This beloved family-owned farm has become a cherished destination for both locals and visitors. The farm is renowned for its high-quality nuts, a variety of fresh produce, and a charming general store bursting with timeless treats like pumpkin fudge, dried fruits, chocolates, apple butter, and toffee. Visitors flock to the farm during the fall season for its family-friendly activities, including the pumpkin patch, hayrides, a petting zoo, pony rides, a straw maze, and festive events, making it a beloved autumn tradition for many. The scenic beauty and warm hospitality make Bates Nut Farm a haven for those seeking a taste of a genuine farm experience in the heart of Valley Center.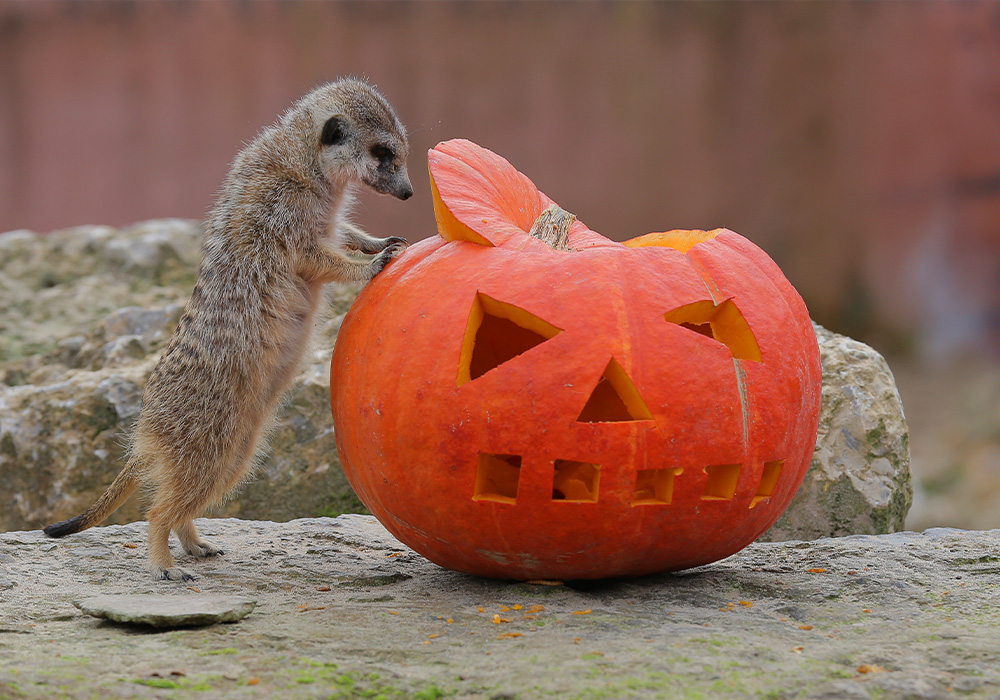 Northern California
San Francisco and Oakland Zoos
"Boo at the Zoo" is a spectacular annual event hosted by the San Francisco and Oakland Zoos, bringing a fusion of Halloween excitement and wildlife encounters.
The San Francisco Zoo has partnered with the Sloth Conservation Foundation to bring you Sloth-oween, featuring a "slow" stroll around zoo grounds to visit a haunted house. You can also participate in costume parades and contests. Join in the fun for International Sloth Day on October 20th!
Join the Oakland Zoo at their Haymazing Halloween Event and X-ray Scavenger Hunt. There will be a 500-bale hay maze, larger-than-life Halloween decorations, and a self-guided scavenger hunt throughout the zoo. Come in costume when you visit for a chance to win extra prizes, and make sure you match the costume contest theme of the week.
"Boo at the Zoo" in San Francisco and Oakland promises a bewitching adventure that allows visitors to celebrate the spooky season while appreciating the beauty of wildlife and conservation efforts.
G&M Farms
G&M Farms, in the scenic city of Livermore, California, is a beloved autumn destination and was voted Best Seasonal Attraction in the East Bay by Diablo Magazine. The highlight is the intricately designed corn maze. The maze has a changing theme every year, making it part art installation and part exhilarating challenge for visitors to navigate through its twists and turns. Families can also wander through the vibrant pumpkin patch, selecting their favorite pumpkins to carve into jack-o'-lanterns. There are also hayrides, pedal carts, pony rides, and G&M's famous Cow Train. G&M Farms Corn Maze and Pumpkin Patch is a delightful venue where the joys of the harvest season come alive in a charming setting, creating cherished memories for everyone who visits.
Lemos Farm (Half Moon Bay)
If you are looking for a quick getaway from the city, look no further than Lemos Farm, located in the coastal town of Half Moon Bay. This cherished family-friendly destination beautifully marries agriculture with entertainment. While the farm is open year-round, families visit from all over Northern California yearly to experience Lemos Farm's seasonal attractions. The farm boasts a delightful petting zoo where children can interact with friendly farm animals, ranging from fluffy rabbits to playful goats. A feature of the experience is the charming train ride that takes guests on a scenic journey around the farm, providing a taste of the countryside. Especially popular during the autumn season, the farm transforms into a festive wonderland with a pumpkin patch, pony rides, hayrides, and seasonal decorations, captivating visitors seeking an ideal fall adventure. Lemos Farm embodies warmth and joy, offering a delightful escape for families and a chance to create lasting memories in a quaint and serene environment.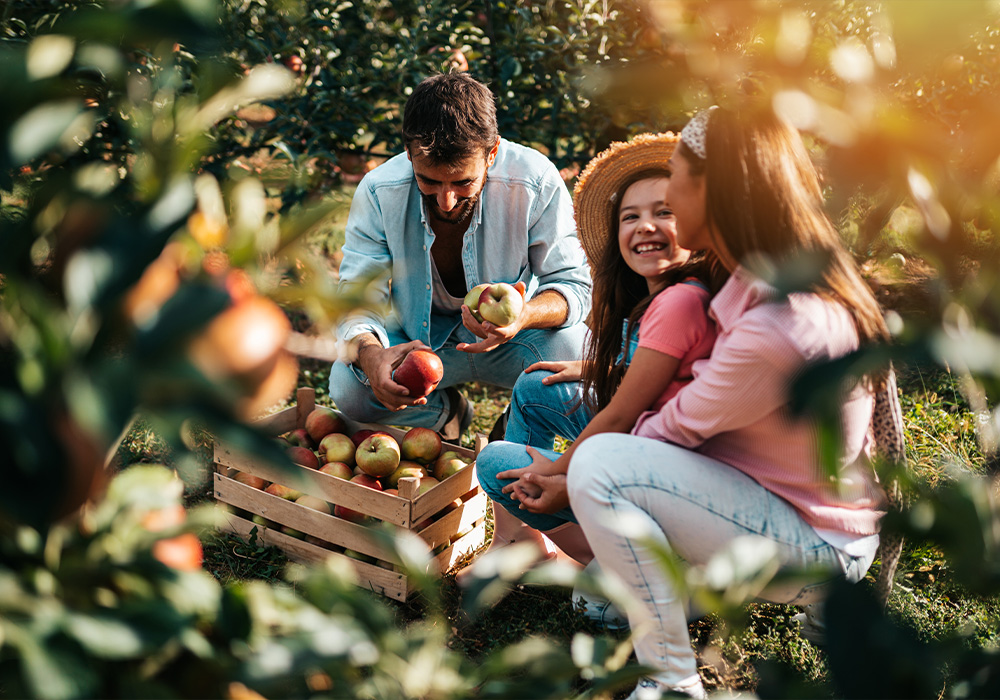 PNW
Swans Trail Farms
Swans Trail Farms is a 2nd generation family farm located in beautiful Snohomish, Washington, a short road trip north of Seattle. This charming farm allows guests to escape into the heart of autumn, inviting visitors to immerse themselves in abundant seasonal activities. One of the farm's highlights is its u-pick apple orchard, where families can enjoy the timeless experience of picking fresh apples right from the trees. The farm also boasts a sprawling 55-acre pumpkin patch. Additionally, guests can partake in kid-friendly activities like a petting zoo and hayrides. The Farm at Swan's Trail is an enjoyable adventure for all ages, offering an authentic taste of fall and an opportunity to revel in the beauty of the harvest season amidst the stunning landscapes of the Pacific Northwest.
Bob's Corn and Pumpkin Farm
Bob's Corn and Pumpkin Farm
is a fall wonderland that embodies the spirit of the season. This farm is a beloved destination for families and autumn enthusiasts, located north of Seattle in Snohomish, Washington. Bob's Corn and Pumpkin Farm comes alive with fall activities as the leaves turn vibrant shades of red and gold. Visitors can wander through expansive pumpkin patches, choosing the perfect pumpkins for decorating. The farm's hallmark is its intricate corn maze that you can enjoy during the day or for a daring night maze experience. Hayrides, apple cannon, gem mining, and delicious treats make this farm an essential autumn destination, allowing families to create memories in an idyllic rural setting. Bob's Corn and Pumpkin Farm truly captures the essence of fall, offering a delightful blend of seasonal festivities and wholesome family fun.
Carpinito Brothers
Carpinito Brothers Farm, south of Seattle, Washington, in the Kent Valley, is an agricultural gem that captivates visitors with the essence of autumn. This family-owned farm has become a regular destination during the fall season, offering many activities and festivities. The farm's sea of pumpkins against the backdrop of majestic Mount Rainier is truly one-of-a-kind. Stunning views enhance the overall experience. Visitors can enjoy an expansive corn maze, hayrides, and friendly farm animals while sipping hot apple cider. Carpinito Brothers Farm is a beloved spot for locals and visitors alike, embodying the spirit of fall and offering a warm and welcoming atmosphere for all to enjoy.
Find Your Essex Apartment
Our apartment communities span from San Diego to San Francisco and the Pacific Northwest in some of the most sought-after locations on the West Coast. Whether you're looking for life in Los Angeles, settling down in San Jose, or relaxing in Oakland, we can help. Choose from bustling city life, quiet comfort in the suburbs, sun and sand at the beach, outdoor adventures, and a wide variety of on-site amenities and floor plans spanning studios to two-bedroom apartments to townhomes. Whatever your style and budget, we have a community that's right for you.