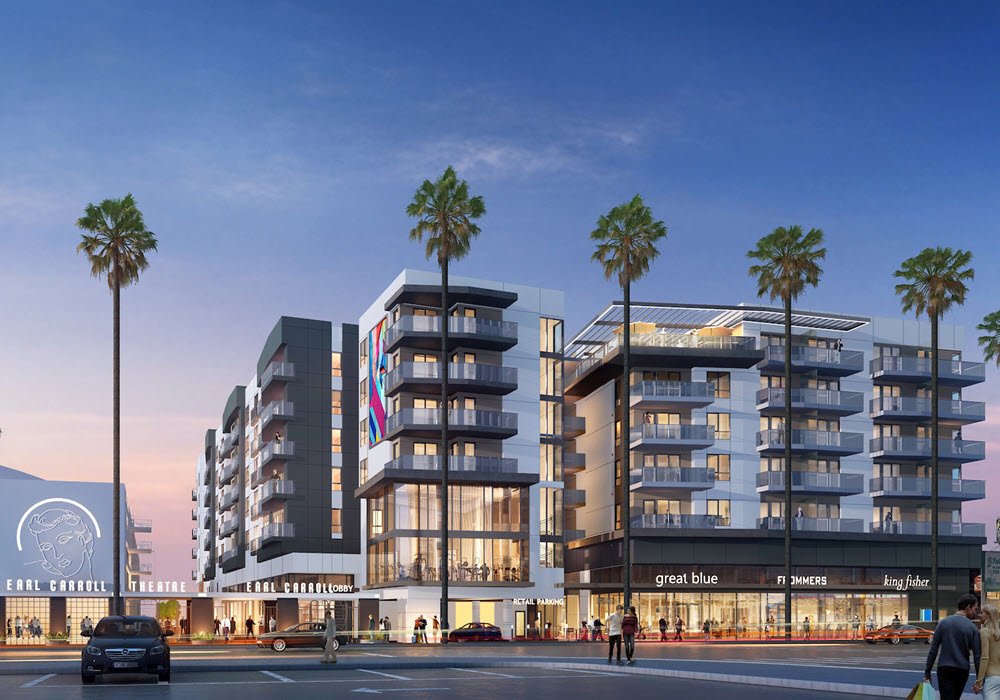 Wallace on Sunset: The Revitalization of Hollywood
In Hollywood's Golden Age, Hollywood and Sunset Boulevards were alive with the glitz and glamour of some of the biggest names in the city's rich history. Thanks to new film and audio technologies starting in 1910, subsequent decades produced an abundance of stars, blockbuster films, and profit for newly formed studios. Hollywood was the place to be from the 1930s to 1950s.
Although the Golden Age came to an abrupt halt in the 1960s, Hollywood still embodies the spirit of yesteryear, while vibrating with a new energy thanks to the area's diverse population, employment opportunities, culinary and retail destinations, and rich lifestyle amenities. And perfectly placed amidst that energy and opportunity is Wallace on Sunset, a new LEED Silver-certified luxury residence that marries old and new Hollywood. Combining art deco design with high-end, modern amenities and technologies for today's generation of avant-garde entertainers, Wallace on Sunset's coveted address is a magnet for creators, influencers and visionaries looking for upscale apartment buildings in Hollywood, CA.
Culture-shifting Companies
While Hollywood has long been prime real estate and a desirable locale for film industry professionals, more diverse resident and business populations have been moving in. In fact, thanks to favorable zoning exemptions over the last few decades, bigger, more contemporary buildings have been popping up, welcoming more businesses and further establishing Hollywood as the entertainment district. In early 2017, Viacom moved operations into the then-new Columbia Square high-rise office tower and Netflix took over the entire 14-story Icon office tower completed in late 2016. Both are steps from Wallace on Sunset—a perfect home base for the creatives behind the scenes at the two production powerhouses.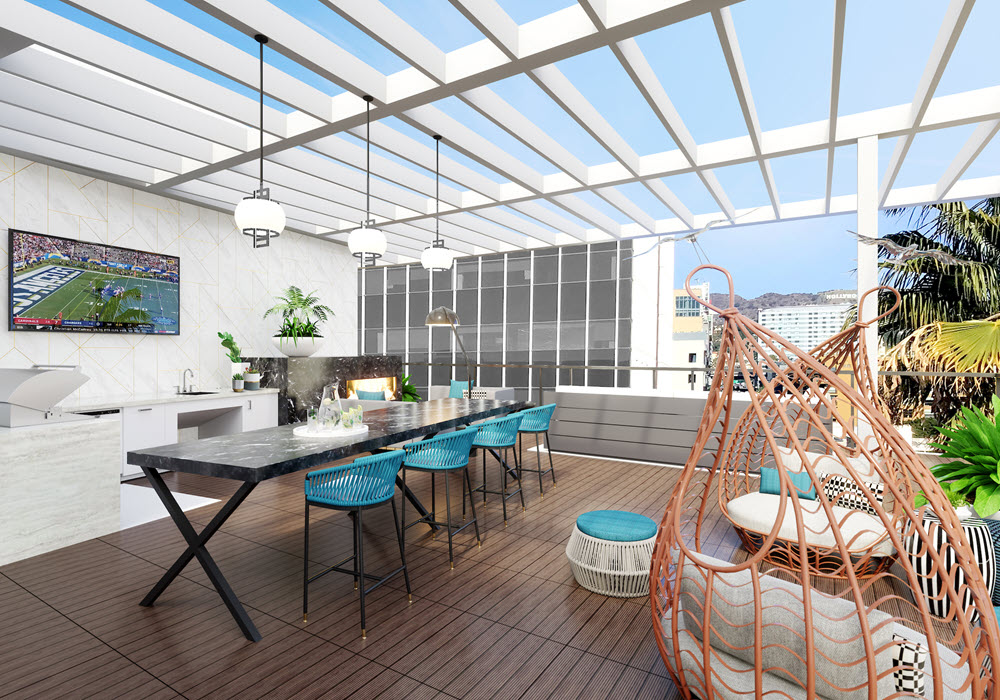 Multifaceted Lifestyle
To cater to the influx of creatives occupying these new offices and others around the area, there has been a similar surge in new restaurants, hotels and residences, like Wallace on Sunset. Sugarfish by Sushi Nozawa opened in Columbia Square's construction zone in 2015, and boutique hotel and rooftop restaurant Mama Shelter opened later that year. Blocks away, the Kimpton Everly and Dream Hollywood hotels opened in 2017, and the Thompson Hollywood will debut early this year.
Wallace on Sunset will also open its doors later this spring, but pre-leasing opportunities are currently available for renters looking to set the trend in securing their new home. The apartment community's curated collection of amenities includes the expansive Altitude Sky Deck, fireside lounge and bar, two-story Evolve Fitness Studio overlooking Sunset Boulevard, Plunge Deck with swimming pool, spa and cabanas, fully appointed clubhouse, bike storage and EV charging stations. Wallace on Sunset is a leading pet-friendly apartment in Hollywood with its Fresh Paw Spot dog wash and Wag Dog Park. The apartment amenities are endless as well. Each of the studio, one-, two- and three-bedroom Hollywood apartment homes include Energy Star stainless steel appliances, quartz countertops, walk-in closets, an in-unit washer and dryer, smart thermostats and outlets, and easy access with keyless smart locks.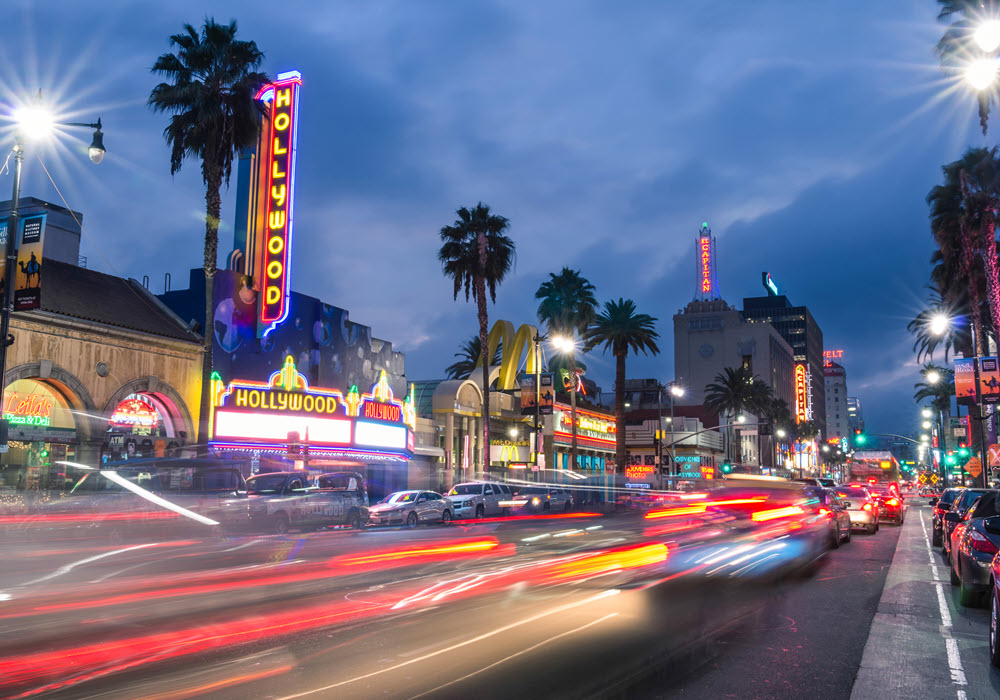 Epicenter of Entertainment
In addition to innovative companies and sought-after eateries and lodging, Wallace on Sunset is surrounded by endless entertainment. For music lovers, the Hollywood Palladium, a Golden Age icon restored in 2008, is across the street. Avalon Hollywood and other music venues are only blocks away, while the infamous Hollywood Bowl is less than two miles. The Hollywood & Highland entertainment and retail complex is one mile northwest, housing the Dolby Theater and TLC Chinese Theater (formerly Grauman's Chinese Theater). Also built by showman Sid Grauman during the Golden Age, nearby Egyptian and El Capitan Theatres offer films and live events.
At the intersection of Hollywood Boulevard and Vine Street—three blocks from Wallace on Sunset—old Hollywood lives on through the Capitol Records Tower, a Hollywood landmark built in 1956, and the start of the Hollywood Walk of Fame, which has expanded since 1960. During Tinsel Town's heyday, the Los Angeles Times even touted Hollywood & Vine as the second-busiest intersection in the area.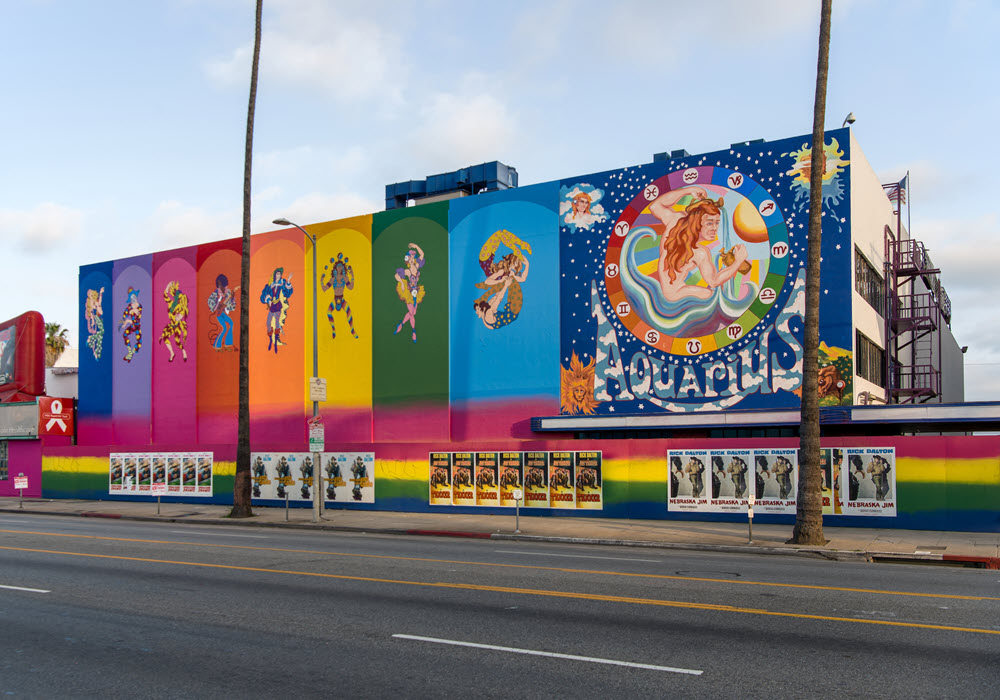 History in the Making
But closest of all to Wallace on Sunset luxury apartments is the Earl Carroll Theatre-Restaurant, built in 1938 by the American theatrical producer, director, songwriter and composer of the same name. Although the original supper-club theater changed hands many times after the death of Earl and his girlfriend Beryl Wallace in 1948, the theater is headed back to its roots thanks to a collaboration among new owner Thaddeus Hunter Smith—the creator of the highly successful Fonda Theatre), the Los Angeles Historic Theatre Foundation, and Essex Property Trust as the developer for Wallace at Sunset.
Essex has been working with the Los Angeles Historic Theatre Foundation, or LAHTF, since 2015 to ensure the protection and future of the theatre, earning it an LA City Historic Cultural Monument designation in 2016. Essex will also recreate the original 20-foot-high neon outline of Beryl's face that once hung above the entrance and incorporate the theater into the first-floor mixed-use space of Wallace at Sunset. Residents of the Wallace on Sunset units will enjoy the perk of direct access to the adjoining Earl Carroll Theater and restaurant by way of a beautiful promenade. But more than that, they will be standing at the crossroads of historic entertainment and contemporary culture.
Find Your Essex Apartment in Los Angeles
To secure your new coveted address in the heart of Hollywood, contact us to learn about exclusive pre-leasing opportunities for Wallace on Sunset. Luxury living is just around the corner in your new high-end apartment. Take your living to the next level at Wallace on Sunset.
Explore more of our Los Angeles apartment complexes and find the perfect new apartment, such as Muse Apartments in North Hollywood or The Dylan in West Hollywood. Learn more about pricing and current leasing or move-in specials. Contact us any time for more information about floorplans, community amenities, and any other questions regarding your apartment search. We would love to help find your new home.