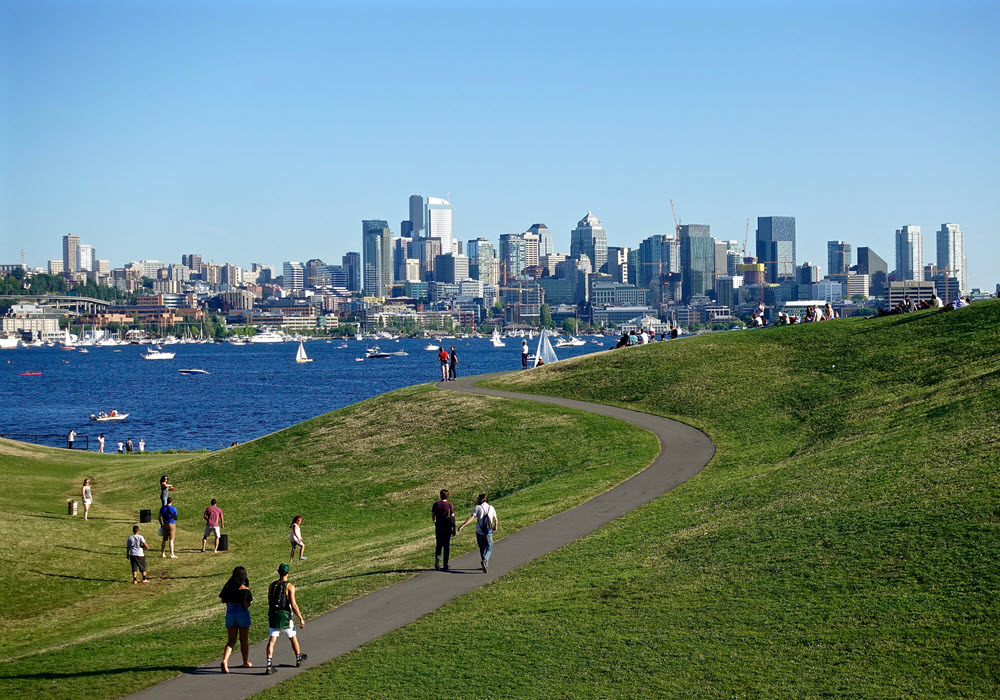 Highly Walkable Neighborhoods in Seattle
A shining gem in the Pacific Northwest, Seattle has welcomed many new residents, and even more visitors, in recent years. A newcomer to the area might be skeptical to hear the "Emerald City" is highly walkable given its bounty of hills and steep streets. But with aptly placed staircases, amenities and employment opportunities on every corner, and bus routes linking most neighborhoods, Seattle is actually a very walkable city. In fact, it's No. 8 among the most walkable cities in the country. And on a more granular level, some of its more walkable neighborhoods even reach "Walker's Paradise" status.
What's a Walk Score?
What exactly is a Walker's Paradise? According to Walk Score, a walkability index based on "location efficiency," a Walker's Paradise is a neighborhood with many local conveniences within walking range, meaning daily errands do not require a car. Walk Score's algorithm grants points based on several different criteria, including the distance of a certain neighborhood or apartment community from amenities like parks, schools, grocery stores, farmers markets, and coffee shops. It also takes into consideration block length, intersection density, and other measures of pedestrian-friendliness.
The Five Walk Score Categories of Walkability
Walker's Paradise (Walk Score of 90 - 100): Daily errands do not require a car
Very Walkable (Walk Score of 70 - 89): Most errands can be accomplished by walking
Somewhat Walkable (Walk Score of 50 - 69): Some errands require a car, but others can be accomplished on foot
Car-Dependent (Walk Score of 25 - 49): Most errands require a car or some other form of motorized transportation
Car-Dependent (Walk Score of 0 - 24): Almost all errands require a form of motorized transportation
To find the Walk Score of your neighborhood or an apartment you're considering moving into, simply go to the website and type in your address.
Walkable Seattle Neighborhoods
With ongoing investment in Sound Transit's Link light rail network, new housing and amenities going up on every block, and more companies opening offices in the city, Seattle has become a dynamic urban center over the past decade. Improvements to public transportation, as well as the ability to walk to many prime areas in the city, give you easy access to everything Seattle has to offer. While downtown remains the best neighborhood for walkability with a Walk Score of 98, surrounding neighborhoods rank well too. The five areas highlighted below all have Walkability Scores in the 90s.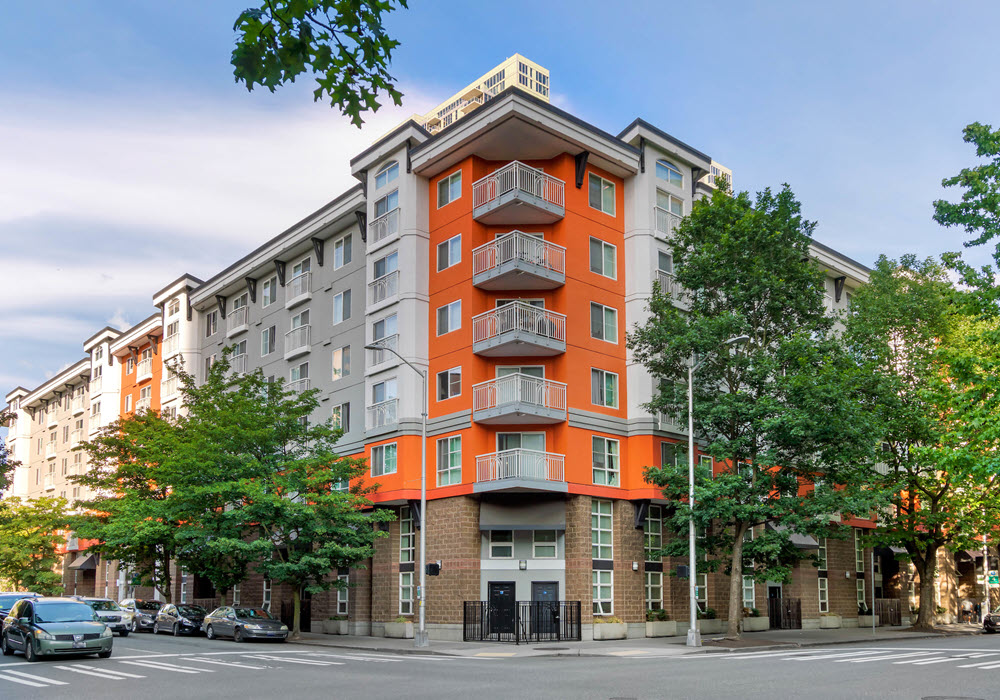 Belltown – Walk Score 98
Bordering downtown, Belltown is the third-most walkable neighborhood in Seattle. This neighborhood is also perfectly nestled between the Puget Sound waterfront, endless activities at the Seattle Center, and Amazon-land in South Lake Union. Belltown is known for its legendary music and arts scene (thanks to Nirvana!), melded with high-rise apartments and trendy eateries. Daytime outdoor activities can be found at Olympic Sculpture Park, Myrtle Edwards Park, and the Elliot Bay Trail, while nightlife populates First and Second Avenues. Consider one of these Essex apartment communities placed right in the Belltown mix:
South Lake Union – Walk Score 94
Thanks to Amazon leading the charge among Seattle employers, South Lake Union (SLU) has evolved into a great place to live, work, and play. Its location at the south end of Lake Union is perfect for water enthusiasts, with stand-up paddle boarding, kayaking, boating, or even seaplane ride. Alternatively, runners and bikers can catch the Cheshiahud Lake Union Loop, or culturists can check out the Center for Wooden Boats and the Museum of History & Industry. Within SLU, there are restaurants, bars, and shops galore, including the downtown area's only Whole Foods Market. Some conveniently located Essex apartments near places to walk include: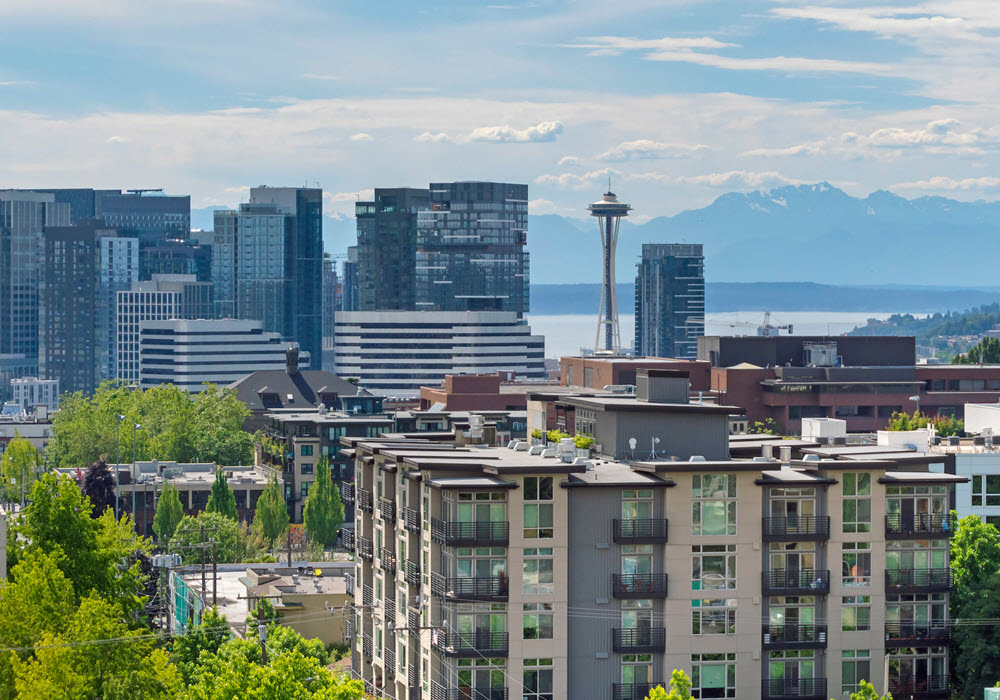 Capitol Hill – Walk Score 93
On the eastern edge of downtown is another walkable neighborhood known for its music scene and nightlife. The eclectic offerings of Capitol Hill center on Broadway, Pike and Pine Streets (known as the Pike/Pine corridor), with walkability scores decreasing as you move north and east. Capitol Hill has everything within walking distance from craft breweries and vegan restaurants to divey music venues and LGBTQ clubs. It's also great for outdoor enthusiasts, with Cal Anderson Park smack in the middle, Volunteer Park in the north, and the Washington Park Arboretum nearby. Essex apartments in the Pike/Pine corridor with near-perfect walkability scores include:
Queen Anne – Walk Score 92
Another popular "hill" in Seattle is Queen Anne, with lots of places to walk up top on Queen Anne Avenue and in Lower Queen Anne along Mercer Street. Greater Queen Anne's location between Lake Union and Puget Sound and along numerous trails makes it an excellent neighborhood for walkers, runners, bikers, and water enthusiasts. Lower Queen Anne in particular, is known for the Seattle Center, which is home to the Space Needle, the Pacific Science Center , Chihuly Garden & Glass, the Museum of Pop Culture, and numerous performing arts centers. For prime walkability to the Seattle Center, check out these Essex apartment homes: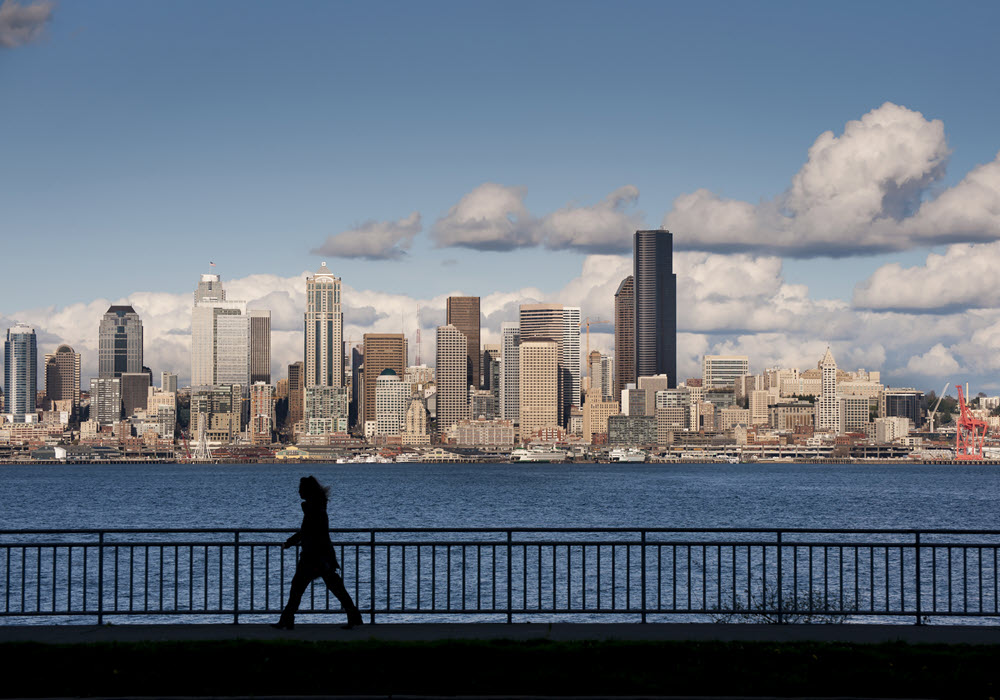 Fremont – Walk Score 90
Furthest from the Seattle city center but still walker-friendly is Fremont. This walkable neighborhood is well known for the Fremont Troll, Fremont Brewing's Urban Beer Garden, and proximity to Gas Works Park. It is also popular for the many bars, restaurants and other places to walk to dotted along North 34th and 36th Streets, Fremont Avenue, and Stone Way. The northeastern corner of Fremont borders Ballard's popular brewery district, and the southern border is a 1.6-mile stretch of the famous Burke-Gilman Trail. A great apartment community on Fremont's bustling Stone Way in the east is:
If you're interested in excellent public transit, great bike scores, and even better walkability, Seattle may be the city for you. Whether tourist hot spots like Pike Place Market or the Space Needle are of interest, or the University of Washington and the like are more your style, Seattle's walkability lends itself to great experiences throughout the city.
Find Your Essex Apartment
Our apartment communities span from San Diego to San Francisco and the Pacific Northwest in some of the most sought-after locations on the West Coast. Whether you're looking for life in Los Angeles, settling down in San Jose, or relaxing in Oakland, we can help. Choose from bustling city life, quiet comfort in the suburbs, sun and sand at the beach, or outdoor adventures and a wide variety of on-site amenities and floor plans that span from studios to two-bedroom apartments to townhomes. Whatever your style and budget, we have a community that's right for you.
Explore our nearly 250 apartments and learn more about current leasing or move-in specials and pricing.