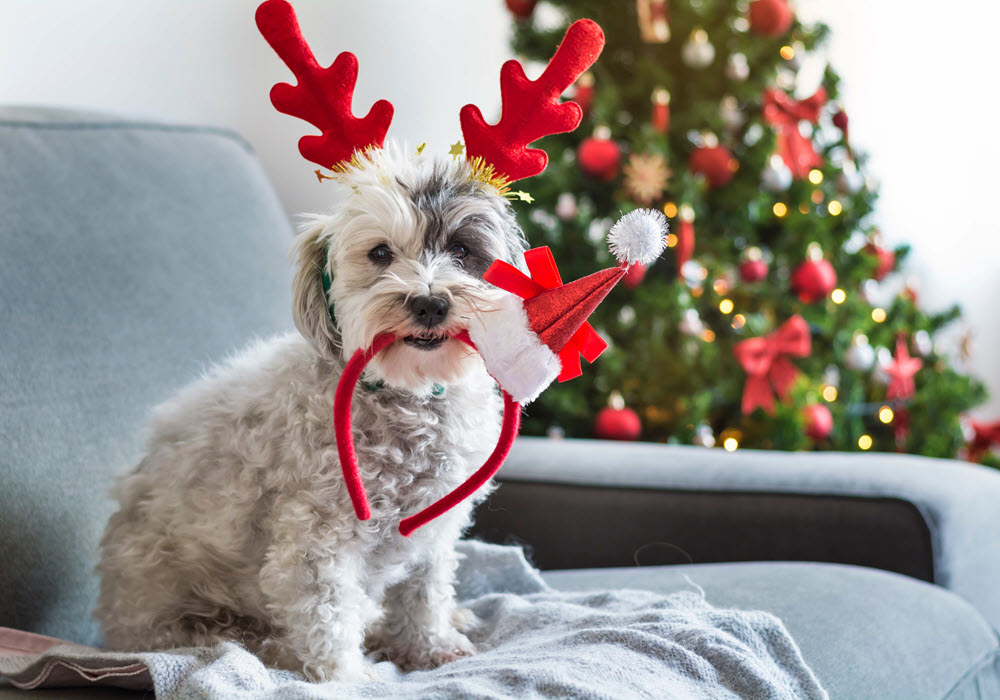 Best Gifts for Pets in a Small Apartment
The holidays just wouldn't be the same without showing love to every beloved member of your family, including your four-legged furry friends. After all, pets are important family members, which is why we offer so many pet-friendly perks at Essex Apartment Homes. This holiday season, don't forget to pamper your pets when you're picking up holiday gifts for your family.
Are you looking for some inspiration for your shopping list? We've got you covered with this special list.
Gift Ideas for Big Dogs
Dog lovers know that depending on size, canine friends may prefer different items than their smaller counterparts. New elevated feeding bowls make a thoughtful gift for a bigger puppy, especially when they come with space-saving storage for dog food, poop bags, dog toys, and other pet products. Keep the kibble crispy with the IRIS USA Elevated Feeder with Airtight Storage which comes with removable stainless-steel dog bowls for easy cleaning. It's great indoors, outdoors, or even camping!
If it's time to upgrade your best friend's leash take a look at The BioThane® waterproof dog leash, a durable, handcrafted, high-quality alternative to nylon and leather. Made in the USA, it's guaranteed to last longer than traditional leashes. And since it's waterproof, it even works at the doggie washing station when it's bath time, like the ones at Essex apartment communities Crow Canyon and Reed Square Apartments in Northern California, or our pet spa at Highridge Apartments in Rancho Palos Verdes.
Dogs love playing with toys, especially toys that give them treats! Petco offers a nice selection of dog treat-dispensing toys, including lick mats for peanut butter treats and a whole section dedicated to the ever-so-popular Kong toys. Consider the offers on Chewy, Etsy, Walmart, and Amazon as well, where you can get the Furbo Dog Camera, PC Magazine's Editors' Choice for pet cameras that lets you talk to your pampered pooch through your smartphone and throw them a dog treat!
Gift Ideas for Small Dogs
Ready for extra snuggle time with your four-legged best friend? Cuddle up with a cozy blanket that will keep dog and dog mom or dog dad warm all winter long. Road Affair recommends the FurryBaby Premium Fluffy Fleece Dog Blanket as the best overall value in their recent round-up of best dog blankets for 2021. It's warmer than faux fur, environmentally friendly, and, best of all, machine washable! You can also grab a new dog bed on Amazon for your pup's kennel.
Is your dog more of a social butterfly than a couch potato? Pick up a dog bow tie from the Foggy Doggy! They're perfect for every occasion, from holiday pet portraits to simple selfies at the dog park, and they come in a variety of colors, including seasonal styles. Bashful about bow ties? Dog bandanas and dog collars make a nice gift, too, as does a cool new harness.
Check out the 10 Best Dog Harnesses - 2021 from The Dog Outdoors for a comprehensive list of safe, chaff-free harnesses, including The EzyDog Quick Fit Harness designed to give every pup the perfect fit. You can show off the new gear at one of our on-site dog parks at communities including, Belmont Terrace or Foothill-Twin Creeks Condos!
Does your furry one still like to chew on everything in sight? Pick up a Suction Cup Tug of War Interactive Puzzle. The popular bestseller is an indestructible chew toy squeaky rope with teeth cleaning and a food dispenser feature, making it perfect for playful puppies and nervous new dogs. Dogs can play their hearts out in one spot, on their own, without knocking over furniture – even in small spaces.
Gift Ideas for Cats
Any cat owner knows their furry friend loves nothing more than sitting in the windowsill and staring out at the world outside. Cat window perches attach to the window glass with suction cups and come in various sizes and designs to fit any size cat.
Check out this list of the top models of 2021 from Feline Living, including their best overall pick, the K&H Pet Products EZ Mount Window Scratcher Kitty Sill. Or let your feline friend lounge in style in his or her own Vea Pets Luxury Cat Hammock.
Feline friends typically need a lot of stimulation, and an interactive cat toy is a great way to cut down on cat crazies and late-night zoomies. The Automatic Electric Rotating Butterfly & Ball Exercise stimulates your cat's senses and hunting instincts, keeping them entertained for hours in your living room.
Don't just treat your cat; treat yourself as well! Consider a stylish scratchpad for some fun and functional home decor that you can both enjoy. We love this DJ turntable, this Coconut Cat Tree that can also double as a bed, and this cool mushroom stool on Etsy, which are all great options. You might even find an option that doubles as a scratcher and hide-away litter box!
Gift Ideas for Dogs and Cats
Need something that works for both dogs and cats? How about a new pet bed to help keep them out of the way and safe when company is over? You can pick up a tent for your dog or cat from minicampLT, or get this Little Dove Fold Away Pet Tent on Amazon and pack it away whenever you need extra space in your apartment home.
Whether you decide to spoil your four-legged friend with holiday-themed toys, extra belly-rubs, or more time snuggled on the couch together, what matters most is that you take the time to show them just how special they are to you this holiday season.
Find Your Essex Apartment
Our apartment communities span from San Diego to San Francisco and the Pacific Northwest in some of the most sought-after locations on the West Coast. Whether you're looking for life in Los Angeles, settling down in San Jose, or relaxing in Oakland, we can help. Choose from bustling city life, quiet comfort in the suburbs, sun and sand at the beach, or outdoor adventures and a wide variety of on-site amenities and floor plans that span from studios to two-bedroom apartments to townhomes. Whatever your style and budget, we have a community that's right for you.
Explore our nearly 250 apartments, and learn more about current leasing or move-in specials and pricing.