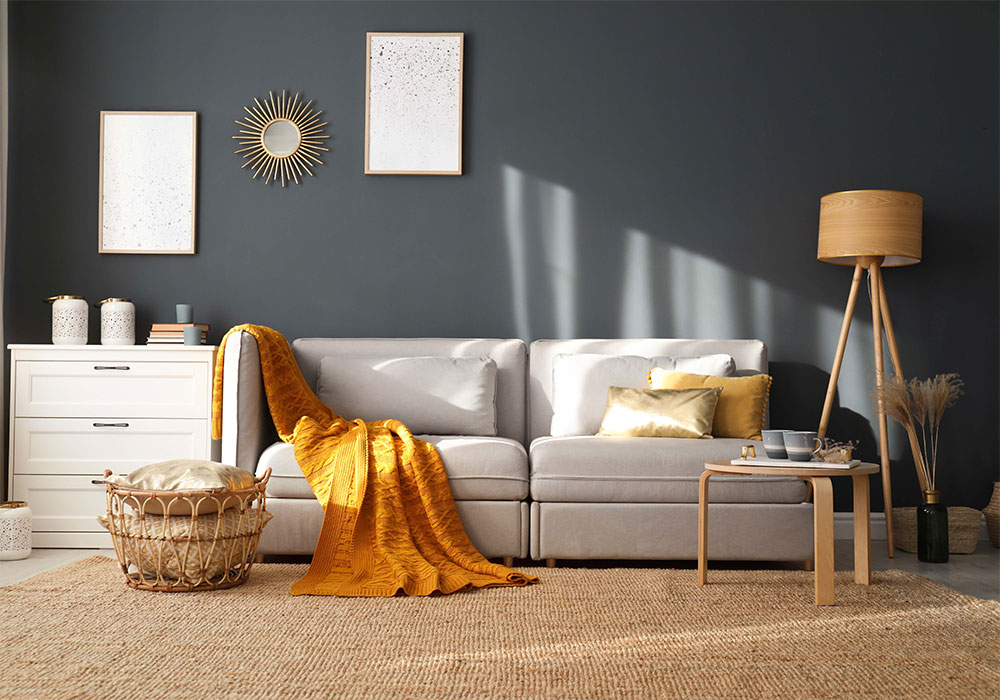 Quick Swaps to Make Your Apartment Feel Cozy
As the winter days are shorter and the weather cooler, you are almost certainly spending more time indoors. There's no better time to ensure personal space is as comfortable as possible. We've put together eight quick swaps you can use to make your nest nice and comfortable without breaking the bank!
Introduce More Texture
Adding more texture is a quick way to create a resonating sense of coziness in your apartment space. Using the right combination of throw pillows, throw blankets, and rugs will quickly set the mood.
Whether you end up going with Moroccan-style seating poofs from Etsy, a sheepskin rug or faux fur throws from Amazon for your bed, or outright splurge on a braided wool area rug, the trick is not to overdo it. Warm up your living spaces with three or four different textures in each room that celebrate your style, and instantly, you'll feel more relaxed and at home.
Increase the Indoor Greenery
Bring the joy of the outdoors back inside with you by adding new greenery to your home décor. Keep things cost-effective by researching the plants that best fit your lifestyle. We recommend you start by looking at this list from Elle Magazine of The 35 Best Indoor Plants for Apartments to Buy Online. Perennially popular options include the split-leaf philodendron, eucalyptus, air plants, succulents, fiddle-leaf figs, bonsai trees, and shabby chic ferns. Pick up the perfect plant stand at IKEA, choosing from their wide and affordable selection.
Switch up the Lighting
There's nothing chill about harsh white overhead lighting. Swap out your regular bulbs with warm-toned LED ones that imitate a candle's glow on dimmer. Or, consider adding strings of warm lights to your bookcases, around decorations, on the coffee table, or to highlight picture frames. Using Command Ceiling Hooks, you can even drape them from the ceiling for that comfy holiday season feeling year-round!
Add New Scents
Grab your diffuser and get those essential oils unpacked and ready to use. Don't have one yet? Purchase one of the 21 best essential oil diffusers to help you unwind and relax.
Are you keeping your scents simple? Opt for a candle! If you need some ideas on which to buy, check out this list of the 32 Best Scented Candles from Oprah Daily.
Decorate with Books
One simple décor idea is to give your home that cozy feel by adding piles of old books. Thrift stores, sales bins, schools, and garage sales overflow with old hardcover books if you don't already have plenty of your own to use. Pile them on bookshelves and side tables, or incorporate them into your centerpiece on the kitchen table. Check out 5 Tips That Make Decorating With Books Easy-Peasy from Architectural Digest.
Color Me Comfy
Any homeowner or home improvement expert will tell you that adding a pop of color to a room with paint or wallpaper is one of the quickest and most cost-effective ways to transform it. While white walls can be aesthetically pleasing, deeper, rich colors and patterns radically increase the overall coziness of a space. Try painting or adding wallpaper to your white room in darker earth tones tied to the room's color scheme, even if it's just one accent wall that matches your bedding and pillow covers. Home improvement expert Bob Vila offers some inspiration in 14 Paint Colors That Can Make a Room Feel Instantly Cozy.
Introduce New Artwork
A well-curated collection of art and photographs can go a long way when creating a cozy and personalized atmosphere. If you have a budget to stick to, you can pick up deals on everything from prints to an old movie and sports posters online as well as at garage sales, flea markets, and thrift stores. Grab cheap frames for your favorite images and photos at discount dollar stores. Make your own art, or ask your friends and family to donate some of theirs to create a more inviting space.
Swap Your Window Treatments
One guaranteed way to cozy up your apartment home is to swap out your window treatments. Take down those summer sheer linen curtains and exchange them with a heavier material with thermal lining for extra insulation. You'll keep in more of your heat, prevent cold from leaking in and bring real comfort to your space.
Now you're ready to read your favorite book or magazine, draw, journal, meditate, or relax solo or with a couple of your best friends! With such a cozy and inviting home, it's going to be tough to find reasons to go out.
Find Your Essex Apartment
Our apartment communities span from San Diego to San Francisco and the Pacific Northwest in some of the most sought-after locations on the West Coast. Whether you're looking for life in Los Angeles, settling down in San Jose, or relaxing in Oakland, we can help. Choose from bustling city life, quiet comfort in the suburbs, sun and sand at the beach, or outdoor adventures and a wide variety of on-site amenities and floor plans that span from studios to two-bedroom apartments to townhomes. Whatever your style and budget, we have a community that's right for you.
Explore our nearly 250 apartments, such as Marina Cove in Santa Clara or Mio in San Jose, and learn more about current leasing or move-in specials and pricing.