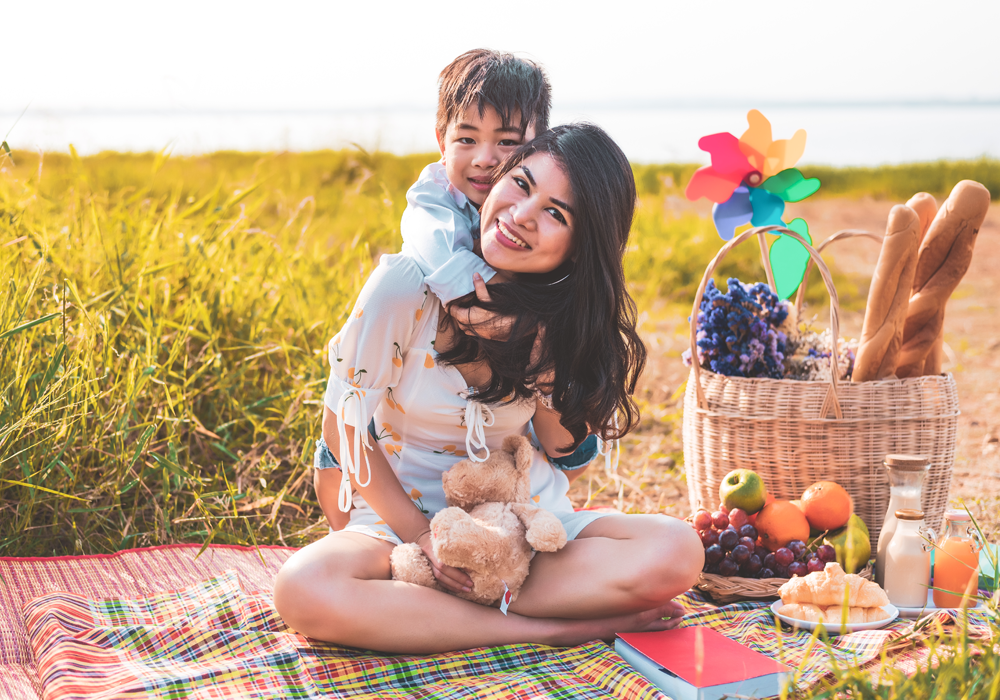 Perfect Picnic Spots in SF for Mother's Day
Beautiful California weather combined with an amazing assortment of parks and world-class eats makes San Francisco the perfect city for a picnic. This Mother's Day, skip the restaurant lines and head out into nature to enjoy the wonders of the Spring season. It can be as easy as picking up lunch or simply packing a picnic basket with mom's favorite charcuterie and a bottle of wine from her favorite winery.
With over 220 regional parks in San Francisco, it can be hard to pick just one favorite. So we've highlighted our favorites to celebrate mom's special day in the Bay Area with an alfresco meal at one of these perfect picnic spots!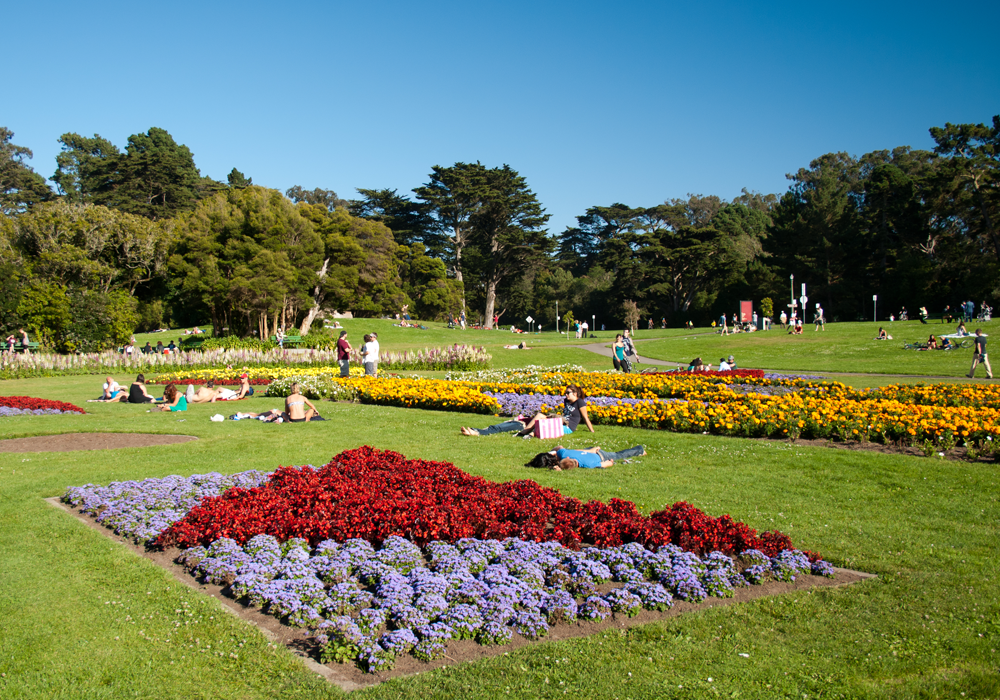 Golden Gate Park
It's true; San Francisco's Golden Gate Park is amazing in every way. With over 1,000 acres of open space to explore, there truly is something for everyone. Picnickers need to look no further than the grassy knoll on Marx Meadow for the best picnic spot to sprawl out and take in the weather or play a game of catch in the recreational area.
Want more excitement? Try taking out a paddleboat on Stow Lake for a breathtaking view you'll remember for a lifetime. This Golden Gate Park spot also offers a dedicated picnic area with tables and BBQ pits. Plan your trip now, and book your reservation online at https://sfrecpark.org//736/Picnic-Area-Directory or call them at 415-831-5500, Monday-Friday from 10:00 a.m. to 2:00 p.m.
West Bluff Picnic Area
Just north of Crissy Fields in the Presidio lies a sleepy stretch of shoreline often referred to as the gateway to San Francisco. Here you'll find the West Bluff and East Beach picnic areas. Catch a frisbee, fly a kite, or sunbathe with a view of windsurfers, the mighty Golden Gate Bridge, Alcatraz, Angel Island, and the Marin Headlands.
It's a popular picnic location with plenty of parking. West Bluff provides bayside picnic tables and grills, or you can spread out a blanket on the grass for a magical San Francisco Bay view mom will never forget. Public restrooms are located near the Warming Hut Park Store and Café, a great spot for coffee and sandwiches.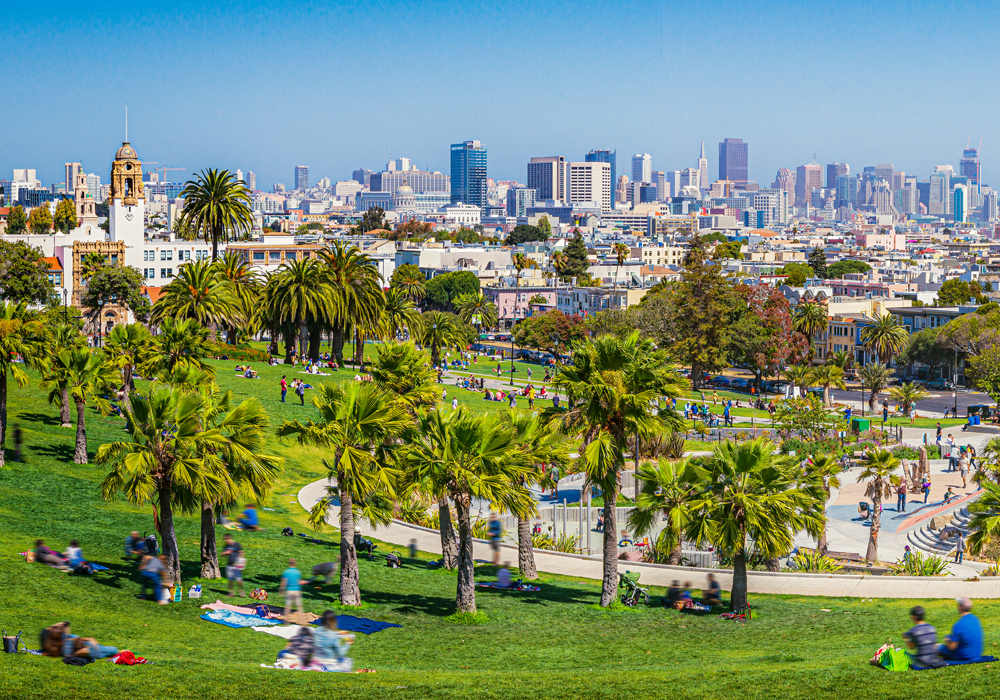 Mission Dolores Park
Packed with people, dogs, and recreational fun, Mission Dolores Park is one of the busiest, sunniest parks in San Francisco. For moms who like to mix it up and people-watch, the regional park features 15 acres of rolling grass and includes a playground for kids, basketball and tennis courts, and an impressive view of the downtown skyline.
We suggest walking, biking, or taking public transportation to skip any parking fees or time searching for a parking spot as the park can get busy, drawing as many as 7,000 people on a warm day. From Essex community Fox Plaza, it's just a short trip by bus or bike.
Ocean Beach
Easily the most popular surf spot in the Bay Area despite its dangerous rep for rip currents, Ocean Beach is also the perfect beach brunch picnic spot. Located in the suburbs of San Francisco, the iconic beach offers three and a half miles of white sand to play in and fire pits from March 1 through October 31 from 6:00 a.m. to 9:30 p.m.
Take in the ocean air, sit in the sand dunes, explore the hiking trail, and enjoy the open space at this rarely crowded Pacific Ocean gem. Free parking can be located at the northern and southern ends and around nearby local streets. There are restaurants abound in the neighborhood to order from, including upscale eateries, comfy cafes, coffee shops, Mexican, Chinese, and more.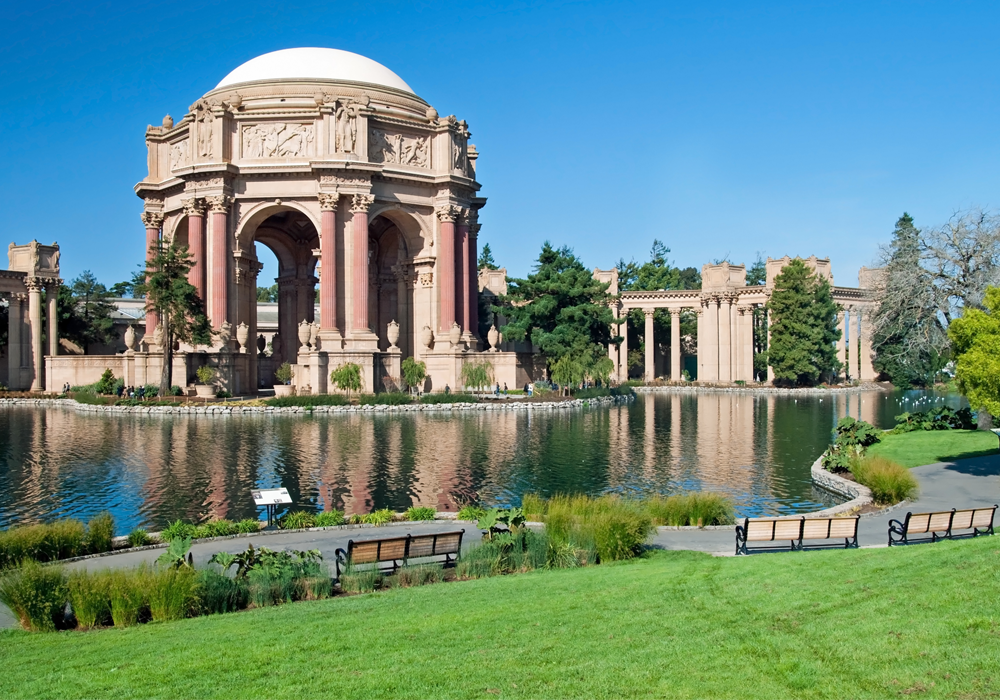 Palace of Fine Arts
Built-in 1915 for the World's Fair, the Palace of Fine Arts in San Francisco is an inspiring historical Bay Area landmark located just outside the Presidio. The location is so breathtaking it is often the site of wedding and engagement photos. It's also the best picnic spot to take mom on Mother's Day.
Your mom will love the view as the lagoon overflows with swans, ducks, turtles, and other wildlife. It's a short, scenic drive from Park West Apartments. Parking is mostly in paid lots, but you can book your spot in advance online. While there are no picnic tables or grills, you can still give mom a memorable day picnicking in style on lush grass, just don't forget your camera to capture the memories.
South Park
It may conjure up images of irreverent cartoon characters, but South Park in San Francisco was the city's first public park and still holds the hearts of locals as one of the best. A multi-million-dollar renovation recently transformed the cozy spot into a lush, inviting green space.
It's still got all the city vibe and is the perfect lunchtime getaway on weekdays. Parking may take some patience, but the area has high walkability. In fact, for residents of 500 Folsom Apartments it's actually faster to walk there than drive!
Lands End
Overlooking the Pacific Ocean crashing against rocks, aptly named Lands End offers jaw-dropping views of the Golden Gate Bridge, headlands, and shoreline. The scenic wild hiking trail is a wondrous stroll through rocky cliffs, winding under shady eucalyptus and cypress trees, and San Francisco history.
Located in the Merrie Way parking lot, the new Lands End Lookout Visitor's Center also contains accessible restroom facilities, an accessible café, and interactive exhibits. The Lands End Trail starts at the Merrie Way parking lot.
Find Your Essex Apartment
Our apartment communities span from San Diego to San Francisco and the Pacific Northwest in some of the most sought-after locations on the West Coast. Whether you're looking for life in Los Angeles, settling down in San Jose, or relaxing in Oakland, we can help. Choose from bustling city life, quiet comfort in the suburbs, sun and sand at the beach, or outdoor adventures and a wide variety of on-site amenities and floor plans that span from studios to two-bedroom apartments to townhomes. Whatever your style and budget, we have a community that's right for you.
Explore our nearly 250 apartments, such as MB360 or Park West in San Francisco and learn more about current leasing or move-in specials and pricing.