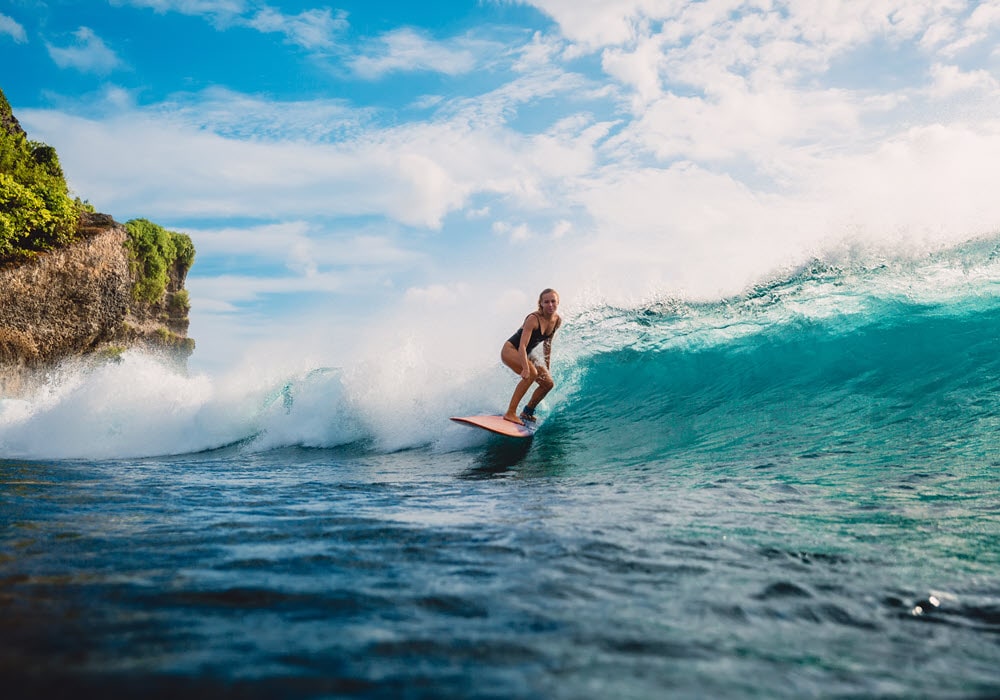 Best Surf Spots in California
Ask anyone about California and the first things that come up are sunny days, breathtaking views, and world-class surfing! That's why it came as no surprise last year when the state assembly voted en masse to make surfing the Golden State's official sport. They also announced the creation of a new holiday - California Surfing Day - now observed September 20 each year!
Planning a surf trip this month? Here's a list of must-ride spots you won't want to miss! Whether you're exploring the colder Northern California waters or the warmer breaks near the border in balmy San Diego, there's literally a break for everyone, from the nervous novice to the seasoned shredder!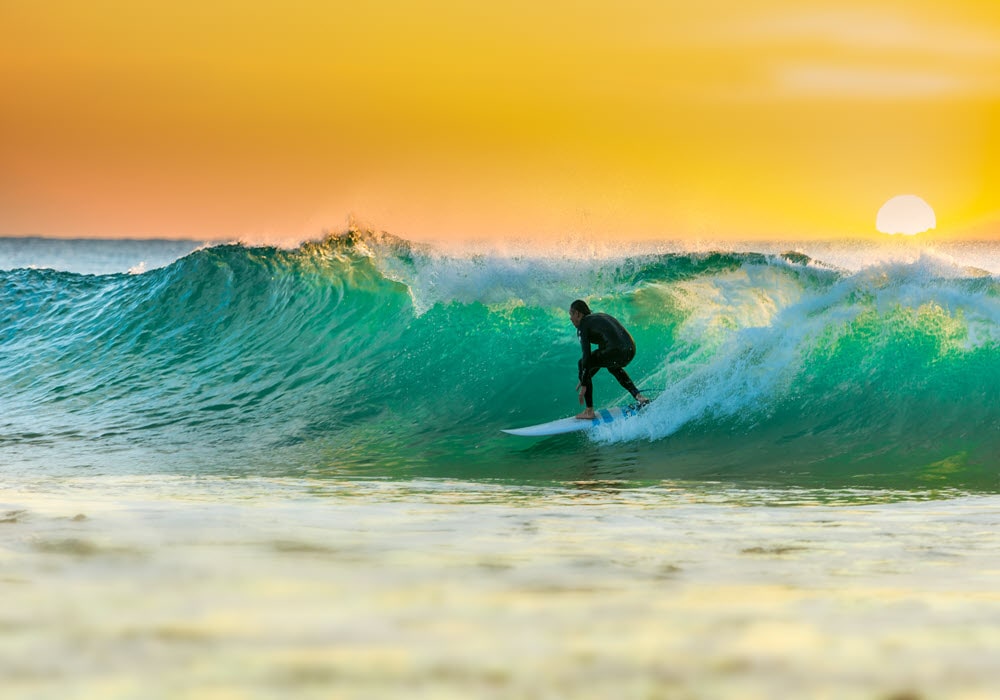 San Diego
Swami's – Encinitas
Swami's is a point break in San Diego County, named after Self-Realization Fellowship founder Paramahansa Yogananda who built the gardens and golden, lotus-shaped hermitage of his Self-Realization Fellowship ashram overlooking the peaceful Pacific Ocean.
Swami's is world famous for its consistent surf and competitive crowds, not to mention the life-changing, hollow rights that race to an inside bowl over the inner shelf. Fortunately, there is plenty of break to surf at this holy spot, which is best suited to regular riders more than novices. During big swells, waves can reach up to triple-overhead!
Parking is easy, as is getting down to the water. Just be sure to watch out for rocks during the paddle out!
Windansea Beach – La Jolla
Windansea Beach is a classic La Jolla reef break named for a popular hotel that burned down there in the 1940s. Located below Neptune Place, this picture-perfect beach features sandstone points jutting into the water at both ends. It's an expert surf spot that has sharp hidden rocks and super strong currents.
With a wide range of swells, unpredictable conditions, and a competitive vibe in the water, Windansea is for experienced riders and not well-suited for beginners, who will find it easier getting into calmer waves in nearby La Jolla Shores.
Parking is hard to come by and it isn't exactly easy to get to the water, especially if the sand is washed out, but one look at the sets will more than justify the effort!
Orange County
Huntington Beach Pier – Huntington Beach
They don't call it 'Surf City, USA' for nothing. While the once quiet beach town of yore has changed in many ways, the peelers coming out of either side of the iconic pier have not. Maybe that's what keeps 'em coming back, year after year.
Crowds can be intense at the world-famous surf spot, but with a little patience, you can catch a solid ride in the same place the world's best surfers come to compete in the Vans US Open of Surfing. Hit the pier when you're done, stroll through town, or cruise up the breathtaking Pacific Coast Highway and just soak in the sun and salty air.
Trestles – San Clemente
San Onofre State Beach earned the nickname 'Trestles' for the wooden trestle bridge that surfers had to walk under to reach the beach, which was replaced in 2012 by a concrete viaduct. Hike in from the San Onofre State Beach parking lot to get a view of some of the most beautiful peaks you will see on any continent!
Trestles consists of three primary spots, Uppers, Middles, and Lowers, the most consistent and popular. Less experienced riders can find easier, less crowded rides to the north, with the potential for long rides on bigger swells.
Use caution with locals who can get overly protective of their beloved break on prime days.
Los Angeles, Ventura & Santa Barbara
C-Street – Ventura
Ventura is home to some of the choicest breaks and tastiest waves ridden every year in California. Nestled in between the Channel Islands, the top spots go off all year round, providing memorable rides to everyone from hairless groms to old school coffee table riders to professional surfers in equal proportion.
Of all the unbelievable surf spots in this magical land, none are better known than C-Street at Surfers Point at Seaside Park. Located north of the pier, the break goes off in three distinct locations from the front of the Crowne Plaza hotel where foam board renting tourists try their luck in the soft surf and progressively getting heavier as you head north to the point across from the Ventura Fair Grounds, where mind-blowing displays of surf prowess are routinely on display.
Parking is free in some spots or four dollars for the day in the full lot. Grab a wave, then venture into the sleepy little beach town when you've had your fill for some of the best microbrews in the state!
El Porto – Manhattan Beach
Located in affluent Manhattan Beach off the north Strand, between the pier and Shit Pipes, El Porto is an absolute must-visit spot for surfers of all stripes! With a single spit of metered parking in a lot that stretches parallel to the beach break, you're sure to get a spot with no trouble most days and be suited up and in the water in minutes.
The break varies, growing much heavier and bigger in winter, but can well accommodate foamies to boogie boarders most of the summer. It's not uncommon to share your wave with a friendly dolphin or two at this South Los Angeles hot spot. It is generally best early in the morning, when it can get glassy, or as the tide begins to rise.
Grab some tacos at El Tarasco or a round of beers at Baja Sharkeez when you get out, then shop the local stores for upscale, kitschy beach merchandise.
Malibu Surfrider – Malibu
Is there anything more iconic of California surf culture than Malibu? Home of Gidget, this overly popular surf spot goes off in three distinct spots of the break, offering fast, peaky rides to the north, and shallow, Cadillac rides to lazy longboard riders south closer to the pier.
But it's not all milk and honey in the upscale beach community. Parking is nightmarish outside of the pay lot, and locals can get testy in the waters, which can sometimes be so dirty from runoff that contamination warnings are issued.
Still, what's a visit to California without a taco from a truck and a ride at Surfrider? Bring your patience and your manners, and you might just go home with an unforgettable tale to tell about the ride of your life.
Ocean Park – Santa Monica
Located just south of the world-famous Santa Monica pier, this 'not-so-secret' spot breaks best in the early morning and at high tide. Conditions vary, and the late breakers can leave nonlocals scratching their heads how they missed sets, but all it takes is one ripping ride and roster tail kick out before hitting the sandy shore to realize what all the hype is about. What a rush!
It's paid parking only, but it's worth it for the easy walk along the stretch of boardwalk that rolls like a Hollywood red carpet from the parking lot almost to the water's edge. Just make sure to lock the car and hide your valuables.
Rincon Point – Carpinteria
Nestled in between Ventura and Santa Barbara in sunny Carpinteria, Rincon has been described by poets and surfers as the gold standard of point breaks. It even gets name-dropped in the classic Beach Boys hit, Surfin' U.S.A.!
Breaking all year round, the spot heats up in winter, with rides so good that people pull off the historic 101 freeway just to watch. Bring your patience. It will be crowded. For sure. It may also be the best ride of your life, especially if the swell direction is from the west-northwest when conditions get ideal.
Venice Beach – Venice
On any given day worth paddling out, you'll find the waters of this popular tourist destination clogged with a range of wave riders that includes first timers as well as lifelong ocean-loving locals, some hailing from back in the early days of Dogtown.
Parking requires pay or patience, and the water tends to stay as dirty as the streets. It's a short, messy ride, a front beach break with a sandbar bottom that shifts with the season's strong storms, but that doesn't stop dozens of surfers from charging it daily.
Looking for more breathing room to ride? Try surfing just south of the graffiti wall at the jetty known as Rat Rocks, or better yet catch a sweet left at the pier. Just watch out for the pylons when shooting underneath, as well as fishermen's casting lines from above!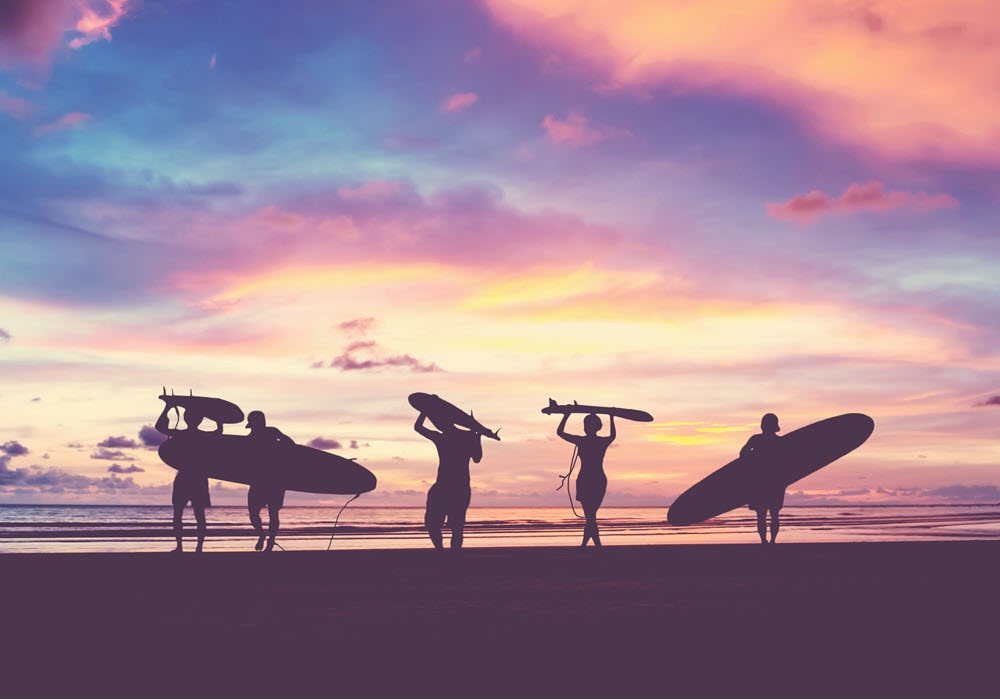 Northern California
Moonstone Beach – Humboldt
Break out your longboards! We're headed to Moonstone! Located south of the Jetty, or an hour north of Pismo Beach, this popular sandbar has a well-earned reputation for cruise-worthy waves that break both left and right and offers a wide variety of consistent surf year-round. It's an exposed beach break with offshore winds that gets ideal on days the swell comes in from the northwest. Locals believe the best time to ride is when the tide is rising to high.
The break is rarely crowded, but visitors should take care to watch for sharks, urchins, riptides, and sharp rocks. Always use caution when tackling a new break.
Morro Rock Beach – Morro Bay
Morro Rock Beach in Morro Bay, San Luis Obispo, is best known for the enormous, iconic rock resting just offshore of the marina. It's a seasonally popular wave that can get crowded on bigger days, especially when the waves get tasty in autumn and winter. But never fear, as locals maintain a reputation as some of the friendliest, most helpful folks around!
The refreshing blue waters tend to grow bigger and wilder the further north you go in the break, producing hairy rides and near impossible paddle-in conditions that perplex even seasoned veterans of the gorgeous swell. There's even a sign that warns riders to use caution, reminding them that drowning is a once in a lifetime experience!
But don't let that scare you off. Most days, Morro Bay offers a perfect place for beginner to intermediate surfers. With breathtaking views in every direction, this special spot is the perfect way to spend the day in or out of the water.
North Jetty – Humboldt
North Jetty at Eureka in Humboldt is an exposed beach break that produces consistent big surf year-round and big, clean barrels. Waves break in both directions and can be ridden pretty much at all stages of the tide.
Paddle out along the jetty to kick off a fun session but be prepared for possible crowds as this spot brings in riders from up and down the coast. It's also worth noting that North Jetty conditions, especially in high surf, can be dangerous for those unfamiliar with the break.
Do your homework before you go and avoid walking out on the jetty and getting swept out by a rogue wave.
Ocean Beach – San Francisco/Marin
Quite possibly the most popular surf spot in the Bay Area, Ocean Beach offers a variety of surfing experiences due to a shifting sand bottom and lack of reef. Swells from all over the Pacific Ocean. From Japan to New Zealand, find their way to this salty shore.
Located in the suburbs of San Francisco, the iconic beach break has been known to consistently go off at eight to fifteen feet throughout the year and can produce jaw-dropping, wide-mouth barrels that will haunt your dreams.
This spot isn't for novice surfers, though, and can challenge even experienced riders on bigger days. With no clear channel to paddle out in, surfers must duck dive through the churn of pounding whitewater to get to the powerful, pitching waves beyond.
The Patch – San Francisco
They say if you can't learn to surf at The Patch located in Bolinas Beach, you probably never will. With gentle rolling waves comparable to surfing in Waikiki, beginners have plenty of time to get in and stand up before the ride is over.
There is a catch, though. The water is considerably colder than Hawaii, so you'll need a thick wet suit and a strong sense of adventure to hitch a ride on one of the unhurried breakers.
Find Your Essex Apartment
Our apartment communities span from San Diego to the Pacific Northwest in some of the most sought-after locations on the West Coast. Choose from bustling city life, quiet comfort in the suburbs, sun and sand at the beach or outdoor adventures and a wide variety of on-site amenities and floor plans that span from studios to townhomes. Whatever your style and budget, we have a community that's right for you.
Explore our nearly 250 apartments, such as Fairway at Big Canyon in Newport Beach or Huntington Breakers in Huntington Beach, and learn more about current leasing or move-in specials.