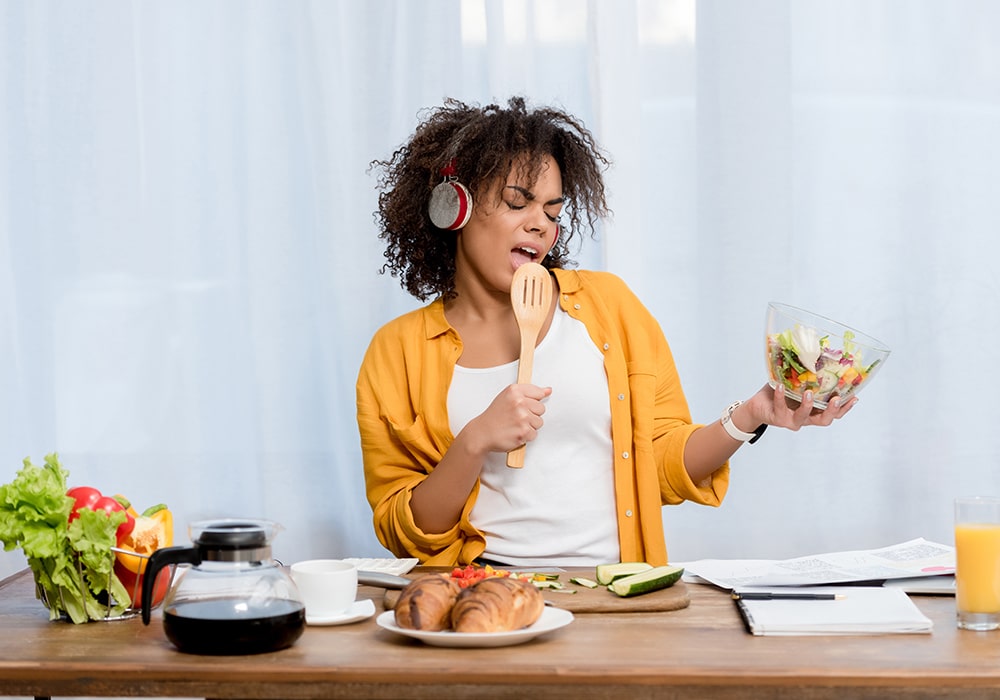 Must-Have Kitchen Gadgets for 2020
Are you looking to take your meals to the next level? Do you love food but also want to keep up with the latest trends? Then this is the perfect list for you! We found just a few of the best kitchen gadgets of 2020. These are some of the most interesting, fun, unique, and/or practical products for foodies, chefs, bakers, and all of us in between. Let's dig in!
1. Starfrit Rotato Express 2.0
Hold on to your hats! This little kitchen wizard will blow your mind! The Starfrit Rotato Express 2.0 instantly peels potatoes, along with a laundry list of other fruits and vegetables. With paring speeds as little as 10 seconds, simply plop on a potato and say sayonara skins!
The Rotato Express instantly peels with the push of a button, stopping automatically when the peeling is over. It is lightweight and will operate cordlessly with batteries, making it "picnic portable." There is no need to touch or hold the vegetable while it's peeling, which means it is safer and more hygienic than manual peeling. The device cleans easily with a damp, sudsy cloth. Best of all, The Rotato Express is simple and safe to operate! Its non-slip base holds it securely to the counter or other work surface.
2. Kitchenmetrics Digital Kitchen Food Scale and Measuring Cup
This popular digital scale and measuring cup does it all. It's easy to read, easy to clean, and best of all, accurate every time. You can put flour in it, reset it, add sugar, reset it again, then add milk. It's one amazing cup for measuring several different things at the same time.
It measures in both kilograms and pounds, is washable, has a large LCD display, and automatically shuts off. It's powered by a lithium battery that comes included.
3. anzoee Reusable Silicone Dishwashing Gloves
If you're not currently using some form of dishwashing gloves, get ready to have your world changed! While there are a number of good gloves on the market, anzoee is currently the bestselling brand.
These bad boys have dense and soft brush to create more foam and increase your friction power, making it a cinch to clean any dish, pot, or pan! They are food standard silicon gloves, BPA-Free and FDA approved, and dry quickly with no bacteria or residue. You can even toss them in the dishwasher!
Best of all? These gloves are multifunctional and can be used to clean up cars, bathrooms, kitchens, floors, and even to bath your pets. When you're done, simply loop them over any hook by their built-in hanging hole for no-hassle storage.
4. StarPack Premium Silicone Kitchen Tongs
It's time to upgrade your tong game! StarPack Kitchen Tongs with silicone tips offer the best grip and control available anywhere. Heat resistant to 600 degrees, they won't melt, rust, or flake off into your food.
These tongs are made with extra thick 1.00mm stainless steel and feature a ring-pull locking system built to last. They are made from the highest quality LFGB Grade materials. The company offers a full refund or replacement if you're not 100% satisfied with your purchase as well as a free '101 Cooking Tips' PDF to get you started! A set contains 9-inch and 12-inch long tongs.
5. Smart Planet BNB 1BM Smart Planet Bacon Nation Bacon Master
Love eating bacon in the morning but hate the hassle of making it or fear burning it? Not a problem anymore! The Bacon Master delivers perfect bacon every time.
Engineered to cook bacon slowly, the unit is a vertical non-stick cooking surface. Simply pre-heat the unit, lay your bacon over the center, slide the splatter guard cover on, set it and forget it. In just 8 minutes you will have enough perfectly prepared bacon to feed your whole family with the fat drained and no splatter or mess. Wipe it down and pop it in the dishwasher for easy clean up!
6. Ember Temperature Control Smart Mug
Introducing the world's first temperature-control mug! Ember's Smart Mug 2 features extended battery life to keep your drink perfectly hot for up to 1.5 hours on a single charge or all day on the included, newly redesigned charging coaster. Choose the exact temperature you prefer (between 120°F - 145°F) and control it via smartphone with the Ember App.
It has an auto sleep mode and awakes again when it senses movement or liquid. Best of all, the stainless steel, scratch-resistant ceramic coating is safe to hand wash.
7. Safe Grabs: Multi-Purpose Silicone Original Microwave Mat
You may have already seen these on Shark Tank. Safe Grabs is a heat-resistant multi-purpose silicone microwave mat that can be used as a place mat, trivet, potholder, splatter guard, food cover, jar opener, utensil rest, and more. It's made from food grade silicon, BPA free, dishwasher safe, heat resistant to 475°F, non-slip and naturally non-stick.
This is one of those items you wonder how you ever lived without!
8. Yaylabs Softshell Ice Cream Ball
Back in the day, you used to have to manually crank away at an ice cream maker to enjoy the creamy frozen taste of homemade treats. Then came the electric option, which did all the work for you, stealing some of the fun. YayLabs has brought it back!
Their SoftShell Ice Cream Ball is perfect for kids' birthday parties, barbecues, picnics or even camping trips. Just add the usual - cream, sugar, vanilla, ice, and rock salt – and let the good times roll. Thirty minutes of shaking and rolling produces a perfect pint. It's easy to clean and dishwasher safe, plus it comes with a one-year warranty.
9. Clip-On Kitchen Food Strainer
Ready for another invention you wish you had sooner? This three-piece kitchen set comes with a strainer, garlic peeler, and basting brush. It snaps easily onto any size pot or pan and is made of food-grade silicone. The fine mesh design allows for easy straining of water and juices, grease, and other liquids.
They store with half the space or less and are dishwasher safe. Get one now!
10. OLizee Creative Fruits Plant Multi Kitchen Tool Set
Looking to do more in less space? Who isn't? This multi kitchen tool set covers a lot of ground for aspiring chefs and foodies alike.
Equipped with 10 different tools, it's an apple cutter, avocado scooper, fruit slicer, cutter, mesh cutter, lemon squeezer, citrus cutter, grater, bowl, squeezer, and masher in one. Plus, it looks like a work of art!
11. Uutensil Stirr - the Unique Automatic Pan Stirrer
Love to cook or bake but hate all the stirring involved in making your favorite recipes? Or do you need more hands than you've got to finish the gourmet meal you're preparing? Now there is an answer!
The Uutensil Stirr will do the hard work for you. It has a one-handed, on/off push button that features three speed options. Simply place it in a pan or pot, turn it on, and watch it work like magic!
Uutensil Stirr is battery operated, dishwasher safe, and perfect for stirring sauces, soups, porridge, gravy and more.
12. Hamilton Beach Dual Breakfast Sandwich Maker with Timer
The last gadget on the list may just be the most fun of all. No more trips to Panera or Starbucks for your fancy morning breakfast sandwich because Hamilton Beach allows you to make it at home with just four easy steps in under five minutes.
Now you can create two custom sandwiches with ingredients of your own choosing to fuel your low carb, protein packed, keto, paleo, or other dietary needs. It also makes an excellent gift and is surprisingly affordable.
Find Your Essex Apartment
Our apartment communities span from Shadow Point in San Diego to Woodland Commons in the Pacific Northwest in some of the most sought-after locations on the West Coast. Choose from bustling city life, quiet comfort in the suburbs, sun and sand at the beach or outdoor adventures and a wide variety of on-site amenities and floor plans that span from studios to townhomes. Whatever your style and budget, we have a community that's right for you.
Explore our nearly 250 apartments, such as 1000 Kiely Apartments in Santa Clara or 777 Hamilton in Menlo Park, and learn more about current leasing or move-in specials.