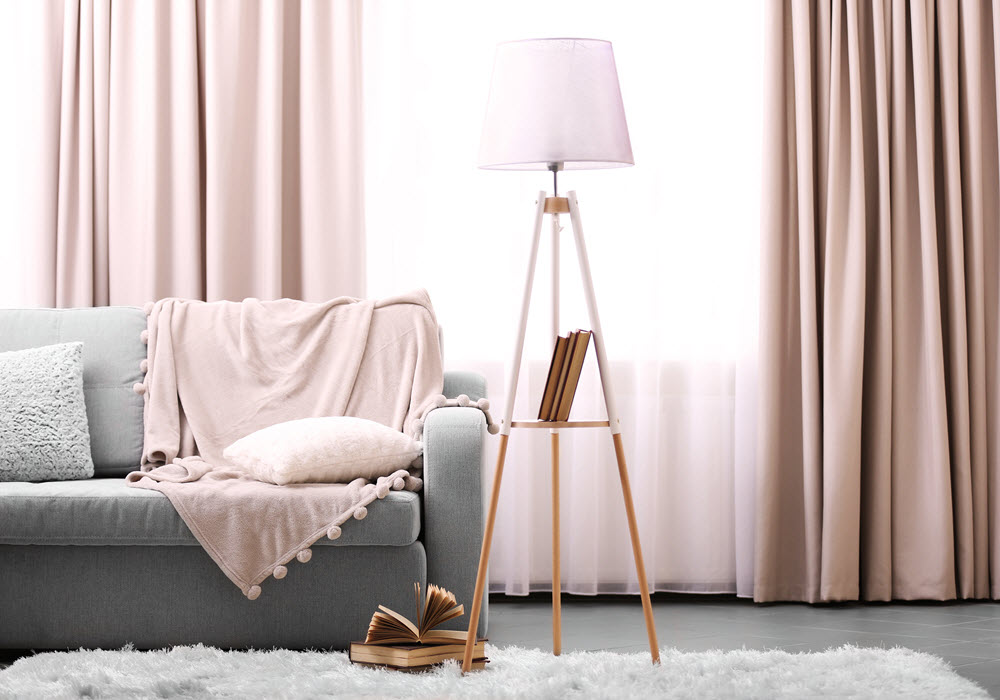 Have Some Fun Decorating and Organizing Your New Apartment
Now that you've settled into your new apartment, it's time to get busy making it your home. Whether you're a die-hard, HGTV DIY fanatic, or just want your new place to look tidy and pulled together, here are some tips to making your house a home.
The Principle of Proportion
Apartments can be elegant and sophisticated — look no further than the fabulous penthouses along the West Coast. In design, size doesn't rule; scale and proportion are the keys to terrific decor. The trick to a visually pleasing apartment is the golden ratio, which you may remember from math or art class. It's the proportion most common in nature and is roughly 2:3. For example, if your seating area is 9 feet wide, your sofa should be 6 feet long, and your coffee table should be 4 feet long. Your brain is wired to favor those proportions, so that's why a too-small sofa looks "wrong."
A standard sofa is 84 inches wide, and a loveseat is 60 inches. Those sizes may be too big — or too small — to hit the golden ratio, but furniture stores and online retailers feature options in several widths, so you can get it right. If you're more the sectional sort, Pottery Barn is one company with a collection in smaller proportions.
Trends in Apartment Decor
For those of you who think a bed is nothing more than a mattress and all you need in your living room is a sofa, there is good news — minimalist decor is indeed a thing; brands like Pottery Barn and Ikea have several pieces that feature storage compartments. On the other hand, if your tastes run to baroque opulence, design trends are moving back towards a more luxurious aesthetic. These are some of the top design trends today and are predicted to grow in popularity throughout the 2020s.
Layers and Texture
Nesting – the art of creating a comfortable living space and staying home — is becoming more popular. You can either thank or blame Netflix and UberEats for that. When you spend more time at home, you want more texture than a sleek and chic esthetic provide; you want comfortable and inviting. Layering textiles adds depth to decor. Lots of fabrics — tweed, velvet, and linen add texture, so do wood accents and potted plants. One trending piece of furniture is a velvet sofa upholstered in bold colors with a modern shape. Pop some fuzzy pillows against a herringbone chair cushion, use a deep-pile accent rug, and incorporate rough-hewn lamp bases or end tables for contrast. Textured glass, in the form of a bowl or candlesticks, creates additional dimension and interest.
Bold Color
One decorating rule that's gone the way of flocked wallpaper is not using bold wall colors in small spaces. Jewel tones are roaring back, replacing the cool grays and neutrals of the early 2000s. Think amethyst, teal, and deep coral as the foundation for your design. Bold colors provide a stunning backdrop for your art and frame your view with a huge pop. Before you get out the ladder and roller, check with your landlord regarding painting policy. Many will allow you to paint it yourself; others may offer painting services as a lease add-on if you're not the DIY type.
Storage as Furniture
If you want your stuff organized without a lot of furniture, invest in double or triple duty pieces that let you stow your stuff without too much furniture.
Multifunctional furniture is the epitome of form following function — a sleeper sofa is the best example. If your aesthetic is minimal, get a futon instead of a sofa--or a futon that looks more like a chaise lounge for a guest room. A cocktail dining set is a conversation piece as well as a coffee table, dining table, and storage — the top lifts up to reveal four seating stools, and the stools have removable tops for more storage. A coffee table with a hinged top can double as a desk; other coffee tables have drawers or baskets. Platform beds have drawers underneath, perfect for out of season-clothes or linens.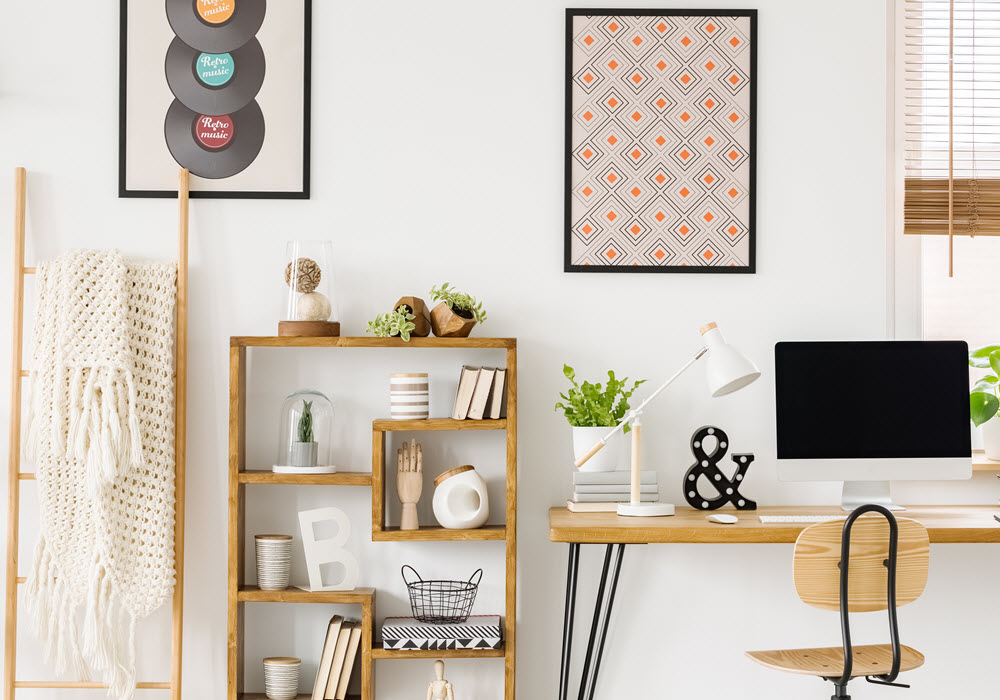 Antiques
Antiques--elegant or unusual things from the past — can add character to modern homes.
Leather bound books, wooden tea caddies, even old textiles thrown over the back of a chair — create an inviting warmth in your home. Antiquing around your new city is actually a great way to get to know the neighborhoods, check out estate sales for the best finds. If the idea of a Saturdays spent sneezing in a dusty old house isn't your thing, stay home with your latte and shop online.
Asian art and antiques are especially au courant; the black lacquer that finishes many pieces of Asian furniture complements any decor. Painted chinoiserie is always in style, you can get pieces from small cachepots to large secretaries.
Porcelain is another great way to accessorize and organize — a collection of Kutani pots is a fun way to store kitchen utensils or makeup brushes.
Creative Ways to Display Art
If you're reluctant to drive lots of nail holes into your walls, there are other ways to display your art. Adhesive strips are good for lightweight (no more than a pound or two) items, but not much else. Here are some ideas for creating an eye-catching display.
Hang a picture rail — install a horizontal bar along the ceiling and hang things from that. You can hang at different heights for a gallery effect.
Prop frames on a mantle — if you have a fireplace, prop some art on the mantle.
Display in bookcases — small paintings and objects dress up a bookcase. If your bookcase has lighting, even better.
Ladder — a ladder lets you display books, art, and objects. Put a reading lamp on the top rung and place it by a chair, and you have an end table, too.
Grid — A plastic or metal grid does need a few nails to hang, but you can install lots of frames on the grid, again it gives you a great gallery effect.
Decorating your new apartment can run the gamut, from picking up some new storage bins to commissioning custom furniture. Whatever your style, taking the time to customize your apartment's interior is a sure way to make your rental feel like a home.
Find Your Essex Apartment
Our apartment communities span from Alpine Village in Alpine of San Diego County to Canyon Pointe in the Pacific Northwest in some of the most sought-after locations on the West Coast. Choose from bustling city life, quiet comfort in the suburbs, sun and sand at the beach or outdoor adventures and a wide variety of on-site amenities and floor plans that span from studios to townhomes. Whatever your style and budget, we have a community that's right for you.
Explore our nearly 250 apartments and learn more about current leasing or move-in specials.