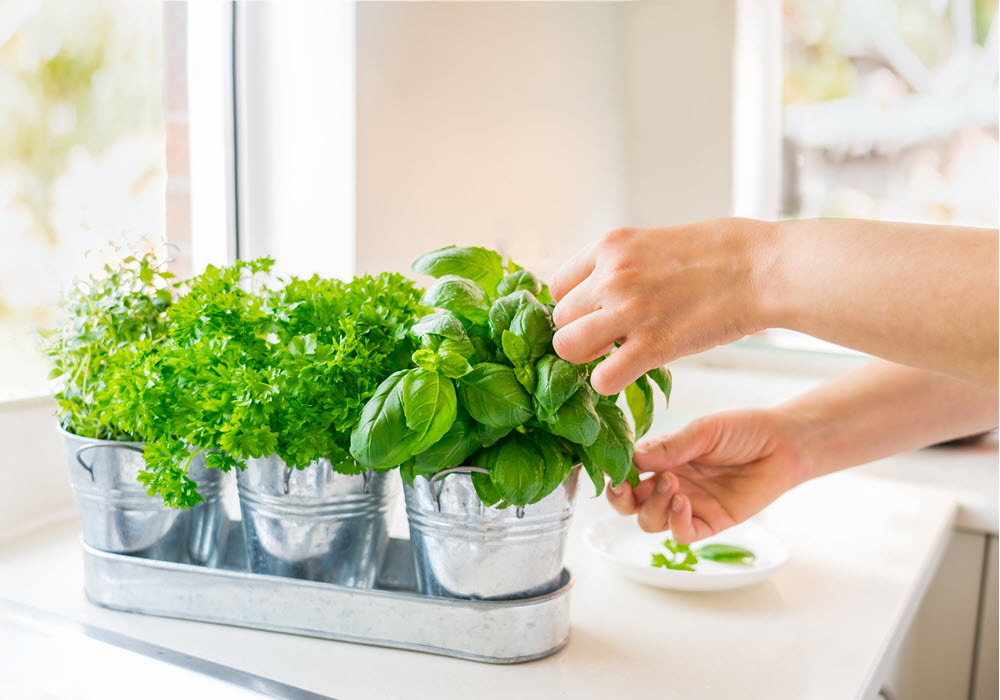 Tips to Starting an Herb Garden in Your Apartment
Have you thought about testing your green thumb but not quite sure where to start? Growing herbs is an easy hobby to take on and requires minimal maintenance. Whether you're working with a small balcony or an indoor windowsill, great satisfaction can come from successfully growing and taking care of plants, no matter the size! Plus, once you top your favorite pasta dish with homegrown basil or sip a homemade Julep with freshly muddled mint, you'll never go back.
Now that we are officially in the spring season, it's time to get planting! Here's everything you need to know to get started.
Getting Started
Once you have committed to growing an apartment herb garden, first consider where it will be located. You'll need an area that receives lots of natural light for at least six hours a day. An outdoor patio works perfectly, but sunny windowsills are also a great option. If your window is south or southwest facing, you're in luck! These windows will provide you with the most direct sunlight. Keep in mind, you don't need a significant amount of space to get started with a few herb plants. You can continually expand your garden after you get started.
Now it's time to shop for essential supplies, and there's no better place to start than the vessel that will house your new herbs - pots! You can buy pots online or at a retail store such as Lowes, Ace Hardware, or a nearby locally owned garden center. Select a larger-sized pot that is a minimum of six inches in diameter, so your herbs have room to grow. Most herbs won't grow well next to others. Be sure to buy enough pots for each herb to have its own dedicated space. Lastly, don't forget to ensure your pots include drainage holes, so they don't flood after watering.
Once you've selected your pots, you will need soil, fertilizer, a small shovel, and the star of the show – the herbs you would like to grow! We recommend choosing organic potting soil that is free of pesticides or organically engineered chemicals. Fertilizers are an essential addition to your herb garden soil to ensure your plants have enough nutrients to grow and be harvested. Your small shovel will be helpful when you are ready to transport your new herbs into their permanent pots that have a base of soil and fertilizer. Additionally, you may want to pick up a watering can and garden shears to make daily maintenance a simple task.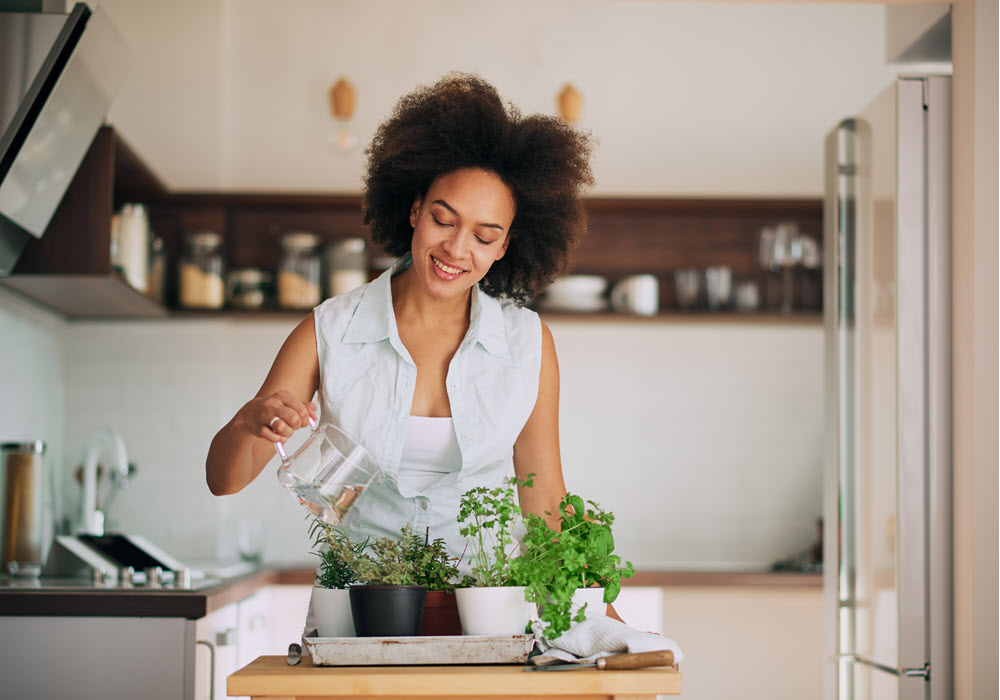 Choosing Your Herbs
Now the fun part – picking the herbs you want to grow! A good start is deciding which herbs pair well with the foods you like to eat, selecting four or five options, and then expanding if you have a larger space to use. We recommend you begin with a few herbs that are extra forgiving, although most are relatively easy to grow.
If you're in a warmer climate, you can start all of these plants from seed in the spring. Fill your pot with the soil you have selected, sprinkle in your seeds, water immediately, and occasionally feed with fertilizer. Use this list as a guide when as you're getting started.
Basil
Basil is the most well-known of all the herbs. It has a distinct and robust scent and can quickly grow into large batches. Keep it outdoors or on a windowsill with plenty of light and if it lives outside, bring it indoors at the chance of frost. For basic upkeep, you'll know it's time to water your plant when the soil has completely dried out, and you should prune it often by cutting from the top of the plant to allow the herb to branch off and continue growing. Basil pairs well with dishes featuring tomatoes and tomato sauce, which means it's great to have on hand when preparing Italian recipes!
Mint
Considered one of the easiest herbs to grow, mint can quickly take over your garden space, so containing it in a pot is your best option. The aromatic herb enjoys morning sun and can tolerate shade, and it should be watered often. Be mindful to avoid flooding your mint plant, as it should not sit in water. To extend your harvest, trim your plant regularly and pinch off its flowers. When you're ready to put your fresh mint to use, consider making yourself a cup of tea for a refreshing beverage with a variety of health benefits!
Parsley
Thought to have originated in Sardina, Italy, parsley is one of the most commonly used herbs in American cuisine. This herb tolerates shade and enjoys moist soil. It is a slow grower, so don't over-harvest, and when you're ready to trim, start from the outside of the plant. If you want a bit of variety, you can grow both flat and curly parsley, both of which add great taste to soups, stocks, and sauces.
Chives
A part of the allium herb and vegetable family, chives grow best in the spring and fall. They work well in containers and are perfect for your kitchen windowsill. Space your chives eight-to-12 inches apart in an area that receives full sun and water them when the top inch of the soil becomes dry. Since chives have a milder flavor, they're perfect to add to dips, mashed or baked potatoes, seafood dishes, and omelets. Just be sure to add this herb to your dishes after you're done cooking to keep the delicate flavor fresh!
Oregano
Meaning "joy of the mountain" in Ancient Greek, oregano is packed with flavor, and when in bloom, it has beautiful purple or pink edible flowers. This popular cooking herb needs at least six hours of sunlight per day to thrive, and we recommend letting it grow to about four inches tall before harvesting and trimming. Use your fresh oregano to add an extra burst of flavor to olive oil-based marinades for chicken and beef dishes, or chop up the leaves and toss them into your favorite salad recipe.
Rosemary
Native to the Mediterranean, where it can grow in dry, rocky areas along the coast, rosemary is one of our favorite herbs simply for its heavenly smell. This woody shrub prefers to be on a patio over a sill and is considered drought tolerant. Be mindful of letting the plant fully dry out between watering and trim it heavily as it grows tall. Use this herb to add a new level of depth and flavor to your potato and chicken dishes!
These are just a handful of easy herbs for you to grow at home. The more you pick, the more you'll get, so keep the momentum going with year-round growing. And if you've grown more herbs than you can keep for yourself, consider gifting them and sharing the joy that comes from having a personal herb garden in your apartment.
Find Your Essex Apartment
Our apartment communities span from San Diego to the Pacific Northwest in some of the most sought-after locations on the West Coast. Whether you're looking for life in Los Angeles, settling down in San Jose, or relaxing in Oakland, we can help. Choose from bustling city life, quiet comfort in the suburbs, sun and sand at the beach or outdoor adventures and a wide variety of on-site amenities and floor plans that span from studios to two-bedroom apartments to townhomes. Whatever your style and budget, we have a community that's right for you.
Explore our nearly 250 apartments, such as Foster's Landing in Foster City or The Promenade at Marina City Club in Marina del Rey, and learn more about current leasing or move-in specials.