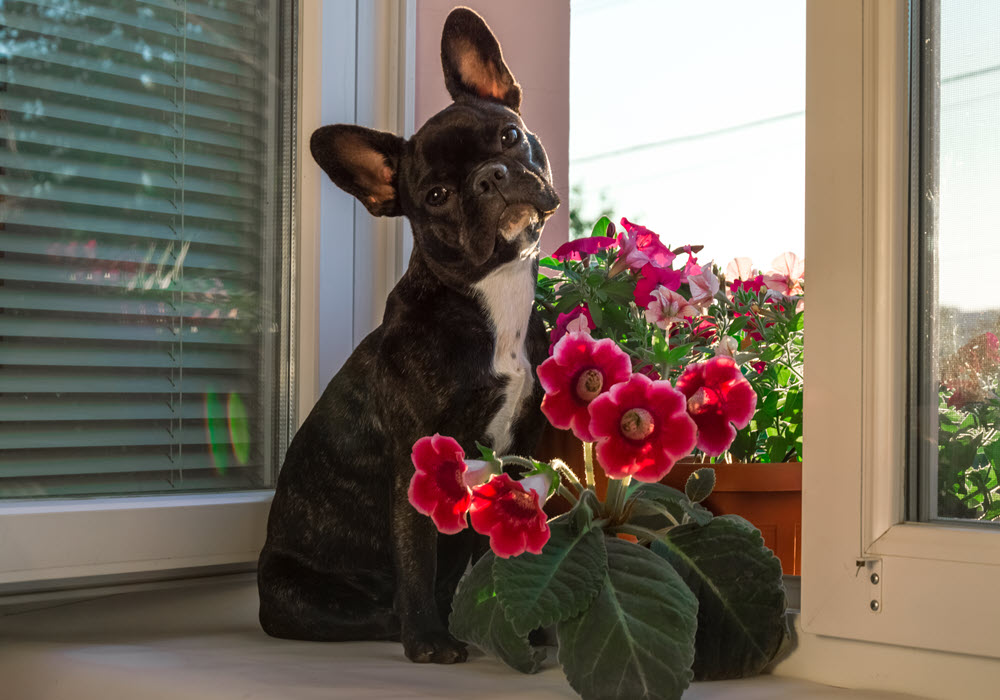 Pet-Safe Houseplants for Your Apartment This Spring
Spring is back! From the sound of birds chirping to the sight of bright flowers blooming, this season is the perfect way to warm our hearts and put a smile on our faces. It's time to put away the cold weather clothes and give your apartment that fresh, spring feeling!
One of the best ways to celebrate the season of renewal is by adding newly potted plants to your living spaces, from the bathroom to the kitchen to the bedroom. Studies have shown plants improve not only home décor but air quality as well. They also help lower stress and generally brighten up your mood. If you have pets, we know you might be concerned about finding plants that are safe for your four-legged friends, just in case they accidentally eat a bit of your greenery.
Cat grass aside, most houseplants are best kept away from dogs and cats for their own safety. Realistically, we know some determined furry friends will still find a way to chew or play with them. These six spring plants are safe and non-toxic to cats and dogs while also helping to freshen up your apartment!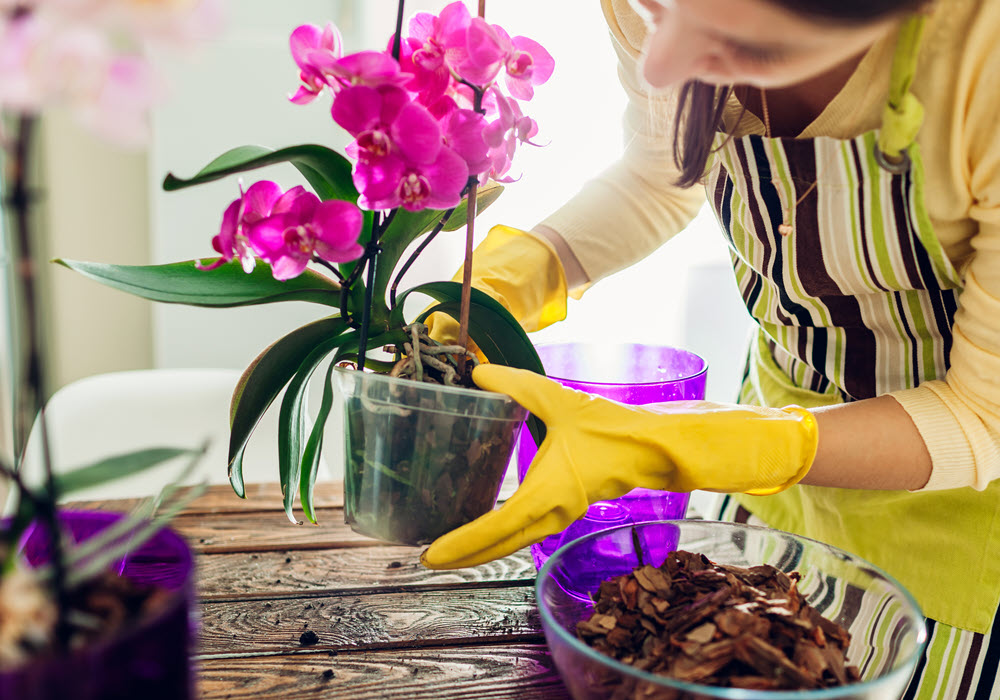 Moth Orchids
Gorgeous in any room of your apartment, moth orchids are spring favorites and the perfect way to add a fresh and airy feeling to your space. Despite popular belief, they are non-toxic to pets! Moth orchids are one of the best flowers that grow well inside because they are low maintenance.
Available everywhere, from grocery stores to local nurseries to online stores, new variations in flower color, size, and bloom are announced each year. For more information, visit the American Orchid Society.
Lighting: Keep your moth orchid in bright, indirect light.
Planter: A bark or sphagnum moss will keep your plant healthy so long as either material fully dries between watering periods. Bark dries quicker, as do miniature moth orchids in smaller pots.
Maintenance: Be sure not to overwater your moth orchid. Average apartment temperatures are fine.
Gloxinia
Gloxinia is a beautiful flowering houseplant with large, velvety, bell-shaped flowers in shades of red, pink, white, blue, or royal purple. Commonly sold in late winter and spring, these indoor flowers in cheerful colors radiate the joys of the vernal season.
Though once a perennial bloomer, most gloxinias on the market are hybrids bred to rapidly produce maximum blossoms for a couple months before fading. Best grown as annuals, flower maintenance generally emphasizes keeping the plant healthy while blooming.
Lighting: Set in a bright area, near a window but out of direct sunlight.
Planter: Use high-quality planting soil for optimal plant health.
Maintenance: The Brazilian native prefers constant moisture and temperatures between 60-73 degrees.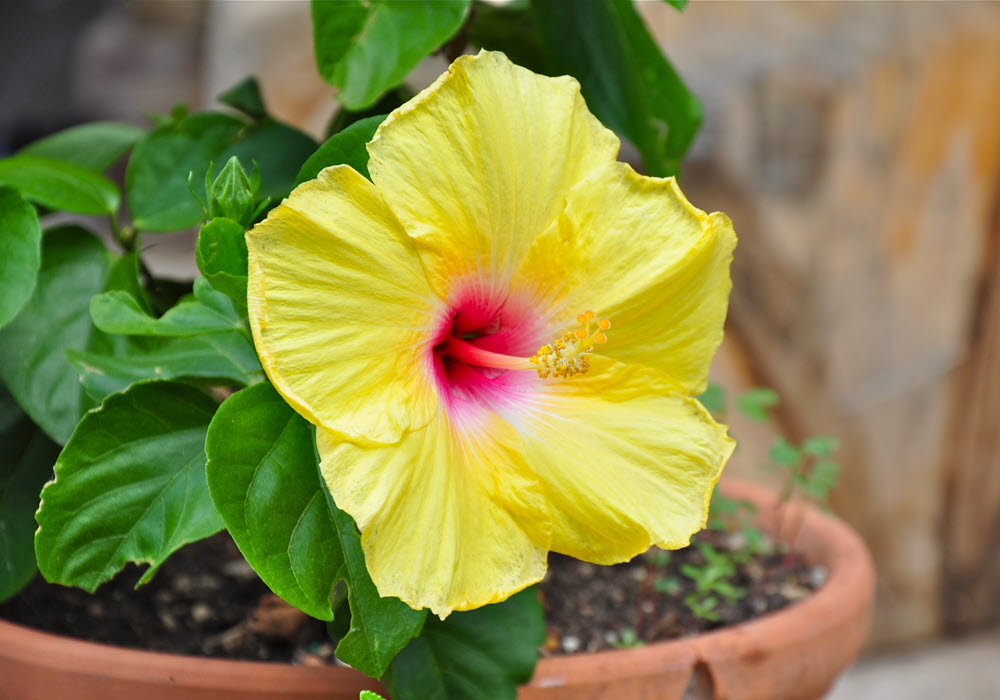 Hibiscus
Say aloha to the vibrant petals and iconic stem of the hibiscus. Add some island vibes to your environment with these cheerful, sun-loving bloomers. You're sure to feel the spirit of spring as you drink in these exotic flowers all the way through summer.
Most hibiscus is non-toxic to pets. However, Rose of Sharon, also known as (hibiscus syriacus) can be harmful if ingested in significant amounts by dogs.
Lighting: Give your hibiscus plenty of direct sunlight.
Planter: Hibiscus prefers moist but well-drained soils. Loam and sandy loam are recommended. Pick a favorite pot so you can move it around, chasing the sunlight throughout the rest of the year.
Maintenance: In their blooming stage, hibiscus require plenty of hydration. Water daily in warm weather and taper off as the temperatures cool. For more care tips, check out this guide from Gardening Know How.
Flowering Maple
An evergreen perennial with green, maple-like leaves and hanging bell-shaped blossoms in a variety of vibrant hues, it's simple to understand why this exotic relative of the hibiscus is one of the most popular houseplants. Flowering maple is easy to grow and maintain, to the delight of novice gardeners, and can bloom all year round.
Flowering maple can be planted in a floor pot or hung in a basket to bring the downward dangling flowers to face level. With proper care, these beautiful indoor plants can go on blooming for years.
Lighting: Place in direct sunlight or partial shade on hot days.
Planter: Flowering maple thrives in rich, moist, well-drained soil.
Maintenance: Keep the plant from overheating and drying out by placing it in a cool room and misting it between watering. To avoid pests, including spider mites, experts suggest spraying Neem oil on your plant.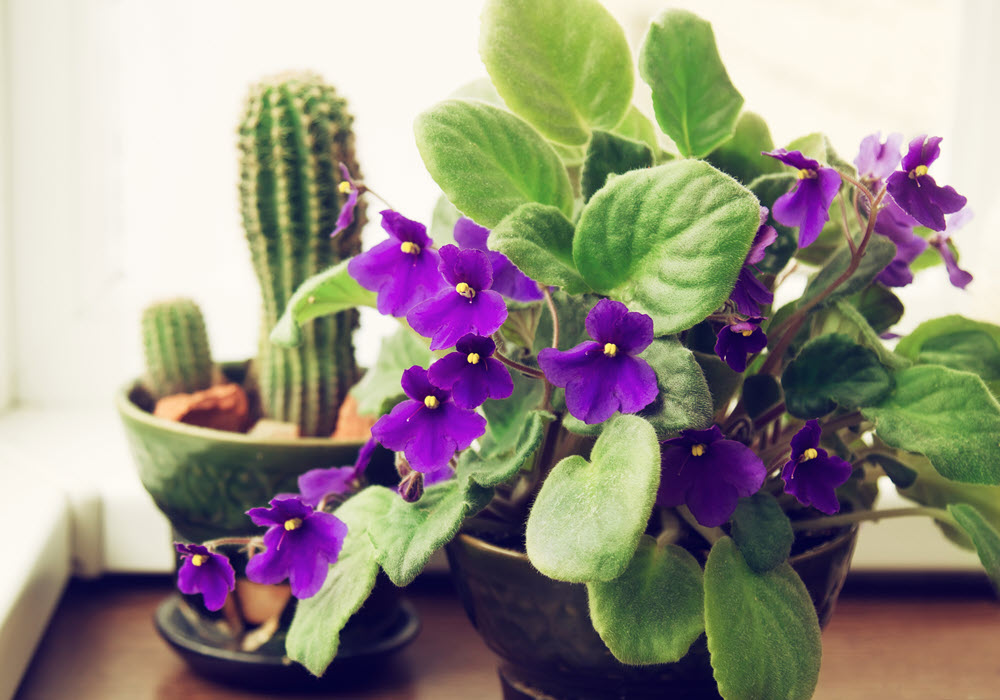 African Violet
Easily one of the most popular flowering houseplants, African violet is a stunning potted plant that provides vibrance and calm to any room of your apartment.
Lighting: African violet blooms in low light.
Planter: Use a soil-free potting mix and balanced fertilizer for best plant health.
Maintenance: Part of their popularity stems from the fact that these plants generally thrive in moderate heat and humidity with regular watering.
Calathea
More commonly called zebra or peacock plants, calathea is a lush indoor plant boasting oversized tropical leaves with mesmerizing striped patterns and colorful inflorescences, making them popular potted plant decorations.
Some green thumbs fuss about these spectacular plants being difficult. The key to keeping your calathea healthy is to keep it humid, either by placing small bowls of water around the plant or by keeping it in a humid place, like your bathroom.
Lighting: Prefers low to medium light. Pick a shady spot in your apartment as direct sunlight can damage and cause the foliage color to fade.
Planter: Keep moist but not wet, as overwatering can dry and brown the leaves.
Maintenance: Set your apartment temperature to 60 degrees and above to support healthy growth. Calatheas grow slowly to their final height and can reach up to three feet tall.
No matter what plants or flowers you use to celebrate the season, always be sure they are safe for your pet! Popular plants like lilies, tulips, daffodils, aloe, and peace lilies can be deadly to your furry friends. For a comprehensive list of pet-safe plants for your apartment, visit the ASPCA's toxic and non-toxic plants list.
Find Your Essex Apartment
Our apartment communities span from San Diego to the Pacific Northwest in some of the most sought-after locations on the West Coast. Whether you're looking for life in Los Angeles, settling down in San Jose, or relaxing in Oakland, we can help. Choose from bustling city life, quiet comfort in the suburbs, sun and sand at the beach or outdoor adventures and a wide variety of on-site amenities and floor plans that span from studios to two-bedroom apartments to townhomes. Whatever your style and budget, we have a community that's right for you.
Explore our nearly 250 apartments, such as The Woods or Mission Peaks in Fremont, and learn more about current leasing or move-in specials.