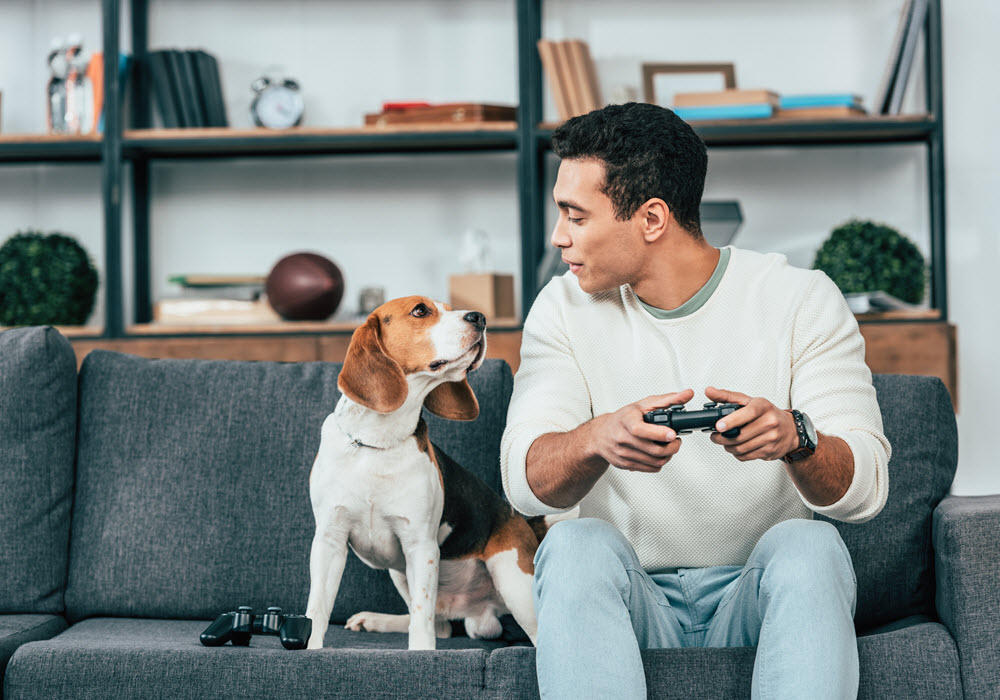 The Best Tips for Pet-Friendly Apartment Living
Every pet-owning apartment dweller knows that there's a big difference between living in an apartment that allows pets and living in an apartment that welcomes pets with open arms. Truly pet-friendly apartment buildings are few and far between. So, when you find one, it can take some adjusting to fully embrace how awesome it is to live with your pet surrounded by other friendly animal lovers.
Today, we're here to share the basics on everything you need to know to own your life as a pet owner. Plus, find out how to get the most fun out of your pet-friendly apartment life. Ready? Let's Go!
An Apartment Your Pet Will Love
The first step is to find a building that your pet will love as much as you do. You may care about having a convenient kitchen, a great view, and a pool to lounge by, but your dog or cat needs certain apartment features too! They may need a ground floor apartment, interesting scents, and the opportunity to play regularly.
Pet-Friendly Policies
Naturally, your pet won't be free to be themselves unless you live in a building with pet-friendly policies, not just pet-tolerance. Of course, every building is different. Some are cat-only buildings, some are careful about larger pets on upper floors. Always double-check for policies that suit your pet and are ultimately friendly to your pet-inclusive family.
Look for an apartment where the community manager is happy to hear that you have a pet because it will mean one additional furry member of the community. Where they try to put owners of big dogs on the first floor instead of giving a flat 'no.' Because that's the kind of place your pet can really enjoy living.
Building Pet Amenities
Did you know there are communities with amenities just for pets? Just like you appreciate a gym, pool, and spa, your pets will appreciate special amenities made for their comfort. Many pet-friendly apartments have dog parks and agility courses where dogs can meet each other and work out some of that natural energy. There are also apartments that go above and beyond with things like pet wash stations (paw spas), treat dispensers, or building-sponsored pet-friendly events. You can bet your pet will appreciate these pet-friendly luxuries.
Ace Apartment Shedding
Worried about the shedding factor with your apartment pets. Many breeds of pets are perfect for apartments in every way except the copious amount of fur that covers floors, fills sofas, and creates colonies of dust bunnies under the couch. Fortunately, savvy apartment pet owners can quickly adopt the ideal fur-management routine. Here's how to ace apartment shedding.
Brush Every Day
First, brush your furry friend every day. This is a great way to relax and bond, but it also gives you a chance to get all that about-to-shed fur into the brush (and then the trash can) without it making a stop at the floor, in your carpet, or all over your upholstery. Baths matter too, but brushing every day does a lot more for fur control than the occasional wash.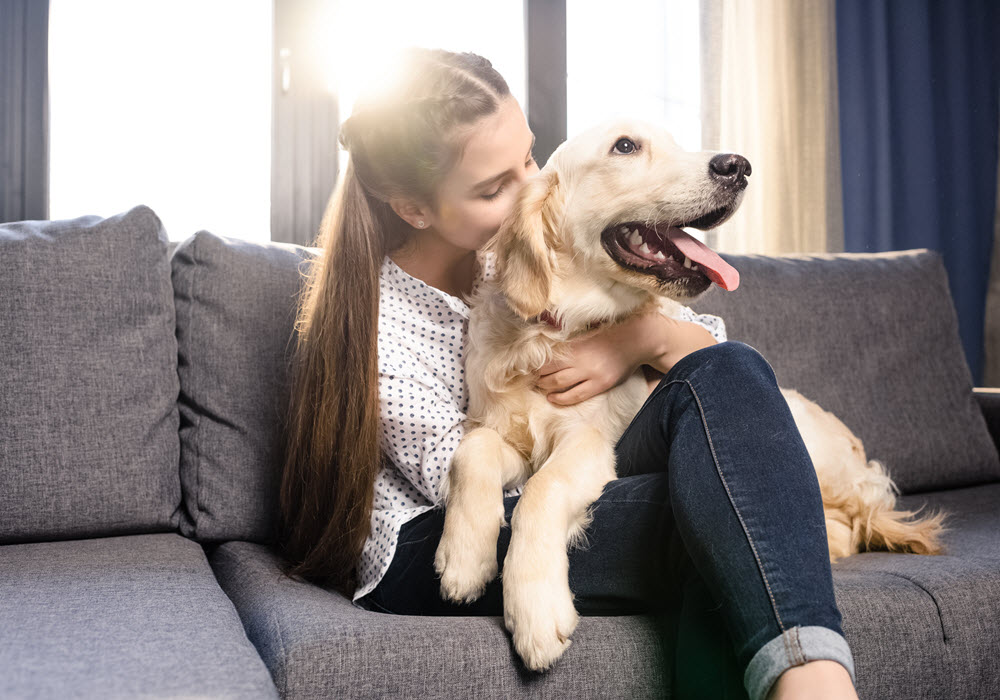 Wash Bedding Regularly
Pet bedding is also a place where fur hides and then spreads from. Make sure to wash your pet's bed, blanket, and soft toys regularly on hot. You can also use a lint wand to pull fur off of clothing for a quick fur pick-up from the pet bed and couch.
Invest in a Little Vacuum
Finally, if you have mostly non-carpeted floors, or already have a full-sized vacuum, a hand-held vacuum will make it easy to quickly swipe around the room every day to pick up the majority of shed fur. The right mini vacuum will also make it easier to vacuum furniture and to continually maintain a hair-free home.
Get to Know Your Pet-Friendly Neighbors
One of the best things about living in a pet-friendly apartment building is the fact that your neighbors appreciate pets as much as you do. Especially those you see every day in the agility park with their pooch or reading with their kitty in the apartment library. This isn't just an opportunity to make friends with fellow pet-lovers. It's also a great resource as a responsible and friendly pet owner
Doggy Playdates
Cats enjoy companionship, but many dogs thrive with it. Two dogs are easily twice as happy as one when they can sniff each other and play together to their hearts' content. Moving to a pet-friendly apartment building can potentially lead to finding new play friends for your dog. The best-case scenario is when you and your dog make a new best friend at the same time, providing ample opportunities to arrange regular playdates for both you and your pup.
Tips and Tricks
Your neighbors are likely to be full of knowledge about tips and tricks on owning a pet in an apartment. Meetups are a great way to share information. Whether it's the right brand of pet food, a clever way to make the balcony safe, or neat training tricks for a better-behaved apartment dog.
Free Petsitting Buddy
Finally, there is one resource that can never be underestimated in a pet-friendly apartment: free petsitting. If you have a neighbor who has the same kind of pet that you do, perhaps there's a chance they'd be willing to help out if you need a petsitter. Whether it's hosting your dog for a few days or just feeding your cat over the weekend, pet-friendly neighbors are your best allies when it comes to emergencies and vacations that take you away for periods of time.
Plan for Mutually Enjoyable Activities
Another great way to rock being an apartment pet owner is to make sure you double-time every fun thing you do with your pet to benefit both of you. This way, you are always making sure that quality time with your pet and chores involving your pet are actually making both of you happy at the same time.
Go Running Together
The first easy thing to do is turn 'walkies' into a good time for both of you to get some exercise. Commit to an evening run and your dog will have a great time running along next to you. This will help you work up the motivation to stay fit and will make sure you remember evening walks.
Join Them in Agility Play
If you take your dog down to the agility park, remember that it's not exclusively for dogs to enjoy. Show your dog what they can do by jumping over the jumping bar. Running around the perimeter. Or practicing your throwing arm in a rousing game of catch. Keep yourself as agile as your dog and both of you can enjoy the pet-friendly amenities.
Make It Social Time
Not to mention a time to socialize with other pet owners. While your pet is enjoying meeting, sniffing, and playing with other pets you can be making friends with your pet-loving neighbors. In fact, your pet's play dates are the perfect time to share a cup of coffee and discover the other great people who live in your pet-friendly apartment building.
Prevent Accidental Apartment Damage
Worried about your pet causing costly damage? This is a normal risk for any apartment pet owner, but it doesn't have to keep you up at night. Here are a few quick ways to make sure your pet doesn't accidentally damage the floors.
Trim and File Nails
The biggest risk for well-trained pets is growing claws that scratch the floor or rip the carpet. Pets can't help that their nails grow long and sharp, so you'll have to pitch in. Keep your dog's nails trimmed and file them lightly after each trim because they will be extra sharp right afterward.
For cats, a different approach may be required. Some owners have found success trimming cat nails, but not every cat allows this. Start with training and then stock up on plenty of toys, platforms, and scratching posts to keep your kitties entertained. You can use catnip to guide your kitty to toys it's safe to scratch and chew on.
Emergency Potty Plan
It's important to have a backup option for your pet's potty needs. Cats are easy since they just use the litter box every time. Dogs, on the other hand, prefer to go outside if they can make it there on time. If you're not home (or a heavy sleeper), your pet needs an emergency potty plan.
It will require additional training, but if you have a balcony, a designated area with mats, or in some cases a doggy door, your pet will appreciate the backup option.
Maintain Your Rules Training
You'll also want to make sure that your pet's training is always maintained. You can teach a pet to respect an apartment and avoid damage, but the moment discipline slips, so too does your ability to prevent damage. While being a loving owner, also make sure you always consistently enforce rules like staying off the furniture, not clawing the carpets, and no scooting.
Become a Going-to-the-Vet Pro
Finally, there's the occasional need to take your pet to the vet. As an apartment pet owner, you're probably very aware when your pet is feeling sick, and there is a great benefit in having a rock-solid vet routine so that your pet knows exactly what to do.
Leash and Carrier Training
The first step is leash and/or carrier training. You want your pet to be ready to handle leaving the building and taking a car ride to the vet without too much excitement.
Pocket of Treats
When it comes to trips to the vet (or groomer), having treats on hand can help pets feel comfortable. Make sure you've always got a pocket full of treats ready to calm your pet and reward them for good behavior. This will help them understand that the vet isn't a scary place.
Walk When Possible
There may be times where you'll want to avoid car rides altogether. Apartment dogs who are used to going on walks may be more comfortable traveling to the vet by paw (if you're lucky about apartment location) instead of taking a ride that might be scary or over-exciting. Walking to the vet can be a great way to keep them calm and get a little exercise before an appointment.
Rock Your Pet-Owner Lifestyle
With these techniques, anyone can rock being an apartment pet owner. If you're looking to share the perfect apartment experience with your pet, the best starting place is with a truly pet-friendly building. Check out our pet-friendly communities and keep an eye out for agility parks, grooming stations, and pro-pet policies.
Contact us for more information on pet-friendly apartments.
Find Your Essex Apartment
Our apartment communities span from Bernardo Crest in San Diego to Castle Creek in the Pacific Northwest in some of the most sought-after locations on the West Coast. Choose from bustling city life, quiet comfort in the suburbs, sun and sand at the beach or outdoor adventures and a wide variety of on-site amenities and floor plans that span from studios to townhomes. Whatever your style and budget, we have a community that's right for you.
Explore our nearly 250 apartments and learn more about current leasing or move-in specials.