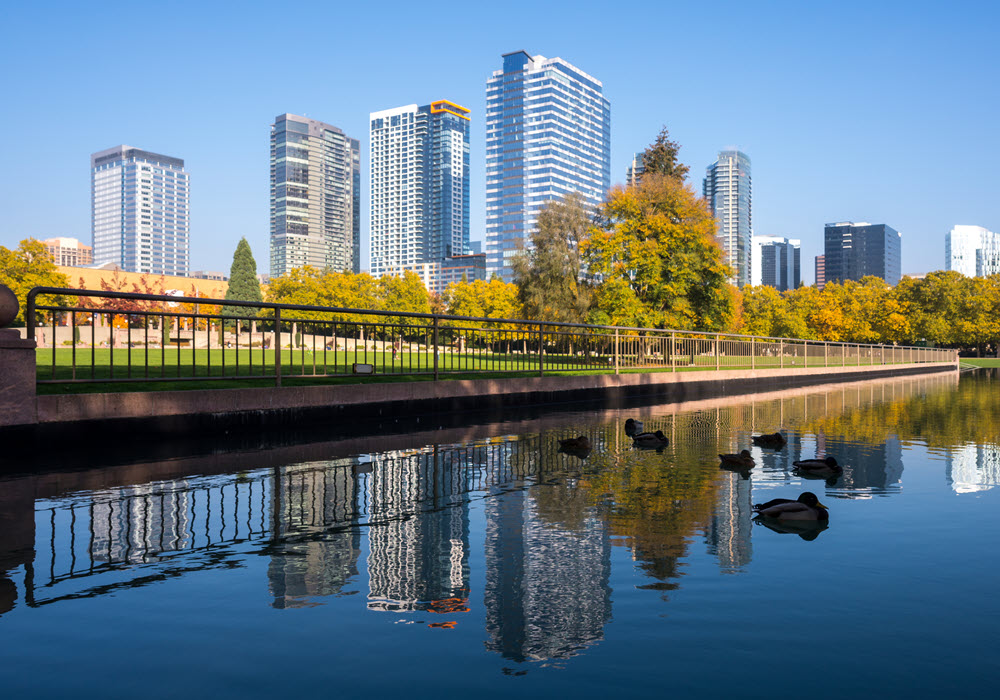 Parks and Nature Attractions in Bellevue
While Bellevue may be well known as a tech and retail epicenter in Washington, the midsize city is also a nature hub for its nearly 150,000 residents. Not only does it boast the same (or even closer) access to skiing, hiking, camping, and three national parks as sister city Seattle, but it also has hundreds of acres of green spaces and neighborhood parks within city limits. Most of these parks in Bellevue are linked by the Lake to Lake Trail that connects Lake Sammamish in the east to Lake Washington in the west. In fact, nine of the top parks highlighted below are stops along the 10-mile walking trail.
So, whether you're looking to escape from the sights and sounds of the city, play a round of golf or pickleball, spot wildlife in their natural habitats, or bask in the sun on the sand, Bellevue has it all. Here are eight ways to enjoy nature in Bellevue.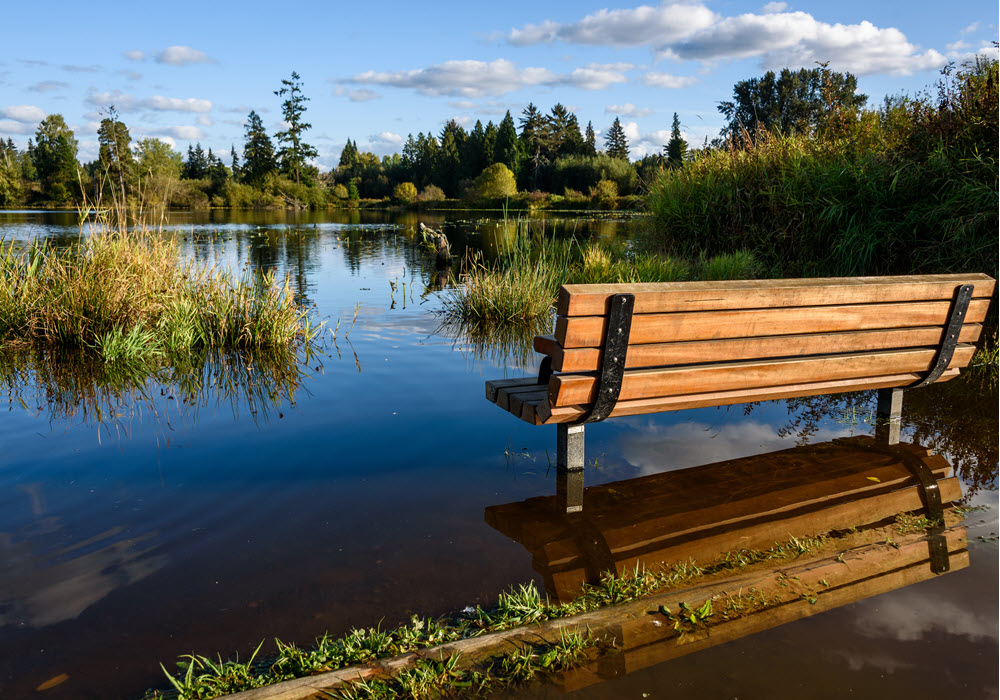 Hike Through an Urban Forest
Beginning the Lake-to-Lake trail from the east is Weowna Park, a magical old-growth forest with towering conifer and deciduous trees and moss- and fern-covered floors. This 90-acre park offers the perfect escape from city life without actually leaving the city; it's only five miles from downtown Bellevue and just less than two miles from Piedmont Apartments. The two miles of walking trails within the city park make a figure eight, with the Lake-to-Lake trail starting in the northeast and exiting in the southwest. The dirt and woodchip trails are well maintained and kid-friendly, with only a slight grade in some places.
Stroll Through Wetlands and Gardens
East on the Lake-to-Lake Trail is the Lake Hills Greenbelt, 172 acres of green space with two miles of multi-use walking trails that connect Phantom and Larsen Lakes. This city park, which is conveniently located between Piedmont and Sammamish View Apartments, is great for wildlife spotting and sampling Bellevue's agricultural side. Once active farmland, the greenbelt is now home to the Farm Fresh Produce Stand and Larsen Lake Blueberry Farm. There is also the Bellevue Demonstration Garden, a partnership between King County, Bellevue Parks, and Washington State University, providing public education in gardening and horticulture.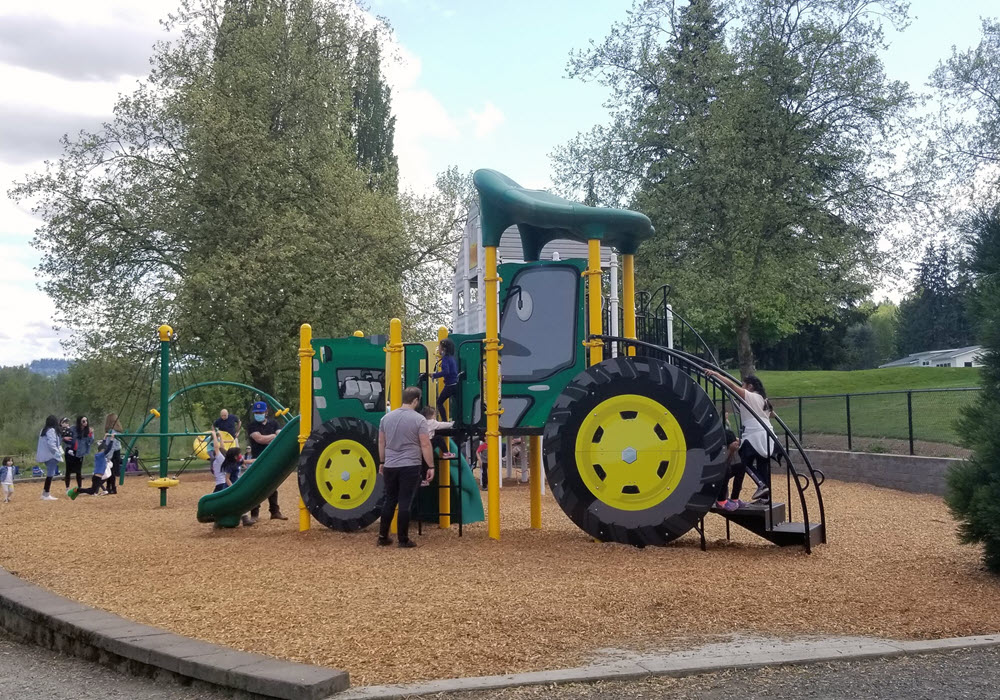 Visit a Historic Dairy Farm
Continuing west, the Lake-to-Lake Trail passes through 150-acre Kelsey Creek Park, which combines forested walking trails, a historic farm, and one of the top Bellevue playgrounds. The historic Fraser Cabin and Twin Valley Dairy barns are situated on the hill in the north end of the park, offering virtual educational programs and open for touring. The playground is also a popular attraction for this city park, with a tractor-shaped climbing feature. Sharing the northern border is private golf course the Glendale Country Club, just steps from Essex communities Foothill Commons, Woodland Commons, and Palisades Apartments.
Float Through a Nature Preserve
The southern route of the Lake-to-Lake Trail takes outdoor adventurers through Mercer Slough Nature Park, Lake Washington's largest remaining wetland. There's something for everyone here, from biking and walking trails to nonmotorized boating or paddleboarding to bird watching and environmental education. Boardwalks, dirt trails, and asphalt paths weave through the 320-acre city park, eventually connecting with the Mountains to Sound Greenway Trail, which runs along Interstate 90. Enatai Beach Park is located at the entrance to the slough, where the REI Boathouse rents kayaks and stand-up paddleboards by the hour. Essex residents of Emerald Ridge Apartments have all this at their doorsteps.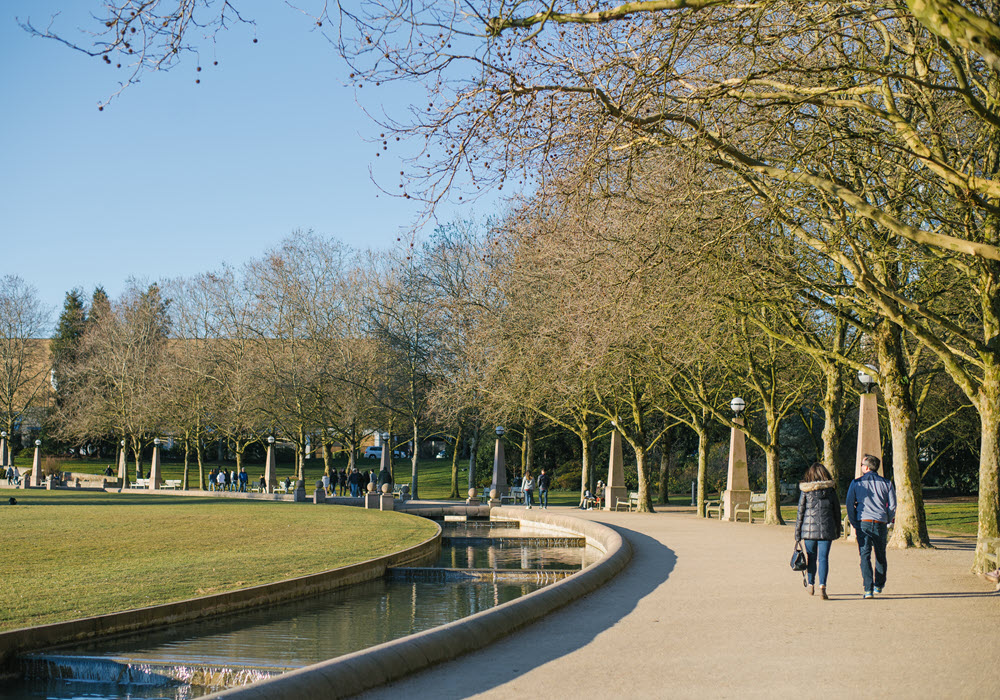 Enjoy Family Fun in the City Center
Though more urban than the parks discussed thus far, the list would not be complete without highlighting the Bellevue Downtown Park. Mere blocks from several Essex communities, including Ellington at Bellevue, Belcarra, BellCentre, and Courtyard Off Main Apartments, this picturesque city park features a stepped canal, 240-foot-wide waterfall, and a reflecting pond. Friends and couples can picnic on the shaded promenade, 10-acre lawn, and 120 park benches, while kids can explore another popular Bellevue playground. Recently upgraded, the playground features interactive elements and sprays water during the summer season.
Stop to Smell the Flowers
One of the last big city parks on the Lake-to-Lake Trail's northern route is 120-acre Wilburton Hill Park, known for one of Bellevue's star attractions: the Bellevue Botanical Garden. The 53-acre garden showcases native northwest plants within several smaller gardens, complemented by demonstration and educational opportunities, plus admission is free! Extending beyond the Botanical Garden, Wilburton Hill Park includes three and a half miles of walking trails and fields for every sports enthusiast (soccer, baseball, softball, tennis, and basketball). Conveniently located at the west entrance of the Lost Meadow Trail is Park Highland Apartments.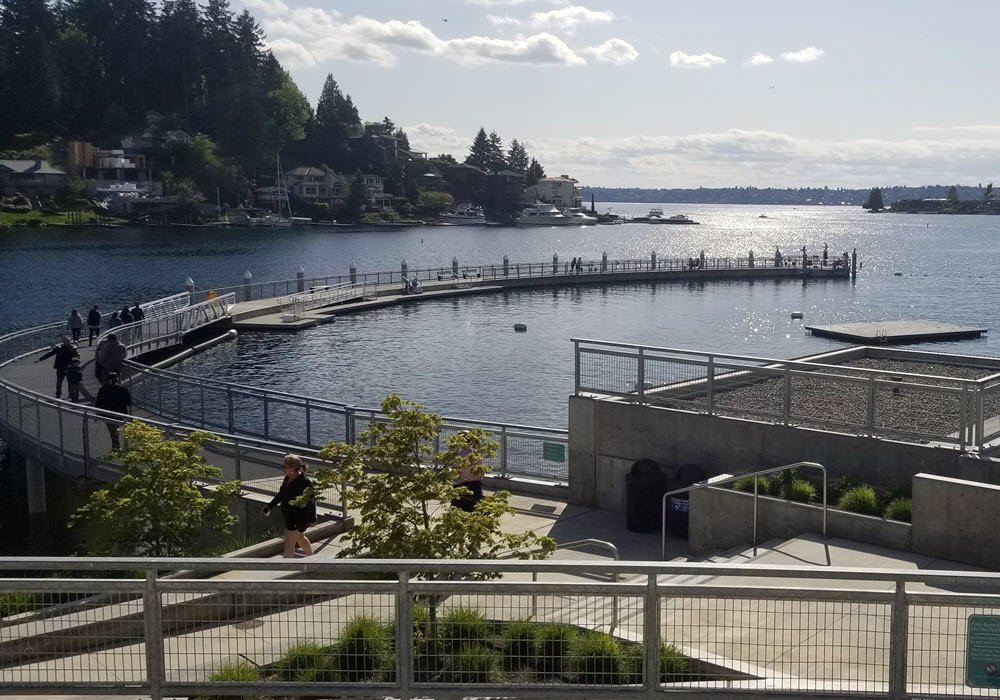 Relax at the Beach
Although Bellevue's beaches are smaller than those in Seattle city limits, they're much more accessible than venturing to the west side. In fact, downtown residents of Belcarra, BellCentre, and Courtyard Off Main Apartments are within walking distance to Clyde Beach and Meydenbauer Bay Parks, where the Lake-to-Lake Trail finally meets Lake Washington. Further off the beaten path – though still popular – is Chism Beach Park south of downtown Bellevue. These beach parks feature playgrounds, grassy lawns, sand beaches, roped-off swim areas, docks and lifeguards (limited hours). Meydenbauer Bay Park also hosts a REI Boathouse that rents kayaks and stand-up paddleboards during the summer.
Perfect Your Game
Crossroads Park is another expansive park in Bellevue with something for everyone, but especially for sports enthusiasts. It features basketball courts, pickleball and tennis courts, horseshoe pits, a skate park, and even a public par-three golf course. Other highlights include a water-themed playground that sprays water during the summer months and the state-of-the-art Bellevue Youth Theater, built into the hill of the park for energy and space savings. Located in eastern Bellevue, Crossroads Park is a stone's throw from Piedmont Apartments.
If you are thinking of moving to (or within) the Bellevue Seattle area, you'll find the perfect balance of city life, suburban amenities, and outdoor offerings.
Find your Essex Apartment
Our apartment communities span from San Diego to the Pacific Northwest in some of the most sought-after locations on the West Coast. Whether you're looking for life in Los Angeles, settling down in San Jose, or relaxing in Oakland, we can help. Choose from bustling city life, quiet comfort in the suburbs, sun and sand at the beach or outdoor adventures and a wide variety of on-site amenities and floor plans that span from studios to two-bedroom apartments to townhomes. Whatever your style and budget, we have a community that's right for you.
Explore our nearly 250 apartments, such as Cedar Terrace or Woodland Commons in Bellevue, and learn more about current leasing or move-in specials.