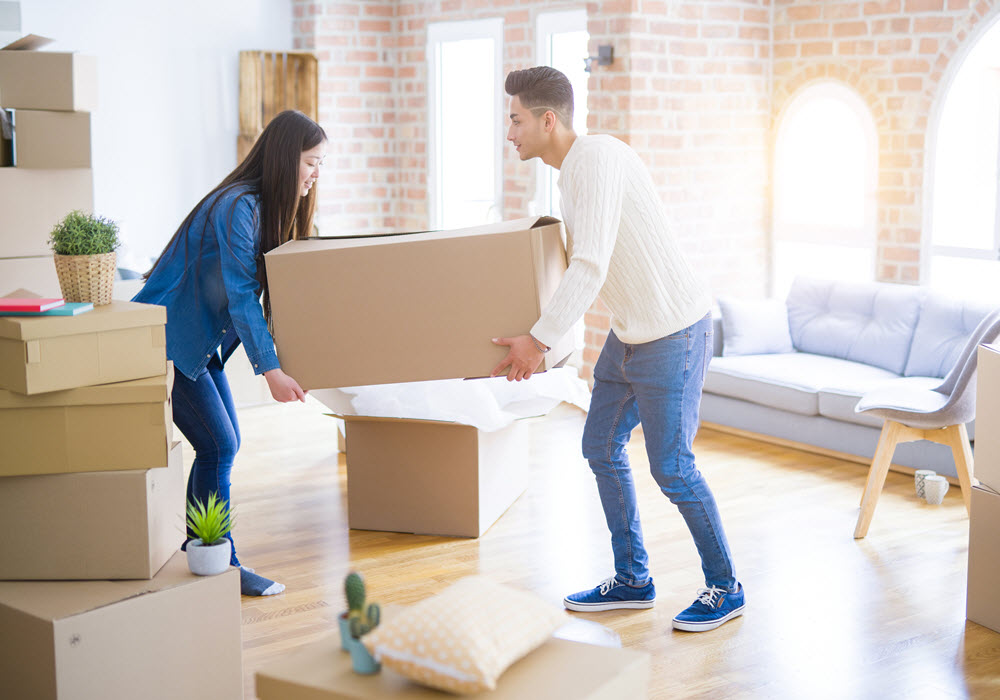 7 Tips for Relocating to a New State
Moving can be an exciting way to open up a world of possibilities, like a new neighborhood, new friends, a better commute, or a fantastic job. However, it might also be one of the most stressful things you will do. Having an idea of what to expect can help take your stress level down a notch. Here are a few things you can do before you move that will make the transition easier and more efficient.
1. Downsize so You Can Move Less
Many moving companies charge by the pound. If you're a bit of a pack rat, moving can have a significant impact on your bank account. Before the moving company comes to assess your moving costs, consider what you use and ask yourself these questions:
Do you want this in your new home?
Have you used it in the last year?
Will it cost more to move it than it is worth? This would be particularly important for pieces of furniture or heavy equipment.
Once you've established what can go, consider holding a garage sale to help offset some of your impending moving expenses or donate your items to charity. If you donate to charity, keep the receipts. These donations are tax-deductible and can help offset your moving costs.
2. Ask If Your Employer Covers Moving Expenses
Many people move because of new job opportunities. Before you accept that dream job, find out if your employer will cover some or all of your moving costs. If your potential employer does not cover moving costs, you may need to reassess if the job truly outweighs the costs your move will incur.
3. Hire a Good Moving Company
You don't want to hire the cheapest guy. Research moving companies and read their reviews. Look at websites like consumer affairs or home advisor. You can even google 'best moving companies' to gather more information. Ask how they would pack your belongings. Ask about what insurance policy is in place if anything breaks during the move.
Even if you hire the best moving company in town, things can still get lost. To avoid losing something irreplaceable, be sure to bring important documents with you. This includes things like birth certificates, social security cards, and bank information.
4. Get Your Forwarding Paperwork Done Early
You will need to get your mail forwarded to your new address. Do this early so you don't risk losing any mail. You will likely receive your security deposit via mail, and you'll want to ensure the check arrives at the correct new address.
You also need to schedule a date to close your utility accounts. You don't want to procrastinate on this because it could cause delays. Some companies send someone out to your home to manually shut off your utilities. If you can schedule this early, you'll mitigate the risk of paying for extra water, electricity, or gas.
Notify all insurance companies and lenders of your move. Call up your agent to let them know your new address before you move. They can update your renter's insurance policy so there is no lapse in coverage. Let the lenders know too, so you don't have any unexpected late fees.
Keep your tax paperwork. You will be filing taxes in two different states, so you will want to be prepared. Depending on your profession, you may want to hire an accountant. Sometimes one less stress is worth the money.
5. Research Neighborhoods
Think about all the things you value in a neighborhood. What is the proximity to grocery stores, restaurants, and other essentials? What does your daily commute look like? How is the traffic? Research and make sure your new neighborhood has the qualities you are looking for.
This step is especially important if you are moving out of state. If you have any friends or family who live near your new home. Ask them for suggestions. They may offer insights that your research won't provide. Are you familiar with the state you'll be living in? If not, take a virtual tour with google street view.
6. Start Your Home Search
Once you know what neighborhood you want to live in you can start searching for a place to live. Think about the size of the home you need. What amenities are must-haves and on your wish list? This can be things like an in-home washer and dryer, on-site fitness center, or assigned parking. Look at your budget and see what you can afford. If you are struggling to find a home within your price range, consider renting with a roommate.
7. Update Your Resume
Are you going back to your hometown? Moving for a partner? Or throwing caution to the wind and just feel like a change? For your move, you'll likely need to look for a new job if you don't already have one lined up.
It's imperative to have a strategy when hunting for a new job. Here are a few things to consider:
What companies to do you want to work for? Research each business of interest including its strengths, weaknesses, and the skills they desire in an employee.
Do you have any friends or family members who can put in a good word for you? You are more likely to get hired if a current employee recommends you.
Moving and looking for a job is stressful. You'll be busy, but don't forget to follow-up after you've applied. Write a thank-you note after the interview. You worked hard to impress this company. Continue to impress by writing a thank-you note.
Does your profession require a state license? If you're a real estate agent, teacher, or financial adviser this applies to you. What if your professional license won't transfer to another state? You must get re-licensed in your new state before you can work in your field.
Moving offers a chance for a fresh start in a new place. Using these tips to organize before and during your move will help ensure that your move is an efficient and exciting experience!
Find Your Essex Apartment
Our apartment communities span from Alpine Village in Alpine of San Diego County to Brighton Ridge in the Pacific Northwest in some of the most sought-after locations on the West Coast. Choose from bustling city life, quiet comfort in the suburbs, sun and sand at the beach or outdoor adventures and a wide variety of on-site amenities and floor plans that span from studios to townhomes. Whatever your style and budget, we have a community that's right for you.
Explore our nearly 250 apartments and learn more about current leasing or move-in specials.