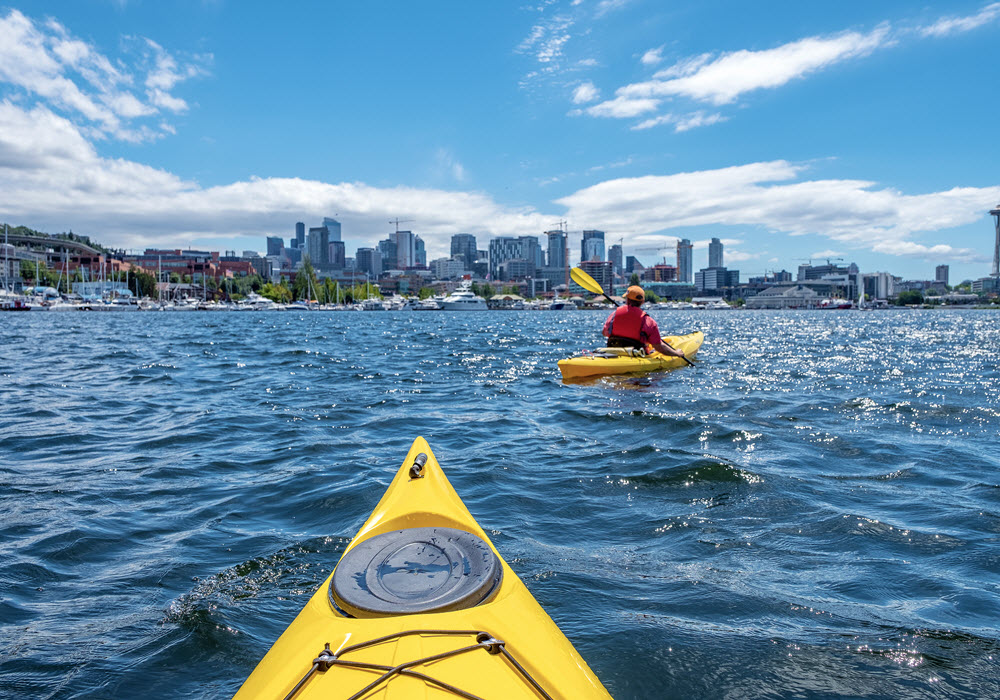 Moving to Seattle? Tips from Taxes to Transit
Though often represented in the movies as rainy and mysterious, Seattle is a vibrant city with a booming economy, lots of microbreweries, and all the nature you can stand. If you're moving to the Emerald City, these are the things you'll need to know before you stake out your favorite coffee shop and turn into a bean snob.
Washington State Has No Income Tax
That's right — when you move to Washington, you'll see a big fat zero on your pay stub where you used to see your state income tax withholding. The state generates its income from sales taxes, so expect a surprise the first time you go shopping — in King County, where Seattle is located, sales tax is around 10%. Groceries are not taxed, but "prepared" food is, as are most services. At the end of the year, it's probably a wash for you ‐ a few dollars more on your purchases, but more in your paycheck.
It Rains, But Not Really A Latte
Seattle has a reputation for being rainy — and rightly so, with an average of 152 rainy days (.01 inch) every year. The thing is, it doesn't rain all that much — Sunbelt cities like New Orleans and Miami have more rain — over 60 inches per year. In comparison, Seattle gets about 37 inches, just a little every day. There are just as many sunny days, and they are concentrated in the warm summer months.
Seattle is fondly known as The Emerald City since the overall climate is conducive to a healthy growing season. Some locals call it the Moss City, and you could probably call it the Mushroom City, too--Seattle does have high humidity, around 70% on average. You don't really feel the mugginess until the temperatures crawl up into the 70s — and as the day progresses and the dew point drops, it's really quite comfortable.
Winters in Seattle are temperate — the average temperature is in the mid-40s, but winter is when the rains come. It's too warm for lots of snow, only about five inches per year.
Windows to Seattle's Amazonian Economy
Seattle has one of the hottest job markets in the country — even if you're not a tech genius, opportunities abound. Although behemoths like Microsoft and Amazon dominate the landscape, there's a little company called Boeing that makes airplanes. Healthcare and biotech have a strong presence in Seattle, as do maritime industries and shipping. The professional service businesses that follow high-paying jobs and affluence make up a large part of the local economy--attorneys, financial advisors, and concierge health care. The average salary is $61,000, which is $10,000 more than the national average.
The takeaway? It's always smart to have a job lined up before you relocate, but if you're going to take a chance anywhere in the US, Seattle may be one of your best bets.
Neighborhoods and Culture
Seattle sits out on its own peninsula from the Washington proper mainland, separated on the east side from suburbs like Redmond, Bellevue, and Tacoma, by Lake Washington. To the west, Elliot Bay and the Puget Sound, which flow into the Pacific Ocean, border the city. Seattle overlooks Olympic National Park and Mount Olympus. Seattle is one of the first cities in the US to get serious about the environment and is one of the greenest--literally--cities in the country. Sustainable living isn't an ideal here; residents live it every day. It's a walkable city, and there is a light rail that runs north/south from Angle Lake, through Sea-Tac Airport, up to the University of Washington. The metro transit system, Sound Transit, also runs south to Tacoma, east to Bellevue, and north to Everett.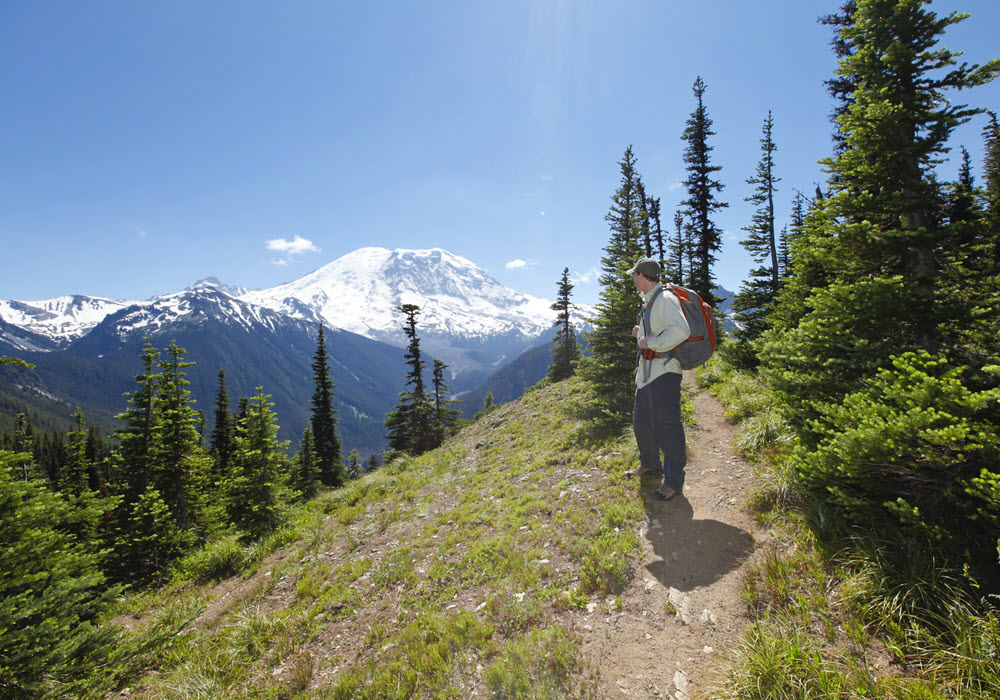 Pioneer Square and Pike Place Market
Pioneer Square is Seattle's oldest neighborhood, and a designated National Historic District, full of restaurants, art galleries, bookshops, and other small businesses. Pike's Place Market, on the waterfront, is a hub for Saturday morning loafing — farmer's market, restaurants, bars, and art galleries line the streets of the neighborhood. You can catch a Mariners game at nearby T-Mobile Park, or a Seahawks game at CenturyLink Field, just a little south of Pioneer Square.
Capitol Hill
This area, north of the central city on Lake Union, has been called the amphitheater stage for surrounding neighborhoods. Theaters and nightlife abound in Capitol Hill; this is the place if you're young and restless. There's the Broadway Performance Hall, an intimate venue for music, dance, and drama; and the Egyptian Theatre, for indie movies and first-run films alike. The Century Ballroom is a club to get your classy on, or Neumos for indie, hip-hop, and everything else, and Neighbors Nightclub caters to an eclectic audience. When you're starving or parched after your night out, there are lots of restaurants for any cuisine, and beer "culture" at places like Pine Box and Stumbling Monk.
Belltown
The entire city of Seattle is too hip for words, but Belltown is the coolest kid in class. It's tucked between Pike Place and Lower Queen Anne and recently gentrified from a grungy, semi-industrial waterfront district to where CNN Money called the best place in Seattle to retire in 2007. Belltown is where you go for urban chic — whether you're looking for the next hot grunge band at Crocodile or loose leaf tea at Steepologie. Pick up some new duds for a night out at Kuhlman, then go hit up Navy Strength for a killer cocktail and dinner. Belltown is walkable, but you might want to Uber home after a night on the town.
Queen Anne
The largest of Seattle's residential neighborhoods, Queen Anne, is chock-full of eponymous architecture, as well as Craftsman, Colonial Revival, and Tudor homes. It's uphill from downtown and has amazing views of Mount Rainier, the city skyline, the Space Needle, and Elliott Bay from the top--with lots of restaurants and cafes to stop and enjoy the view. Queen Anne is where you'll find Adult Culture —McCaw Hall houses the Seattle Opera and Pacific Northwest Ballet, and the Seattle Center is home to Museum of Pop Culture, Chihuly Garden and Glass, Space Needle, and Pacific Science Center.
Go Outside and Play
With all those mountains and water surrounding Seattle, on sunny days everybody goes outside to play. Mount Rainier (pronounced rain-ear) National Park is a wonderland for hiking and camping in the summer and snowshoeing and cross-country skiing in the winter. There's even a Wonderland Trail that circles the entire park for long-range backpackers and lots of short trails for day hikers. Mount Olympus, in Mount Olympic State Park, is a hidden gem — it's only visible from Hurricane Ridge or an airplane. The Park itself is home to four temperate rain forests within its boundaries, 73 miles of wild coastline, and almost 8000 feet of elevation. The alpine zone of the Park, easily reached by a drive up to Hurricane Ridge, reminds you of Switzerland--there are wildflower-dotted meadows, craggy peaks, mountain goats, and marmots.
Why Seattle?
The better question is, why not Seattle? With a booming and broad economy, a thriving arts and cultural community, and major league sports, Seattle offers something for everyone.
Find Your Essex Apartment
Our apartment communities span from Pinnacle at Otay Ranch in Chula Vista of San Diego County to Wandering Creek in the Pacific Northwest in some of the most sought-after locations on the West Coast. Choose from bustling city life, quiet comfort in the suburbs, sun and sand at the beach or outdoor adventures and a wide variety of on-site amenities and floor plans that span from studios to townhomes. Whatever your style and budget, we have a community that's right for you.
Explore our nearly 250 apartments, such as 8th & Republican or Annaliese Apartments in Seattle, and learn more about current leasing or move-in specials.