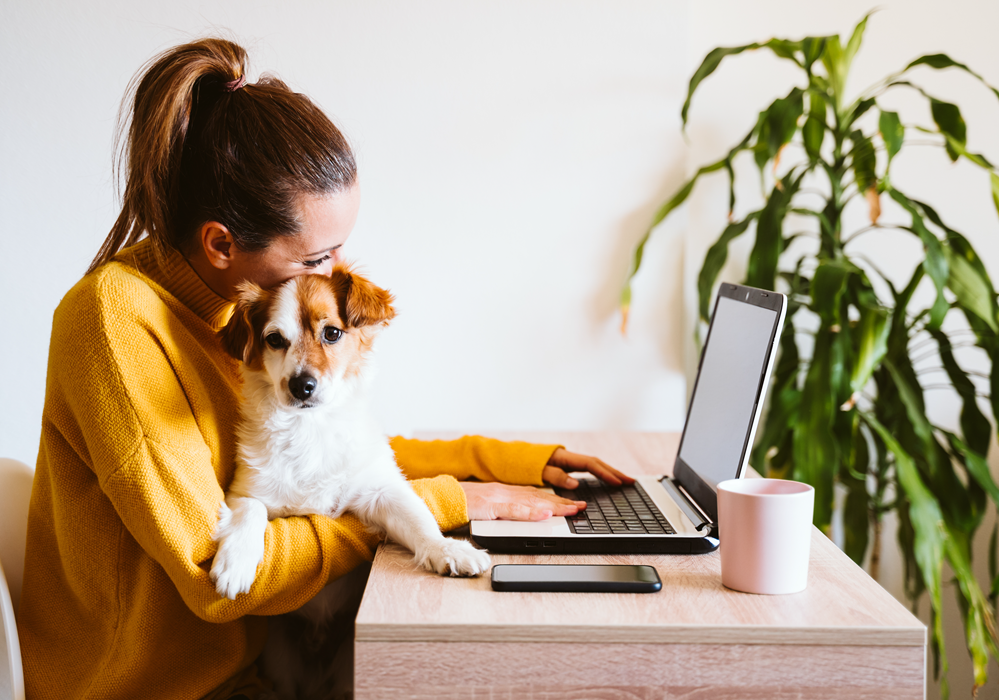 Creating a Comfortable Home Office in Your Bedroom
The world is changing. More people are working from home, repurposing spaces previously devoted to eating or sleeping. For those who need more privacy than the living room or kitchen can offer, your bedroom is the perfect place to set up a cozy workstation or home office. With a few simple tips, you can turn your sleeping area into a productivity factory, utilizing every inch of living space.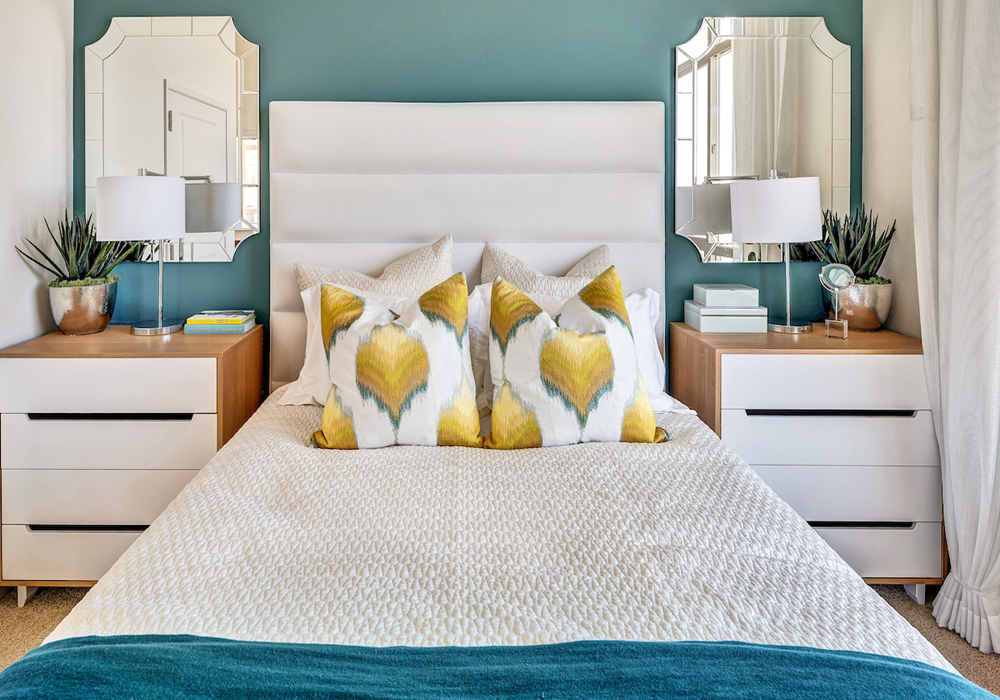 Start By Making Your Bed
Scientists say that if you want to fill your life with more happiness and productivity, making your bed is the best way to start the day. If you work from home, you could spend more than half your day in your room. Get yourself in the right mindset by setting up your office space each day anew, the same way you put your workstation away at days end. Taking the time to complete this simple task helps you get ready to tackle the day ahead.
Set up your station, put on your music, open the window, let the light in, and anything else that helps you to create an uplifting and stress-free work environment to take on your day.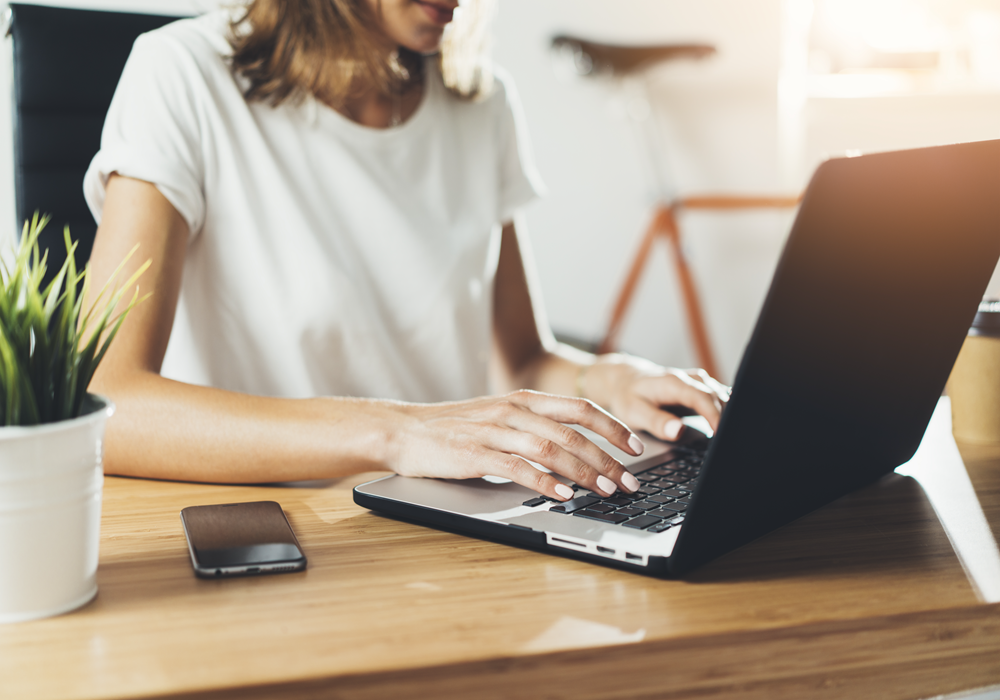 Swap Your Nightstand For A Desk
Making the most of your space is the name of the game when it comes to creating a practical home office. One trick seasoned telecommuters know well is to ditch their clunky, oversized nightstands for a small, stylish, adjustable desk. Both work equally well holding glasses of water, reading lamps, and glasses.
Protip: Add a mirror to the wall above your desk to create a vanity or a standing mirror to give the room the feeling of extra depth.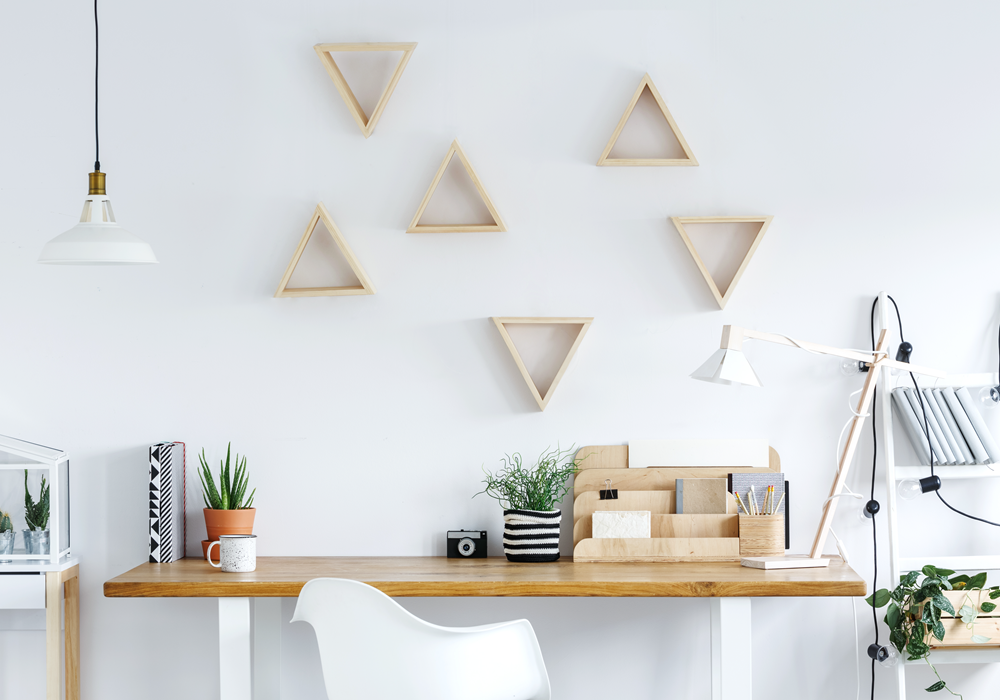 Keep Your Work Area Clean
Having a clutter-free working area is a sure way to increase your productivity in any office, especially one in a bedroom. Put away your clothes, pick up your room, and stash dirty laundry in the closet hamper. Make cleanliness part of your daily routine. Always put food wrappers in the trash. Return dishes and plates to the sink when you are done. Pack up unused supplies, hard drives, folders, files, paperwork, and anything else that can be stored away until needed again. Then, clean up and put away your work area at night when you are done for the day.
This simple, effective trick will create a calm, productive environment to tackle your work goals with excitement and clarity.
Get Creative With Your Storage
In a bedroom office every inch matters! Desks for bedroom offices tend to be small and have limited drawers. Your best bet is to buy color-coded storage bins and baskets that fit under your desk and in your immediate workspace. Be sure to pick up a label maker so you know what it is where. This will help reduce clutter and give you a place to stash overflow files and office supplies.
Experts also recommend utilizing wall-mounted shelves and standing furniture like metal shelving to keep things organized and clutter-free. You can even dedicate a drawer of your already existing furniture, giving it a dual purpose and making your storage solutions work for your entire room.
Don't forget the back of your bedroom door! Hanging storage easily helps keep things off the floor. Check out these 15 home storage ideas to make your life easier from Family Handy Man.
Protip: Command hooks are the perfect, renter-friendly wall hanging solution and come in a variety of sizes!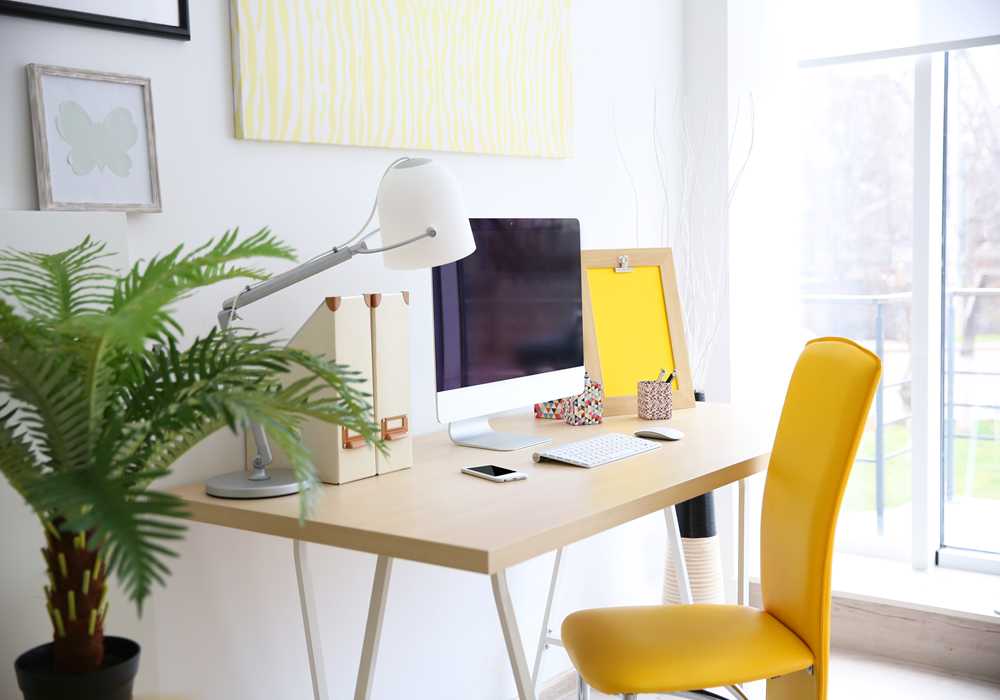 Add Plants And Flowers
Decorating your environment is a surefire way to improve your mood and creativity. Whether they are a bundle of flowers from the market or wildflowers from around your neighborhood, a splash of natural color will ensure an uplifting workspace that exudes positivity. Popular plants like English ivy and African violet work well in any office environment. There are also a variety of potted plants revered for their benefits inside the home, including The Snake Plant, which cleans the air in your room, absorbs carbon monoxide, and filters toxins, increasing productivity and decreasing stress. Succulents make excellent office plants and thrive well so long as they get plenty of light.
For a comprehensive guide to indoor office plants, visit this ultimate guide to office plants.
Create Your Own Cloffice
If you still want to keep your bedroom and office spaces separate and you are not afraid of small spaces, then you might try creating and working in a closet-slash-office or cloffice. While not for everyone, having the ability to shut yourself away from the world and focus on work can be extremely productive.
Depending on how big your wardrobe is, what size desk you need to work, and what kind of storage options you already use, your options vary widely on how to set up shop. The most practical way to store your clothes and personal belongings normally tucked away in a closet would be to instead use dresser drawers or other forms of storage to keep them in your room while placing your desk area in your closet. You could also store things in the closet at night and pull them free during the day, placing them in your room while you step into your cloffice.
Want more ideas? Check out Home Goods' 5 step advice on creating a cloffice!
Find Your Essex Apartment
Our apartment communities span from Mission Hills in Oceanside of San Diego County to Aviara Apartments in the Pacific Northwest in some of the most sought-after locations on the West Coast. Choose from bustling city life, quiet comfort in the suburbs, sun and sand at the beach or outdoor adventures and a wide variety of on-site amenities and floor plans that span from studios to townhomes. Whatever your style and budget, we have a community that's right for you.
Explore our nearly 250 apartments, such as Camarillo Oaks of Ventura County or Fairhaven Apartments in Santa Ana, and learn more about current leasing or move-in specials.