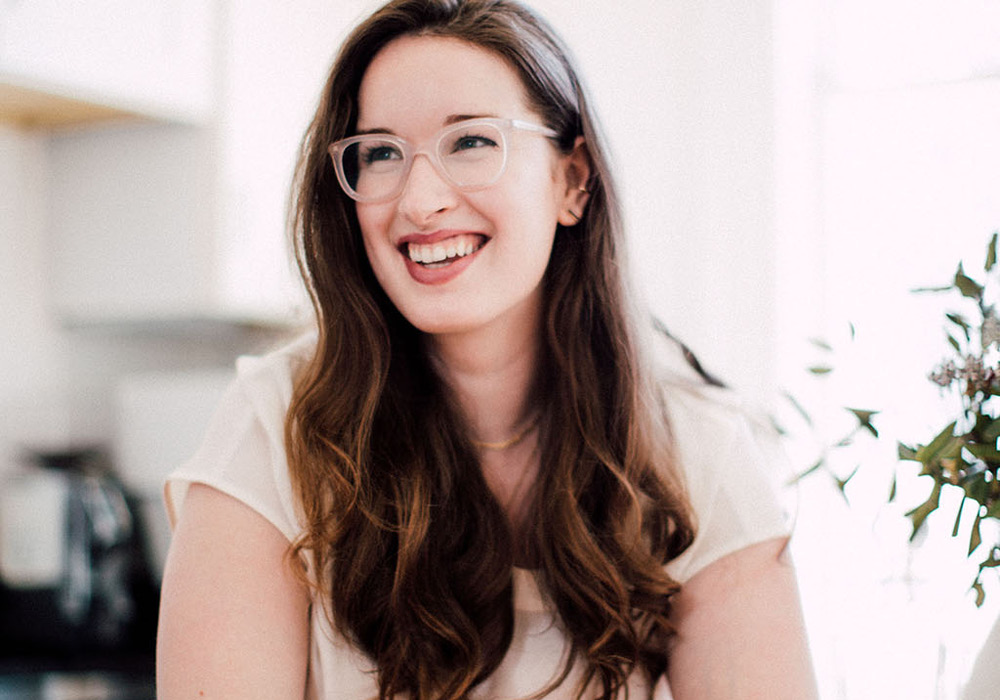 Celebrate Fall with Dessert Recipes by Chef Emily Laurae
The first day of fall is officially here, and we're soaking in every opportunity to say goodbye-for-now to summer as we happily embrace the change of the seasons. Ushering in the autumn equinox means cooler evenings, chunky sweaters, making the tough decision between a Salted Caramel Mocha or Pumpkin Cream Cold Brew at Starbucks, and wandering the aisles at Trader Joe's to browse this year's irresistible pumpkin-flavored products. It's also the perfect time to break out your classic fall recipes or spend an afternoon filling your Pinterest board with recipes for easy autumn desserts and the best fall baking ideas.
We've teamed up with San Francisco-based Pastry Chef Emily Laurae to bring you three decadent fall dessert recipes, inspired by the season's most popular flavors. There's nothing quite like the smell of cinnamon and nutmeg filling your home as you whip up a batch of fresh, homemade cookies, so head to the kitchen, and get cooking!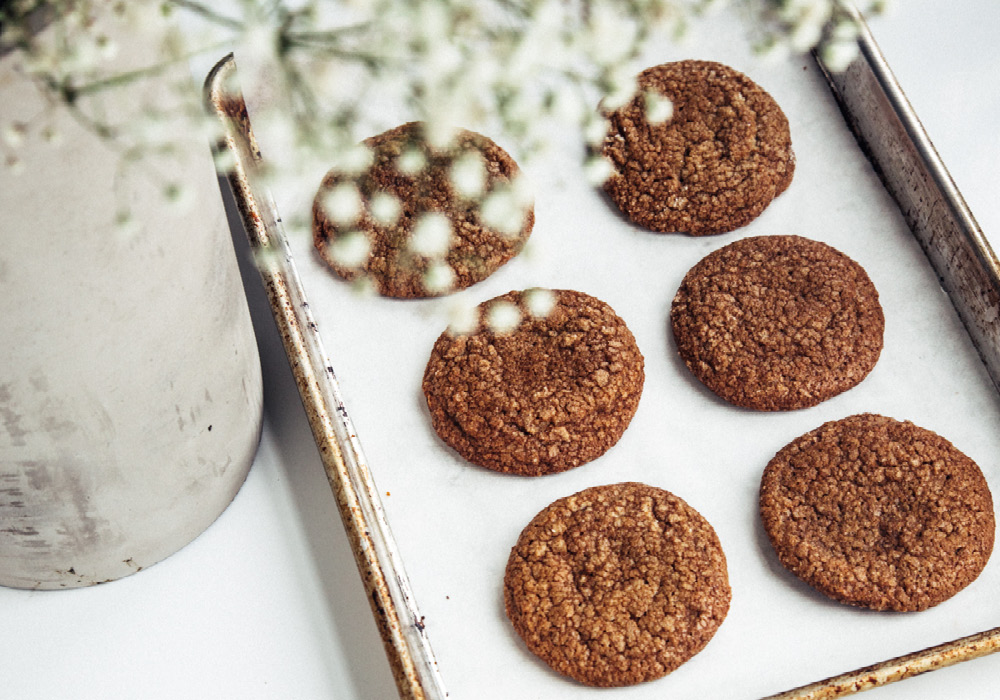 Chewy Molasses Cookies with Candied Ginger
Emily's Note: Chock full of spices, molasses and candied ginger, I feel I have a duty to warn you that these guys are absolutely and utterly addictive. They're slightly crispy on the outside, while chewy on the inside, and they're calling your name this weekend.
Ingredients
2 1/8 cup all-purpose flour
2 tsp baking soda
2 tsp fresh ginger
2 tsp cinnamon
½ tsp cloves
½ tsp sea salt
½ tsp nutmeg
¾ cup unsalted butter at room temperature
½ cup sugar
½ brown sugar
1 egg at room temperature
4 tbsp molasses
¼ cup candied ginger, minced
Cinnamon Sugar: ¼ cup granulated sugar + 1 tsp cinnamon
Method
Whisk together your dry ingredients: flour, baking soda, ginger, cinnamon, cloves, sea salt and nutmeg in a bowl and set aside.
Place the butter and sugars in your mixing bowl and using the paddle attachment, cream until you reach a fluffy, pale color. Scrape down the bowl, then add your egg and then the molasses.
Slowly add the dry ingredients in three separate stages, mixing until your ingredients have fully combined. Then, add candied ginger mixing for a few moments more to incorporate.
At this point, the dough will seem quite sticky! Place into an airtight container let it rest in the fridge for at least an hour, until firm and chilled.
Preheat your oven to 350°F and line your baking tray with parchment paper. Make your cinnamon sugar and set aside.
Using a cookie scoop or a tablespoon, roll your chilled dough into small balls, then place each dough ball in the cinnamon and sugar mixture to coat.
Bake cookies for about 11 minutes, removing them from the oven once you start to see some slight cracks on top. Let your cookies sit undisturbed for 3-5 minutes. Then, transfer to a wire rack and allow to cool completely.
If you don't end up baking off all your cookies at once, place your scooped and sugar-coated extras in a Ziploc bag and throw into the freezer. Bake them fresh, as desired!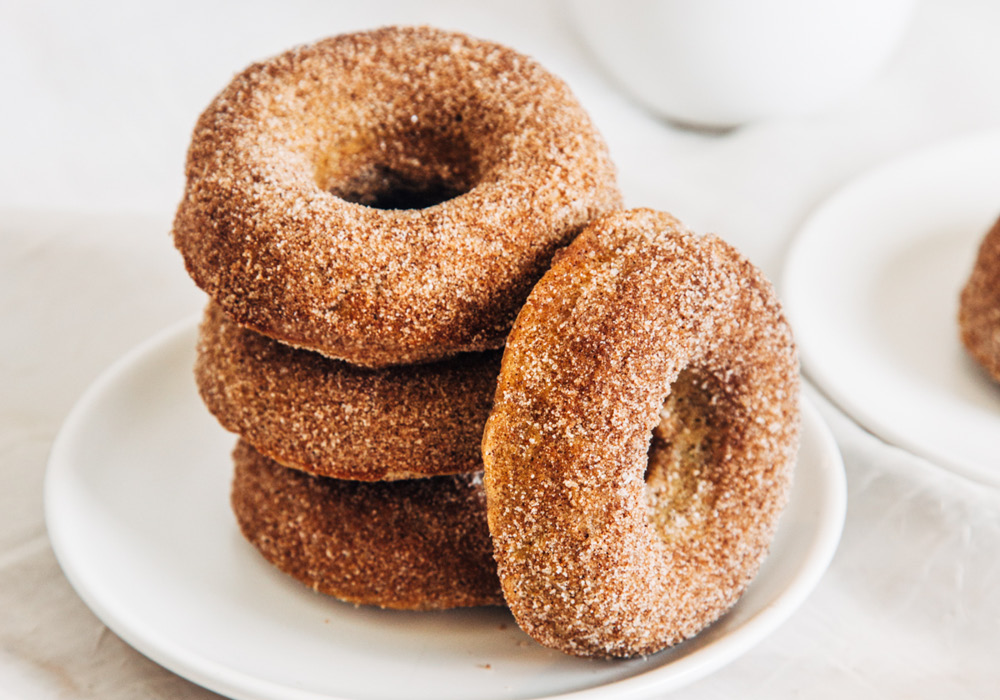 Apple Bourbon Spice Doughnuts
Emily's Note: Growing up in Portland, Oregon, my favorite part of each fall season was driving out to the countryside with my family to go pumpkin picking at the same farm each year! Once we picked out pumpkins, my parents would buy a bag of spiced apple doughnuts for the family to share as we headed back home. These Apple Bourbon Spice doughnuts may not have been age-appropriate for my pre-teen self with the boost of bourbon, but they remind me oh so much of those apple-spiced doughnuts in my memory! To make these doughnuts, you'll need a doughnut pan. One of my favorites is from Sur la Table.
Ingredients
2 cups all-purpose flour
2 tsp baking powder
½ tsp salt
¼ tsp baking soda
½ tsp nutmeg
3 tsp cinnamon
2 Tbsp unsalted butter, melted and cooled
1 egg at room temperature
1 cup + 1 tbsp granulated sugar
¼ cup buttermilk
½ tsp nutmeg
1 tsp Bourbon extract
½ cup apple sauce
1/3 of a Honeycrisp apple, grated
For the Sugar Coating
½ cup sugar
2 tsp cinnamon
For the Bourbon Butter
1 tbsp Bourbon
2 tbsp unsalted butter, melted
Method
Preheat your oven to 350°F.
In a medium bowl, whisk together your dry ingredients: flour, baking powder, salt, baking soda, nutmeg and cinnamon. Set aside.
In a larger bowl, combine the butter, egg, sugar, buttermilk, nutmeg, and applesauce, mixing until fully combined.
Gently fold in your grated Honeycrisp apple, then fold in the dry ingredients until combined.
Spray donut pan with a light layer of non-stick cooking spray.
Place the batter in a large pastry bag, and pipe into your doughnut pan, filling each cavity just over halfway. Then, place the tray in the over to bake for 11-12 minutes.
While your doughnuts are baking, whisk together the cinnamon and sugar for your sugar coating. Separately, mix your Bourbon and melted butter until combined.
After baking, allow the doughnuts to cool for 3-5 minutes before brushing the tops with Bourbon butter, then immediately coat in cinnamon sugar before enjoying!
Pumpkin Butter & Dark Chocolate Ganache Macarons
Emily's Note: A dollop of pumpkin butter surrounded by chocolate ganache sandwiched between two macaron shells has got to be the fall recipe of my dreams. Let's get into how to make pumpkin butter & dark chocolate ganache macarons!
Ingredients
90 ml egg whites at room temperature
76 grams granulated sugar
80 grams almond flour, blanched
150 grams powdered sugar
For the Dark Chocolate Ganache
100 grams heavy cream
32 grams glucose syrup
175 grams ounces dark chocolate, roughly chopped
25 grams unsalted butter at room temperature
For the Pumpkin Butter
One 15 oz. can pumpkin puree
60 grams apple cider
4 tbsp maple syrup
50 grams brown sugar
½ tsp cinnamon
1/8 tsp nutmeg, freshly grated
1/8 tsp ground cloves
Method
Macaron Shells
Line your baking sheets with templated parchment paper and prepare your piping bag along with your piping tips. I like to use a small, round piping such as this Wilton piping tip.
Pour egg whites into a bowl and start whisking on medium speed. Once they start to foam, slowly add your sugar and bring up your speed to medium for three to four minutes.
While your meringue is whisking away, add your almond flour and powdered sugar to a food processer and grind for 1 minute. Sift dry mixture into a large bowl. Set aside.
Your meringue is complete when it holds stiff peaks. At this time, you can add desired food coloring and gently whisk for a few additional seconds to incorporate.
Now it's time for the ever-so-important Macronage! This is the act of mixing your dry ingredients into your French meringue and folding these ingredients enough to allow for the perfect desired consistency.
To start, pour your dry mixture onto the meringue and slowly start to fold with a spatula. While rotating the bowl, continue to fold ingredients together. Press mixture on the side of your bowl until the mixture the batter flows off your spatula rather slowly and smoothly. You should see the batter drip off the spatula back into the bowl, and rest on top for a moment. Then, the batter from your spatula will slowly sink back into the mixture. One too many folds and your batter could be over mixed leading to it being impossible to work with, so be careful not to overmix!
Pour your macaron batter into your prepared piping bag and pipe in circles onto your templated parchment paper. In order to get rid of any air bubbles within your piped shells and to even out your tops, tap your baking sheet firmly on a flat surface. You can always use a toothpick to gently pop any extra air bubbles that you see hovering on top of your shells.
Allow the shells to rest for approximately 30 minutes. Once the top of your shells are dry to the touch, they are ready to bake!
Preheat your oven to 310°F.
Bake macarons for 9 minutes, then rotate the baking tray and bake for an additional 2 minutes.
You will know that your macaroon shells are ready to remove from the oven when you gently touch the upper shell, and it barely moves, while the bottom of the macaron stays set to the parchment paper.
Remove from the oven and let cool completely before removing from the parchment paper.
Dark Chocolate Ganache
Add heavy cream and glucose to a saucepan and bring to a slight boil.
Place dark chocolate in a heat-safe bowl. Remove cream from heat and pour over dark chocolate. Stir to combine as the warm cream starts to melt the chocolate.
Add the butter to warm chocolate mixture. Using an immersion blender, blend until the butter has fully incorporated and your mixture is smooth.
Allow to ganache to cool before assembly.
Pumpkin Butter
Combine all ingredients in a medium saucepan and bring to a slight simmer over medium heat.
Once you've reached a simmer, reduce the heat and allow to continue simmering gently, uncovered. Stir every few minutes until the pumpkin butter is quite thick. This should take about 20-25 minutes.
Pour the pumpkin butter into a container and place in your refrigerator to cool completely before piping into macarons.
Assembly
Once cooled, the shells will peel easily off the parchment paper. Find each shell's matching half and pipe a circle of ganache around the edges of the bottom shell only. Leave room in the middle of the shell for the pumpkin butter. Pipe pumpkin butter in the middle of the shell. Finally, top with the matching half!
Allowing your completed macarons to sit overnight in the fridge allows for the best texture for consuming (if you have the patience!) In the fridge, filled macarons should be stored in an airtight container for no more than 3 days. Macaron shells can be stored in the freezer in an airtight container for up to 1 month, and they will still taste as good as new! Take the frozen macarons out of the freezer and let them sit for 10-15 minutes before enjoying.
About Chef Emily Laurae
Emily Laurae grew up in Portland, Oregon where she was constantly inspired by the city's local food culture, sustainability practices, and fantastic doughnut selection. Throughout her life, she has dedicated her time to baking, teaching, dreaming, and traveling. After completing Pastry School in Seattle, she started her own business and moved to San Francisco where she is currently working as a Pastry Chef. Interested browsing more of her decadent recipes? Visit her website and follow her on Instagram so you can immerse yourself in her world that includes plenty of butter, flour and sugar!
If you have interest in placing a special event order, collaborating or connecting to schedule a personalized class or workshop, you can email Emily at emily@emilylaurae.com.
Find Your Essex Apartment
Our apartment communities span from Carmel Landing in San Diego to Shadowbrook Apartments in the Pacific Northwest in some of the most sought-after locations on the West Coast. Choose from bustling city life, quiet comfort in the suburbs, sun and sand at the beach or outdoor adventures and a wide variety of on-site amenities and floor plans that span from studios to townhomes. Whatever your style and budget, we have a community that's right for you.
Explore our nearly 250 apartments, such as Villa Veneto at Palm Valley in San Jose or Radius Apartments in Redwood City, and learn more about current leasing or move-in specials.