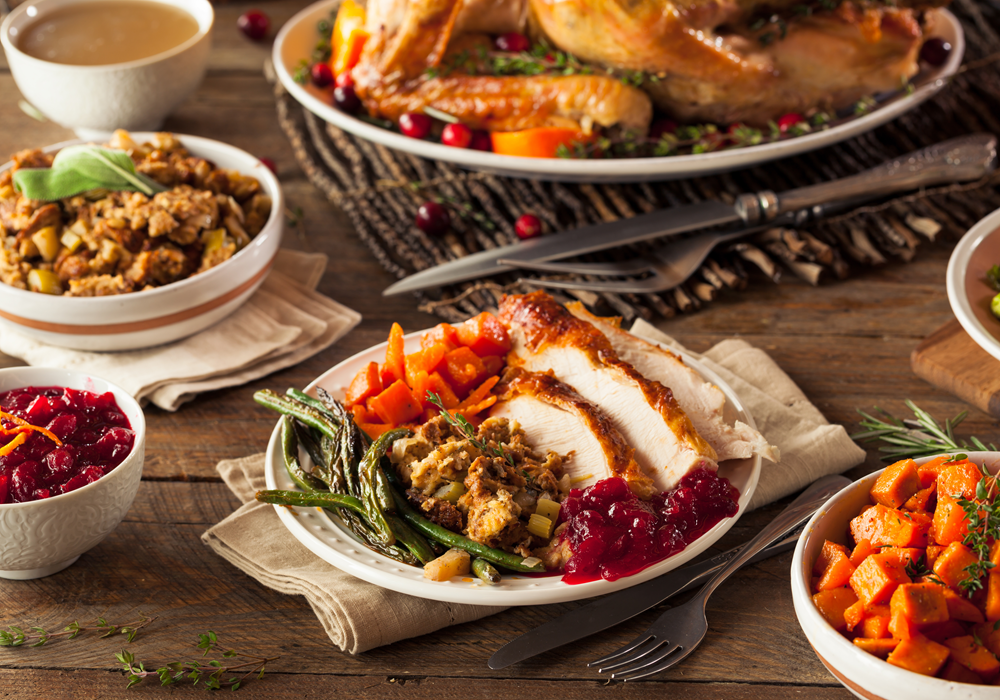 4 Deliciously Easy Thanksgiving Side Dish Recipes
The turkey is always the centerpiece of the table, but mouth-watering side dishes will have your guests coming back for seconds! If you are preparing your holiday meal from an apartment or smaller kitchen, these recipes are perfect complement to your feast. Here are four simple-to-make side dishes to impress this Thanksgiving holiday.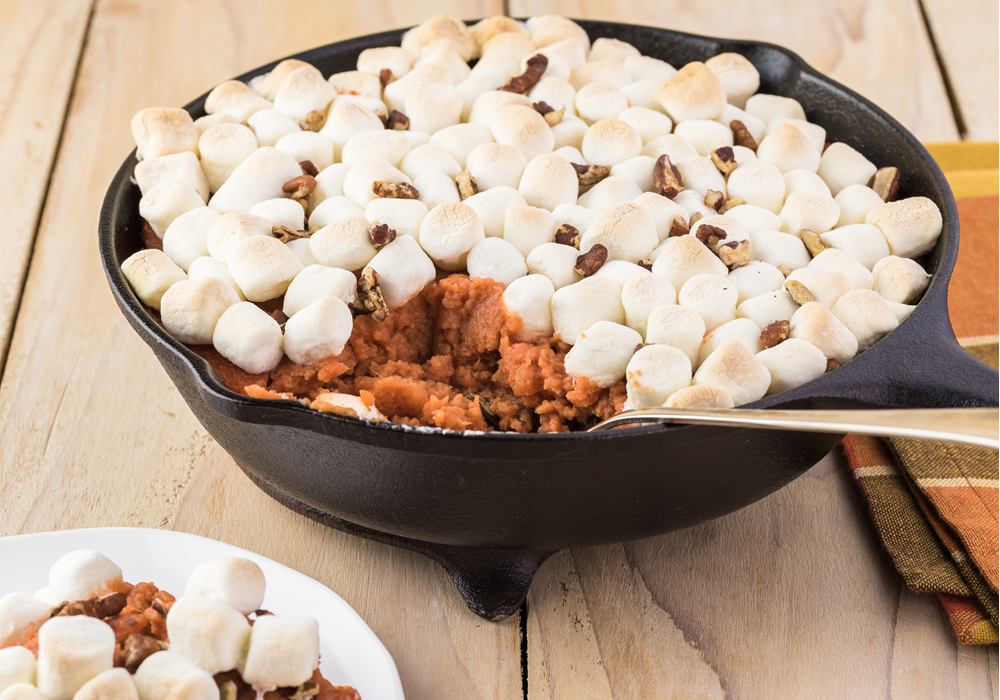 Sweet Potato Casserole with Marshmallows
If you want to prepare as much as you can ahead of the big day, this sweet potato dish from Delish is a great option. You can cook and mash the sweet potatoes, as well as assemble the casserole, up to a day in advance. Keep your dish in the refrigerator until you are ready to top with mini marshmallows and bake.
Ingredients
Cooking Spray
4 cup large sweet potatoes, peeled and cubed
1/2 cup brown sugar, packed
8 tbsp unsalted butter, melted
1 tsp pure vanilla extract
1/2 cup milk
2 large eggs
1/2 tsp kosher salt
For Streusel Topping
1 cup dark brown sugar, packed
1/2 cup all-purpose flour
4 tbsp butter, melted
1 cup pecans, chopped
2 1/2 cup mini marshmallows
Method
Preheat oven to 350° and grease a 9-x-13" baking dish with cooking spray. Place sweet potatoes in a large pot and cover with water. Bring to boil then reduce heat and simmer until the sweet potatoes are tender, about 15 minutes. Drain and let cool slightly then transfer to a large bowl.
In a large bowl, stir together sweet potatoes, sugar, butter, vanilla, milk, eggs, and salt until smooth. Pour into prepared dish.
In a medium bowl, stir together sugar, flour, and butter until it clumps. Stir in pecans, then spread evenly over potatoes. Top with marshmallows.
Bake until cooked through and golden, about 30 minutes.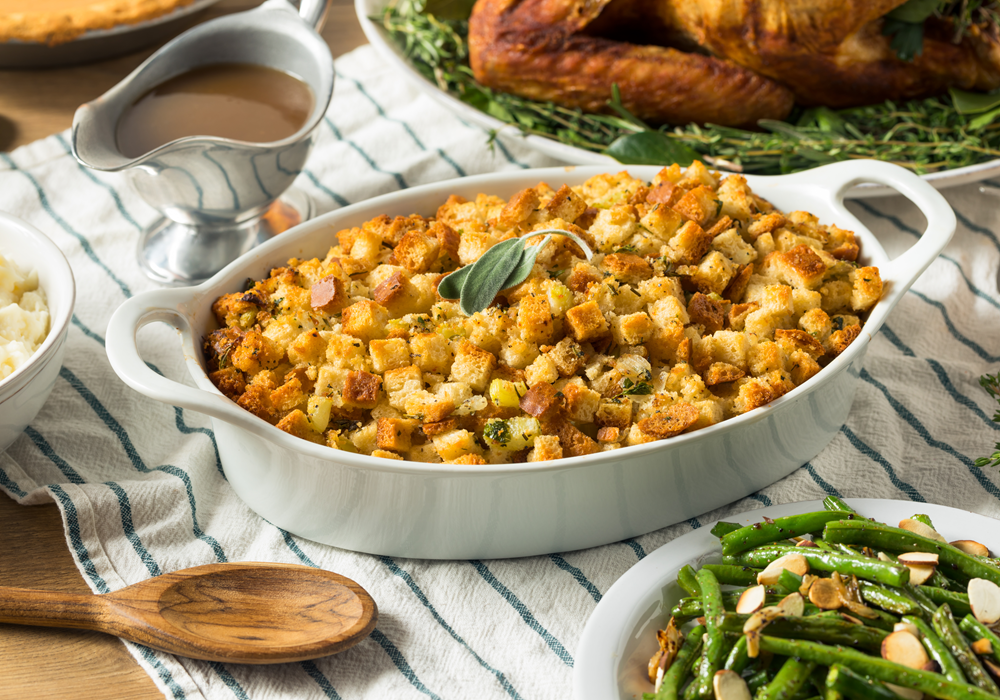 Easy Herbed Stuffing
Traditional stuffing recipes can be overwhelming! This uncomplicated version from Good Housekeeping is simple, light, and delicious.
Ingredients
1 small loaf country-style bread (about 1 pound), cut into 1⁄2-inch pieces (about 10 cups)
3 tbsp olive oil
2 medium onions, chopped
2 large carrots, cut into 1⁄4-inch pieces
2 stalks celery, cut into 1⁄4-inch pieces
3 cups lower-sodium chicken broth
1 cup fresh flat-leaf parsley, chopped
2 tsp fresh thyme leaves
2 large eggs, beaten
Kosher salt
Pepper
Method
Heat oven to 375°F. Grease 3-quart casserole dish. Place bread on rimmed baking sheet and toast until golden brown, 15 to 20 minutes; transfer to large bowl.
Meanwhile, heat oil in 12-inch skillet on medium. Add onions, 1 teaspoon salt and 1⁄2 teaspoon pepper and cook, covered, stirring occasionally, until very tender and beginning to turn golden, 6 to 8 minutes
Add carrots and celery and cook, stirring occasionally, until tender, 6 to 7 minutes. Add broth and heat to a boil. Stir in parsley and thyme.
Transfer vegetable mixture to bowl with bread; toss to combine. Fold in beaten eggs. Transfer to prepared baking dish, cover with foil and bake 10 minutes. Remove foil and bake until golden brown, 15 to 20 minutes.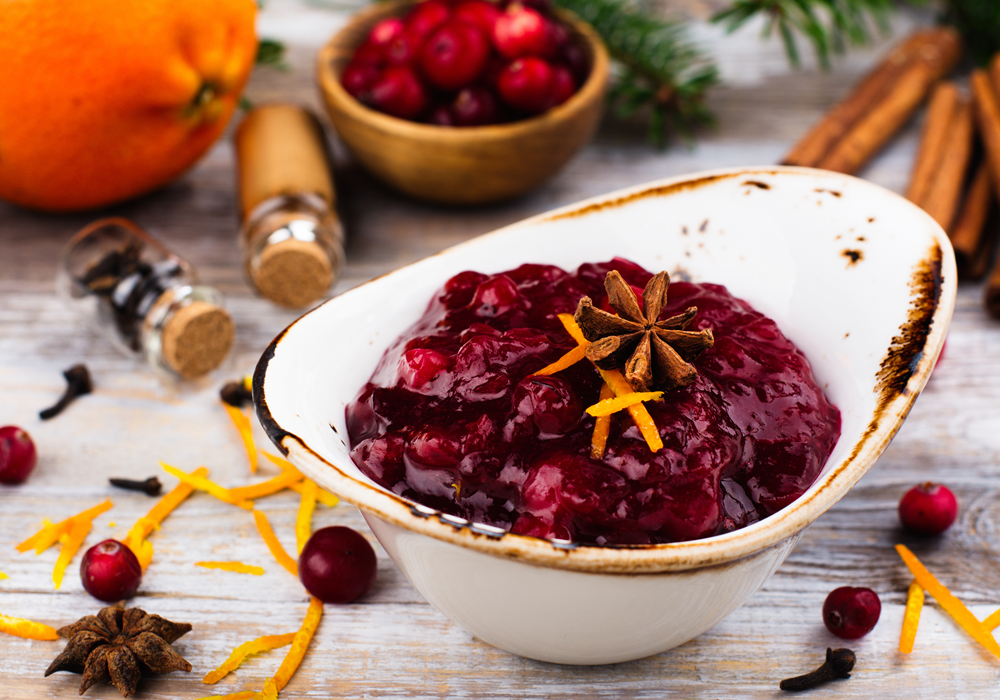 Homemade Fresh Cranberry Relish
With a dash of lemon and orange zest, this Cranberry Relish recipe from Delish will remind your guests why this sweet and tart classic is a side dish worthy of attention.
Ingredients
1 pound cranberries
1 cup granulated sugar
Juice and zest of 1 orange, plus more serving (optional)
Juice and zest of 1/2 lemon
3/4 tsp kosher salt
1/4 tsp ground cinnamon
Method
Combine all ingredients in a food processor and pulse until berries break down.
Refrigerate until ready to serve. Garnish with more zest, if using.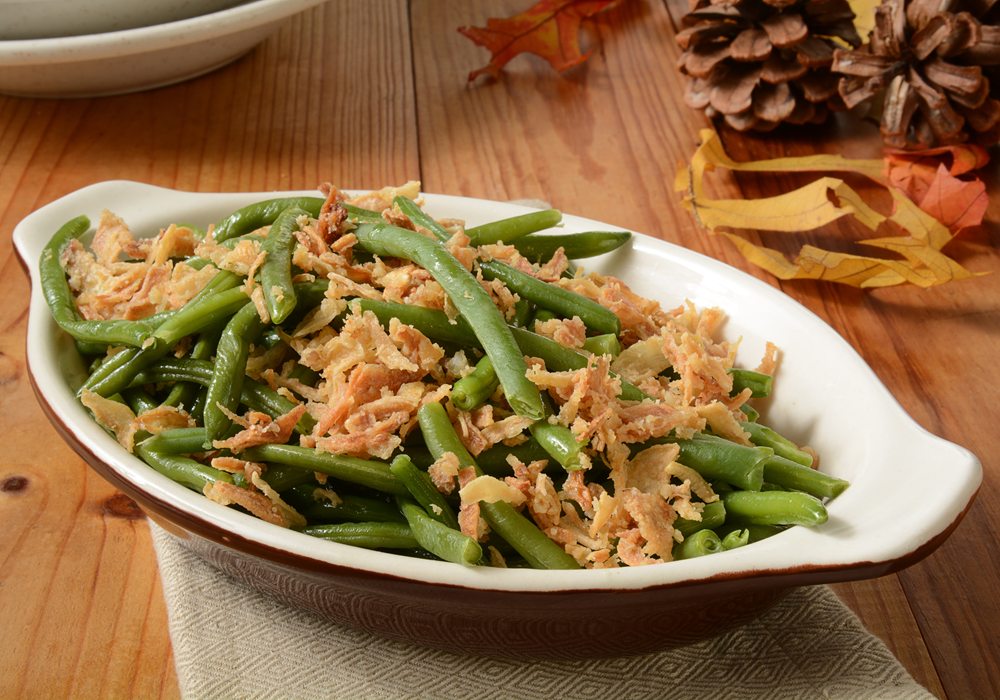 French Green Beans with Almonds and Fried Onions
While there are many side dishes to choose from, this time-honored vegetable dish is one that you'll find on almost every table. Add an extra punch of flavor to your green beans using this recipe from Rachel Ray that includes almonds and fried onions.
Ingredients
1 pound fresh green beans or frozen French-cut green beans
Salt
1-2 tablespoons unsalted butter
1/4 cup slivered almonds (2 ounces)
Juice of 1/2 lemon
Ground black pepper
1 can fried onions
Method
Bring 1 inch of water to a boil in a deep sauté pan. If using fresh beans, cut them lengthwise while you wait for the water to boil.
Add salt and the green beans to the boiling water and cook until just tender. Drain the beans and rinse them under cold water to stop the cooking. Return the skillet to medium heat and add the butter. When the butter is melted, add the almonds and cook until golden brown.
Return the green beans to the pan, along with the lemon juice; add salt and pepper, to taste. When warmed through, top with the fried onions.
Find Your Essex Apartment
Our apartment communities span from Mira Monte in San Diego to Sammamish View in the Pacific Northwest in some of the most sought-after locations on the West Coast. Choose from bustling city life, quiet comfort in the suburbs, sun and sand at the beach or outdoor adventures and a wide variety of on-site amenities and floor plans that span from studios to townhomes. Whatever your style and budget, we have a community that's right for you.
Explore our nearly 250 apartments, such as Boulevard Apartments in Fremont or Brio Apartments in Walnut Creek, and learn more about current leasing or move-in specials.