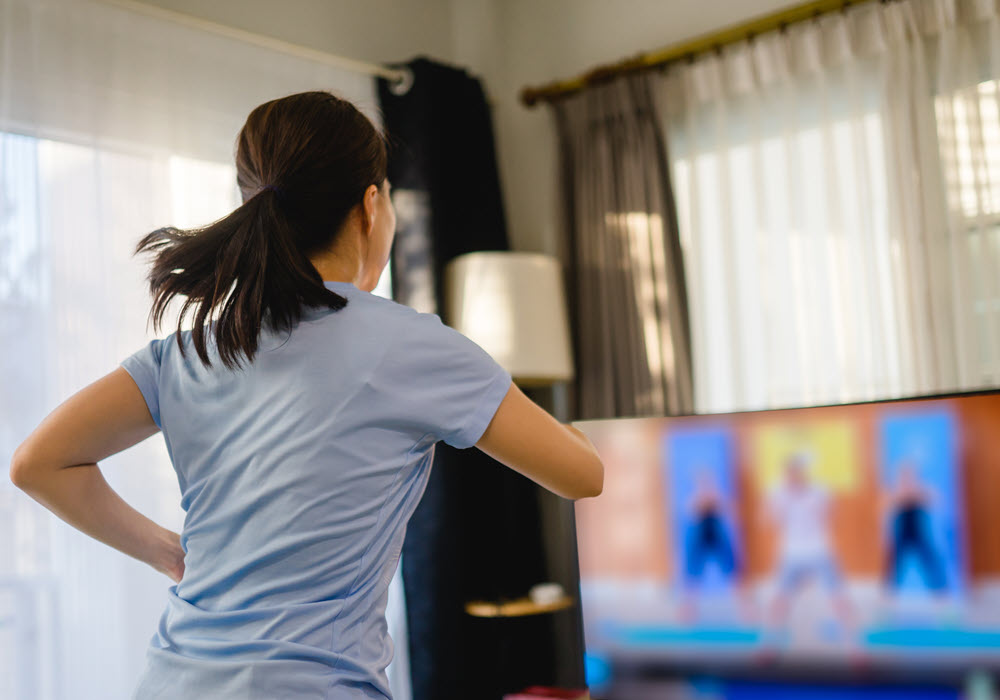 Best At-Home Workouts for Your Apartment
Getting in shape is one of the most popular New Year's resolutions on the annual list, as well as the one usually broken first. With a little planning, you can conquer the seemingly insurmountable task of slimming down, bulking up, or improving your overall physical health and wellbeing with workouts you can do from home.
We've broken down some ways to help you implement a fresh start to 2021 with several apartment-friendly workouts and cardio workout routines that are easy to do in small spaces with minimal effort. We've highlighted top streaming fitness subscriptions and popular fitness equipment options as well as clips and apps that only require a towel and the desire to get in shape!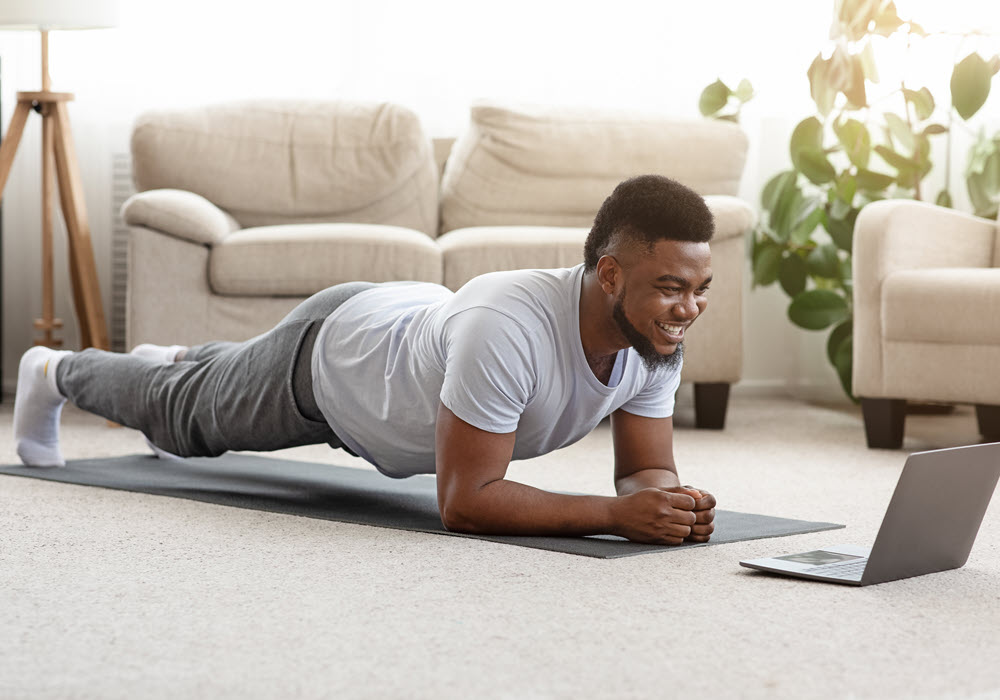 Free At-Home Workouts with Minimal or No Equipment Needed
Experts agree, when it comes to creating healthy new habits, a routine is essential. Here's a list of great workout videos that will allow you to create a routine that works for you. Whether you plan to work up a sweat in your apartment living room or bedroom, there are options that will work in a variety of spaces. Fitness Blender believes fitness should be accessible to everyone, everywhere, regardless of income level or access to a gym. Their website offers hundreds of free, full-length workout videos that work even in small apartments.
Similarly, ClassPass has over 4,000 free on-demand online workouts in HIIT & strength training, cardio, yoga, barre and more, making any apartment workout a breeze.
YouTube also offers a wide variety of apartment-friendly cardio clips, including a bevy of home workout challenge videos and that apartment HIIT workout your friends keep raving about on social media. There are also lots of clips perfect for cardio in small spaces and quiet workouts for renters trying to figure out how to how to work out in an upstairs apartment.
Prefer an app? No problem! Try Nike Training Club, 7 Minute Workout, Yoga for Beginners, or Daily Workouts Fitness Trainer absolutely free.
At-Home Workouts Featuring Premier Equipment
If you're willing to splurge on premier equipment, there are more options than ever before for those looking to put together their own at-home gym space. From bikes to classes to apps to bands, there is sure to be something in your price range, and most can be easily stored in small spaces. Here is a list of apartment-friendly workout equipment to help you on your journey to a healthier you.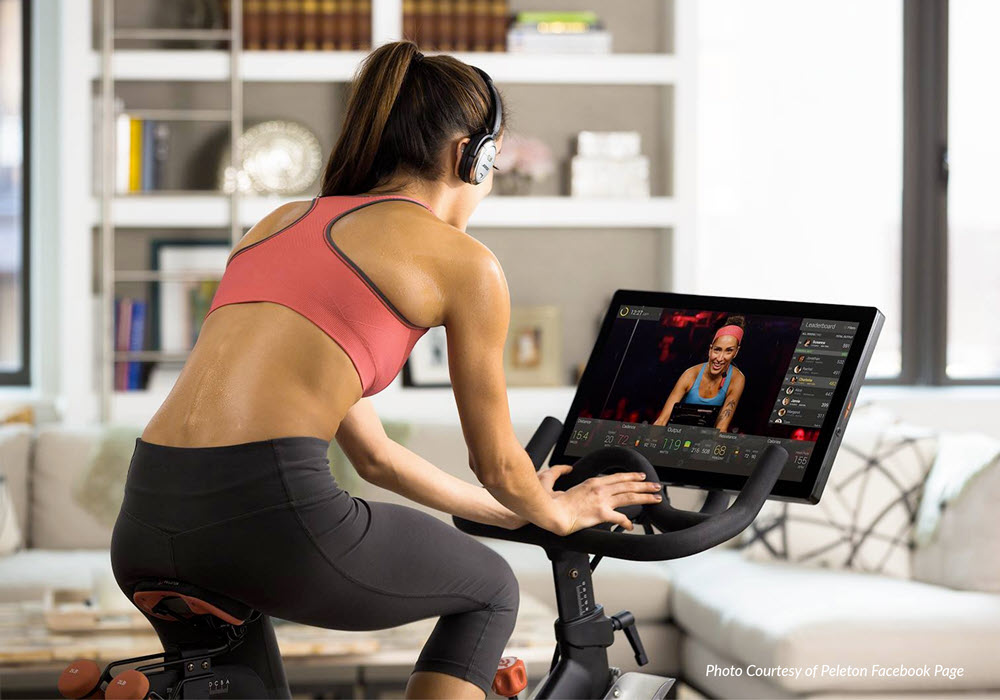 Peloton
If you are looking to connect with others while enjoying the benefits of indoor cycling from the comfort of your own apartment, look no further than the Peloton bike. With amazing live-streaming and on-demand classes, the number of devotees is rapidly growing.
After purchasing a bike, which runs up to $2500 and comes with financing options, a $39 monthly subscription is required to access the full range of classes, compete with others, and keep track of your overall progress. Dedicated enthusiasts who join classes three or more days a week will find it cheaper, and possibly more rewarding than attending local spin classes at a gym.
Mirror
Lululemon's Mirror offers an elegant design that seamlessly blends into a mere two feet of wall space in any room of your apartment, transforming this area into a complete home gym. Mirror offers guided full-body workouts and group workout classes at different levels on topics ranging from Pilates and yoga to HIIT and strength training. The sleek machine also allows you to watch your form in yoga poses, lunges, push-ups and much more. Get instructor feedback via camera, and connect heart rate devices and streaming services like Spotify. Mirror costs $1495 plus a $39 monthly subscription fee.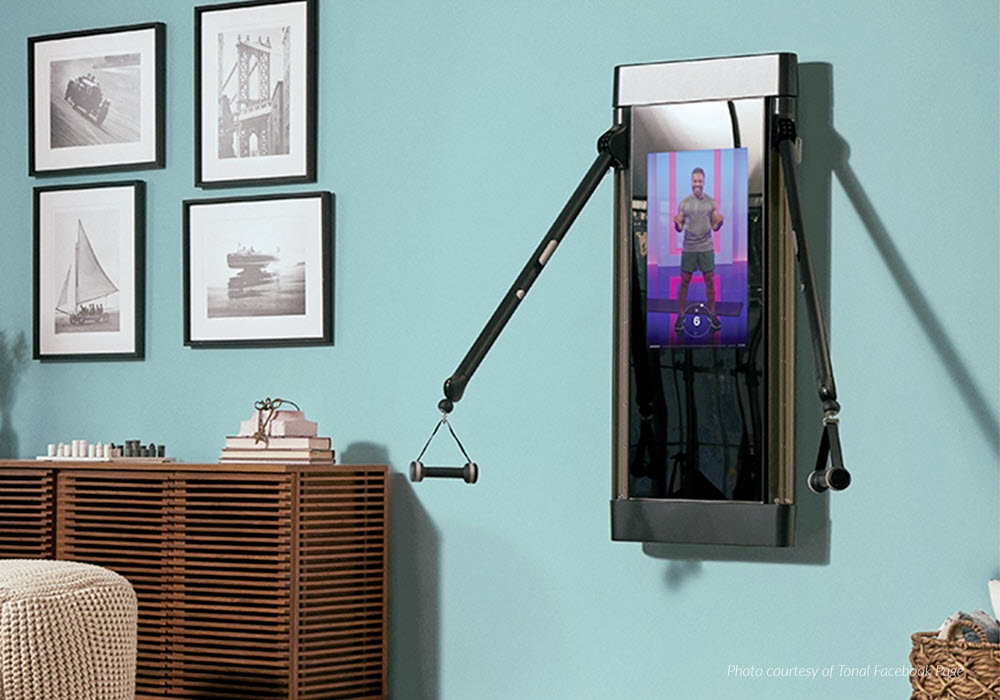 Tonal
This ultra-sleek, wall-mounted technology offers an effective, total-body workout while a center screen broadcasts hundreds of expert-led programs for you to follow, all while measuring your reps, sets, range of motion, volume, power, and time spent working out. Perfect for apartment exercises, Tonal makes reaching your fitness and wellness goals without leaving your apartment a cinch. The base package is $2,995 with another $495 for the accessory set and then a year subscription at $49 per month. Financing options are also available.
Resistance Bands
One of the most cost-effective at-home workouts to target all muscle groups is to simply pick up a set of resistance bands. Light, thin, affordable, and portable, resistance bands offer a wide range of uses for your workout routine, are easy to use, easy to pack, and come in a variety of styles. Prices range from as low as $10 all the way up to $100, with some of the best coming in around $30 to $50, making them a no-brainer for any fitness-minded homebody looking to increase their cardio or tone up. Plus, this low-impact exercise is perfect if you have downstairs neighbors.
Best Subscription Sites
Obé Fitness
Obé (Our Body Electric) combines fitness and fun in an online platform of live and on-demand classes featuring up to 22 live classes every day ranging 30 to 60 minutes and 15 types of on-demand classes including Pilates, HIIT, barre, sculpt, cardio boxing, Vinyasa Yoga, dancing, themed, and so on. Available via web or mobile app and castable, Obé is $27 per month, $65 per quarter, or $199 per year.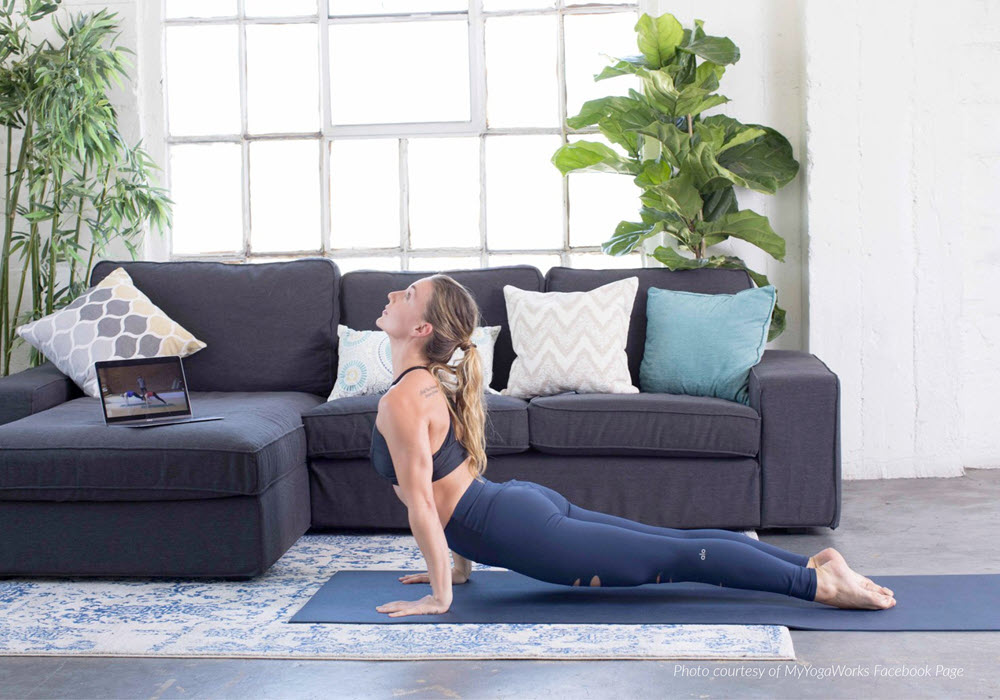 YogaWorks Online Yoga Class
Grab your yoga mat. YogaWorks allows you access to more than 40 professional instructors and 30 Journey Series, along with unlimited, all-access pass to 950-plus premium classes stored on your computer or mobile device. At $15.00 per month, that is a true bargain!
Tone It Up
Weekly, on-demand, trainer-led, 20- to 40-minute classes from women's fitness experts Karena Dawn and Katrina Scott pop up on the Tone it Up app every week, including options for expecting moms, kettlebell class, and meditation. It's like having your own personal trainer for just $12.99 a month.
Finding the perfect at-home workout routine can take some trial and error, but with so many options available, there is certain to be one that will suit your lifestyle, your apartment home, and help you crush your fitness goals. Here's to a happy and healthy 2021!
Find Your Essex Apartment
Our apartment communities span from Alpine Village in Alpine of San Diego County to Pinnacle on Lake Washington in the Pacific Northwest in some of the most sought-after locations on the West Coast. Choose from bustling city life, quiet comfort in the suburbs, sun and sand at the beach or outdoor adventures and a wide variety of on-site amenities and floor plans that span from studios to townhomes. Whatever your style and budget, we have a community that's right for you.
Explore our nearly 250 apartments, such as Agora at South Main in Walnut Creek or Bellerive Apartments in Los Angeles, and learn more about current leasing or move-in specials.