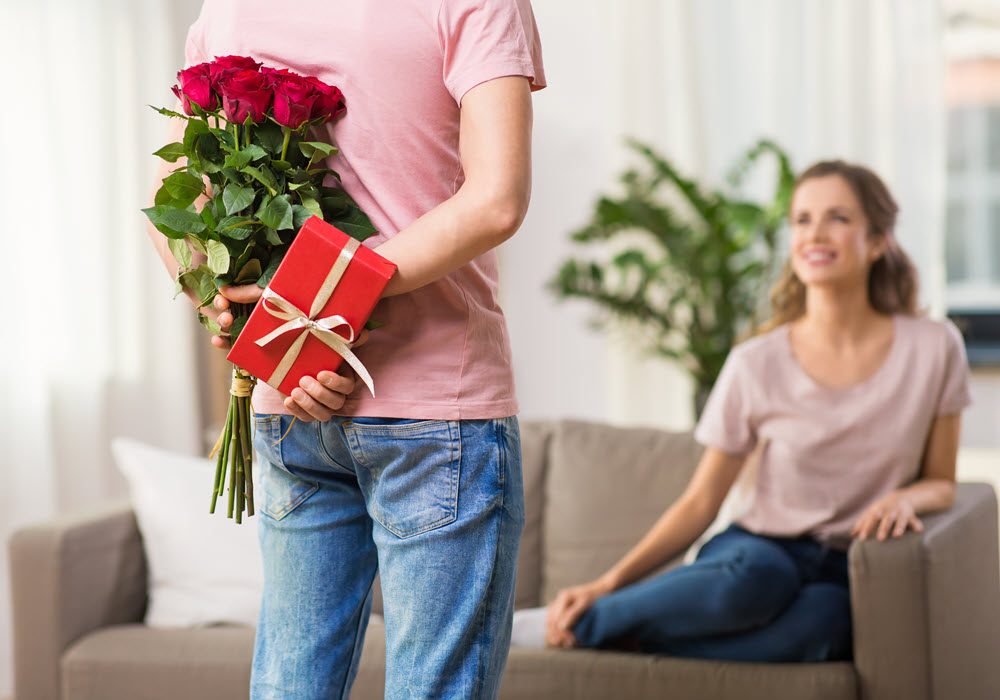 Plan a Romantic Valentine's Day at Home
Valentine's Day is just around the corner! Whether you've already started planning or are still looking for creative ideas, it's not too late to create a romantic day for your special someone. With Valentine's Day falling on a Sunday this year, you can choose to celebrate the holiday on one day or all weekend long. Whether it's having a cook-off or building your own indoor campsite, the possibilities are endless. The best part? You don't even have to leave your apartment!
If you're opting to stay in this Valentine's Day, we put together a few fun date ideas to create a sweet and thoughtful day at home. Sure, you can always opt for a simple candlelight dinner. But, why not go for something a little extra special?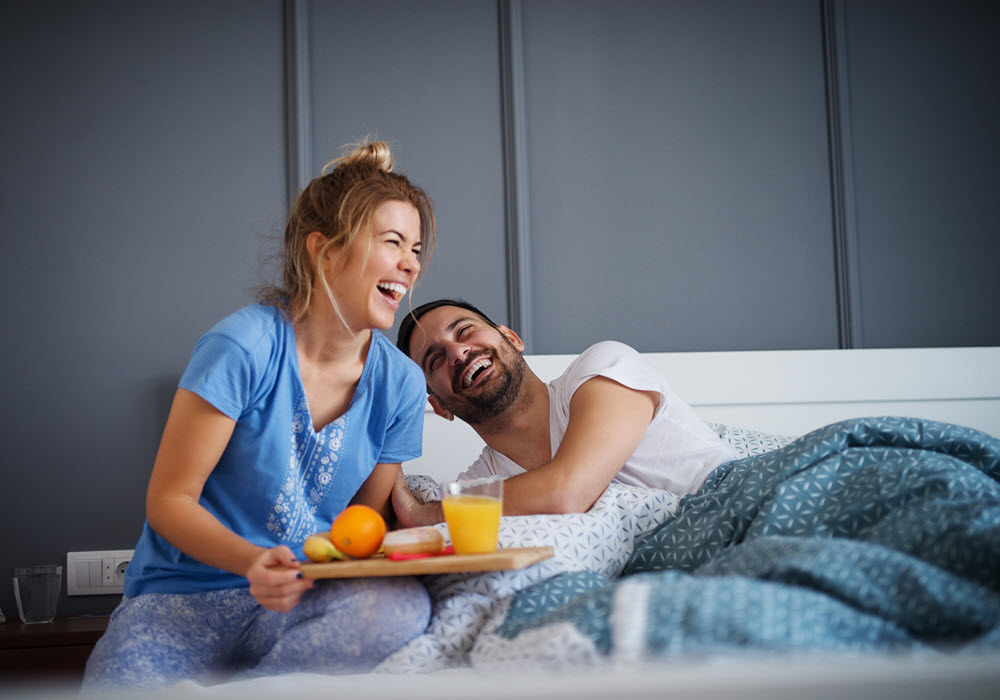 Breakfast in Bed
A tried and true romantic gesture that's always a welcome way to start the day, breakfast in bed can make your Valentine feel loved with a little bit of thought and planning Here are a few tips to cook up a perfect Valentine's Day morning:
Plan ahead. While your partner is sleeping, arrange all the ingredients you need for the next morning if you're planning to cook. Or if you're running out to pick up coffee and pastries, try your best to sneak out before they wake up. Breakfast in bed is all about the surprise, so don't let fumbling in the kitchen or dropping your keys spoil the moment.
Remember the little things. The real thought is in the details, so don't just throw breakfast together as if it's a normal day. Get creative! Whether it's trying out a new recipe or serving a hot cup of coffee in your partner's favorite mug, consider the small things that will truly make them smile.
Finally, presentation is key! Don't forget to garnish your breakfast spread with something pretty and sweet. Chocolate, flowers, or whatever your partner loves will add a romantic and personalized touch.
Organize a Scavenger Hunt
Nothing brings out your inner child like a fun scavenger hunt. These kinds of activities heighten curiosity and creativity, and they don't need to be complicated. In fact, you can arrange everything at home. Once you know to where the hunt is intended to lead your date, you can have fun planning. It's simple to hide clues in drawers and other small places. And don't forget to accompany each clue with a special treat!
You can use any available outdoor space at your apartment community to add another layer of dimension to your scavenger hunt. At Sammamish View in Bellevue, Washington, nearby trails, lush outdoor space and nearby Lake Sammamish could create an added challenge for a Valentine's Day game.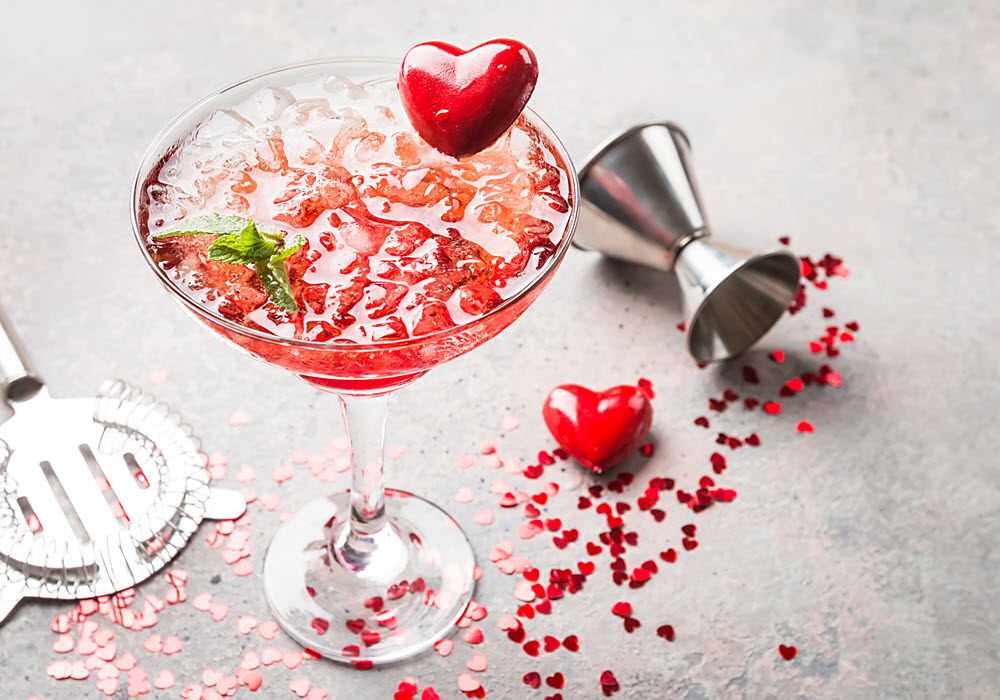 Create Your Own Cocktail Bar
Often, a celebratory dinner starts with a great craft cocktail. Rather than venturing out for a drink, try bringing your favorite bar home. First, curate your own custom drink menu, and if you're feeling crafty, print your own cocktail list using an online template. Then, organize all the drinks and necessary bar tools you might need. Once you have everything ready, you can curate a beautiful presentation in your kitchen. For the date portion of the night, you can take on the role of mixologist, or have a little fun with your significant other with a cocktail-making competition!
Go Camping
Bringing the outdoors inside can be a fun alternative to a weekend camping trip, especially during the cold winter months. Building a creative indoor camping setup can easily happen in your living room or bedroom for a unique Valentine's Day date. If your space is large enough, pitch an outdoor tent in your apartment and make it extra cozy by filling it with comfy pillows and blankets. For a more romantic vibe, hang a few strands of lights around your home, and then turn off all of the lights to set the mood.
Once your tent is up, you can create added ambiance with a noise machine that has outdoor sounds or find a nature-inspired playlist. Then, turn your TV into a campfire. Most streaming fireplaces include crackling log sounds for added authenticity. When you're ready for a sweet treat, cook up a batch of s'mores in your oven to cap off the night.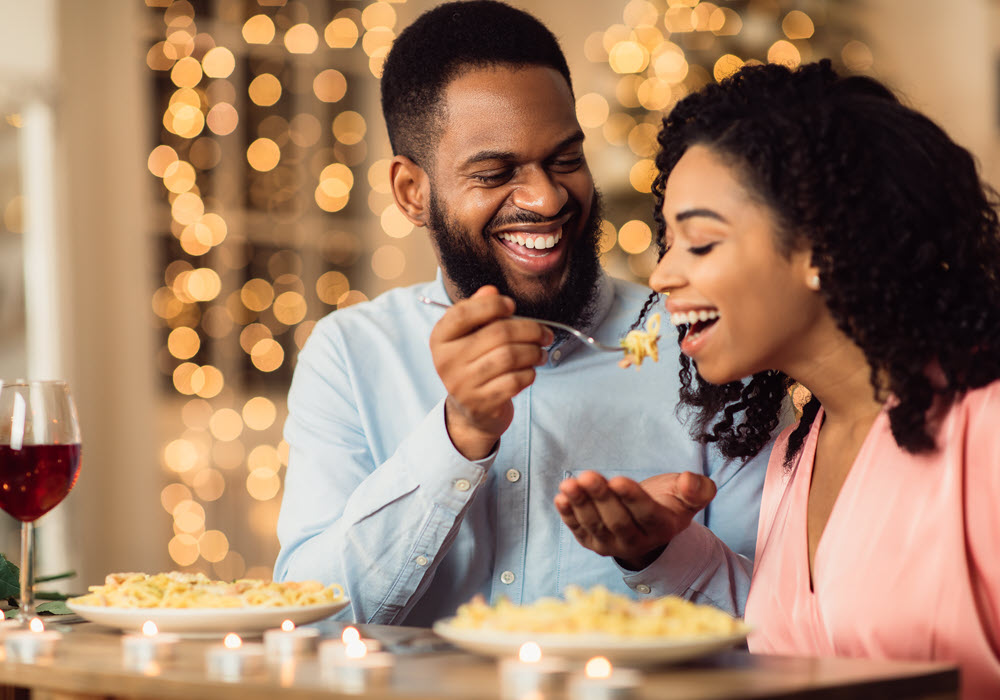 Make Your Partner's Favorite Dinner
Cooking a meal for your Valentine is a classic way to have a romantic dinner at home. Your personal dinner party can be fancy or casual, and your menu can include your partner's favorite dishes, or you can recreate a special meal you once shared together. If you're feeling adventurous, test out your chef skills by finding a new dish to make for this special occasion.
Set the scene by making your apartment feel like romantic restaurant for two. Add flameless candles, a bouquet of flowers, or rose petals to your dining room table, and make a playlist of your favorite love songs to stream in the background. If you live at an apartment community like Sage at Cupertino in Los Angeles that features spacious outdoor patios, you might even consider taking your meal alfresco!
Bring the Restaurant Home
Just because you might want to stay in for the night doesn't mean you can't enjoy the luxuries of dining out. Transform your home into your favorite restaurant, without having to lift a finger in the kitchen! Most restaurants are now offering unique pre-fix options that include appetizers, main courses and desserts, as well as wine and cocktail pairings. Call ahead to be sure your meal can be ready for pickup or delivery, and find your fanciest serving dishes to transfer your food from the restaurant's to-go containers.
If the weather is nice and you have access to serene outdoor space nearby, you might consider a picnic date. Residents at Fairways at Big Canyon in Newport Beach, California can enjoy ample outdoor areas right outside their door, making it easy to grab a cozy blanket and find a spot to spend some quality time together under the sun or stars.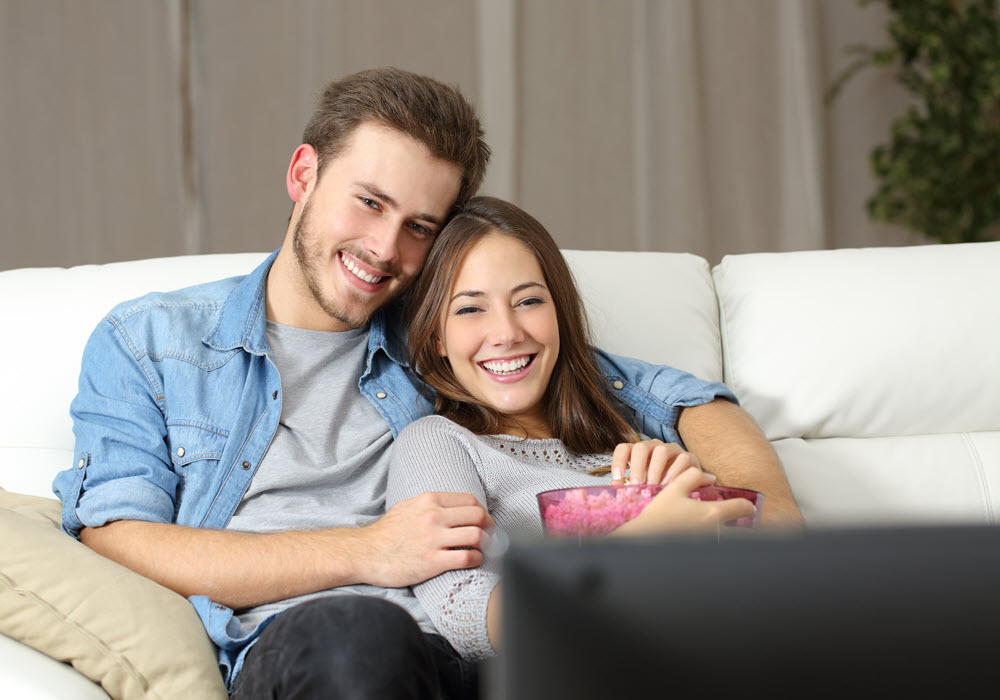 Make It a Movie Night
The classic movie date is a go-to favorite for Valentine's Day. Whether it's one movie or a marathon, turning your living room into a cinema can be a great way to spend the day together.
To go all out for your date, set up a display of movies for your partner to choose from, and print out accompanying movie tickets. You can also set up an impressive concession stand that includes your Valentine's favorite movie snacks. If there's time, order classic popcorn containers to add some movie theater charm.
No matter what you choose, any of these Valentine's ideas are sure to put a smile on your sweetheart's face. The most important thing is spending the day – or weekend – together!
Find Your Essex Apartment
Our apartment communities span from San Diego to the Pacific Northwest in some of the most sought-after locations on the West Coast. Whether you're looking for life in Los Angeles, settling down in San Jose, or relaxing in Oakland, we can help. Choose from bustling city life, quiet comfort in the suburbs, sun and sand at the beach or outdoor adventures and a wide variety of on-site amenities and floor plans that span from studios to two-bedroom apartments to townhomes. Whatever your style and budget, we have a community that's right for you.
Explore our nearly 250 apartments, such as Palma Sorrento at Palm Valley in San Jose or Huntington Breakers in Huntington Beach, and find the perfect new apartment. Learn more about pricing and current leasing or move-in specials. Contact us any time for more information about floorplans, community amenities, and any other questions regarding your apartment search. We would love to help find your new home.