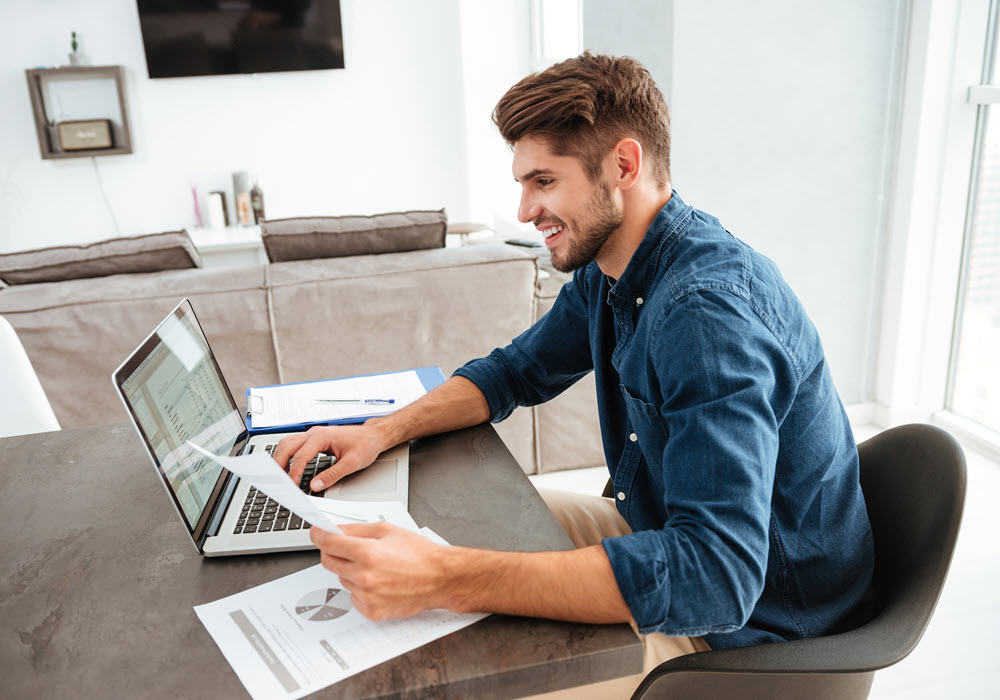 What Credit Score Do You Need to Rent an Apartment?
Renting an apartment for the first time is exciting! When you're ready to start your search, it will be important to have a clear understanding of what is required to secure your new home and confidently take on the financial responsibility that will allow you to enjoy the perks of your new space.
Understanding the Application Process
Nearly all property management companies will request that you provide a few key documents during the application process that will allow them to vet you as a prospective tenant before handing over the keys to a new apartment. In addition to asking for a security deposit to be paid upfront, conducting a background check, and searching for any prior evictions, property management companies will also evaluate your financial stability.
As part of your application, they will likely ask for proof of income through copies of pay stubs and bank account bank statements, as well as running a report to obtain your credit score. Your current credit score may alert the management team if there are any red flags such as bankruptcy, overdue credit card bills, outstanding loans, and other financial items. While this may seem like detailed information, the process is common and standardized and shouldn't cause alarm. In most instances, potential renters pass with flying colors!
Once your FICO credit score and credit report have been obtained from the main credit bureaus of Equifax, Experian, and TransUnion, the property management team will consider if your score is too low to sign a lease on your own.
So, what is considered good credit and bad credit? And, is there a minimum credit score to rent an apartment? Let's get in to a few more of the details.
General Credit Score Guidelines
Each apartment owner or property manager will make their own determinations during the screening and application process regarding the minimum credit score they will accept for approval. The main reason for performing your credit check is to decide whether they feel you'll be able to make consistent rent payments each month.
In today's rental market, here is a breakdown of typical FICO credit score ranges:
300-579: Poor
580-669: Fair
670-669: Good
740-799: Very Good
800-850: Exceptional
Generally speaking, a potential landlord will require a credit score of at least 650. If you have a higher credit score, it'll likely be smooth sailing when it comes to signing a lease. If you have a low credit score, you may need to have a cosigner, typically, a friend or family member, to secure and lease the apartment, or you may want to consider finding a roommate to help with monthly payments (also a great way to save on your budget!)
What Factors into Your Credit Score?
One of the most important things you can do if you are looking to rent an apartment is to check your credit score first. Your credit score is comprised of a handful of factors, including your payment history, amounts owed, length of credit history, credit mix, and new credit. If you're interested in seeing your score, you can get a free credit report from the Annual Credit Report. By entering some basic information, you can find out whether you have an average credit score or a poor credit score that you might need to work on before trying to sign a lease.
When you check your credit score, you should look at the report in detail. This report will include your payment history, student loans, and anything else where you obtained credit. Making overdue payments or missing payments can also negatively impact your credit score. In addition to affecting your ability to get an apartment, it could also result in you paying higher interest rates on loans in the future. If there are any negative marks or pieces of information on your report that are not correct, you should investigate them more and immediately reach out to the lender or issuer of the credit to resolve the issue.
What Can You Do if You Have a Low Credit Score?
If you have a low credit score, it does not automatically preclude you from leasing an apartment. Some landlords and property management companies may decide to use other factors to make their determination. For example, they may ask you to put down additional money in your security deposit to potentially cover future missed payments. If you have a previous landlord, it might be helpful if they can serve as a reference for you. A solid rental history with on-time rental payments could go a long way in overcoming a poor credit score.
Generally, your credit score will improve with paying bills on time (this can be everything from your cell phone to electricity to internet bills), paying off debt and keeping credit card balances to a minimum, and limiting the amount of new credit cards you open. While there is no immediate fix, taking the steps to ensure your credit score is as good as possible will set you up for success in the future with your financial well-being.
Find Your Essex Apartment
Our apartment communities span from San Diego to the Pacific Northwest in some of the most sought-after locations on the West Coast. Whether you're looking for life in Los Angeles, settling down in San Jose, or relaxing in Oakland, we can help. Choose from bustling city life, quiet comfort in the suburbs, sun and sand at the beach or outdoor adventures and a wide variety of on-site amenities and floor plans that span from studios to two-bedroom apartments to townhomes. Whatever your style and budget, we have a community that's right for you.
Explore our nearly 250 apartments, such as Crow Canyon in San Ramon or Ellington at Bellevue, and learn more about current leasing or move-in specials.