Studio vs. One-Bedroom Apartment: How They Measure Up
These days, apartment complexes are increasingly catering to the diverse demographics of city dwellers. From families and pet owners to roommates and partners to jetsetters and remote workers, there are apartments of all shapes and sizes. More specifically, complexes also offer a range of options for solo renters or couples, including one-bedroom apartments, studio apartments and a hybrid of the two, which is an open one bedroom that may have a partition or privacy slider. While some complexes offer even smaller options, such as micro-units, bachelors or efficiency apartments, we're going to focus on the three common apartment layouts to help you decide which one's right for you.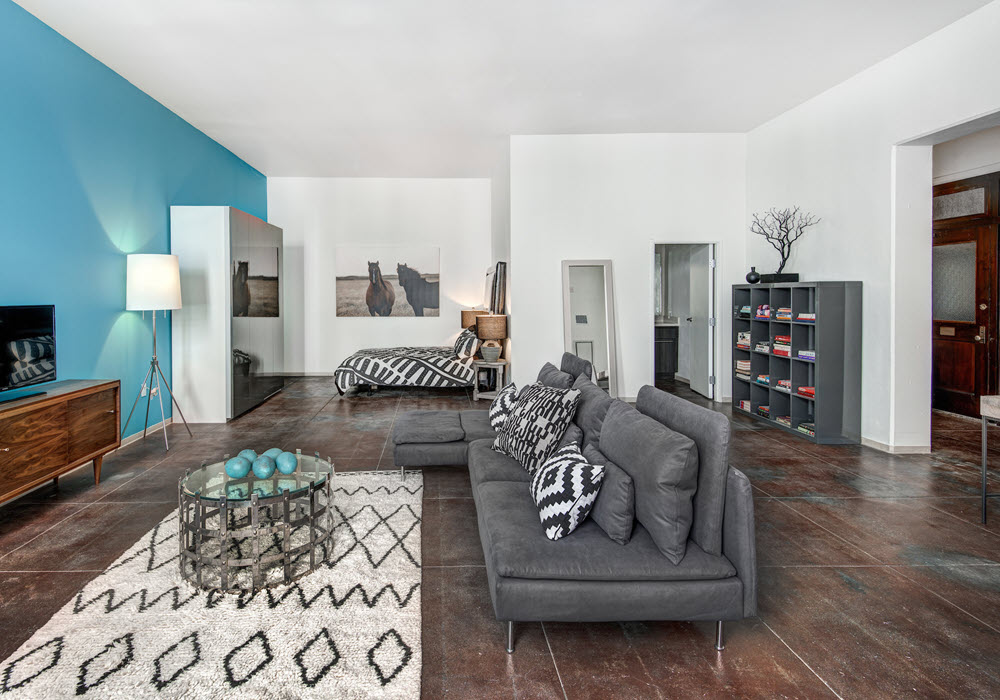 What is a Studio Apartment?
A studio is a one-room apartment (plus bathroom) that combines the bedroom, living room and kitchen/kitchenette into one open space. Although a studio apartment layout does not include any walls or dividers separating those rooms, there is space for a bed, living area and kitchen area. Actual square footage of a studio varies by property and even by region. For instance, according to data from commercial real estate intelligence firm Yardi Matrix, the West Coast has the smallest units, while the Southeast has the largest. The average US studio apartment in 2018 (latest data available) ranged from 472 square feet to 514 square feet. Because studios are smaller on average, and thus cheaper, a studio takes the cake if price is your deciding factor.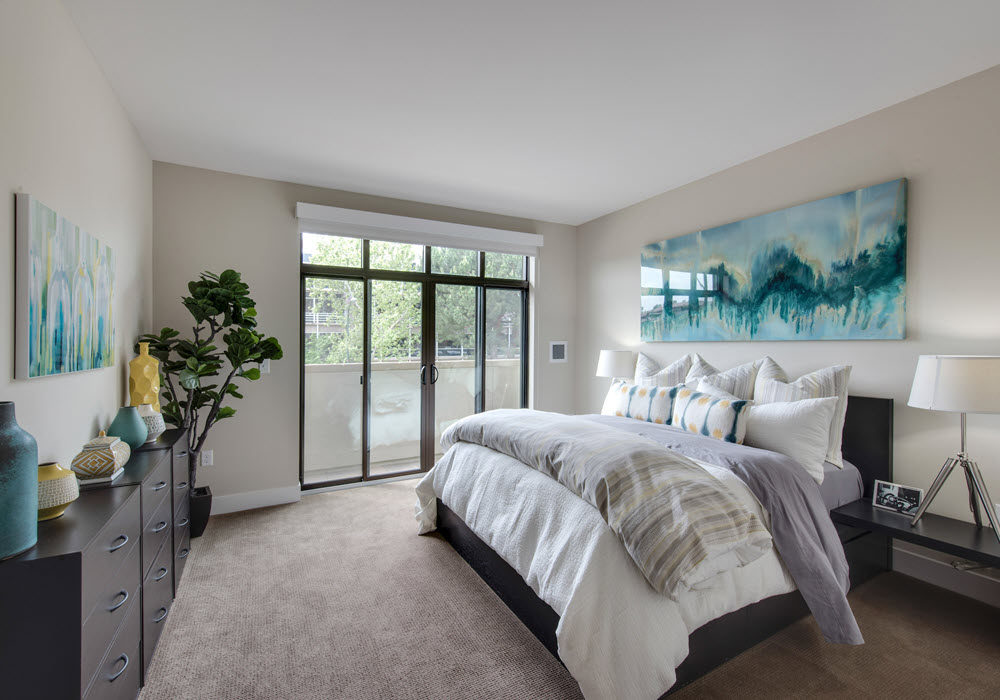 What is a One-Bedroom Apartment?
Just as it sounds, a one-bedroom apartment layout has one designated separate bedroom (and bathroom) within a greater apartment space. Different from the studio apartment setup, it has walls separating the bedroom from the other rooms, which may include a living room, dining room and kitchen. The apartment's square footage and layout generally dictate whether those rooms blend into one large eating-living space or have walls between them creating separate spaces. According to Yardi Matrix data, the average US one-bed apartment in 2018 was 714 square feet; Seattle has the smallest apartments on average, while Tallahassee, FL, boasts the biggest. Because studios are typically smaller on average within each market, a one-bed apartment is going to be your best bet if space is what you need.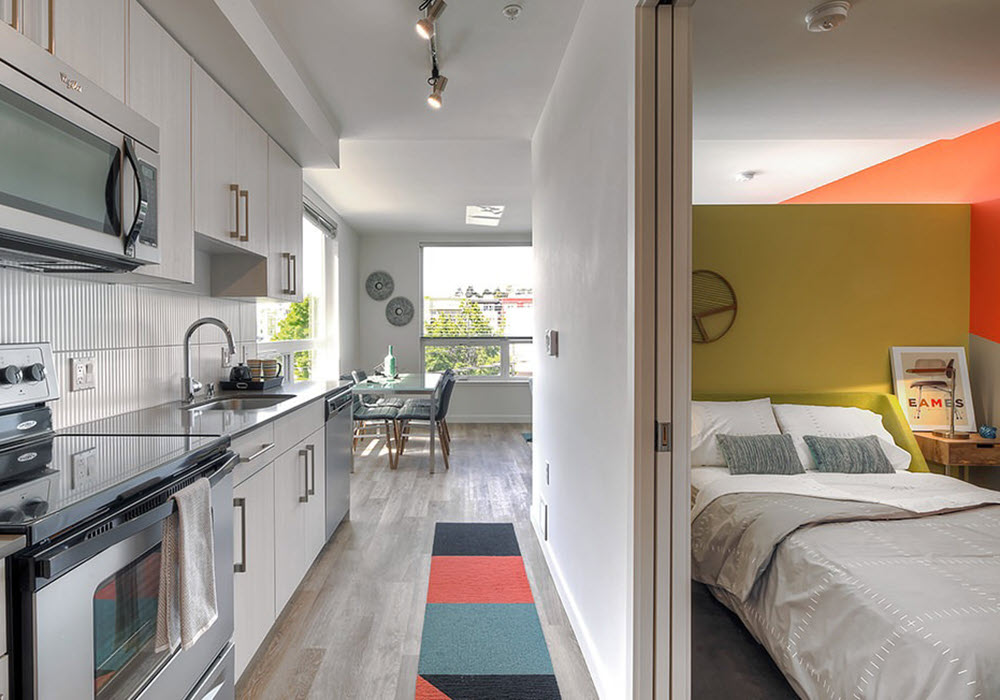 The Studio-Bedroom Hybrid
The apartment marrying the two traditional layouts is the open one bedroom, or junior one-bedroom apartment. The layout can vary widely across properties, but in general, juniors use a studio setup with a loosely defined bedroom area. The bedroom, which often lacks the closet and window required of a traditional bedroom, may have a privacy slider, partition or half wall separating it from the rest of the apartment. Because of its hybrid layout, square footage for a junior can fall within the studio range or be as big as a full one bedroom, but the actual setup is a happy medium between the two.
So, Which Type of Apartment is Right for You?
It really depends on what's most important to you, but there are many variables at play, including price, lifestyle, location, size, amenities, the age of the building, upkeep, privacy and more. While price may be the variable with the most weight in the decision, the apartment's size, age, location and amenities can affect the price. Meanwhile, your lifestyle can dictate the size and location of the apartment, as well as the amenities, privacy and degree of upkeep you require. So, going into the apartment search, you likely have a specific budget and some deal-breakers (or deal-makers). We dig into a few below.
Price
Although monthly rent prices vary widely depending on the location, such as by city and state and whether you're in the city center or suburbs, a studio is almost always cheaper than a one-bed apartment because of the size. A junior one bedroom can fall within the price range of either. Beyond this, it's important to factor in other costs influenced by the size difference. A larger apartment, with more space, walls, outlets and lights, is going to cost more to heat, light, decorate and furnish. (It also means more upkeep!) As such, you can estimate utilities will be slightly higher for a single-bedroom apartment. And even if you're a minimalist, you'll still need more furniture and décor when there are several designated rooms with walls versus one four-walled room.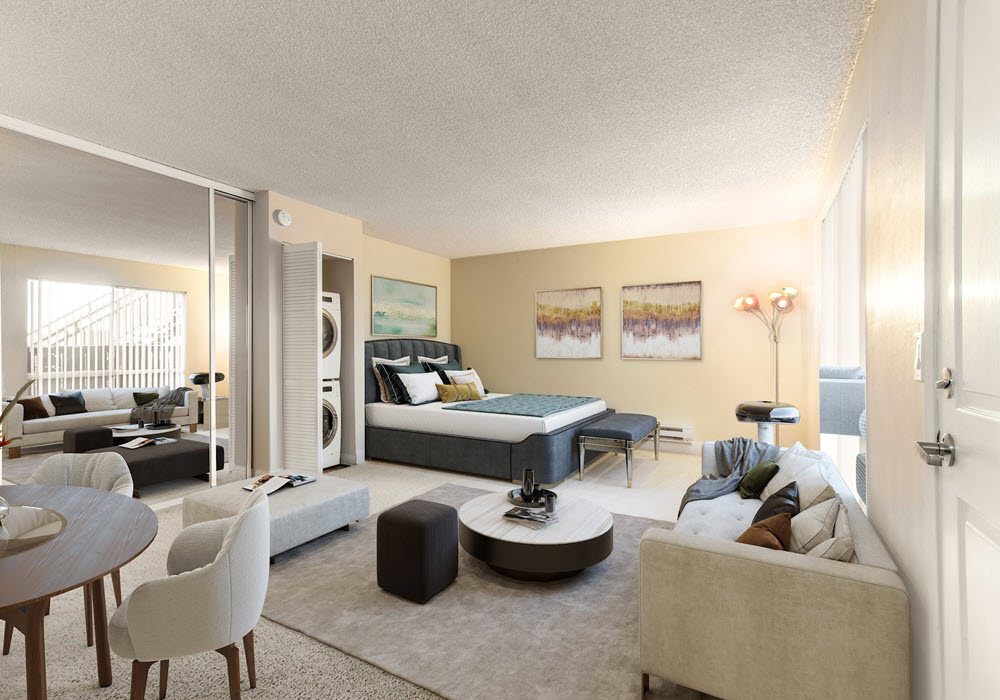 Lifestyle
Another key variable affecting your decision encompasses hobbies, relationships, career, and more. Some questions to ask when trying to match your lifestyle with your apartment include: Am I living by myself or with a partner? Do I have pets? Will I be working out of the home? Am I a homebody or am I gone a lot? Do I prefer to cook or eat out? Do I like to entertain and have visitors? What hobbies and activities do I like to engage in at home? Asking yourself these questions will guide you down a path toward the best apartment for your lifestyle. For instance, if you like to cook and entertain, a one-bedroom apartment layout would provide more extra space and designated rooms. Conversely, if you travel a lot or work long hours outside the home, you may find a single room, studio apartment setup is sufficient.
Amenities
With competition for residents high in booming city centers, apartment complexes and high-rises are pulling out all the stops with amenities, which can make all the difference. In-unit amenities can include full-size appliances, a kitchen versus a kitchenette, washer and dryer and ample storage space, while building amenities may include a fitness center, dog run, lounge or clubhouse, business center, or discounts at area businesses. Moreover, the amenities in the building's neighborhood, such as restaurants, grocery stores and service providers, may impact your decision. A studio apartment may be sufficient given access to a business center for work and clubhouse for entertaining, as well as a laundromat down the block. Conversely, the in-unit washer-dryer and extra closet space of a one-bedroom apartment may be higher priority.
At the end of the day, the decision between a studio apartment and a one-bed apartment (or something in between) comes down to the variables that are most important to you. There is no one-size-fits-all apartment, and many cities are currently in a renter's market, so take the time to think about the size, location and amenities you desire and how they fit into your budget and lifestyle.
Find Your Essex Apartment
Our apartment communities span from Form 15 in San Diego to Vox Apartments in the Pacific Northwest in some of the most sought-after locations on the West Coast. Choose from bustling city life, quiet comfort in the suburbs, sun and sand at the beach or outdoor adventures and a wide variety of on-site amenities and floor plans that span from studios to townhomes. Whatever your style and budget, we have a community that's right for you.
Explore our nearly 250 apartments, such as City View and City Centre in Hayward, and learn more about current leasing or move-in specials.