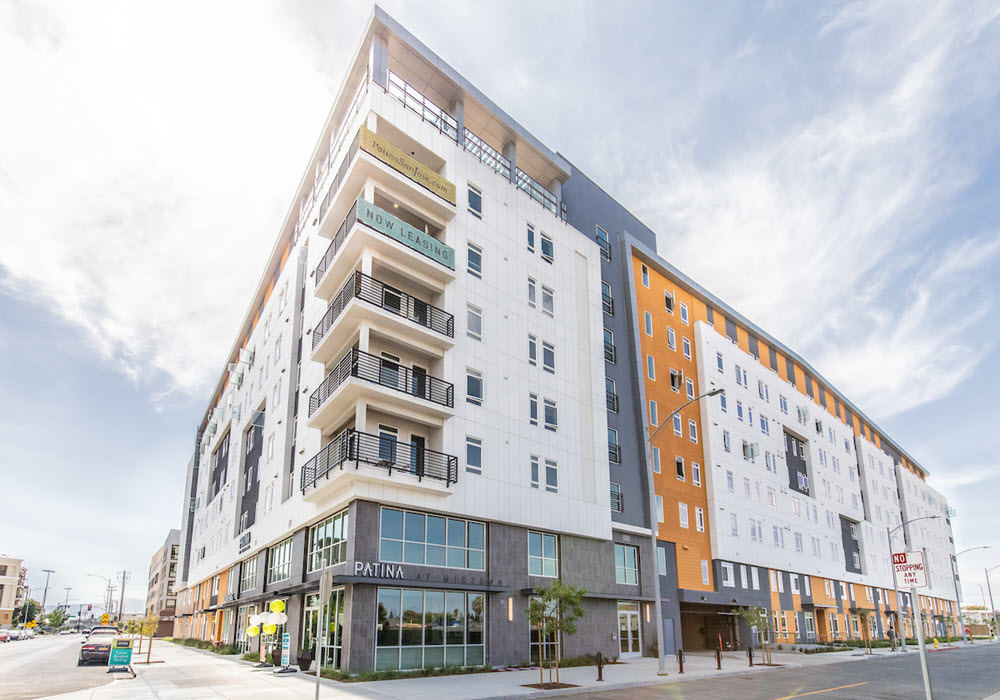 Beyond Tech in San Jose
Although San Jose has historically been recognized as an agricultural hub, it has become most well known as a booming tech center – the heart of Silicon Valley – in the past half-century. More recently, the arrival of the San Francisco 49ers to nearby Santa Clara helped boost San Jose as a home to prominent professional sports teams, accompanying existing teams like the Sharks NHL team and Giants Minor League Baseball team.
Agriculture, tech, and sports are among the list of things San Jose is known for. These highlights are drawing more companies and residents to the area, particularly to the hip neighborhoods surrounding downtown, like the Midtown district. But among the locals, the city has grown to be so much more. Thanks to dedicated bike lanes, public transit, and freeway access, tech workers can be close to offices, and residents can live among the plentiful culinary, cultural, and entertainment offerings.
In particular, the Midtown district is a vibrant example of urban neighborhood renewal with an array of amenities. And in the heart of the Midtown district is the urban lifestyle apartment community Patina at Midtown, which opened last July with 269 studio, one- and two-bedroom units. Its diverse residents of innovators, artists, established professionals, and small families are among the natives and transplants flocking to the neighborhood, and to San Jose in general, for its vast appeal and proximity to everything the Bay Area has to offer.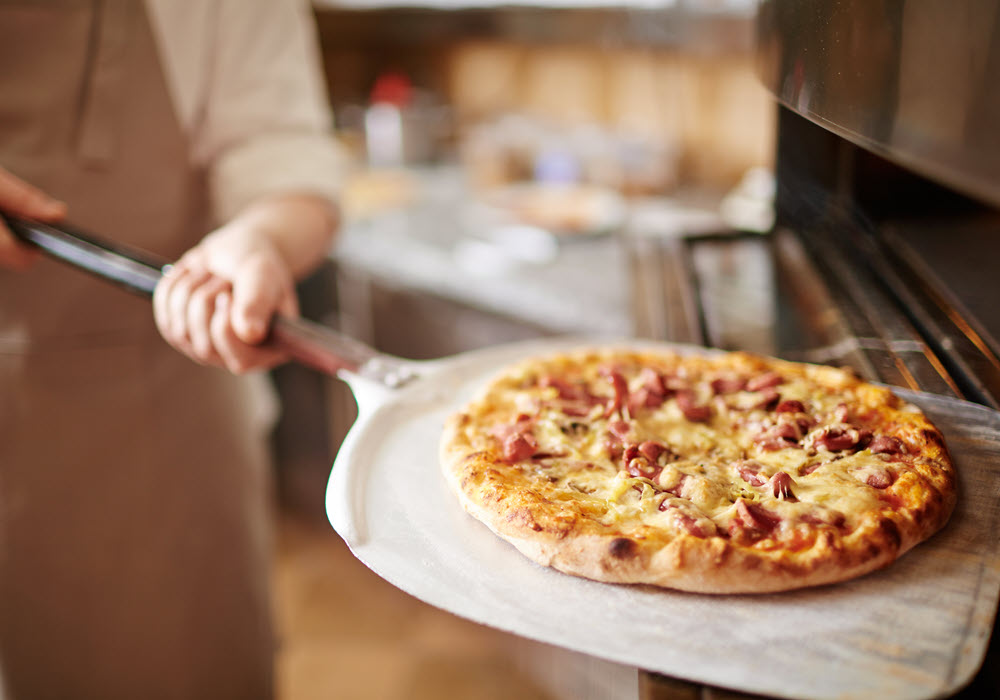 Cuisine
Despite competition from sister city San Francisco, San Jose has a robust culinary scene, especially given its agricultural prowess. The city's climate and soil are conducive to most crops, which means farm-to-table eateries are plentiful. Ideal growing conditions drew Italian immigrants to the city in the early 20th century, leaving behind and abundance of authentic Italian restaurants. Palermo, for instance, is a popular Midtown district restaurant down the street from Patina at Midtown, praised for its patio dining, especially during COVID-19.
Like many major cities, San Jose has neighborhoods dedicated to various worldly cultures and their cuisines. Just east of the Midtown district, Little Saigon has one of the largest Vietnamese communities in the world outside Vietnam. To the north, Japantown is one of the last three remaining historic Japantowns in the country. And Little Portugal in the east has Michelin-ranked Portuguese restaurant Adega.
San Jose's proximity to coffee expertise in San Francisco means endless great coffee throughout the city, including Chromatic Coffee Company across the street from Patina at Midtown, which Thrillist named No. 1 in the Bay Area. Oenophiles don't have to go far either, from tasting rooms in the city, like J. Lohr Vineyards, to vineyards in the surrounding hills, like infamous Ridge Vineyards. Napa and Sonoma are under two hours away.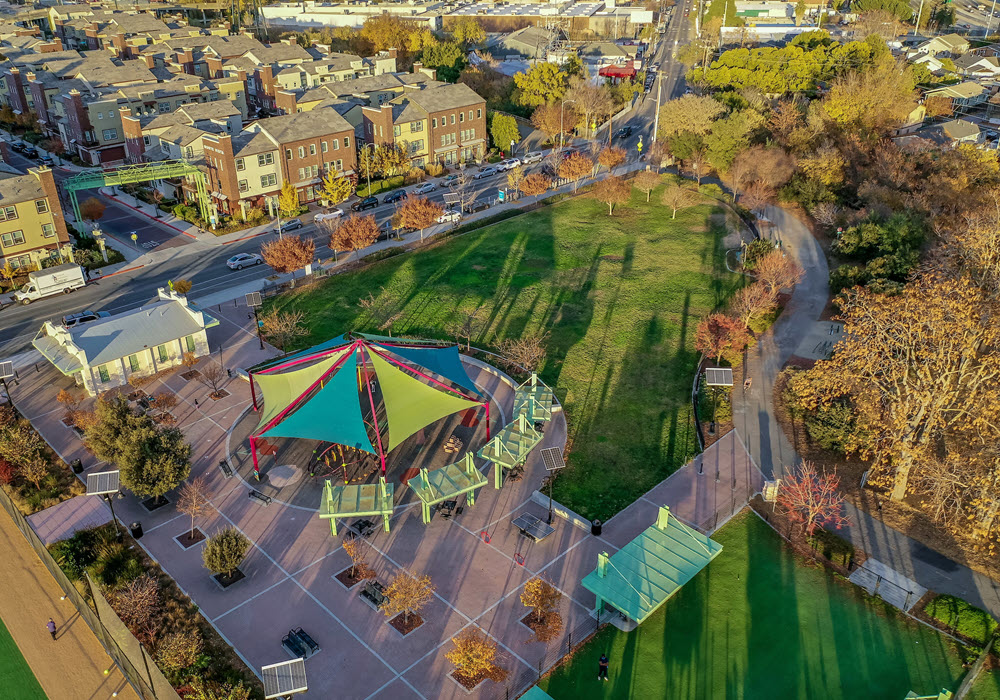 Outdoors
Combined with great weather, many people are drawn to San Jose for its myriad of outdoor activities. One block from Patina at Midtown is Del Monte Park & Dog Park, with access to the Los Gatos Creek Trail and Three Creeks Trail.
A 20-minute drive south of the Midtown district are Santa Teresa, Almaden Quicksilver, and Calero County Parks, offering hiking, biking, and horseback riding. Nearby is Coyote Creek Parkway, which connects to Coyote Creek Golf Club. Santa Teresa also has a golf club.
To the east are Alum Rock Park, only nine miles from Midtown, and Joseph D. Grant County Park, a 30-minute drive outside the city. Alum Rock is popular for its historic mineral springs but is also a protected wildlife sanctuary, so residents of pet-friendly apartment Patina at Midtown will have to leave Fido at home. Joseph D. Grant is the largest of Santa Clara County's regional parks, and nearby is Lick Observatory, a hilltop astronomy center with telescopes and exhibits.
Lastly, to the west are numerous parks, national forests, and open spaces, including Castle Rock State Park and Portola Redwoods State Park, for camping, hiking, biking, and horseback riding. Just a bit further west is access to the California Coast. Beachgoers can drive 30 miles south of Midtown to experience Santa Cruz's celebrated beaches and surfing.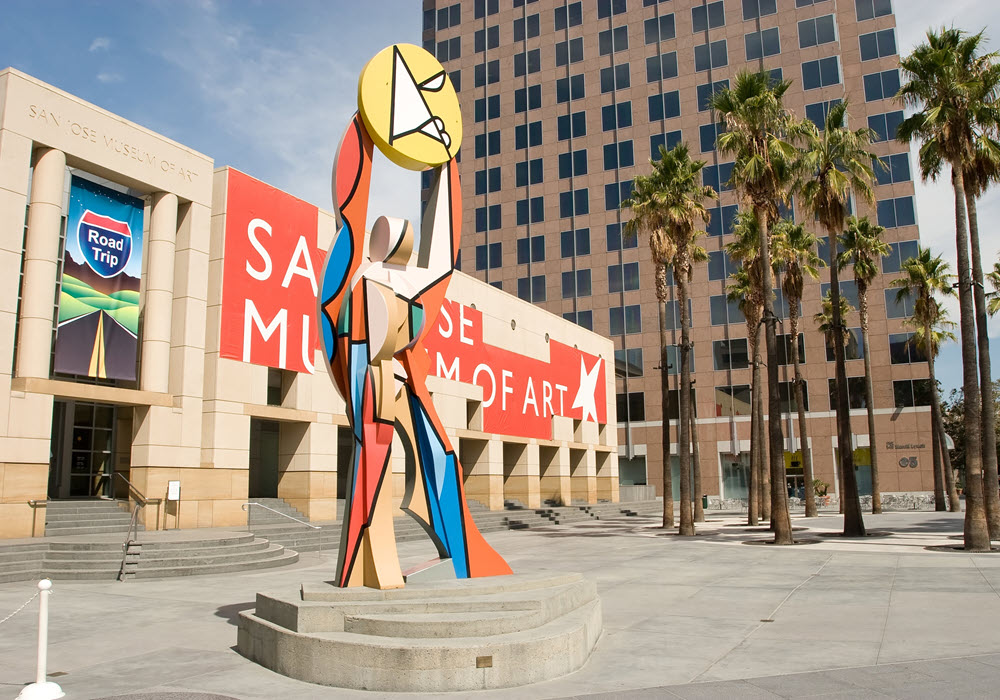 Culture & Entertainment
San Jose was a melting pot before tech jobs started bringing people in from around the world. In fact, among 1 million residents, nearly 40% are foreign born, making San Jose a cultural epicenter. One stop from Patina at Midtown on the 23 VTA bus are the San Jose Center for the Performing Arts, Broadway San Jose, and Opera San Jose. Also at this stop are the California Theater and San Jose Civic, landmark theaters in historic buildings. For museum lovers, this area of downtown also houses Tech Interactive, San Jose Museum of Art, and the Children's Museum of San Jose. Nearby is the McEnery Convention Center.
Just one stop from Patina at Midtown in the opposite direction on the 23 bus is shopping and entertainment center Santana Row, boasting more than 50 shops, 30 restaurants, and a movie theater. Its outdoor spaces host live music and yoga classes. And just across the street from Santana Row is Westfield Valley Fair Mall.
For more unique shopping experiences, Little Saigon has Vietnam Town and the Grand Century Mall. About five miles northwest of the Midtown district is the San Jose Flea Market, a 60-year-old weekend tradition with 6,000 vendors. And just five miles further is the Great Mall, the biggest indoor outlet in Northern California.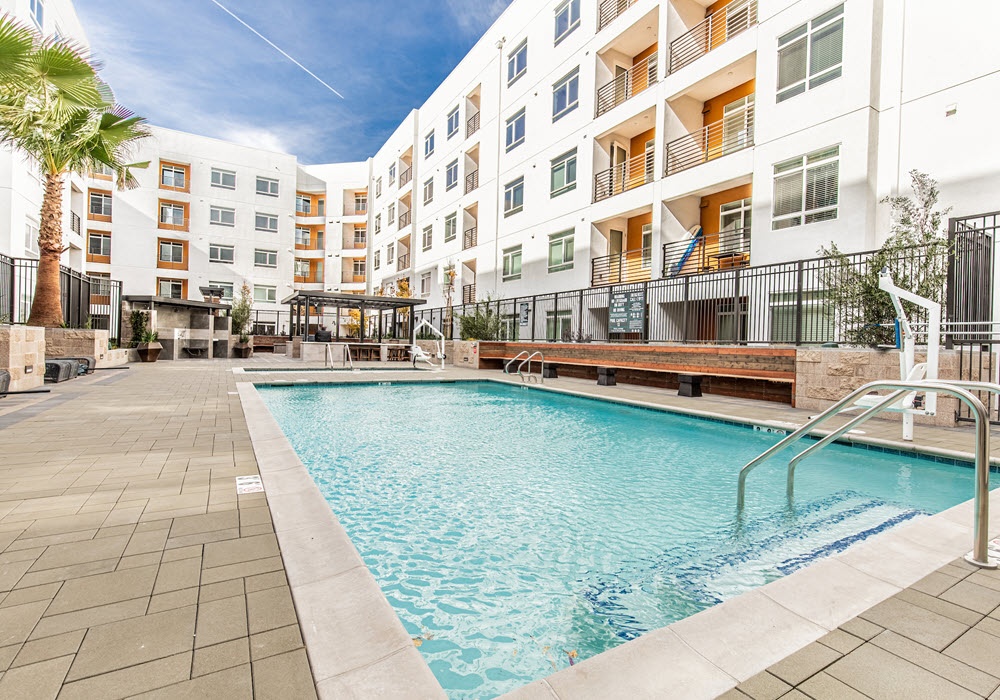 About Patina at Midtown
With so much to do and bountiful job opportunities, it's no wonder the once-underrated city of San Jose has become such a destination. With Patina at Midtown apartment homes in the center of it all, residents can work and play right outside their doorsteps. They can also opt to stay in, considering the vast apartment amenities Patina at Midtown offers for work and play.
One- and two-bedroom loft units provide ample space for a workstation or dedicated office, with each home outfitted with USB outlets and ultrafast internet connectivity. Open layouts and modern kitchens are perfect for entertaining, as are the community clubhouse and lounge. Outdoor entertainment spaces include BBQs, firepits, Summerset pizza oven, swimming pool, and spa. Patina at Midtown also has the only rooftop deck in the area for taking advantage of the nice year-round weather.
Find Your Essex Apartment in San Jose
To secure your new coveted address in the heart of Silicon Valley, contact us to learn about exclusive leasing opportunities for Patina at Midtown. High-tech living is just around the corner in your brand-new apartment.
Explore more of our South Bay apartment complexes and find the perfect new apartment, such as Merdian at Midtown, Century Towers, or 360 residences in San Jose. Learn more about pricing and current leasing or move-in specials. Contact us any time for more information about floorplans, community amenities, and any other questions regarding your apartment search. We would love to help find your new home.
Destination activities in San Jose may have varied hours and current restrictions due to COVID-19. We encourage you to call or check each company's websites and social media channels for the most up-to-date information.