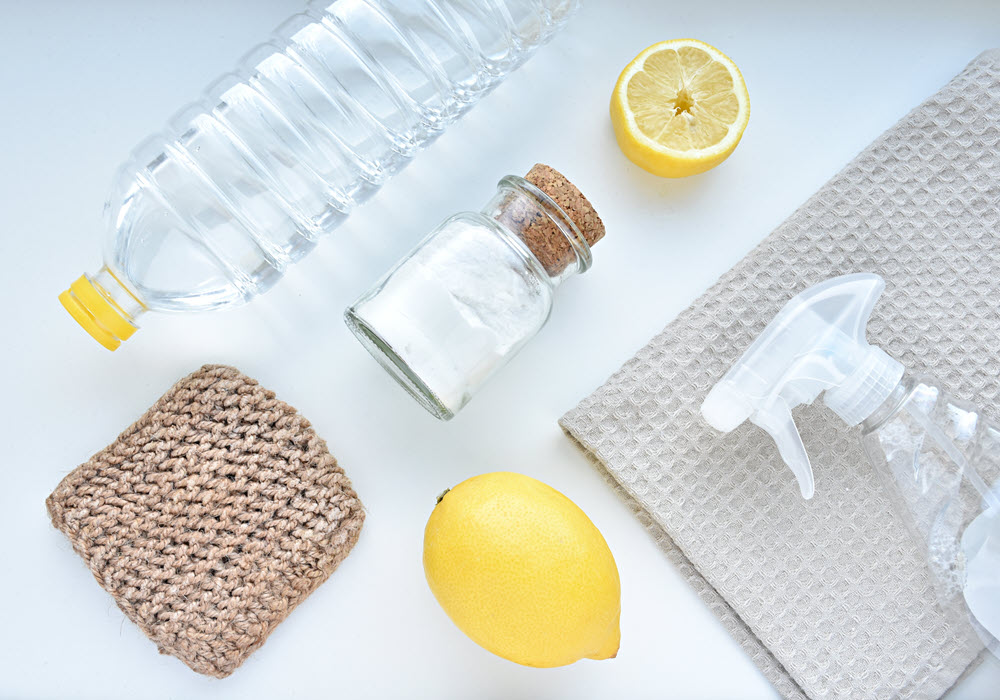 Simple Recipes for Non-Toxic Home Cleaners
Have you ever thought about switching to green cleaning products? It's not as difficult as you may think! Choosing more eco-friendly cleaning methods makes a difference for both the environment and your home. Many traditional cleaning products pollute our air and water systems, but luckily, there are safer cleaning alternatives for your family and your pets, too.
From homemade cleaners to new weekly habits, there are many ways to incorporate green cleaning options into your routine. This is especially important if you're living in a smaller space like an apartment home since cleaning methods can significantly affect your home's air quality.
Creating homemade cleaning solutions is an easy task because they usually call for ingredients you may already have in your pantry. This creates the added bonus of being more budget-friendly, too. If you don't have time to DIY your home cleaning solutions, don't fret! You can find reliable green and eco-friendly cleaning products at the store. No matter which you choose, you can trust that green cleaners are gentle and non-toxic, making them safe for children and pets.
So, what are some great eco-friendly cleaning practices? We have the details so you can start green cleaning!
Identifying Non-Toxic Cleaners
When shopping for cleaning products, be mindful of specific words and certifications. One easy tip is to stay away from products like chlorine bleach or ammonia. Along with these two products, there are terms to avoid as well. To keep your home environment safe and green, we recommend avoiding products with any of the following mentioned on the ingredient or warning labels:
Anti-microbial
Highly flammable or combustible
Danger
Poison
Corrosive
Caution
When it comes to finding a green cleaner, there are specific terms to seek out. Any of the following keywords are helpful in indicating you found an eco-friendly solution:
Unscented
Concentrated
Biodegradable
Non-toxic
Low or no-VOC
Phosphate Free
Green Seal™ Certified
Design for the Environment (DfE)
Always try to find a cleaner that has more than one, if not many of these labels. If you find a cleaner with every label, you'll know it's something you should have in your home!
Four Reliable Homemade Cleaning Solution Recipes
No matter the cleaning task, there's a homemade cleaner you can create yourself. All you need is a few household products and to follow a few simple steps to create a cleaner that's 100% safe for your children and pets.
Multi-purpose Cleaner
2 cups of water
2 tbsp. of liquid castile soap
Optional: 10 drops of your essential oil of choice: lavender, lemon, tea tree, peppermint
Combine ingredients in a spray bottle and shake to mix. Spray and let sit before wiping with a clean rag or towel.
Window/Mirror Cleaner
1 part white vinegar
1 part tap water
Pour white vinegar and water in a spray bottle and shake. Spray and wipe windows and mirrors.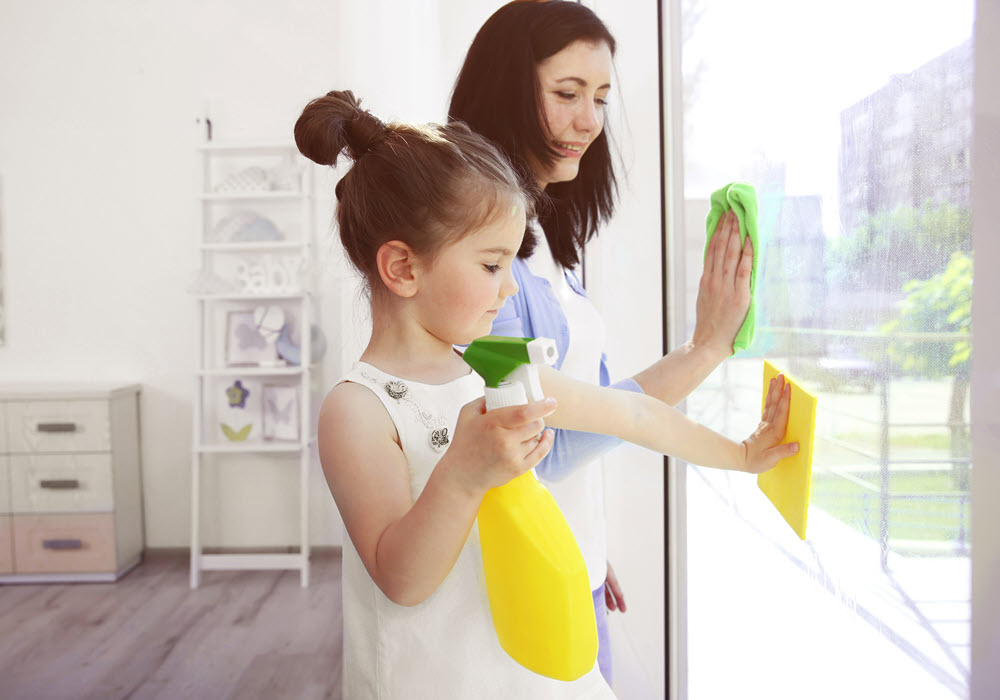 Floor Cleaner (not for waxed wood floors)
1/8 cup castile soap
1 gallon hot water
In a bucket, mix castile soap with hot water. Apply to the floor using a mop or rag. Mop again with clean water to remove any cleaner residue. Don't over-wet your floor.
Tub and Sink Cleaner
Use baking soda as a soft scrub for your tub and sink. Sprinkle baking soda on porcelain fixtures and rub with a wet cloth or sponge. Add castile soap to the rag or sponge for extra cleaning power. Rinse well.

Now that you know what products to use and how to use them, it's time to get to work. Let's reduce our environmental footprint and create healthier apartment homes together!
Find Your Essex Apartment
Our apartment communities span from San Diego to the Pacific Northwest in some of the most sought-after locations on the West Coast. Whether you're looking for life in Los Angeles, settling down in San Jose, or relaxing in Oakland, we can help. Choose from bustling city life, quiet comfort in the suburbs, sun and sand at the beach or outdoor adventures and a wide variety of on-site amenities and floor plans that span from studios to two-bedroom apartments to townhomes. Whatever your style and budget, we have a community that's right for you.
Explore our nearly 250 apartments, such as Villa Siena in Costa Mesa or Villa Granada in Santa Clara, and learn more about current leasing or move-in specials.