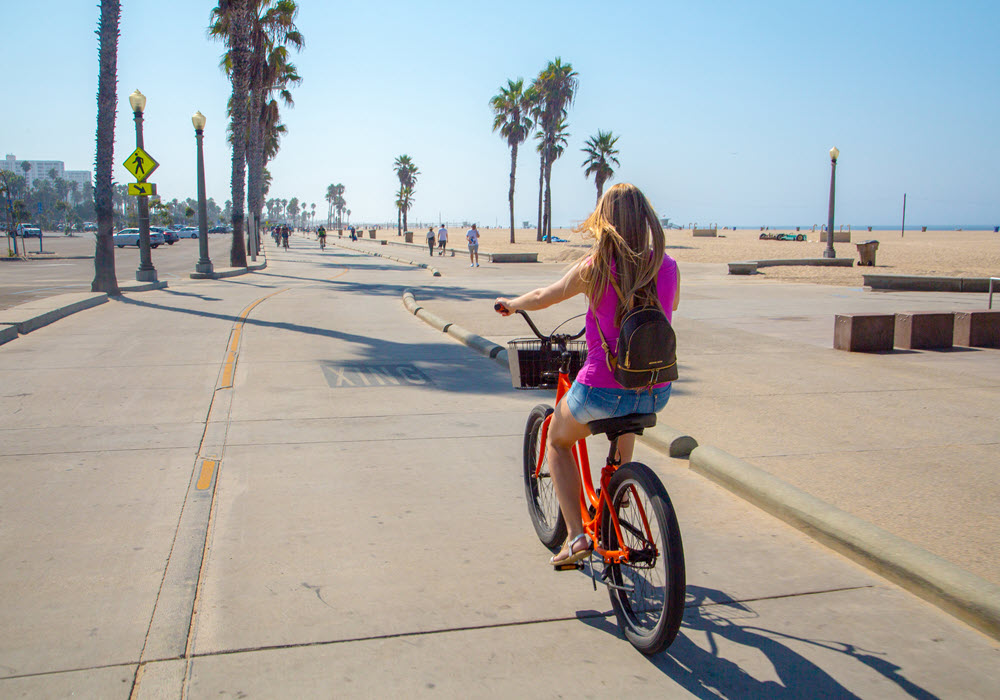 Moving to LA from Out of State: What to Expect
Los Angeles attracts people from all over the world who want to live in a vibrant and diverse city. Additionally, many people relocate from other parts of the country, including New York, Oregon, Florida, Massachusetts, and Texas, to name a few. If you are considering a move and wondering what it's like living in Los Angeles, we've got the inside scoop for you on the best places to live in L.A., as well as job opportunities, leisure activities, and more.
Spectacular Weather
The most common reason people say they love life in L.A. is the amazing weather. It's hard to beat sunshine nearly every day and average temperatures in the 60s in winter and 70s in the summer. Even current residents of California, particularly those moving from San Francisco to Los Angeles, can't deny that the climate of Southern California is ideal. The excellent weather makes it easy to plan days at the beach, picnics at the park, or dinner on your apartment patio with friends.
Driving City
Unlike many major U.S. cities, L.A. is still considered a "driving city," where most residents have cars and drive to work, school, and other places. Public transportation is available, though it can take longer than driving if traveling between neighborhoods across town. If you want to live without a car in Los Angeles, consider living in cities such as Hollywood and Koreatown, where biking, walking, and public transportation are more accessible. In Koreatown, the Essex Communities of Catalina Gardens, Park Catalina, Regency Palm Court, and Windsor Court offer upscale apartments with excellent access to major freeways and public transit.
Robust Economy
L.A.'s economy is one of the largest in the world, with a diverse range of job opportunities in entertainment, tourism, hospitality, manufacturing, and technology, to name a few. Regardless of the type of work you do, or want to do, the city is a great place to be employed and work with some of the best talent in the county.
Outdoor Activities
One of the things that makes Los Angeles stand out from other destinations is the wide range of fun and exciting outdoor activities and scenic landscapes. From the beaches of Santa Monica and Malibu to green spaces like Griffith Park, which boasts breathtaking views of the city, to canyon hikes that offer rugged terrain, there is no shortage of nature and unique experiences in the City of Angels.
Day Trips
When you want to get away from the city for a day, there are countless destinations within a couple of hours of Los Angeles for a nearby reprieve. You can enjoy exploring Joshua Tree National Park, relaxing on the beautiful sands of Laguna Beach, discovering the rich history and culture San Diego has to offer, or feeling like a kid again at Disneyland, and that's just the tip of the iceberg.
Entertainment, Dining, and Nightlife
Entertainment reigns supreme in Los Angeles, and with a bustling nightlife, world-class cuisine, and hundreds of museums to tour, it's nearly impossible to be bored. The entertainment capital of the world is none other than Hollywood. With iconic attractions including The Walk of Fame, The Hollywood Sign, and The Chinese Theatre, Hollywood is undoubtedly a bucket-list neighborhood for many visitors. However, it is also a popular place to live. In West Hollywood, the party vibe is unmatched, while East Hollywood is considered more low-key.
If you prefer to spend your spare time strolling museums, Miracle Mile is the place to live. Attractions include the iconic Los Angeles County Museum of Art, the La Brea Tar Pits and Museum, and the Petersen Automotive Museum. The central location, diverse restaurant scene, and fabulous shopping make it one of the best neighborhoods in L.A.
Consider yourself a food-lover? If you want to be close to some of the best restaurants in Los Angeles, you will love living in Downtown L.A. It is thought of by many as the coolest place in the city to live. The thriving Arts District within Downtown L.A. is a standout section of the irresistibly vibrant L.A. neighborhood. When it comes to Downtown L.A. apartments, Essex communities Gas Company Lofts and Pacific Electric Lofts offer spacious, open floor plans in historical buildings.
Universities and Colleges
It's not all fun and games in Los Angeles. If it's higher education you are after, the city is home to many top universities, including University of California, Los Angeles (UCLA), University of Southern California (USC), Loyola Marymount University, and California Institute of Technology. Once you've graduated, you'll find there is great opportunity for entry level positions if you want to stay in the area.
Whether you are moving to L.A. alone, with a friend or partner, or with your family, the bustling city has something for everyone. When it comes to searching for an apartment in Los Angeles, Essex Apartment Homes makes the process easy and stress-free with the option to tour virtually, view interactive maps online, and apply directly for the apartment home of your choice through the community website. With a range of various properties in the most desirable neighborhoods of Los Angeles, you are sure to find the amenities, space, and lifestyle you are looking for.
Find Your Essex Apartment
Our apartment communities span from San Diego to San Francisco and the Pacific Northwest in some of the most sought-after locations on the West Coast. Whether you're looking for life in Los Angeles, settling down in San Jose, or relaxing in Oakland, we can help. Choose from bustling city life, quiet comfort in the suburbs, sun and sand at the beach, or outdoor adventures and a wide variety of on-site amenities and floor plans that span from studios to two-bedroom apartments to townhomes. Whatever your style and budget, we have a community that's right for you.
Explore our nearly 250 apartments, such as Alessio in Los Angeles or Muse in North Hollywood, and learn more about current leasing or move-in specials and pricing.