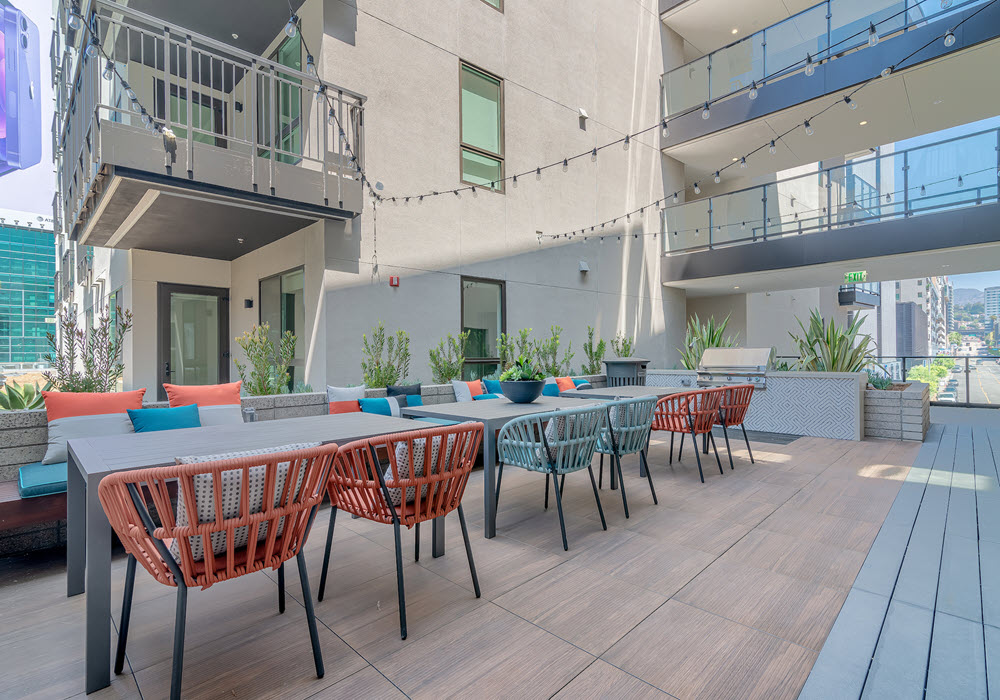 Eco-Friendly Apartments: LEED-Certified Communities
As renters consider their impact on the environment, they are increasingly seeking apartment communities and buildings with sustainability at the forefront. In response, multifamily housing builders and property owners like Essex are catering to this shift and meaningfully reducing their own carbon footprints.
To no surprise, urban hubs have been the focus of sustainable construction and eco-friendly multifamily housing options as people have flocked to vibrant cities for job opportunities and urban lifestyles. According to 2018 data from Yardi Matrix, Seattle was the No. 2 city for sustainable apartment homes, and California was the No. 1 state. Essex calls home to both regions, with "green" properties including Expo in Seattle, 500 Folsom in San Francisco, and Wilshire La Brea in Los Angeles.
What Does It Mean to Be an Eco-friendly Apartment?
Although definitions and standards vary across municipalities and companies, in general, green buildings use fewer resources, such as less energy and water, are constructed from sustainably sourced building materials, and implement air-quality control, natural light, and high-efficiency features and technology, where possible. Eco-friendly status can be earned by new builds or older buildings that have been retrofitted to meet current sustainability standards.
Specific green features include apartment home appliances and lighting with Energy Star certification, smart technology and thermostats, low-flow showerheads and toilets, high-efficiency HVAC, and recycling and composting programs. Some properties, like Mylo Santa Clara, even have electric car charging stations and bike amenities. Eco-friendly apartment communities may boast a number of these widely accepted standards. Renters can take green living a step further with various lifestyle choices.
The U.S. Green Building Council (USGBC) is the country's authority on green buildings, with a mission to "transform the way buildings and communities are designed, built, and operated, enabling an environmentally and socially responsible, healthy, and prosperous environment that improves the quality of life." One of its primary tools is the Leadership in Energy & Environmental Design (LEED) certification.
What is LEED-certified?
USGBC created LEED certification to establish a baseline and roadmap for developing sustainable buildings, which is now an internationally recognized standard. In fact, according to USGBC, green building has grown into a trillion-dollar industry, with LEED as the most widely used green building program.
Apartment buildings pursuing LEED certification earn points for green building strategies across several categories, ranking them in one of four levels: Certified, Silver, Gold, or Platinum. Similar to the green features listed earlier, the categories include measures surrounding sustainable building materials, energy and water efficiency, use of natural light and airflow, and eco-friendly technologies.
What Are the Benefits of Living in an Eco-friendly Apartment?
Renters who are interested in eco-friendly apartments can expect numerous benefits. As a result of energy-efficient windows, HVAC systems, appliances, and technologies, monetary savings is the most direct benefit. According to USGBC, LEED-certified apartment homes use 20-30% percent less energy, on average, than non-green homes. Similarly, the EPA estimates that a smart thermostat can save up to $150 per year. For example, residences at Essex's brand-new Wallace on Sunset have double-pane windows, contemporary lighting, and smart-home technology.
Energy Star-certified and smart appliances, thermostats, and utility meters can also mean added convenience for renters. When technologies such as these are made accessible through smartphone apps, tenants have access to energy usage at their fingertips—and they also require fewer maintenance requests.
Eco-friendly apartments also contribute to personal health. Specifically, LEED homes maximize indoor fresh air and minimize exposure to airborne toxins and pollutants, making them healthier and more comfortable. Some apartment communities further this with health-forward, eco-friendly landscaping, décor, and amenities.
The Essex Commitment to Sustainability
Fortunately, renters who prioritize green living have a wide variety of options, including Essex properties spanning the West Coast. Essex has long committed to providing sustainable lifestyles and eco-friendly apartments, whether minimizing environmental impact through renovations or developing brand-new LEED-certified apartment homes. Aligning with the UN's Sustainable Development Goals, Essex's sustainable apartments and Corporate Social Responsibility strategy focus on reducing environmental impact through energy efficiency, renewable energy generation, water efficiency, and waste management. Essex is a member of the USGBC and has developed 18 LEED-certified communities, including eight Gold LEED and eight Silver LEED properties, such as MB360 in San Francisco and Radius in Redwood City. Essex participated in the Global Real Estate Sustainability Benchmark for the fifth consecutive year in 2020, and it has achieved GreenPoint-rated certifications on 10 ground-up multifamily developments in California and has two Built Green-certified properties in the Seattle area.
Find Your Essex Apartment
Our apartment communities span from San Diego to San Francisco and the Pacific Northwest in some of the most sought-after locations on the West Coast. Whether you're looking for life in Los Angeles, settling down in San Jose, or relaxing in Oakland, we can help. Choose from bustling city life, quiet comfort in the suburbs, sun and sand at the beach, or outdoor adventures and a wide variety of on-site amenities and floor plans that span from studios to two-bedroom apartments to townhomes. Whatever your style and budget, we have a community that's right for you.
Explore our nearly 250 apartments, and learn more about current leasing or move-in specials and pricing.