Live Green: Simple Swaps for a Zero-Waste Home
As consumers become increasingly aware of and are concerned about their impact on the environment, many now recycle more, reduce waste, and conserve water and energy. Some are even taking it a step further and adopting zero-waste lifestyles, where not a single wrapper, container, banana peel, or old T-shirt end up in the trash. While it may seem daunting to eliminate waste from your daily life completely, there are some easy steps you can take.
Fortunately, many companies and governments are also shifting, producing more recycled and eco-friendly goods and making it easier for people to recycle and compost. Essex is one of those companies. Our dedicated Community and Social Responsibility committee helps residents live more sustainably while also reducing the company's carbon footprint. Aligning with the United Nations' International Sustainable Development Goals, Essex focuses on reducing environmental impact by renovating existing properties and building new ones with solutions and technology in energy efficiency, renewable energy generation, water conservation, and waste management.
Moreover, Essex apartment homes span the West Coast in innovative, progressive cities, many with commercial composting programs, natural gas-powered public transit, plastic bag bans, and more. These company- and city-level shifts make it even easier for residents wanting to create a sustainable home—maybe even a zero-waste apartment home. Check out these simple zero-waste swaps to help get you there.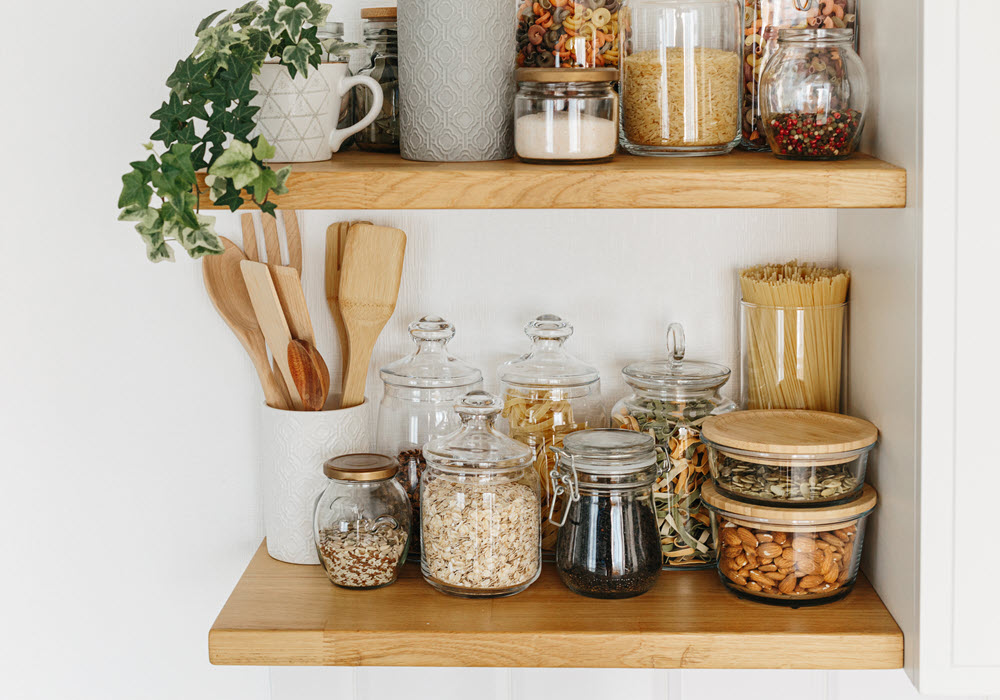 1. Kitchen Supplies
To no surprise, a lot of waste happens in the kitchen, largely surrounding food and packaging. Most storage containers, cooking utensils, and other kitchen accessories are made of plastic, which doesn't have a very long lifespan in our homes but lasts forever in landfills. The other problem with many kitchen supplies is they're only intended for one use. So, the biggest step in shifting to a zero-waste household is reducing your dependence on plastic and disposable goods. Here are some zero-waste replacements:
Washable cloth towels and napkins

– If you're not picky, old quilting scraps or second-hand towels are the ultimate repurpose.

Reusable straws, like metal or silicone

– These are great to have when you're on the go.

Bamboo cooking utensils

– They even look nicer than plastic!

Glass storage containers

– Consider repurposing old pickle and pasta sauce jars.

Reusable food wraps

– These are often made of cloth or beeswax and work just as well as plastic wrap.

Silicone storage bags

– They come in all different sizes, perfect for leftovers in the fridge or an afternoon snack in your purse.
2. Cleaning Supplies
Similar to our packaged foods and kitchen supplies, our cleaning supplies often have excessive plastic packaging. An overwhelming number of brands are catering to consumers' desire for convenience with single-use cleaning supplies. One step toward a more sustainable apartment home is ditching the waste from traditional cleaning supplies. Instead, check out these no waste household cleaning products:
Reusable cleaning rags and napkins

– Use cloth towels or even cut up an old T-shirt.

Compostable sponges and bamboo dish scrubs

– These plant-based scrubbers can be tossed into your compost at the end of their useful lives.

Homemade cleaning sprays

– Check out these easy recipes with nontoxic ingredients you probably already have at home.

Homemade laundry soap

– Yep, you can even make this! Here's a great recipe.
3. Furniture and Appliances
While it may be a natural instinct to head to Ikea or jump online to one of the many low-cost, mass-produced furniture distributors, neither of these options aligns with sustainable practices at home. Unfortunately, the furniture is not made to last, and their low-price tags make it easy to toss them when you're ready to move. Ideally, you can repurpose items you already own, but if you need more furniture for your new apartment home, here are a couple of environmentally friendly swaps:
Buy used

– Stores like Goodwill and Salvation Army can be treasure-troves of gently used stuff, and apps like OfferUp, Facebook Marketplace, and Craiglist are increasingly popular and convenient for finding great deals on furniture.

Rent

– Companies like Fernish are great options for furnishing a new apartment when you may be a short-term renter or like to change up your décor regularly.
4. Personal Care
Second to the kitchen, the bathroom and personal care items create a lot of waste. Even if you're buying clean, toxin-free products for your hair and body, the disposable plastic containers they come in aren't conducive to a zero-waste household. Consider these zero-waste swaps:
Bar soap

– Eco-friendly bar soap with compostable wrapping trumps body wash in a plastic bottle any day.

Bamboo toothbrush

– Like the dish scrubs previously mentioned, these can also be composted.

Compostable or washable cotton pads + coconut oil

– This combination makes the best zero-waste swap for traditional makeup remover.

Reusable razors

– Opt for a safety razor, or if you're not quite ready for that option, ditch the disposable razors in favor of one with replaceable blades.
5. On-the-Go
While companies have long catered to consumers' desire for convenience, environmental ramifications have gone by the wayside. But now, more sustainable home products are allowing consumers to have convenient and eco-friendly lifestyles while on-the-go. Consider these simple zero-waste switches:
Reusable shopping and produce bags

– With many plastic bag bans in place in progressive cities, these are a must-have for grocery shopping.

Reusable water bottle

– Bringing a water bottle with you to refill throughout the day helps keep plastic ones out of landfills.

Travel coffee mug or thermos + reusable sleeve

– Coffee cups, lids, and sleeves are other popular landfill items, so take yours with you on-the-go.

Lunch and snack bags

– If you're often eating in transit, there are various to-go bags, boxes, and coolers which keep your food fresh and leave zero-waste.

Reusable cutlery

– Single-use plastic cutlery for meals while on the move are such a major environmental offender, France and India have banned them.
Find Your Essex Apartment
Our apartment communities span from San Diego to San Francisco and the Pacific Northwest in some of the most sought-after locations on the West Coast. Whether you're looking for life in Los Angeles, settling down in San Jose, or relaxing in Oakland, we can help. Choose from bustling city life, quiet comfort in the suburbs, sun and sand at the beach, or outdoor adventures and a wide variety of on-site amenities and floor plans that span from studios to two-bedroom apartments to townhomes. Whatever your style and budget, we have a community that's right for you.
Explore our nearly 250 apartments, such as Pinnacle at Talega in San Clemente or Stonehedge Village in Bothell, and learn more about current leasing or move-in specials and pricing.