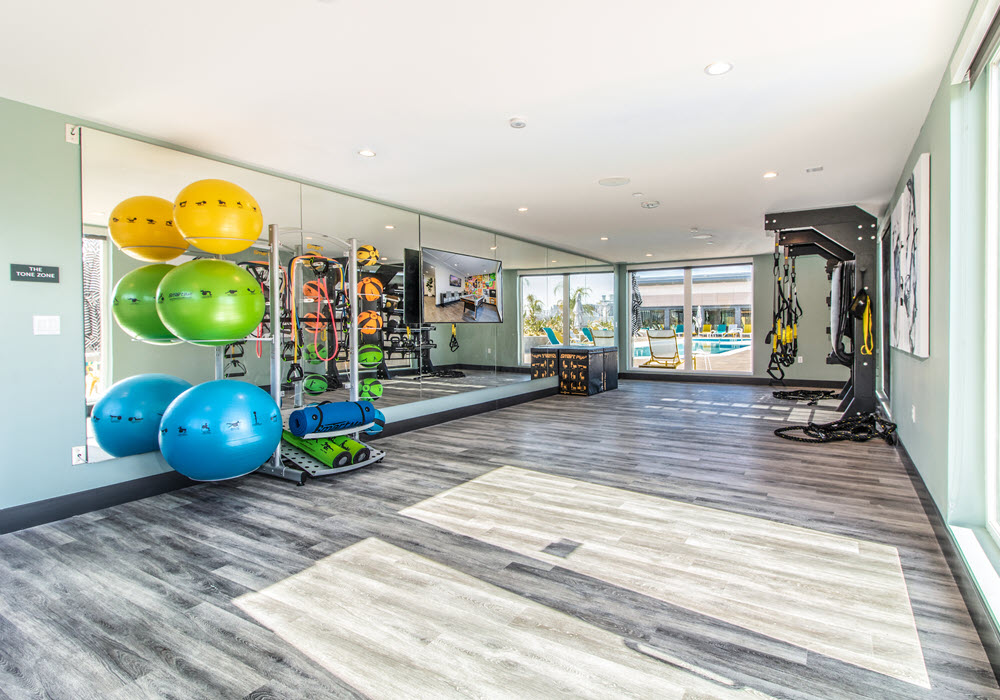 Apartment Fitness Centers vs. Gym Memberships
You're feeling the buzz in the air. This is going to be your year! You're going to start eating better, start taking care of yourself and crush your fitness goals! It's time to consider moving your total body workout from exercising in your apartment living room with resistance bands you bought on Amazon to an actual gym. So, should you rent an apartment in a community with a fitness center? Or would you prefer using a gym membership to get your fitness fix?


While both have positive aspects that are easy to highlight, there are some undeniable perks to renting in a community with a top-notch fitness center like one of many available in our Essex communities.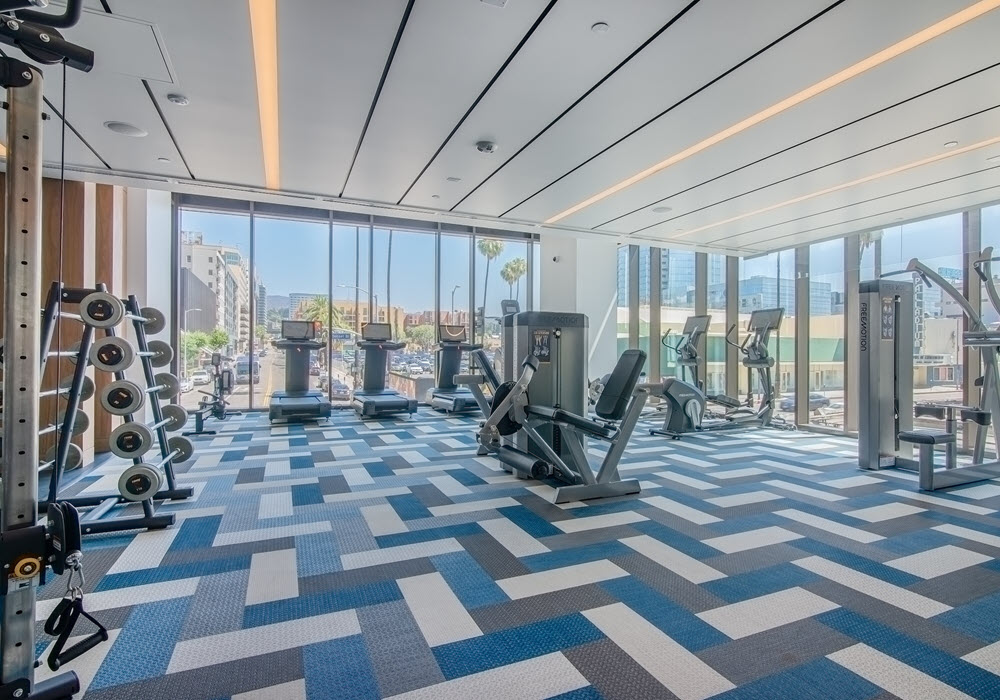 Save Money – If you're a member of any commercial gym, you're likely paying a membership fee unless your work sponsors health extracurriculars and covers the cost. Leasing from an upscale community that includes a modern gym with professional equipment means no monthly fees, and that extra cash you save can go back to your original budget. It's also worth mentioning gym-goers pay other hidden costs as well, including gas, parking, or towels.


Save Time –One big drawback of joining a gym is the amount of time and energy it takes to go to and from the location before getting cleaned up and back on with your daily routine. Having an easily accessible gym at your apartment complex means satisfying your urge to hit the weights or get in some cardio while watching the news is as easy as a trip downstairs. No driving, no changing, and no extra stress. Best of all, you can hit the barbells, free weights, ellipticals, or other cardio machines on your own time!


Fewer People – A trip to the gym at the busiest times of the day can mean long, frustrating waits for the most popular machines. Typically, getting on your favorite equipment at your in-apartment gym means skipping the crowds. If you're just starting out, it can mean the difference between going regularly and forming a healthy new habit or falling back into old patterns.


Less to Know – Some people find a full-size gym a bit overwhelming for reasons other than ripped members and hidden fees. If you're a beginner starting with a new exercise routine, some advanced machines may be confusing to use properly without help. Leasing from a community with a gym means less intimidating equipment and easier to use machines.


Meet Your Neighbors – As humans, we are naturally social, so it makes sense that we want to make connections with like-minded individuals. The gym at your apartment complex is a great place to meet others who live in your city and could share similar interests based on the surrounding area.
While there are still plenty of reasons to supplement your apartment workouts with the added benefits of a commercial gym, there are perks to both.
Commercial gyms often offer personal training options for those who feel they need an added push from a personal trainer to be motivated and remain consistent. Others may find classes such as Zumba, spin, or yoga to be a great way to add variety to their weekly regimen.
For anyone serious about weightlifting, commercial gyms typically have a wider variety of exercise equipment, including bigger barbells and dumbbells, squat racks and pull up bars where you can deadlift your own body weight, temperature-controlled indoor swimming pools, hot tubs, and saunas you might not find at an apartment building fitness center.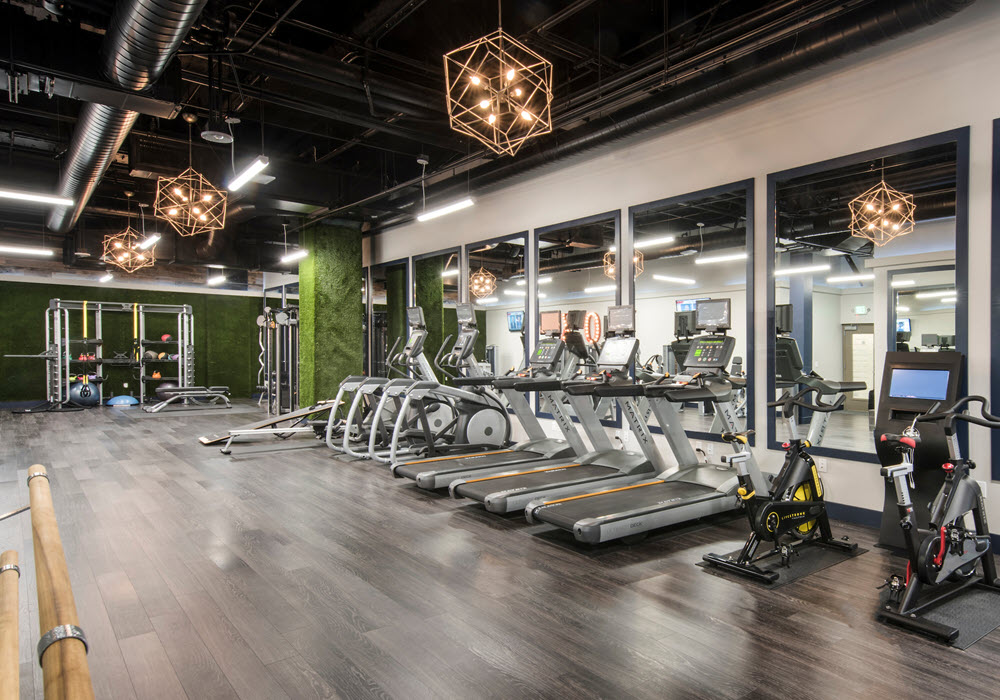 Then again, why not have the best of both worlds? Whatever you decide, we wish you well on your journey to total wellness! We invite you to consider one of our select apartment communities offering state-of-the-art equipment, such as Wallace on Sunset or 500 Folsom.
Find Your Essex Apartment
Our apartment communities span from San Diego to San Francisco and the Pacific Northwest in some of the most sought-after locations on the West Coast. Whether you're looking for life in Los Angeles, settling down in San Jose, or relaxing in Oakland, we can help. Choose from bustling city life, quiet comfort in the suburbs, sun and sand at the beach, or outdoor adventures and a wide variety of on-site amenities and floor plans that span from studios to two-bedroom apartments to townhomes. Whatever your style and budget, we have a community that's right for you.
Explore our nearly 250 apartments, such as Marbrisa or Pinnacle at Fullerton, and learn more about current leasing or move-in specials and pricing.