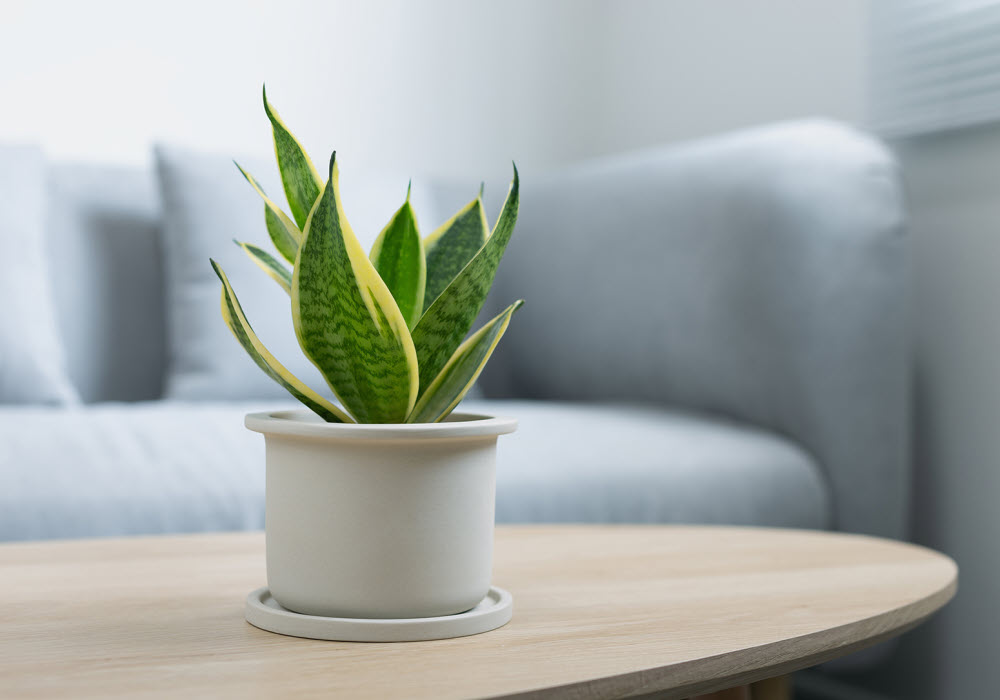 Bring Extra Luck into Your Apartment Home
We can all use a little extra luck from time to time, especially when moving into a new apartment home or when you just want to give your current living space a renewed feeling of luck and prosperity. Throughout history, different cultures have used symbols, objects, and rituals to dispel bad vibes and increase their health, wealth, and harmony at home. The good news is that you can, with these seven lucky objects believed to bring dwellers good fortune and ward off bad luck!
Lucky Plants
Known for their ability to absorb toxins and improve air quality, large houseplants with pleasing round shapes promote gentle, nourishing energy, according to feng shui experts. They bring brightness and vibrancy to any room. Snake plants are also considered good luck, and they need little light and water, making them perfect for first-time plant owners. They help increase oxygen flow and positive energy and act as a natural filter. Other lucky house plants include orchids, a gorgeous addition to any space, and lucky bamboo. Lucky bamboo is so popular and aesthetically pleasing that it is often given as a housewarming gift!

Crystals
Renowned for their vast array of potential benefits, crystals have recently become the good vibes accessory of choice for interior designers and real estate agents. With attributes such as attracting luck, love, and wealth, as well as enhancing your creativity, focus, and happiness, it's easy to see why people are filling their new homes with these natural stress relievers. Plus, setting aside all superstitions, they are beautiful!

Goldfish
You don't need to build a koi pond for lots of luck! Goldfish, the symbol for good health, abundance, and prosperity, will more than suffice. They are thought to absorb negative energy in your home. You can try a live goldfish in its own bowl or a statue or beautiful painting in your living room to usher in good luck and fortune to your space.
Horseshoes
Want the luck of the Irish to last past St. Patrick's Day this year? Skip the rabbit's foot and try adding a traditional Irish sign of good fortune over the door of your new home. Popular superstition has it that a horseshoe placed over the main entryway will bring good luck to all who pass in and out. Hang it facing up to bless the whole home or facing down to bless all who pass under it.

Fruit Bowl
While it may seem like just a healthy snack choice, the bowl of fruit on your counter is a powerful combination of imagery and possibly good luck if you know how to decode them! That's because fruits carry different meanings according to feng shui.
Grapes are generally associated with abundance and success, oranges ward off bad luck, peaches signify immortality, and apples represent peace. Pineapples are believed to bring wealth, fortune, and prosperity.
Crickets
Long considered a sign of good fortune all over the world, especially in Chinese culture, the humble, noisy cricket is believed to bring wealth and joy while reminding us to be happy. Like the ladybug, if this lucky insect lands on you, it is a sign that good things are on their way. A small gold or bronze cricket ornament on your desk, over your mantle, or even tucked into a shelf will cast a lucky glow on your surroundings.
Want more ideas to increase your luck? You can rearrange your furniture to allow good energy to flow in your space freely. Or some experts suggest adding a big mirror that reflects a lush view from outside, bringing it into your home.
One of the lucky charms highlighted in this blog is sure to help bring your apartment home the positive energy you desire!
Find Your Essex Apartment
Our apartment communities span from San Diego to San Francisco and the Pacific Northwest in some of the most sought-after locations on the West Coast. Whether you're looking for life in Los Angeles, settling down in San Jose, or relaxing in Oakland, we can help. Choose from bustling city life, quiet comfort in the suburbs, sun and sand at the beach, or outdoor adventures and a wide variety of on-site amenities and floor plans that span from studios to two-bedroom apartments to townhomes. Whatever your style and budget, we have a community that's right for you.
Explore our nearly 250 apartments, such as Pure Redmond or Piedmont, and learn more about current leasing or move-in specials and pricing.