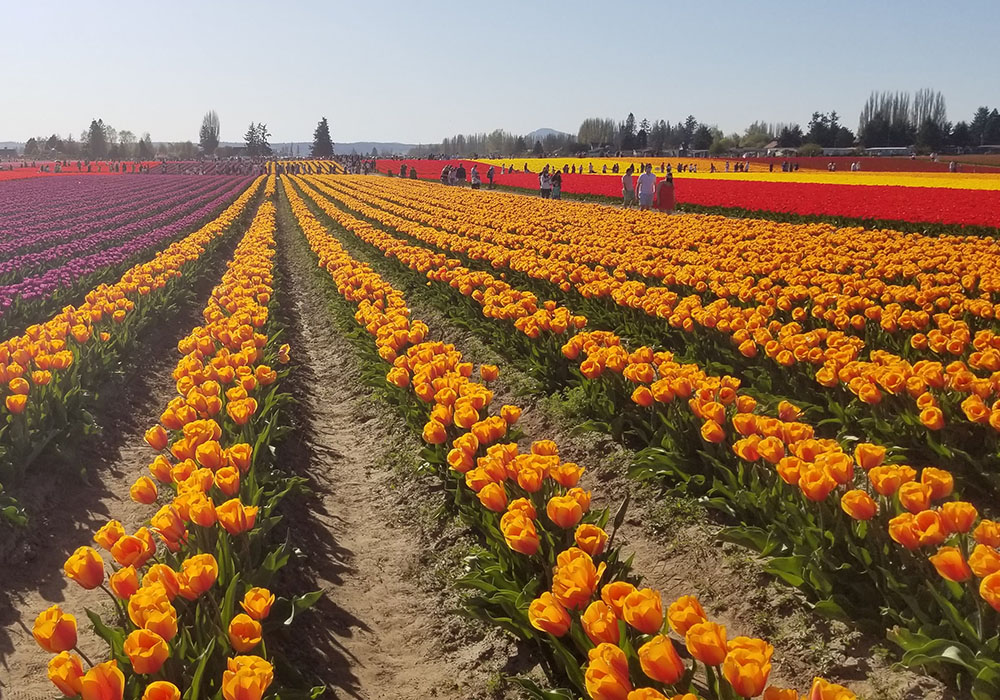 Best Day Trips from Seattle This Spring
As Seattlites say goodbye to dreary winter, spring brings better weather and more opportunities to adventure and be outside. It's the perfect shoulder season for people who want to hold onto the highlights of winter—we're talking to you snow bunnies—and locals longing for the exceptional summer months Seattle and the greater Pacific Northwest are known for. Although there's plenty to do without ever leaving Seattle (see our recommendations for a day of local exploring at the end of this list), check out a few of the best day trips from Seattle.
Skagit Valley Tulip Festival
Every spring, the agricultural area of Skagit Valley is in full bloom, and it's particularly famous for the region's endless fields of tulips. In honor of its leading flower, Skagit Valley hosts the annual Tulip Festival, where major growers Tulip Town and RoozenGaarde open their fields to the public to stroll among acres of tulips and snap the ultimate spring Instagram selfies. This year, the Tulip Festival runs from April 1 to 30.
Wine Tasting in Woodinville
In the Seattle suburb of Woodinville, just 25 minutes away, you can access some of Washington state's finest wines at tasting rooms for various local wineries. With the weather warming, winery gardens and patios are a perfect place to spend a clear day in spring. And you'll definitely want to make a day out of it, hopping among wine tasting rooms and restaurants in one of four "districts." You can explore each district by foot, and if you don't have a designated driver, you can easily split the cost of an Uber or Lyft with your fellow wine aficionados.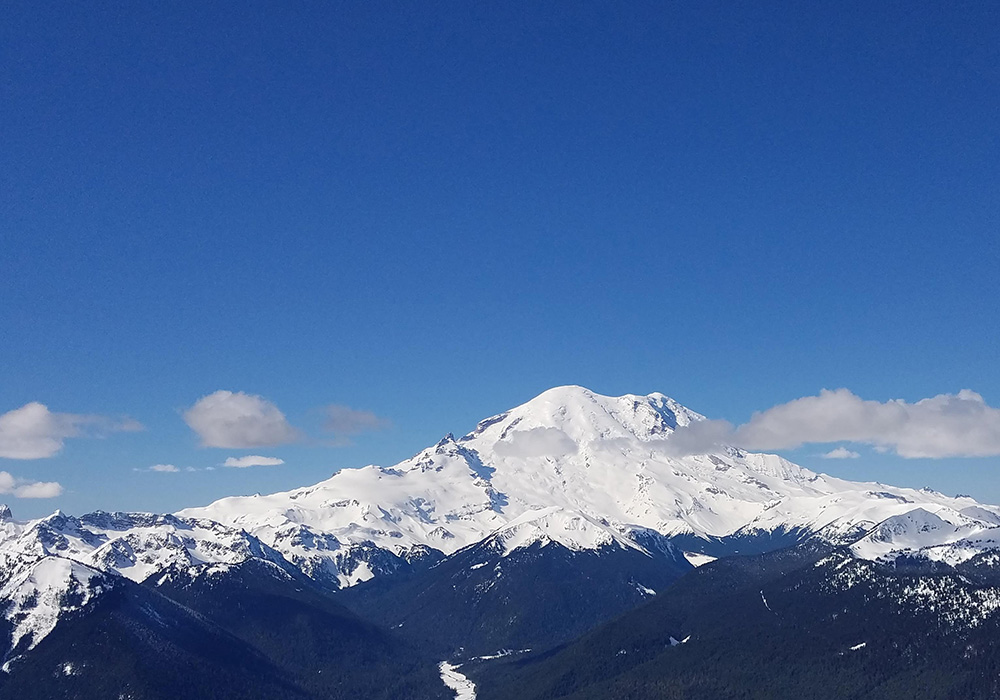 Mount Rainier National Park
Although summer months are indisputably the best season for visiting Mount Rainier National Park, shoulder seasons mean fewer crowds at viewing points and on hiking trails. Although some entrances and higher-elevation roads remain closed through early summer, you can still access the main Paradise region of the park in the south, and it's just over two hours southeast of Seattle. Lower elevation trails will be open for hiking and biking, with opportunities to see flowing waterfalls, blooming wildflowers, and newborn wildlife. Although Mt. Rainier is often behind the clouds, a clear day in the park means up-close views of its natural beauty. Spring also means National Park Week at the end of April, with free admission to all US National Parks.
Apple Blossom Festival
For more than 100 years, Wenatchee has been honoring its celebrated tree fruit with an annual festival. From the end of April into early May, Wenatchee hosts the Washington State Apple Blossom Festival, which features a parade, art fair, carnival, live music, car show, and more. And you can bet there will be plenty of apple-themed treats and dishes. According to the Washington Apple Commission, more than 10 billion apples are harvested in Washington state each year.
Bainbridge Island and Whidbey Island
Riding on one of Washington's infamous ferries across Puget Sound is a treat in itself, no matter where you're headed or what season. But making a day of it on Bainbridge Island or Whidbey Island can be a fun spring day trip. The ferry ride to Bainbridge Island conveniently departs out of Downtown Seattle and drops off near the main thoroughfare through town, where there are numerous boutiques and restaurants. You'll need a car for Whidbey Island—it's the longest island in the continental United States. Small towns dot the island, offering quaint shops and eateries, and outdoor recreation is abundant at various beach parks, golf courses, and state parks, including Deception Pass State Park in the north.
Snoqualmie Falls
Although we have suggested visiting Snoqualmie Falls, Washington state's biggest waterfall in both the fall and the winter, the spring is truly the best time of year to take in its natural beauty. As the weather warms, snowpack runoff fills the Snoqualmie River. In these months, water pours over Snoqualmie Falls at an average rate of nearly 300 cubic feet per second. The waterfall is only 35 miles east of Seattle, so to make a day trip out of it, consider stopping along the way for a day hike in the foothills of the Cascade Mountains. Between the small towns of Issaquah and Snoqualmie, there are several great hiking trail networks on Cougar, Squak, and Tiger Mountains that will be sans snow.
Spring Skiing
Another mountain day trip idea is to one of Western Washington's popular ski resorts in the Cascades for sunny spring skiing. Crystal Mountain, The Summit at Snoqualmie, and Stevens Pass all hope to have lifts turning into early May this year. Although the number of runs and lifts open at these resorts will depend on temperatures and potential spring snowstorms, nothing beats cruising down the slope in a sweatshirt and ending a clear day slope side for après ski.
Stay Local
While Western Washington offers a bounty of options for sightseeing and day trips, Seattle has tons to do within city limits. So instead of a road trip, consider staying local. In Downtown Seattle, you could spend hours in Pike Place Market's shops and restaurants and similar offerings on the nearby Puget Sound waterfront and piers. Also, close by are the Seattle Aquarium and Seattle Art Museum. A short ride from downtown on the Monorail takes you to the Seattle Center, home to the Space Needle, Chihuly Garden & Glass, Museum of Pop Culture, Pacific Science Center, and Climate Pledge Arena. A short bus ride from Downtown Seattle will get you to the quirky neighborhood of Capitol Hill, where you'll find unique boutiques, great coffee, independent restaurants, and the majority of Seattle's LGTBQ+ bars. A bus ride in the opposite direction can take you to the brewery district of Ballard. Seattle also has great outdoor spaces, parks, nature trails, and bike paths throughout the city.
Find Your Essex Apartment
Our apartment communities span from San Diego to San Francisco and the Pacific Northwest in some of the most sought-after locations on the West Coast. Whether you're looking for life in Los Angeles, settling down in San Jose, or relaxing in Oakland, we can help. Choose from bustling city life, quiet comfort in the suburbs, sun and sand at the beach, or outdoor adventures and a wide variety of on-site amenities and floor plans that span from studios to two-bedroom apartments to townhomes. Whatever your style and budget, we have a community that's right for you.
Explore our nearly 250 apartments, such as Salmon Run at Perry Creek or Domaine, and learn more about current leasing or move-in specials and pricing.