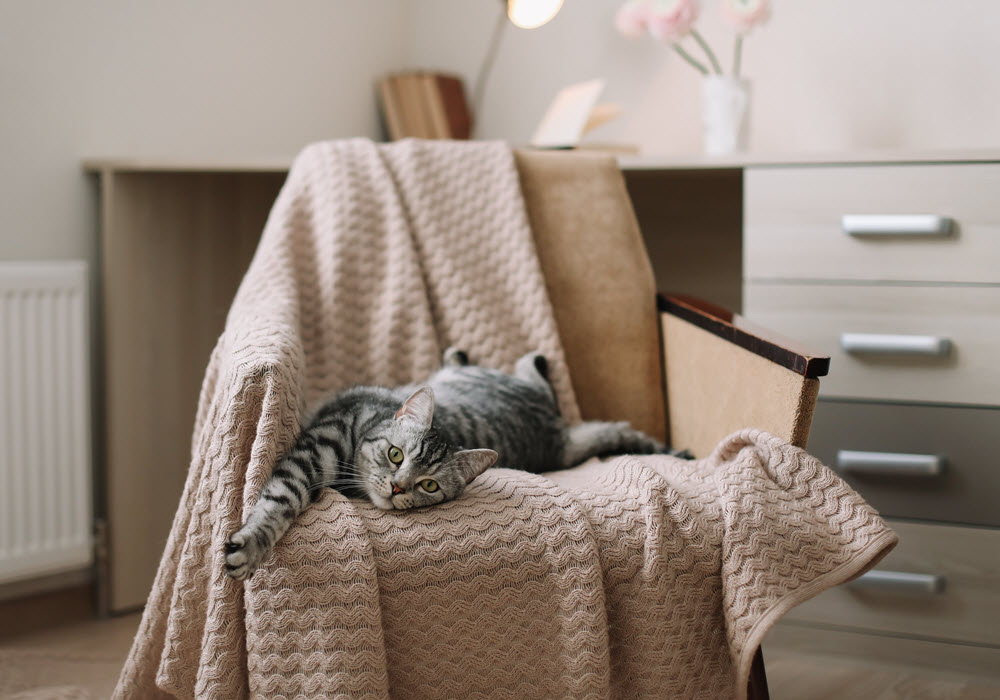 How to Successfully Raise an Apartment Kitten
For many people, apartment living is not complete without the companionship of a cat. Whether you have been gifted a kitten or you have planned for months to bring this fuzzball into your life, raising an apartment cat isn't something we all know by instinct. If you want to create the ideal home for you and your new kitty, it helps to know what you're doing. Here are a few tips on how to raise a happy apartment kitten:
Kitten Supplies
Kittens can be a real handful. They are adorable, but they also meow, claw, chew, get cold, get hungry, and make messes. And they often do all of these things in a surprisingly short amount of time. The best way to combat these situations is to be prepared. In a best-case scenario, you will have gathered all your supplies and have fully kitten-proofed your apartment before the first furry paw touches your floor. If you're planning ahead for a kitten, do your shopping before the kitten arrives. And if there's already a kitten meowing in your bathroom as you are reading this, consider asking a friend who also loves cats to help you out. Here's what you'll need:
Preparing Your Apartment for the Kitten
Kittens take time to learn how to be awesome apartment cats. You'll laugh, you'll cry, you'll nurse tiny kitten-inflicted wounds. They are energetic little furballs that will steal your heart as they become an adorable permanent part of your apartment life. To prepare for your "new normal," here is a rundown of how to set up your space to host a new feline friend.
Pick a Room
The first thing you need to do is choose a room. This will be the first room you introduce your kitten to, where it will do the majority of its early training, and where it will learn to use the litter box. Kittens eventually learn to roam the entire apartment, but it's best to start with one safe room to learn and grow in.
Pick a room that is larger than a closet, and ideally with a door that you don't have to open and close all day. That way, you can keep your kitten contained during early training. Remember, the litter box and food bowls need to be in this room and be placed reasonably far from each other.
You might consider using a large dog crate, which is room-sized for a kitten.
Prepare the Litter Box
Now decide where to put the litter box and set it up. The litter box is an essential part of the setup for any apartment cat, especially for kittens who will be learning how to use a litter box for the first time. Fortunately, this is something cats understand instinctually, so your kitten should pick up on litter box training quickly.
Make sure you choose a litter box with a normal to low-set entry so that your kitten can get in and out. Choose kitty litter that is pellet-based. The clumping kind isn't safe for a kitten until they're about the age of 3 months or older. Much of your training will begin and end at this litter box, so do make sure that it is easy for you to access.
Food and Water Bowls
Next, put down your kitten-sized food and water bowls, paying particular attention to the location that you choose to place them. Not only will your tiny kitten need to be able to reach everything, they will also navigate the apartment from where you put the food dishes. Your kitten will want to memorize the location of both their litter box and food, so put them in a place where they can stay for at least a few weeks.
Lock Away Dangerous Items
Now do a quick sweep of your entire apartment. No doubt, you'll be playing with your kitten in the living room, bedroom, and maybe the kitchen. These rooms need to be safe for your kitten to explore even if you get distracted for a moment while watching them. You don't want to leave anything out that your kitten can find that would be dangerous if eaten. Since kittens, like all babies, try to chew on or swallow almost everything, pick up screws, buttons, beads, and lock away house cleaners and other harmful chemicals.
Put Screens in All the Windows
Eventually, your kitten will reach a windowsill. Cats love to sit in windows, and you can make your kitten very happy by setting up a windowsill bed. Kittens will look out the window watching the birds or people below for hours, but only if it's safe. They will also squirm around in sunbeams, and you want to make sure your kitten doesn't fall. To avoid accidents, make sure that every window has a complete screen that doesn't give way with a push.
Consider Methods to Secure Doorways
You may also want to think about kitten-stopping methods to make sure your kitty cannot bolt from the apartment. Baby gates or blocking furniture that you're okay climbing over can be a good option for preventing a great kitten escape.
Build a Cat Tree
You'll likely be surprised just how early your kitten will start climbing and perching on things. Kittens love beds, scratching posts, and lofty overlooks to lounge on. A cat tree can be an excellent investment for your new kitten. There are many cat trees available for purchase, or you can DIY a custom creation with the help of an online guide.
Consider House Plants
Finally, consider purchasing a few leafy houseplants for your new pet. Cats are instinctual creatures and they love to explore in and around "trees." A few houseplants can help make your kitten feel right at home and create some amazingly cute photo opportunities.
---
Once your apartment is prepared, you are ready to introduce your new kitten to its new home. If your training room is well-built, the kitten will have an easy time figuring out where to find its litter box, food bowls, and bed.
Find Your Essex Apartment
Our apartment communities span from Carmel Summit in San Diego to Castle Creek in the Pacific Northwest in some of the most sought-after locations on the West Coast. Choose from bustling city life, quiet comfort in the suburbs, sun and sand at the beach or outdoor adventures and a wide variety of on-site amenities and floor plans that span from studios to townhomes. Whatever your style and budget, we have a community that's right for you.
Explore our nearly 250 apartments and learn more about current leasing or move-in specials.