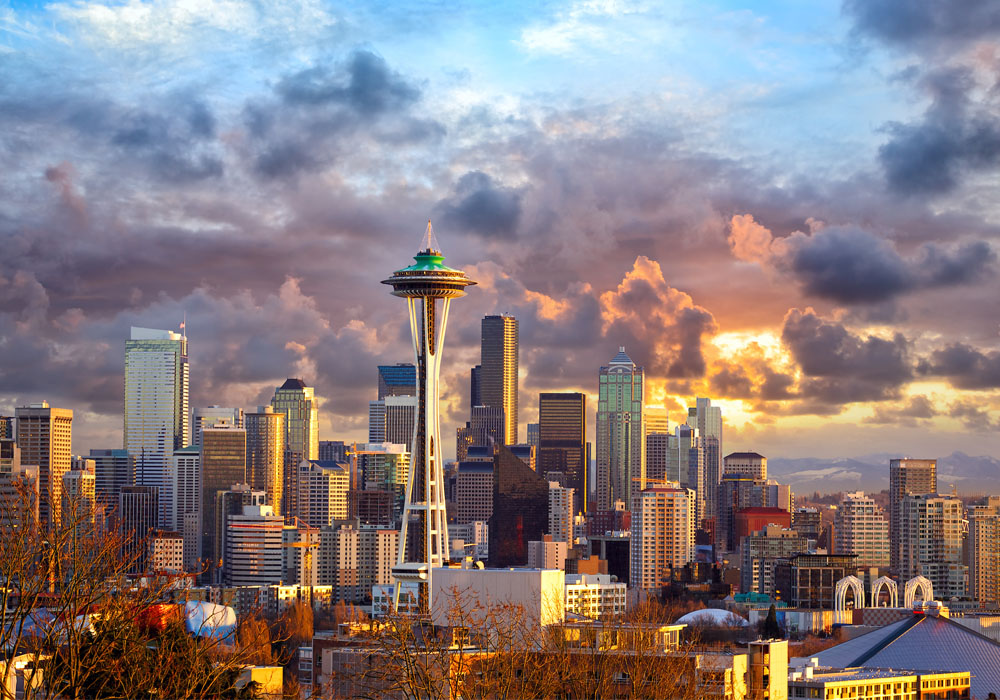 Top 10 Places to Take Your Out of Town Guests in Seattle
Describing Seattle is like trying to explain the feeling of a cool light rain or a fresh cup of coffee. Every street corner contains a bit of magic, the same magic that birthed Starbucks and lives inside classic television shows like Frasier. It seems impossible that anyone could live in Seattle and get bored. There's so much to do and so many unique places to explore inside of Washington's biggest (and America's most culture drenched) city.
Today, we're going to look at some of Seattle's most prominent eateries, indie shops, tourist icons, and local treasures. There are plenty of incredible things to do in Seattle, and the city's rich history, rebellious roots, and underground scenes have shaped Seattle into one of the most incredible places to live in the world.
These are the spots that you want to bring those out-of-town visitors to first. Whether your guests are in the mood for some unique food, Seattle-style art, or some good old baseball, this list should have your guests craving for more after each stop.
The Space Needle
Seattle's most famous icon — and a postcard requirement — was birthed out of the 1962 World's Fair. Edward F. Carlson (president of Western International Hotels) caught up in the previously mentioned magic of the city, decided to build a tower-restaurant for the fair and constructed the design with no previous design experience. Of course, it was run through his hotel architecture team (we hope!), and the result was, without a doubt, the most prominent Seattle landmark.
The Space Needle has undergone many redesigns and changes since the 60s, each of which added a new element of design and experience to the tower. Today, you can take a ride up to the top and stand on the Loupe — which is the world's first revolving glass floor. Not only can you look at the gorgeous city landscape with a mountain backdrop and see the speckled islands of Elliot Bay, but you can also eat some fantastic food and get the sensation of floating above the light-covered city.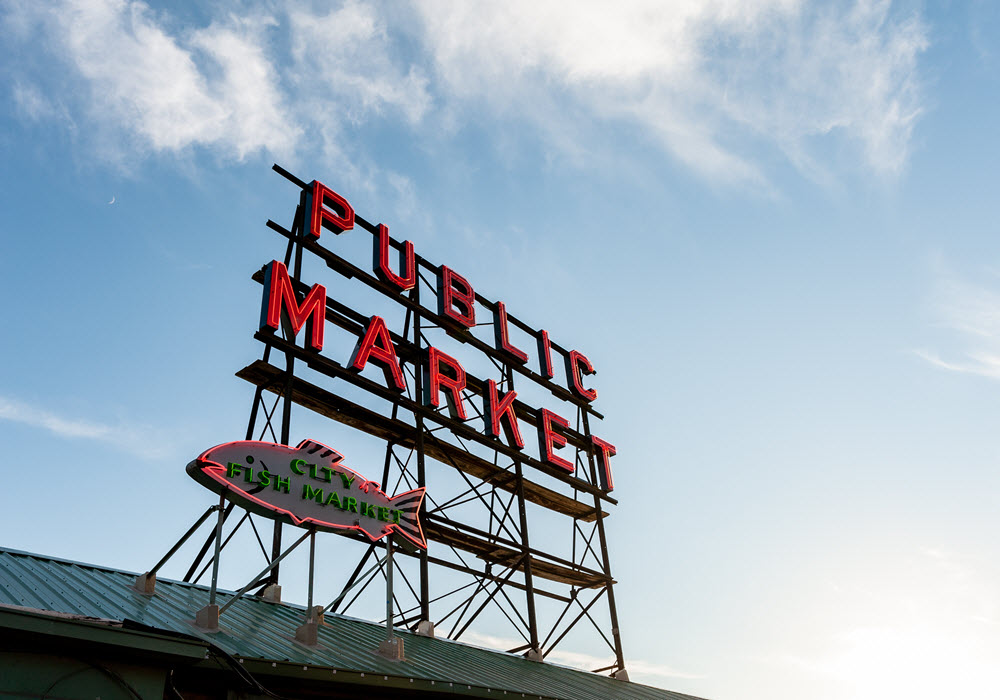 Pike Place Market
Since 1907, Pike Place Market has stood as a pillar of the Seattle community and as one of the world's oldest and longest lasting farmers markets. While Seattle images are usually littered with gorgeous sunset shots of the Space Needle, Pike Place Market is actually Seattle's largest tourist attraction — and the 33rd largest in the world.
Diving deep into the shadowed alleys and sunlit centers of Pike Place Market, there's an overwhelming sense of community and the smell of fresh produce, meats, and subtle hints of flowers and freshly shaved wood. It's a treasure trove of goods. Whether you're looking for fresh local fruit or you want to shuffle into the first-ever Starbucks location, there's something for everyone in Pike Place Market. It's the real-life equivalent of Diagon Alley, with goods and wares created by the kindred spirits of this fantastic town.
Pioneer Square
Seattle's first neighborhood — Pioneer Square — has roots that go back to the founding of Seattle in 1852. The neighborhood still stands as the original downtown Seattle, and there's a unique mix of early 1900s brick architecture and little remembrances of the wood structures erected in the mid-1800s. Beyond the architecture, the Pioneer Square is one of Seattle's most prominent art hotspots, where you can join the monthly Pioneer Square's Art Walk. Or, for those with a thirst for history, there's Bill Speidel's Underground Tour— which opts to go through the buried history of Seattle as it traverses the sunken architecture and dark winding alleys beneath Pioneer Square's original neighborhood.
Pioneer Square also houses the Klondike Gold Rush National Historical Park, which gives the detailed history of Seattle's involvement in the Canadian Klondike Gold Rush. A treasurable experience with tons of interesting facts and perfectly preserved historical artifacts.
Museum of Pop Culture
Of course, not everyone wants to pour through Seattle's history-littered back alleys. For those with a lust for fiction and pop culture, the Museum of Pop Culture (or moPOP) houses the most extensive collection of Jimmy Hendrix and Nirvana memorabilia — not to mention the massive Science Fiction Museum.
This giant glimmering metallic building was funded by the co-founder of Google, Paul Allen, and it houses interesting pop culture memorabilia and history from around the world.
Future of Flight Aviation Center and Boeing Tour
For those with a knack for the mechanical, the Future of Flight Aviation Center and Boeing Tour is a fantastic way to get immersed in the complexity and awe-inspiring innovativeness of Boeing's incredible aircrafts. Located just 30 minutes north of Seattle in Mukilteo, WA, the Boeing tour will give you an inside look at the power and agility of these mechanical beasts.
The tour takes place in the factory itself, so you'll see workers hard-at-work assembling and creating massive structures that will eventually glide through the sky.
Seattle's Barista Academy
Who would have guessed that the city famous for its bitter brews would house one of the world's leading barista academies? Seattle's Barista Academy is for both serious barista dreamers and at-home coffee advocates. They offer 2 - 5 day courses where you can learn the inner-working of being a barista, or, for those in other lines of work, they offer 3 - 4 hour courses that teach the fundamentals of coffee.
From French press to espresso art, Seattle's Barista Academy is a fun way to spend the day, and you'll leave with a lifelong skill to impress your friends — and help you wake up on the right side of the bed.
There's a reason they call Seattle "Coffee City."
A Day at the Old Arcades
In the heart of Seattle lies an underground culture that's been moving throughout the city for the past 20 years. Bright lights, engaging sounds, and old-school feels makeup the nighttime scene for some of Seattle's most iconic arcade locations. But, unlike the new-school arcades glittered with dance machines and faux car racing games, these arcades kick it old school.
Multiball! The Seattle Pinball Museum houses 30 vintage pinball machines that are completely free to play aside from a small admissions fee. You could spend all day in this throwback arcade, and you'll definitely be enchanted by the sounds and lights of the old pinball machines.
For those that prefer their pinball with a nighttime atmosphere will love Shorty's, which is a bar and grill with a range of vintage pinball machines — including Batman and Indiana Jones. This place has beer-on-tap and hotdogs on buns, both of which seem to blend seamlessly with the wacky sounds of pinballs smashing against bumpers and flippers as each machine screams quasi-familiar pop-culture lines.
Of course, it's not all about the pinball machines. Add-a-Ball is home to some of the most iconic arcade games of all time. This strange dark, barely marked building is covered in public-made wall art (graffiti, stencils, etc.) and is a local hotspot. Be warned; there's usually a line out-of-the-door. But, once you set foot into the damp arcade dungeon, you won't be coming out until your eyes burn and your quarters disappear.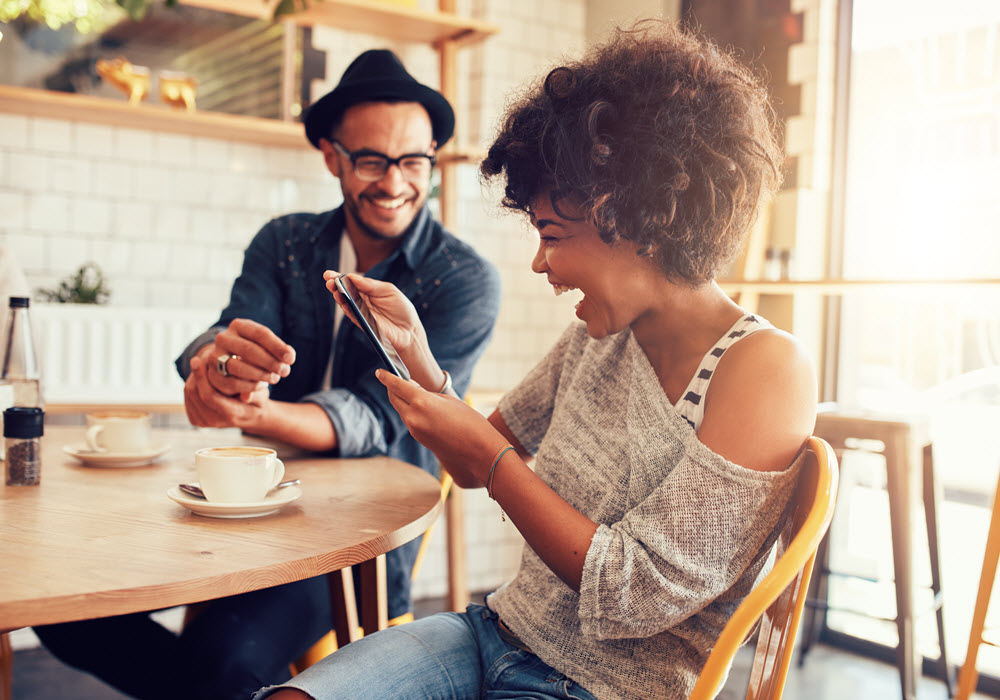 Catch a Mariners Game
Sure, the Mariners have never won a World Series. In fact, they've never even attended one. Going to a Mariners game isn't about who wins or loses, it's about soaking up the sun and shoving mustard smothered hotdogs in your mouth.
Safeco Field offers the usuals: burgers, fries, hot dogs, and dipping dots, but there are also some hidden gems hiding throughout the stadium. In Seattle tradition, a massive mashup of cultures brings sushi, tacos, and savory-sweet pork dumplings to the ballgame as well. Spending time with family and friends, while being surrounded by food, the sun (or rain), and some a great atmosphere makes every Mariners game the-place-to-be.
The Sounders
To say that the Sounders have found a passionate home in Seattle is an understatement. Before each home game in CenturyLink Field, tens of thousands of fans march in unison throughout the streets and pour into the stadium in what's called "March to the Match."
Between the announcers screaming "Gooooal" and the fans screaming with joy, you can stop by the concessions and grab chicken and waffles, or, if you're feeling particularly British, Premier Meat Pies is serving up piping hot meat-filled pies with a pint.
Chihuly Garden and Glass
Sitting at the base of the Space Needle — nestled in the heart of Seattle — the Chihuly Garden and Glass museum has been stealing hearts with its mind-boggling meld of art and nature. This is Seattle's diamond. Inside of this glass epicenter sits flowers, trees, and glass art, all of which are nestled together seamlessly. The whole experience is breathtaking — like visiting an underwater coral reef of colors and flowers.
The project is the brainchild of Dale Chihuly, who dedicated his life to glasswork. His incredibly complex glass structures that rain beams of brilliant colors remain breathtaking even on your 50th visit.
While it may not share the Space Needle's popularity, it certainly shares its beauty and Seattle soul.
The Adventure Never Ends
Seattle is one of the world's most beautiful, complex, and wonderful cities. Layered between eye-catching art, incredible heights, fantastic food, sporting events, dark alleys, and historical mementos, lies some of the most cheerful, culturally diverse, and kind people in the world. There's nothing quite like it.
If you're looking to move out of your old house or apartment and into the perfect Seattle apartment that you've always dreamed of, contact us. Or, if your guests decide to transplant after seeing all of these cool Seattle spots, tell them to come on over and see us. Our Essex Apartment Communities are located around Seattle, and our beautiful state-of-the-art complexes offer the price and amenities that you need in the locations that you want.