Easy Holiday Cookies to Bake in Your Apartment Home
December 15, 2020
The holiday season is here, and there's nothing better than the smell of fresh-baked cookies in the oven while your favorite seasonal tunes play in the background. With options like gingerbread, biscotti, almond snowballs, and so many more, it can be tough to decide what to mix up first!
If it were up to us, simple is always the way to go! That's why we've teamed up with San Francisco-based Pastry Chef Emily Laurae to bring you three easy holiday cookie recipes. Whether you're sharing with friends and family or keeping these decadent masterpieces all to yourself, it's time to head to the kitchen and get baking!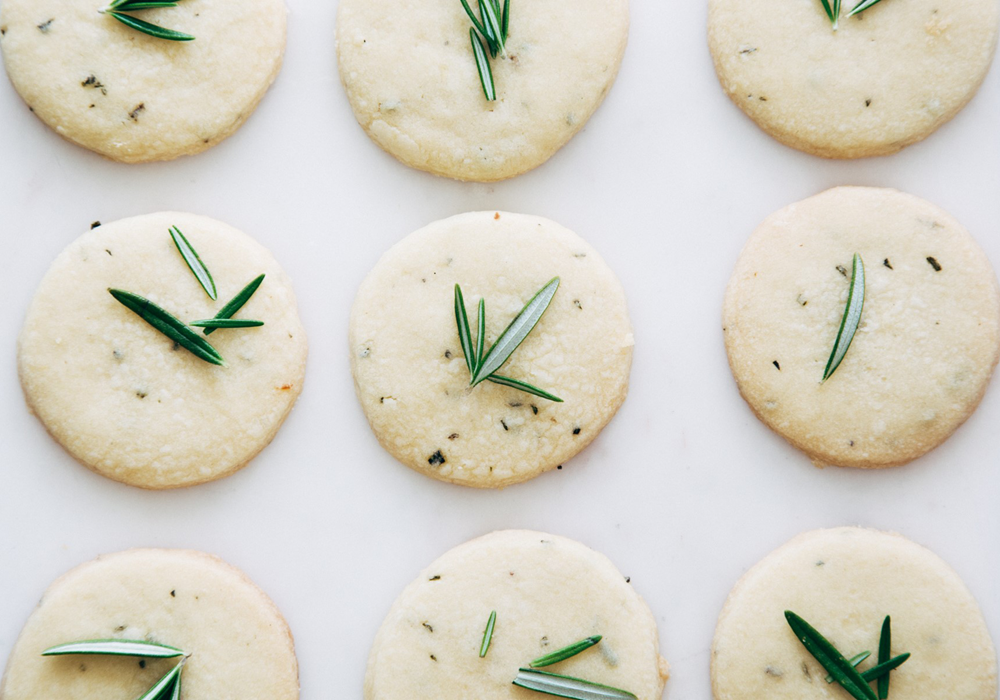 Rosemary Shortbread
Emily's Note: These tender and buttery rosemary shortbread cookies are incredibly easy to make and packed with flavor. Mix, cut, bake and voila – you can start munching on your herbed shortbread within the hour!
Ingredients
1 cup + 2 ½ Tbsp confectioners' sugar
1 cup + 2 Tbsp unsalted butter at room temperature
1 large egg yolk
½ tsp salt
1 Tbsp fresh rosemary, finely chopped
2 2/3 cups all-purpose flour
Method
Combine sugar, butter, egg yolk and salt in a food processor and pulse until smooth.
In a separate bowl, combine rosemary and flour.
Pour flour mixture into the food processor and pulse just until the dough comes together.
Separate the dough into two portions and shape into a disk. Wrap each disk in plastic wrap and place in the freezer for about 20 minutes.
Remove disks from the freezer once they've slightly firmed. Taking two pieces of parchment paper, place one piece of parchment below the dough and one on top. Roll out your dough to 1/4 inch and cut into circles using a cookie cutter.
Freeze shortbread for at least 20 minutes. Meanwhile, preheat the oven to 330°F.
Bake the cookies for 8-11 minutes, making sure that you take them out of the oven before you see too much browning occur.
Place your cookies on a cooling rack to completely cool before enjoying.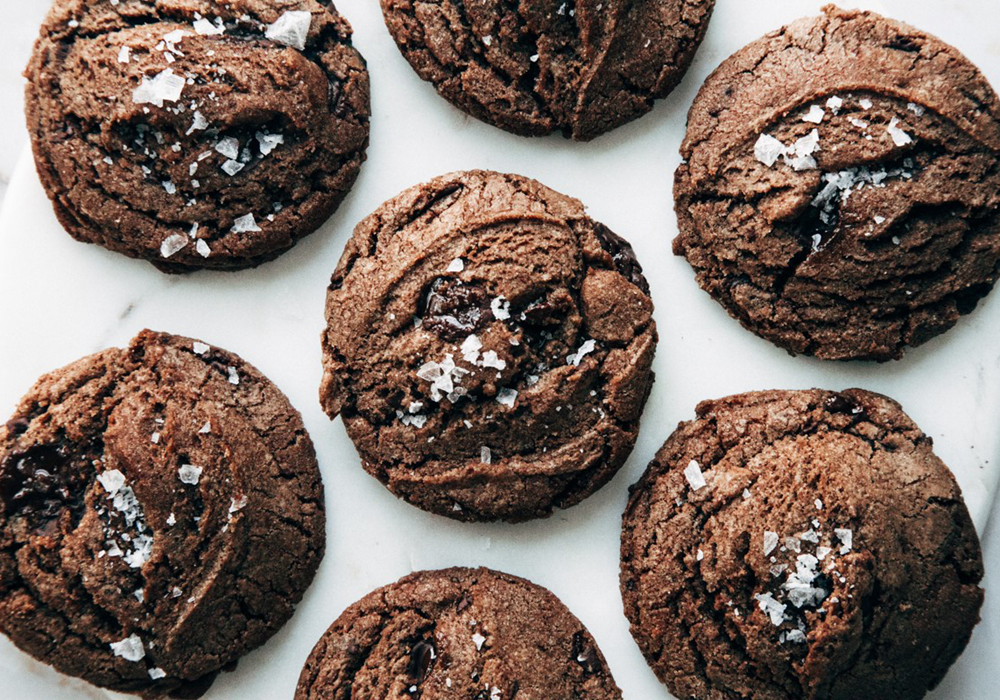 Double Dark Chocolate Chip Cookies
Emily's Note: If you don't end up baking all your cookies at once, place your scooped extras in a Ziplock bag and throw into the freezer. Bake them fresh, as desired!
Ingredients
¼ cup unsalted brown butter, solidified at room temperature (recipe below)
1 cup all-purpose flour
2/3 cup bread flour
¼ tsp baking soda
¾ tsp baking powder
½ tsp sea salt
2 Tbsp black cocoa powder (or regular cocoa powder)
¾ cup + 1 Tbsp granulated sugar
½ cup brown sugar, packed
1 large egg at room temperature
¾ cup dark chocolate, roughly chopped
Flaky sea salt (to finish)
Method
For the Brown Butter
Start by melting ¼ cup unsalted butter over medium heat. Use a pan with a light-colored bottom so you can keep track of the color while the butter starts to brown.
Swirl the pan occasionally to make sure that the butter is cooking evenly.
As the butter melts, it will begin to foam and sputter, and the coloring will get darker.
Once the butter has developed a deep golden-brown color, pour into a heatproof glass container and set in the fridge to solidify.
For the Cookies
Whisk together your dry ingredients: all-purpose flour, bread flour, baking soda, baking powder, sea salt and coco powder.
Place the brown butter, granulated sugar and brown sugar in a mixing bowl and using the paddle attachment, cream until you reach a fluffy, rather pale color. This should take about 3-5 minutes.
Scrape down the bowl, and then add the egg.
Slowly add the dry ingredients to your wet ingredients in three separate stages, mixing until your ingredients have just fully combined. Then, add dark chocolate mixing for a few moments more to incorporate and for the dough to fully come together in the bowl.
Using a cookie scoop or a tablespoon, roll your chilled dough into small balls. Place the scooped cookie dough in an airtight container and let them rest in the fridge at least an hour until firm and chilled.
When ready to bake, preheat the oven to 350°F and prepare your baking tray with parchment paper.
Place your preferred number of cookies onto baking sheet, add a sprinkle of flaky sea salt and bake for about 9-11 minutes.
Remove from the oven and let cookies sit undisturbed for 3-5 minutes. Then, transfer to a wire cooling rack and allow to cool completely.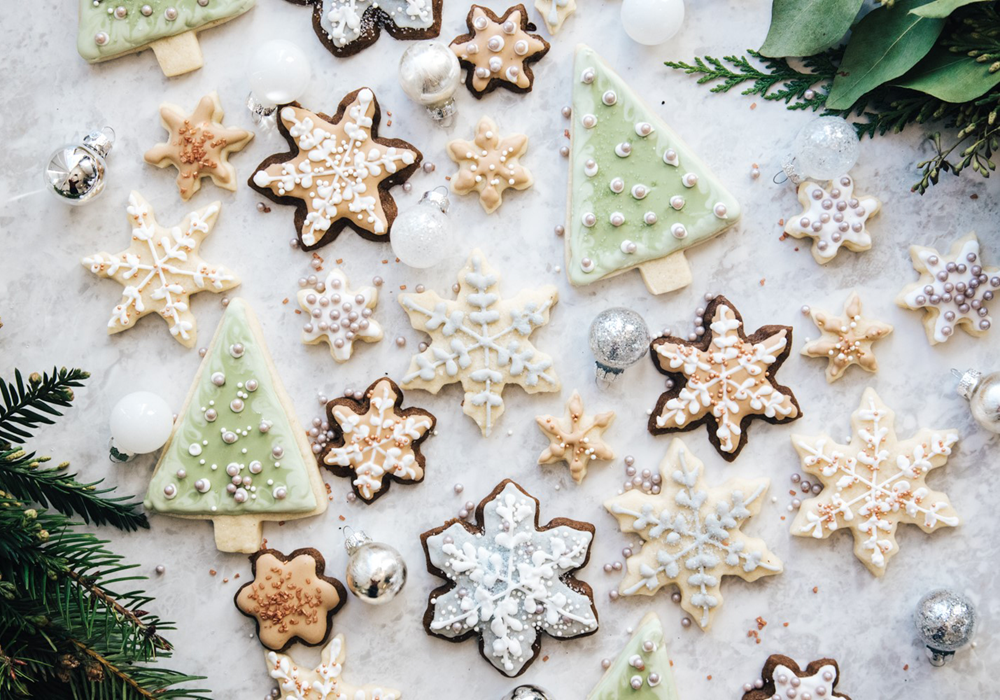 Holiday Sugar Cookies
Emily's Note: The ultimate treat for the holidays – these holiday sugar cookies are so much fun to decorate with family and friends … not to mention enjoy once your masterpieces are finished!
Ingredients
2 cups all-purpose flour, sifted
2 cups pastry flour, sifted
1/3 cup corn starch
¾ tsp salt
1 cup unsalted butter
1 cup sugar
2 eggs
1 tsp vanilla extract
For the Royal Icing
3 ounces pasteurized egg whites
1 tsp vanilla extract
4 cups confectioners' sugar
Additional hot water, as needed
Method
For the Sugar Cookies
Sift all-purpose flour, pastry flour, corn starch and salt into a large bowl and set aside.
Cream the butter and sugar together for 3-5 minutes.
Add the eggs while mixing, making sure to scrape down sides of the bowl. Add vanilla extract.
Add the dry ingredients to the wet ingredients in two parts, mixing until combined.
Wrap the dough in plastic wrap and allow to cool in the fridge for 20-40 minutes.
Once cooled, roll out your dough onto floured surface and cut out your cookie shapes using the cookie cutters of your choosing.
Place cut cookies in the freezer while preheating your oven to 350°F.
Bake cookies on a baking sheet lined with parchment paper for 10 minutes. You don't want to brown these cookies at all. Once you see even a hint of browning, it's time to take them out of the oven!
Allow to cool for 3 minutes on the cookie sheet, then place cookies on a wire cooling rack to cool completely before frosting.
For the Royal Icing
In large bowl or stand mixer, combine the egg whites and vanilla and beat until frothy.
Add confectioners' sugar gradually and mix on low speed until sugar is incorporated and mixture is shiny.
Turn speed up to high and beat until mixture forms stiff, glossy peaks. This should take approximately 5 - 7 minutes. Add food coloring, if desired.
For immediate use, transfer icing to a pastry bag or heavy-duty storage bag and decorate as desired.
Store in airtight container in refrigerator for up to 3 days.
About Chef Emily Laurae
Emily Laurae grew up in Portland, Oregon where she was constantly inspired by the city's local food culture, sustainability practices, and fantastic doughnut selection. Throughout her life, she has dedicated her time to baking, teaching, dreaming, and traveling. After completing Pastry School in Seattle, she started her own business and moved to San Francisco where she is currently working as a Pastry Chef. Interested in browsing more of her decadent recipes? Visit her website and follow her on Instagram so you can immerse yourself in her world that includes plenty of butter, flour and sugar!
If you have interest in placing a special event order, collaborating or connecting to schedule a personalized class or workshop, you can email Emily at emily@emilylaurae.com.
Find Your Essex Apartment
Our apartment communities span from Montanosa in San Diego to Elevation Apartments in the Pacific Northwest in some of the most sought-after locations on the West Coast. Choose from bustling city life, quiet comfort in the suburbs, sun and sand at the beach or outdoor adventures and a wide variety of on-site amenities and floor plans that span from studios to townhomes. Whatever your style and budget, we have a community that's right for you.
Explore our nearly 250 apartments, such as Township in Redwood City or Bennett Lofts in San Francisco, and learn more about current leasing or move-in specials.