Charging Electric Vehicles at Apartment Communities
Apartment amenities have always been a key factor in deciding where to rent. Now with Baby Boomers selling their homes to move to luxury apartments and most Gen X and Millennial renters admitting they don't plan on buying any time soon, the standards for apartment living are changing again.
Once having played a determining role in selecting a new apartment, features like on-site dog parks and spas, state-of-the-art gyms, pools, grills, playgrounds, and laundry now weigh in alongside what technology a new community has to offer. While millennials say they want electronic payment apps and food delivery, boomers want high-tech security, smart locks, and smart thermostats. Both groups agree on the desire for a home charging station for electric vehicles.
The Benefits of Electric Vehicles
The demand for electric vehicles has increased significantly as a recent Pew Research Center survey showed 39% of US adults said they are considering buying an electric vehicle. Why the increase across generations? The opportunity to save money and while protecting the environment! The Zero Emission Transportation Association, whose goal is to have all-electric vehicles on the road by 2030, points out EV owners save up to $1,100 each year on fuel and maintenance costs, with 67% less lifetime greenhouse gas emissions.
California, which has the highest share of EVs due to state requirements for carmakers, consumer rebates, and other incentives, also leads the nation in building out networks of charging stations. Almost a third in the entire country's stations are in the state, according to Energy Department data. Additionally, according to DriveClean, the average price in California is about 18 cents to 30 cents per kilowatt-hour (kWh), depending on charge level or DC fast charging options. At these rates, charging an electric car with a 150-mile range would cost between $7 and $14 to fully charge, while higher gas prices of over $4 a gallon would mean spending nearly double to fuel a 25-mpg gas vehicle. There are clear benefits when opting to go electric, though apartment renters aren't always sure where it is available.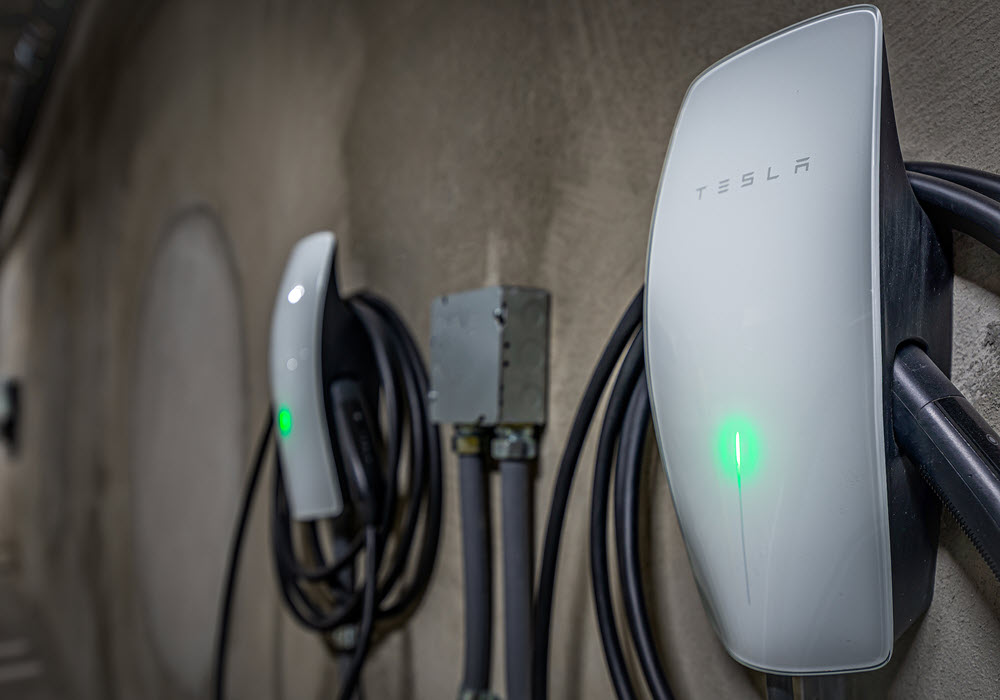 Options to Stay Fully Charged
Some lucky employees have access to on-site fast-charging stations if they go to an office. However, many still have to use public charging stations or services like PlugShare and Chargepoint to find an electric car outlet because they own an EV without home charging. Some are free, provided by automakers, or pay-as-you-go or subscription-based, with prices set by networks or property owners.
Essex is committed to providing technology and advancements to help residents live a sustainable lifestyle while reducing environmental impact. To provide a sustainable alternative for those who need to use their cars, nearly 70 apartment communities now include on-site EV charging stations with dedicated parking spaces for residents interested in eco-friendly living. Additionally, in 2020, Essex installed 200 new EV charging stations.
For apartment renters in Northern California, Essex has several communities offering EV charging, including two in the Walnut Creek area. Brio and Agora at South Main both give residents a host of desirable amenities and several EV charging stations to charge-up while at home. EV owners can consult the list of Northern California Electric Vehicles Chargers Map from the Clean Fuel Connection for longer drives and vacations.
In Southern California, Orange County's tallest twin residential towers Essex Skyline at MacArthur Place, rises 25 stories above the South Coast Metro skyline and overlooks a 2.5-acre lake, offering unmatched panoramic views, some of the largest floor plans in the market, and EV charging. Essex's newest development, Wallace on Sunset in Hollywood, has partnered with Tesla to provide EV charging as an option for residents of the brand-new community. With 25,000+ Tesla Supercharges, Tesla owns and operates the most prominent, fast-charging network globally, allowing EV owners to add up to 200 miles in as little as 15 minutes!
Washington state has the second-highest concentration of EV owners to California, ranking second in EV sales and leases in the nation last year. Throughout the Greater Seattle Metro area, Essex offers residents apartment living with the added benefit of EV charging stations at communities such as BellCentre and The Highlands at Wynhaven. Drivers in the area have access to DC fast-charging stations strategically placed every 40 to 60 miles along Interstate 5, US 2, and parts of I-90. These fast-charge stations provide a seamless charging backbone for road trips or long drives and connect EV owners to similar fast-charging networks in British Columbia and Oregon.
With the increasing popularity of electric vehicles, EV charging stations are an irresistible perk for renters who appreciate upgraded amenities. For more on the benefits of electric vehicles, visit the Alternative Fuels Data Center's page on electricity at the US Department of Energy.
Find Your Essex Apartment
Our apartment communities span from San Diego to San Francisco and the Pacific Northwest in some of the most sought-after locations on the West Coast. Whether you're looking for life in Los Angeles, settling down in San Jose, or relaxing in Oakland, we can help. Choose from bustling city life, quiet comfort in the suburbs, sun and sand at the beach, or outdoor adventures and a wide variety of on-site amenities and floor plans that span from studios to two-bedroom apartments to townhomes. Whatever your style and budget, we have a community that's right for you.
Explore our nearly 250 apartments, such as Magnolia Square in Sunnyvale or The Galloway in Pleasanton, and learn more about current leasing or move-in specials and pricing.