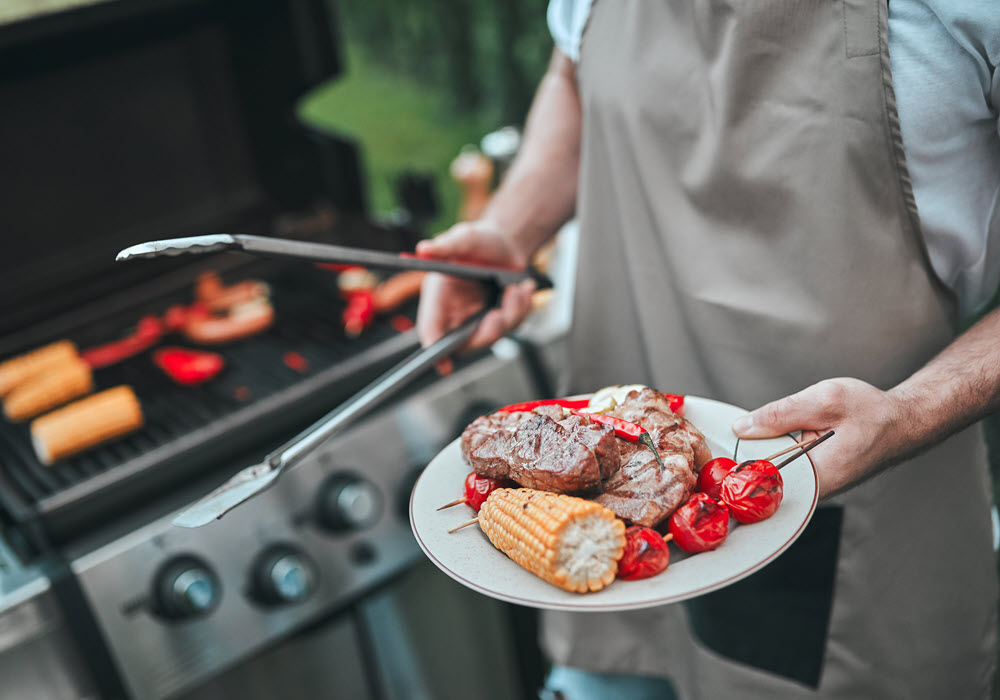 A Guide to Grilling and Picnic Season
The summer season is almost here, which means it's the perfect time to start planning your outdoor gatherings. With longer days and warmer nights, there's no better way to savor the season than by planning a barbeque or picnic with friends or family.
Living in an apartment community doesn't have to limit your ability to grill. Many Essex properties feature expansive outdoor areas for dining and entertaining, most with built-in barbeques to fire up your meal. Plus, you don't have to be a grill expert to get started! With a few BBQ tools, a basic grilling IQ, and an idea of how you want to set up your outdoor dining experience, you'll be ready to throw a perfect picnic in no time.
Grilling Equipment
Before you fire up your grill, you'll want to have your own set of grilling tools to use (especially if you are sharing a communal grill!) These items are easy to find online or in the outdoor department at your local hardware or home improvement store.
Reliable tongs - An absolute must for the grill. Look for long tongs, so you can maintain a safe distance between your hands and the grill grates.
Grill brush - No one wants food remnants left on the grill! A brush helps clean your grill grates before and after you get your BBQ going.
Meat thermometer - This gadget is a must-have to help you know when your food is properly cooked.
Spatula - Easily flip your meat, fish, and even vegetables. Look for a steel spatula so it can tolerate the high temperatures of your BBQ.
Skewers - If you want to make your own kebabs, skewers are an easy-to-find tool to cook your meat and vegetable evenly. Both metal and wooden skewers work great on the grill, but be sure to soak wooden skewers in water so they don't burn.
Grill mitts - Protecting your hands is critical while grilling. Grill mitts are heavy-duty and give your hands total coverage.
Grill basket - If you're a vegetable lover, a grill basket is your go-to. It keeps all your delicious veggies together in one place and allows them to cook evenly without falling through the grill grates.
These tools are essential, whether you use a gas or charcoal grill. Essex community Avondale at Warner Center in Woodland Hills, CA has an expansive BBQ area, equipped with large gas grills which eliminates the need to buy and light charcoal.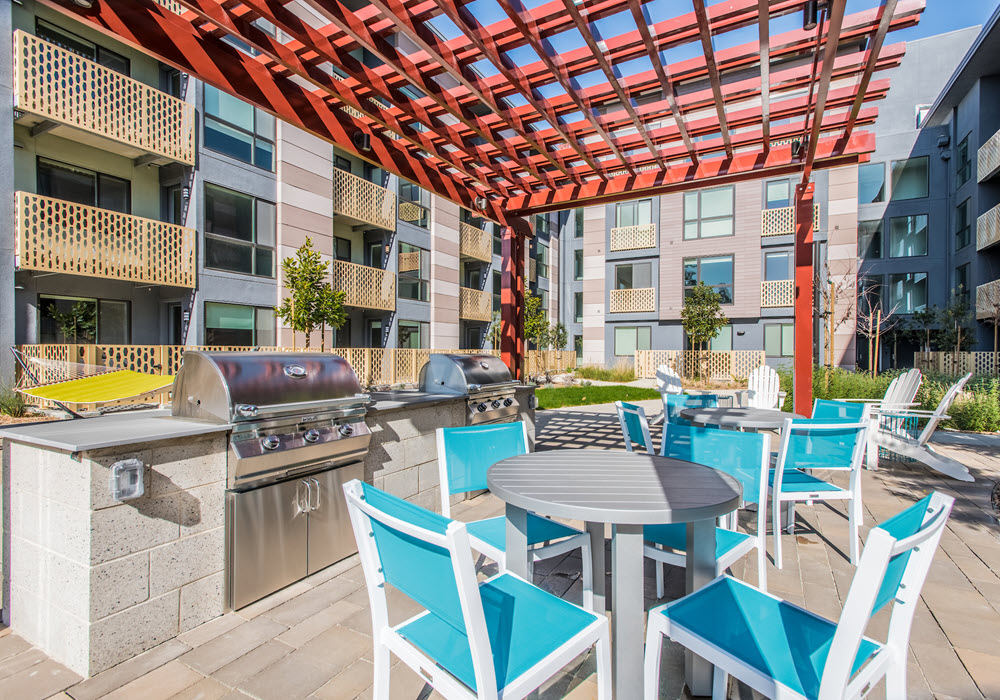 Basic Grilling Rules
Once you have all of your tools and equipment, it's time to get grilling! Here are seven tips and tricks to slowly become a BBQ master.
Remember, it takes time to get your grill ready. Plan to get your grill going about 30 minutes before you're ready to cook so it leaves time to use a grill brush to clean the grates and allows the grill to heat up to the right temperature.
Keep flammable objects or liquids away from the grill. This is especially important when you light a propane gas grill.
Make sure you have separate plates or baking sheets. This is the only way to keep your raw and cooked food safely distanced from each other. You'll want to have clean plates on hand when you're ready to remove your food from the grill.
Do not pour any marinades on the grill. Sugars in these sauces burn fast on the grill's open flame.
Cook more delicate foods at medium-to-low temperatures. Fish and vegetables can dry out over a hot flame.
Cook thin-cut meats at high temperatures. Burgers, hot dogs, you name it - these meats have enough fat to handle high temperatures. Plus, high heat ensures a good sear.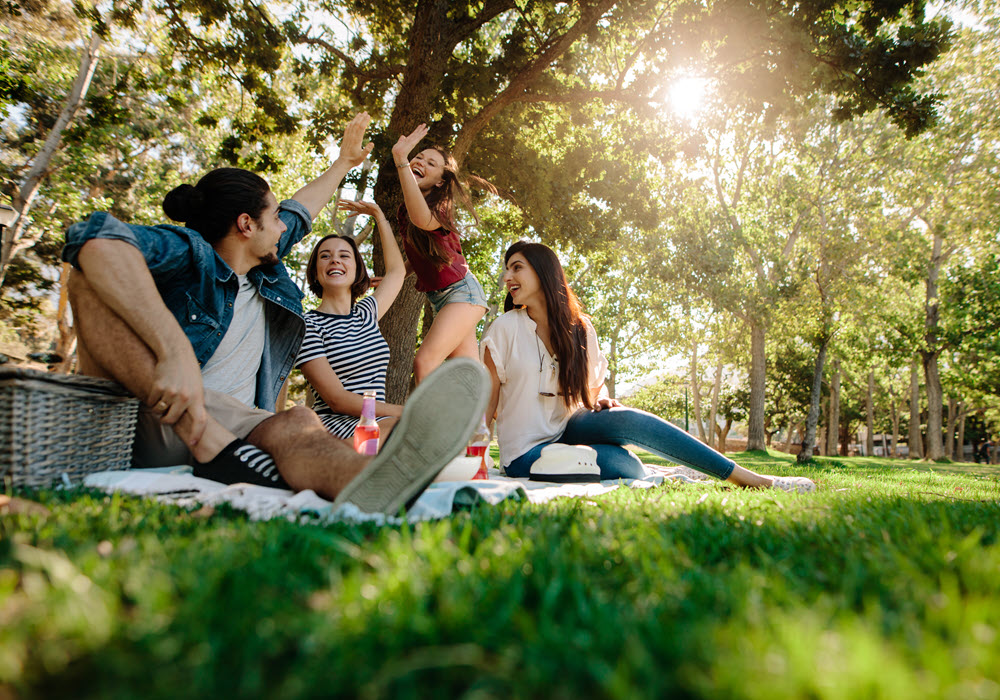 How to Plan the Perfect Picnic
It's easy to turn a BBQ meal into an awesome picnic, and there's nothing quite like a dining outdoors in the summer. Great bites, good friends, and sunshine are a recipe for a perfect afternoon. When it comes to hosting your gathering, you'll want to make sure there's ample room for your family or guests. Essex apartment communities Crow Canyon and The Woods both have spacious grassy areas perfect for residents who want to host a larger group picnic.
Once you've decided on your location, you'll need to plan for how to get your meal to and from. If you don't have a picnic basket, there are plenty of options online! West Elm keeps it classic, with a Wizard of Oz-like picnic basket. Or, you can opt for a modern, insulated basket-like UPOXN. If you're looking for something more specific to your picnic needs and budget, Better Homes and Gardens offers a perfect round-up of baskets for inspiration.
Curious about a custom picnic setup? There are great picnic companies conveniently located near many Essex apartment communities. From Pop Up Picnic in San Diego to Pretty Little Picnic in Orange County, there are experts who can plan the picnic of your dreams!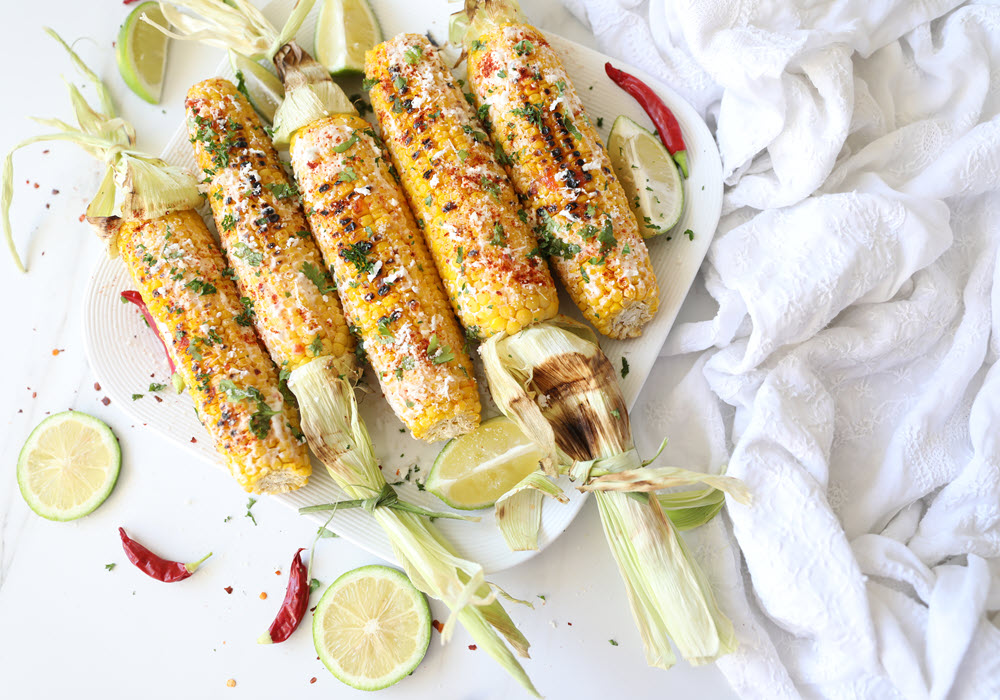 Easy Grill Recipes
Try one of these recipes from popular cooking websites when you're ready to start grilling. Each recipe makes four servings.
Mexican Street Corn
Previously posted on The Modern Proper
Ingredients:
4 ears of corn
Cotija cheese
Chipotle mayo
Chili powder
Fresh lime
Methods:
Peel off the outer husks removing as many strings of corn silk as you can without fussing too much over every last one. Leave the end piece if you can, so that you'll have something to hold onto while you eat the corn.
If you're grilling over gas, heat it to medium-high, and if you're working with charcoal, just get those coals good and hot.
Lay the corn cobs naked on the grill and let that fire do the rest. Turn the cobs often, so that all sides of the corn cob get nice color. You want a good char on the kernels, but pull it off before it is burnt—this is usually about ten minutes.
Let the corn cool just a bit. Your corn should be warm, but not searingly hot, from the grill.
Spread chipotle mayo all over the corn. You can use the back of a spoon to do this, or a pastry brush is really handy (and fun) for this, too.
Sprinkle with crumbles of salty cotija, cilantro and shakes of chipotle powder. Finish it off with a squeeze of lime juice.
Mediterranean Grilled Chicken Salad
Previously posted on Delish
Ingredients:
For the salad:
2 boneless skinless chicken breasts
1 tsp ground coriander
1 tsp dried oregano
Salt
Freshly ground black pepper
4 romaine hearts, chopped
3 sliced Persian cucumbers
1 cup of grape or cherry tomatoes
2 avocados
4 oz. of crumbled feta
½ cup of pitted Kalamata olives
For the dressing:
5 Tbsp of extra virgin olive oil
4 Tbsp of red wine vinegar
1 Tbsp of chopped parsley
Methods:
Heat grill to medium-high. Season chicken with coriander, oregano, salt, and pepper. Grill, covered, turning halfway through, until golden and no longer pink, 18 to 22 minutes. Let rest 5 minutes, then slice.
Meanwhile, make dressing. Whisk olive oil, red wine vinegar, and parsley in a small bowl and season with salt and pepper.
Divide lettuce, cucumbers, tomatoes, avocado, feta, and olives among four serving bowls. Top with sliced chicken, then drizzle with dressing.
Grilled Pineapple Sundaes
Previously posted on Delish
Ingredients:
4 pineapple slices
Vanilla ice cream
Shredded coconut, for topping
Dulce de Leche (or chocolate sauce) to drizzle
Methods:
Heat grill to high. Grill pineapple until charred, 1 minute per side.
Top each pineapple slice with vanilla ice cream and drizzle with dulce de leche or caramel. Top with shredded coconut and serve immediately.
Fire up the grill and put on your apron. You're ready to host barbeque picnics all summer long!
Find your Essex Apartment
Our apartment communities span from San Diego to the Pacific Northwest in some of the most sought-after locations on the West Coast. Whether you're looking for life in Los Angeles, settling down in San Jose, or relaxing in Oakland, we can help. Choose from bustling city life, quiet comfort in the suburbs, sun and sand at the beach or outdoor adventures and a wide variety of on-site amenities and floor plans that span from studios to two-bedroom apartments to townhomes. Whatever your style and budget, we have a community that's right for you.
Explore our nearly 250 apartments, such as Fountains at River Oaks in San Jose or Hillsdale Garden in San Mateo, and learn more about current leasing or move-in specials.