Bike-Friendly Neighborhoods in the East Bay Area
July 20, 2021
While San Francisco often gets all the attention when it comes to the Bay Area, many cities on the East Bay are rightfully making a name for themselves. Stretching from Richmond in the north to Milpitas in the south, the East Bay is peppered with cities offering exceptional dining, entertainment, culture, nature, and more. Many are connected by the Bay Area Rapid Transit (BART) train and, taking a note from their neighbor across the bay, have become increasingly bike-friendly. In fact, BikeEastBay.org touts the region as a "leader for innovative and accessible bikeways and streets meeting the needs of all users. Bicycles are well-integrated into the public transportation system and are a key part of our thriving communities."
So, if you find yourself without a car, are simply looking to drive less, or love to get a morning ride in, check out these six bikeable cities and nine apartment communities – all with bike scores ranking them as Very Bikeable or even Biker's Paradise.
What's a Bike Score?
And what exactly is a Biker's Paradise? According to Walk Score, a walkability and bikeability index based on "location efficiency," a Biker's Paradise is a neighborhood with many local conveniences within biking range, meaning transit and daily errands do not require a car. Walk Score's algorithm grants points based on several criteria, including the distance of a specific neighborhood or apartment community from amenities like parks, schools, grocery stores, farmers markets, and coffee shops. It also takes into consideration block length, intersection density, and other bike-friendly measures.
The Five Categories of Bikeability
Biker's Paradise (score of 90-100): Daily errands can be accomplished on a bike
Very Bikeable (score of 70-89): Biking is convenient for most trips
Bikeable (score of 50-69): Some bike infrastructure
Somewhat Bikeable (score of 0-49): Minimal bike infrastructure
To find the Bike Score of your neighborhood or an apartment you're considering, go to the Walk Score website and type in your address. Or, if you're on the landing page of an Essex apartment community, navigate to the Neighborhood section by clicking the menu in the top right corner. Just below the header, you can toggle among Walk Score, Transit Score, and Bike Score for that specific property.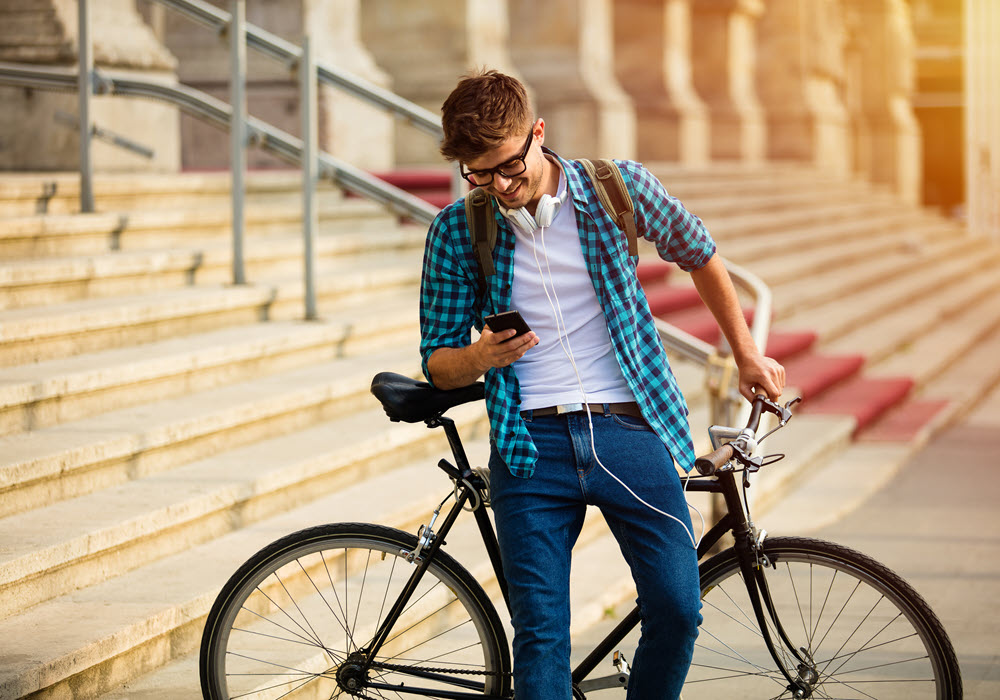 Berkeley
The furthest north and most well-known among the East Bay neighborhoods, Berkeley is home to the University of California-Berkeley. As such, it's naturally built for bikers and has excellent access to shopping, dining, entertainment, and outdoor activities. This is particularly true along the waterfront near Essex community Fourth & U (Bike Score 97). Berkeley is also known for its cultural and performing arts offerings, its food scene – farm-to-table California cuisine started here in the 1970s – and the UC Botanical Garden, a 34-acre park with over 10,000 plant species. The Eastshore State Park Beach Trail is a five-mile bike-friendly path along the San Francisco Bay for leisurely bikers.
Emeryville
Just 15 minutes biking distance southwest is Emeryville, a quaint waterfront town with access to the relatively new Alex Zuckermann Path to Treasure Island. Keep in mind, bikers looking to reach San Francisco must take the BART or Oakland Ferry until the west portion of the path is completed. In Emeryville, residents and visitors can appreciate being within biking-distance to Bay Street for shopping, dining, and entertainment. In particular, Emme, The Courtyards at 65th Street, and Avenue 64 apartment communities (Bike Scores 89 and above) are all less than five minutes from Bay Street by bike.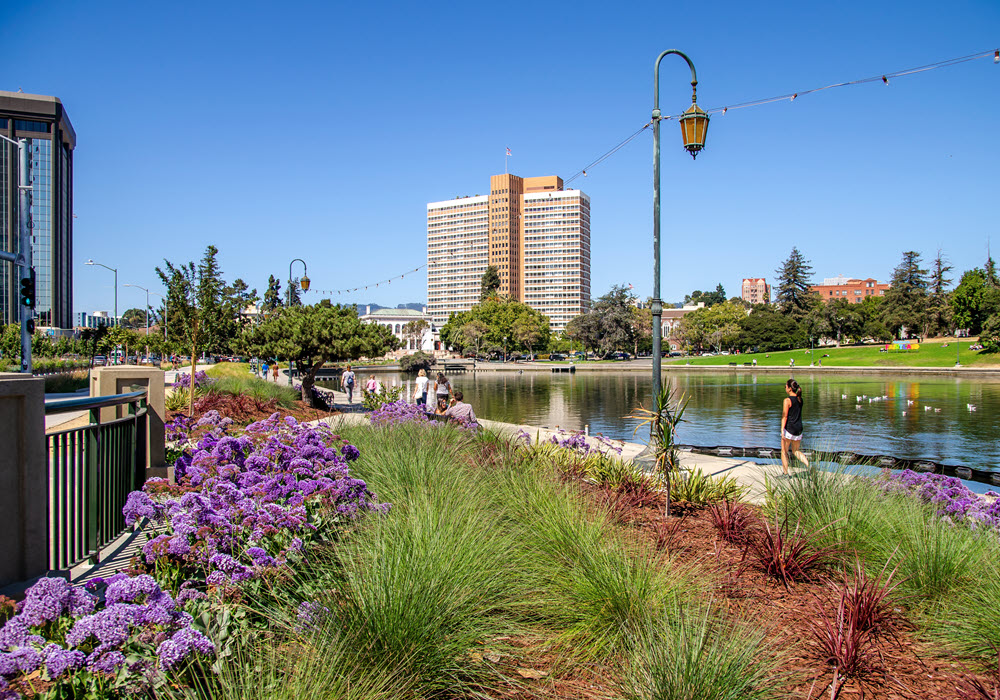 Oakland
Oakland is another well-known East Bay city. Once gritty and commonplace, it's now a trendy destination offering a foodie's paradise as well as many cultural, art, and music events. Thanks to the city's vibrant immigrant communities, Oakland comprises a diverse population and is known for its authentic international cuisine. Though larger and more spread out than some of the other East Bay neighborhoods on this list, Oakland has many bike-friendly neighborhoods, including Waverly, where The Grand (Bike Score 97) is located; Lakeside, near Lake Merritt; and the Jack London District on the waterfront, home to The Landing at Jack London Square (Bike Score 85).
Hayward
South of Oakland is Hayward, a comparatively affordable East Bay city with convenient biking access to the BART system, the waterfront, and various food and entertainment options. Essex apartment community City Centre (Bike Score 75) is one block from the BART station and two blocks from downtown. Nestled in the Hayward Hills, Hayward also has access to hiking and biking trails, numerous parks, and the Japanese Gardens.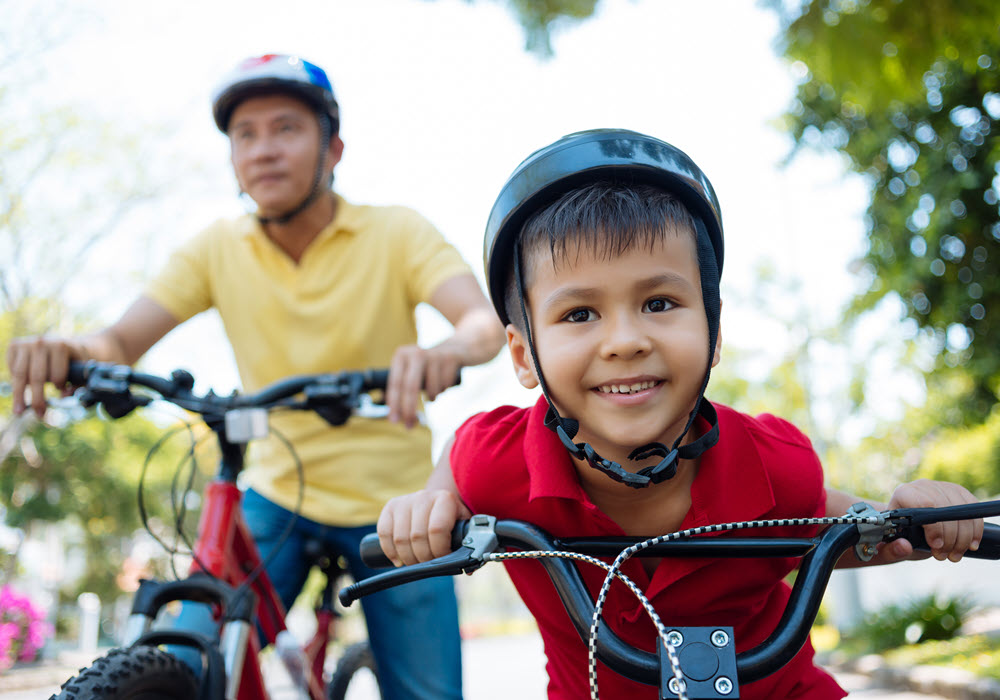 Fremont
Continuing south to the last stop on the BART is Fremont, known for its rich history, sense of community, and a plethora of outdoor activities. The city is well connected with public transit, two BART stations, and bike-friendly infrastructure. This is particularly true in the Central District, home to many amenities, Essex community Paragon (Bike Score 83), and Central Park's 450 acres of woodlands, open space, and Lake Elizabeth. Also, for outdoor enthusiasts and leisure bikers, there are hiking and mountain biking trails at Mission Peak Regional Preserve.
Pleasanton
Though slightly more suburban and further inland than the other East Bay neighborhoods highlighted, Pleasanton is centrally located with many dining, shopping, and entertainment options. Downtown is particularly bike-friendly with restaurants, coffee shops, retailers, and galleries, in addition to hosting various cultural, arts, and music events throughout the year. Just 20 minutes biking distance from downtown is the BART's last stop on the eastbound route, which is also next to Essex community The Galloway (Bike Score 78).
Find Your Essex Apartment
Our apartment communities span from San Diego to San Francisco and the Pacific Northwest in some of the most sought-after locations on the West Coast. Whether you're looking for life in Los Angeles, settling down in San Jose, or relaxing in Oakland, we can help. Choose from bustling city life, quiet comfort in the suburbs, sun and sand at the beach, or outdoor adventures and a wide variety of on-site amenities and floor plans that span from studios to two-bedroom apartments to townhomes. Whatever your style and budget, we have a community that's right for you.
Explore our nearly 250 apartments, such as City View in Hayward or Mission Peaks in Fremont, and learn more about current leasing or move-in specials and pricing.