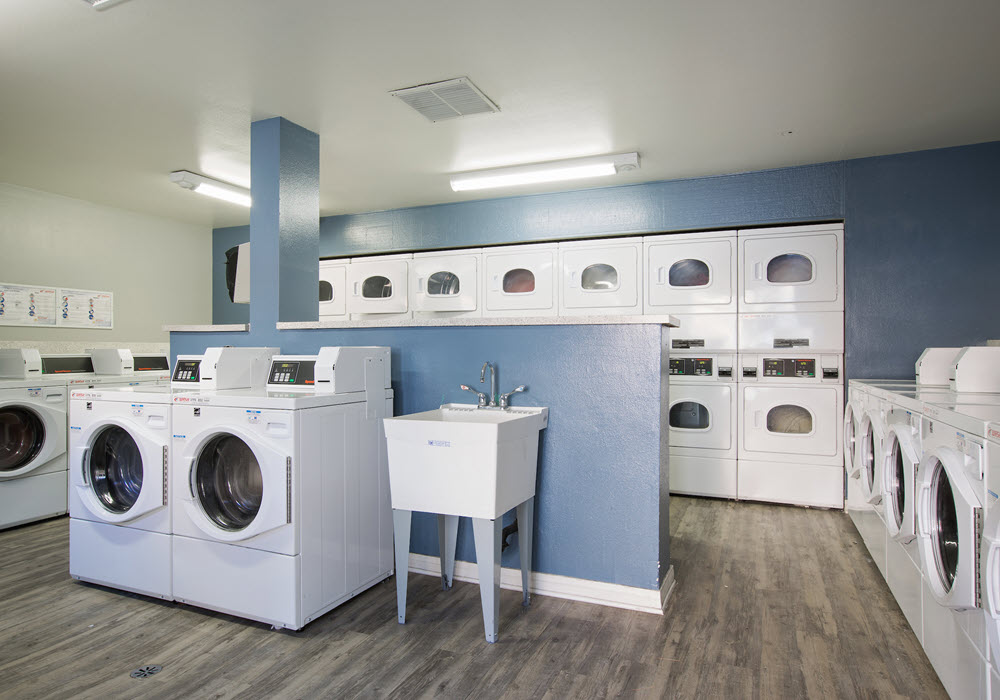 Apartment Community Laundry Room Etiquette
While laundry is not a task everyone enjoys, it is something that must be done. Some apartment renters are fortunate enough to have in-unit washers and dryers, while others have easy access to equipment in a community laundry room—a great upgrade from treks to the laundromat. Unfortunately, not everyone has the same understanding of apartment laundry room etiquette. Follow these laundry rules to ensure a pleasant experience for everyone.
1. Be Clean
Everyone's standards of cleanliness are different, but in a shared space like a communal laundry room, it's better to err on the side of clean freak.
Do empty the lint trap.

Not only is this courteous, but it will also ensure the dryer can work as efficiently as possible.

Don't leave trash or clutter behind.

Make sure to dispose of used dryer sheets, empty soap containers, and any other garbage. It's also better to keep your laundry supplies in your apartment to avoid clutter (and other people from using them—more on that later).

Do clean up spills.

No one wants to set down their hamper in a puddle of bleach or detergent residue. If you spill something, wipe it up.

Don't let the trash pile up.

Community staff is generally responsible for emptying the trash, like at Camarillo Oaks Apartments. Conversely, sometimes it's up to the tenants to take out the apartment laundry room trash, so if it's full, do your part.
2. Be Timely
Your apartment may already have laundry room rules in place regarding usage times and related etiquette. But if not, a general rule of thumb is to be efficient with your time and respectful of other people's.
Do your laundry when you have the time to finish it.

That is, don't toss a load in the wash before you head to work, planning to finish it when you return. Also, you shouldn't leave clothes in the washer overnight. Not only is this inconsiderate, but you also risk your clothes getting musty.

Don't monopolize the washer and dryer.

Instead of trying to get through 10 loads in one day, try staggering your laundry throughout the week.

Do set a timer for each cycle.

Most washing machines, like those at The Blake LA, take 30 to 45 minutes and dryer cycles range from 30 to 60 minutes. Once you start a load, set a timer to ensure you return for your clothes when the cycles finish.

Don't do your laundry during community quiet hours.

Sorry night owls, but no one, especially the residents who live near the apartment laundry room, wants to be woken up by the dryer buzzer in the middle of the night. Be mindful of any specific hours of operation for your community's laundry room.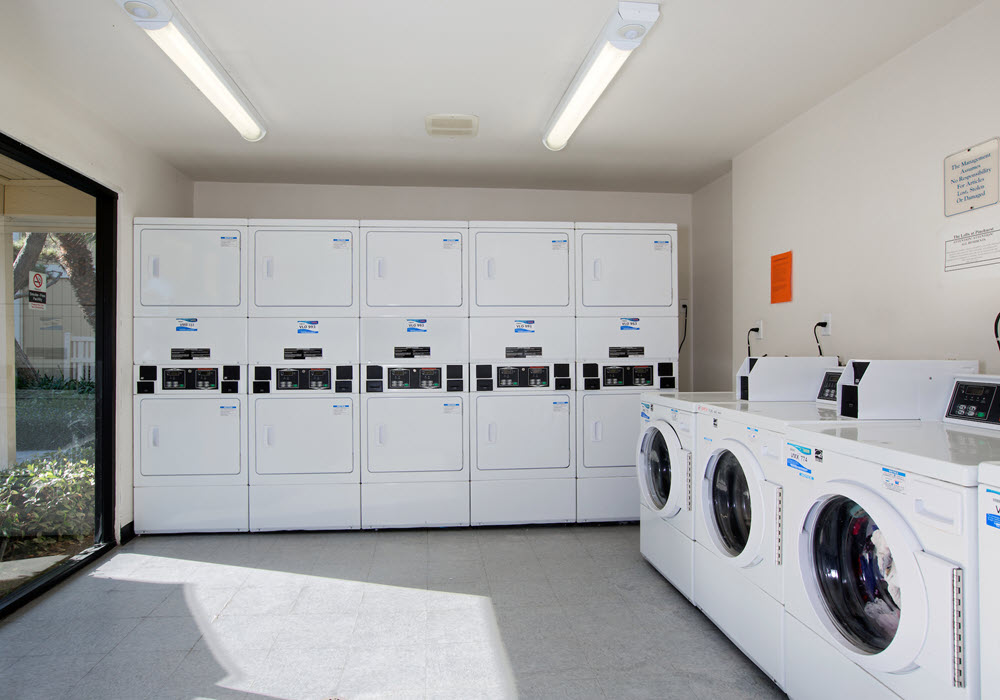 3. Be Prepared
In order to be the most efficient with your time and respectful of other people's, it's important to have all your supplies, form of payment, and dirty clothes ready to go.
Do organize your clothes in advance.

Take the space and time you need to sort your dirty laundry before heading to the community washer and dryer room, which may not be the most spacious. Even consider pretreating any stains in advance to limit your time in the apartment laundry room.

Don't use other people's supplies.

While it may be annoying to run back to your apartment for two extra quarters or a dryer sheet if you forgot yours, you shouldn't help yourself to other people's supplies.
4. Be Respectful
Probably the most important of them all, this tip encompasses all your shared laundry room behavior. Think of the space as an extension of your home, so treat it, the equipment, the people who use it, and their belongings with respect.
Do alert maintenance to broken equipment.

Avoid using broken equipment or trying to fix it yourself. At several Essex properties, residents can submit a maintenance request through the RENTCafé resident portal or the Resident App (available in the Apple App Store or Google Play Store). Alternatively, if the laundry room is managed by a third-party such as WASH, residents of these communities, including The Lofts at Pinehurst, are encouraged to contact the third-party directly. The sooner a team member is alerted, the sooner the equipment can return to working order.

Don't move someone else's laundry.

Even if you're willing to toss it in the dryer for them, some items should not be machine dried. Also, your neighbors simply may not want you touching their clothes. It's best to wait at least 20 minutes; after that point, you can carefully place the clothes in the person's laundry basket or on a clean spot on the counter.

Do let your neighbor know if their cycle is done.

If you recognize your neighbor's blue Hawaiian shirt in the dryer, it's completely acceptable to let him or her know the cycle is done. This keeps everything moving and fewer people waiting.

Don't try to reserve a washer or dryer.

Unless reservations are part of COVID-19 precautions, most laundry areas are first-come, first-serve. This is the case at all Essex properties, such as Avondale at Warner Center and The Barkley. So, if you prefer to have the facilities to yourself, try planning laundry at a time when the facilities are less popular.
While many Essex properties offer convenient communal laundry facilities, like Fairhaven in Santa Ana, CA, an upgrade to an Essex apartment complex with in-unit washers and dryers may be worth a higher monthly rent. When selecting your next home, make sure it includes laundry options that suit your lifestyle.
Find Your Essex Apartment
Our apartment communities span from San Diego to San Francisco and the Pacific Northwest in some of the most sought-after locations on the West Coast. Whether you're looking for life in Los Angeles, settling down in San Jose, or relaxing in Oakland, we can help. Choose from bustling city life, quiet comfort in the suburbs, sun and sand at the beach, or outdoor adventures and a wide variety of on-site amenities and floor plans that span from studios to two-bedroom apartments to townhomes. Whatever your style and budget, we have a community that's right for you.
Explore our nearly 250 apartments, such as Le Parc Apartments in Santa Clara or Montejo Apartments in Garden Grove, and learn more about current leasing or move-in specials and pricing.