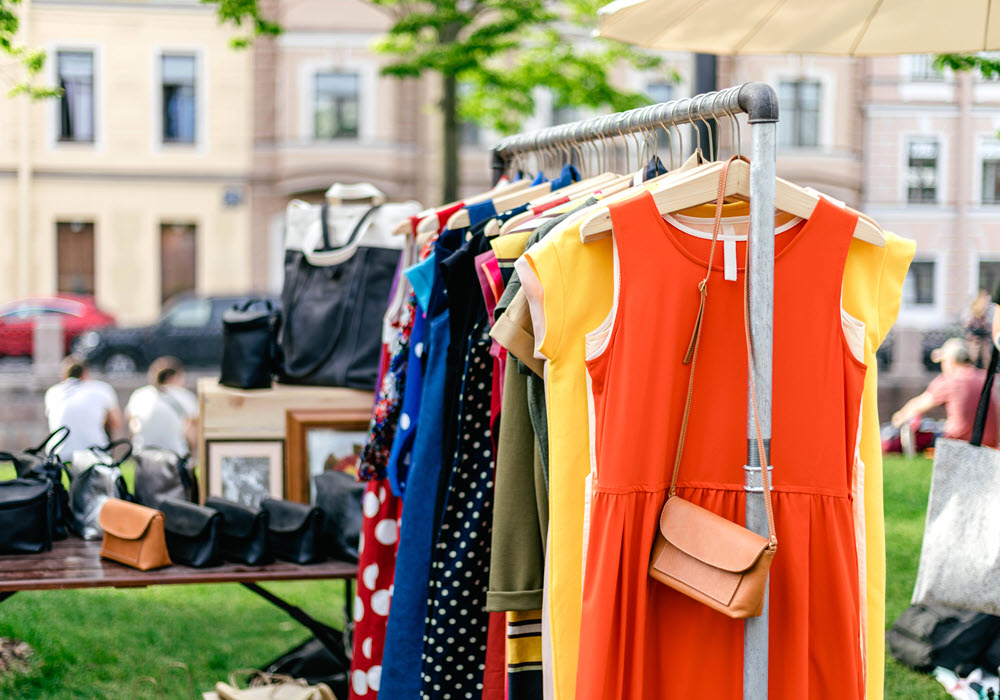 Selling Stuff for a Move
So you've found your dream apartment, and now it's time to pack up for the big move. Although this may sound daunting, there are positives to moving if you do it right. The key to a smooth move is conducting an audit of your belongings and purging what you don't need prior to your move. Whether you sell, give away, or recycle them, you can save money and time by reducing the amount of stuff you have to move. You spend less on packing supplies, and if you're hiring movers, you'll have a smaller, lighter load to ship. Moving companies typically charge by the hour and weight.
On top of saving money, you can also make some extra cash to put toward your big move by selling your gently used goods—and fortunately, there are a lot of handy resources and apps to do this.
Reach Out to Your Community
Before you take to the apps, ask friends and family if any of them are in the market for your stuff—whether for free or a friends-and-family discount. For instance, your unwanted toaster oven or extra duvet may be perfect for your niece heading off to college.

Facebook Groups are a great place to find local communities for selling or giving away gently used belongings.

Nextdoor is similar to Facebook Groups but has a hyperlocal focus, making it easy to coordinate with someone in your neighborhood about the cute loveseat you're selling.
Host a Garage Sale
If you're downsizing from a house to an apartment, you can host your own garage sale or yard sale or coordinate with your neighborhood or HOA's annual yard sale. Although it does take time to price your belongings and set up your sale, this is the fastest way to sell your belongings at once.
Take Your Stuff to a Reseller
A consignment store, which is great for high-value apparel and accessories, lets a third party handle the selling for you in exchange for a portion of the sale price.

Although most thrift stores or secondhand shops are donation based, some will pay you for used goods in the form of a store credit.

Franchises like Play-it-Again Sports, Plato's Closet, and Music Go Round are brick-and-mortar resellers that depend on customers in their community to keep shelves stocked with sporting equipment, designer clothing, musical instruments, and more.
Sell Furniture and Other Big-ticket Items
Sell Clothing, Accessories, and Designer Goods
Poshmark is a social marketplace for new and secondhand fashion for women, men, and kids, as well as for pets and the home.

Thredup: This sustainability-focused app is the online version of a consignment store. You send in your gently used clothing and accessories, and then you can cash out or get store credit when eligible items sell.

Focused on designer fashion, Tradesy helps you sell straight from your closet with imagery support and shipping kits. You keep the earnings minus a commission.
Sell Everything Under the Sun
Although this list is not exhaustive, these resources and apps are a great place to start as you declutter before a big move. Selling experts recommend trying a handful of options instead of relying on one online marketplace for the best chances of selling your stuff. They also recommend sharing your posts across social media for greater visibility (Facebook Marketplace integrates this feature) and reducing the price if you haven't gotten any bites. But if you still have belongings to get rid of after your selling spree, then there are a few options for what to do next.
Contribute to the Sharing Economy
Nonprofit organizations like the Buy Nothing Project and Freecycle have missions focused on reducing consumer waste and building community. Simply post your free items and then coordinate a handoff—your belongings find a new home, and you keep waste out of landfills. Craigslist also has a "free" category if you didn't have any luck selling on the site.
Donate Your Goods
Shelters and nonprofits like Goodwill, The Salvation Army, and Dress for Success have drop-off locations for most apparel and household items across the country. In addition to benefiting the environment, donating to these organizations helps create jobs and provide low-cost goods to people in need.
Find Your Essex Apartment
Our apartment communities span from San Diego to San Francisco and the Pacific Northwest in some of the most sought-after locations on the West Coast. Whether you're looking for life in Los Angeles, settling down in San Jose, or relaxing in Oakland, we can help. Choose from bustling city life, quiet comfort in the suburbs, sun and sand at the beach, or outdoor adventures and a wide variety of on-site amenities and floor plans that span from studios to two-bedroom apartments to townhomes. Whatever your style and budget, we have a community that's right for you.
Explore our nearly 250 apartments, such as Palisades or Woodland Commons in Bellevue, WA and learn more about current leasing or move-in specials and pricing.